Costco Canada Flyer sales & Costco sale Items Sept. 3rd – 8th 2019 – Ontario, Quebec & Atlantic Canada
I walk the whole store for you every Monday when Costco Sale items and Costco Flyer sales are released for the week, then post them here and on our Facebook page.
NEVER MISS A POST! Join the Costco East Facebook group to get updated whenever I make a new post! https://www.facebook.com/costcoeast/.
ALSO you can come and see my Instagram feed with Pics of my weekly Costco shopping trips, Dexter and Ewok being lazy cats and pictures of things that I have cooked with anything I've purchased at Costco. You can find that here! https://www.instagram.com/costco_east_fan_blog/
Subscribe to website updates by signing up below
and you'll get a confirmation email from "FeedBurner Email Subscriptions". Click the link within it to activate your subscription and you'll be notified by email whenever I post (1 or 2 times weekly). Check your spam filter or contact me if you have questions or do not receive a confirmation email.
Welcome back to what feels like an early fall my Costco Family!
I said almost the exact same thing last year around this time… (from the Sept 10th 2018 post) "Well the heat and humidity finally broke yesterday and it felt as though Mother Nature flipped the "September switch" because we went from too hot and humid to "where the heck are my sweatshirts and socks!" "
And once again, it feels like that. I was sitting outside editing the Costco pictures in my new "Summer office", which is quite amazing I must say folks.
But amazement and relaxing surroundings aside, my god was it chilly! I was wearing a long sleeved shirt and was even kinda feeling "nope, too chilly… Gotta move inside"
I do love the new back deck though, especially after putting up those Feit LED string lights I bought at Costco a few months ago when they were on sale! (see that post here)
We love it! And I have 3 more sets that I bought when they were on sale, so we have more yard decorating to do still; and we are both OK with that!
Sometimes on my weekly shops I feel like, I've done it… I've beaten Costco! I won!!! You have those days where you breeze through the warehouse and get what you came for and nothing else, easy shop, no real browsing, just on a mission an BOOM! You're done.
Or the opposite happens, as it did today. You walk the aisles, and as you are you get sucked in… We wanted a wall mount for our TV and guess what? There was one on sale today, the AVF  "30-"90 wall mount so obviously I put one in my cart… But after doing that, it seemed like I opened the floodgates, sure some frozen Pizza, why not? The Sol Ultimate Grillers veggie burgers, ya man! Toilet paper obviously, a giant bag of McCains french fries- no question. (They're gluten free) Some Wasp Be Gone, sure… A 2pk for 4.97? I've got a wasp nest that needs to be dealt with, so a no-brainer. Throw in the Victoria marinara sauce, and 1 or 2 other items and man, that cart got full and the bill piled up fast. Whoops!
Sometimes Costco beats you, and today… Costco beat me. You win this week Costco, but I'll be back next week to reclaim my title.
Here's a few Kingston, ON. Meat dept. sales
On that note, we've finally moved the cats in to the new place and they are… well… Getting used to it.
I'll have more pics late on, but they're doing OK. Way better than we thought they'd be.
On that note, it's 2 a.m. and I've gotta get up for work tomorrow so… I'm gonna get to bed.
Good night everyone,
Cheers.
Please note:
The price at your local Costco takes precedent (or precedence) over the prices listed on this blog.
Costco liquidation/Manager's Special items (ending in .97) vary from store to store.
An asterisk (*) on the price tag means the item is not being re-ordered.
If there is something you really want, ***double check the expiry date*** as some Costco sales items do end mid-week.
***This is a fan run, independent page with no affiliation or endorsement by Costco Wholesale***
The food brands available can differ from region to region. Pictures are taken at a store in Ontario. Sale items should apply to Costco locations in Ontario, Quebec, New Brunswick, Newfoundland & Nova Scotia, if the item is in stock at your store. There will likely be a few deals not shown here in your store. If this blog has helped you save money, consider sharing www.cocoeast.ca with your friends and family! If you see deals at your store that aren't on this blog, post them in the comments and help spread the money saving love!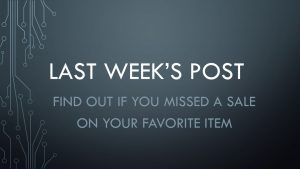 Costco Flyer Sales Sept. 3rd – 8th 2019
Costco Treasure hunt sales Sept. 3rd – 8th 2019