Costco Canada East Secret Sale Items – Sept. 10th – Sept. 17th – Ontario, Quebec & Atlantic Canada
I walk the whole store for you every Monday when Costco's Secret Sale items are released for the week, then post them here and on our Facebook page.
NEVER MISS A POST! Join the Costco East Facebook group to get updated whenever I make a new post! https://www.facebook.com/costcoeast/.
ALSO you can come and see my Instagram feed with Pics of my weekly Costco shopping trips, Dexter and Ewok being lazy cats and pictures of things that I have cooked with anything I've purchased at Costco. You can find that here! https://www.instagram.com/costco_east_fan_blog/
Subscribe to website updates via email and you'll get a confirmation email from "FeedBurner Email Subscriptions". Click the link within it to activate your subscription and you'll be notified by email whenever I post (1 or 2 times weekly). Check your spam filter or contact me if you have questions or do not receive a confirmation email.
**** TO SKIP AHEAD TO THE SALES CLICK THIS LINK ****
Well the heat and humidity finally broke yesterday and it felt as though Mother Nature flipped the "September switch" because we went from too hot and humid to "where the heck are my sweatshirts and socks!" and do you know what? I'm actually OK with that- Don't hate me!!! I just love the fall and how the weather is comfortable, plus I get to break out my leather jacket again… Which is always a good time! I know everyone loves the summer, but we gotta have seasonal change to fully appreciate the heat. (Although as a frequent reader Layla Bay pointed out only August is over, not summer) Costco seems to know this is happening and have brought out alot of cozy clothing to accommodate this change in seasons., warm looking slippers, hoodies, sweatshirts, Winter gloves…. yup. winter.
Well they sure are warm! Big cushy winter gloves that would be perfect for the time of year we aren't yet ready to imagine exists AND they are compatible with touchscreens… So, I don't know in what situation I'd be in where I'm needing to wear these giant cozy winter gloves and use my touchscreen at the same time. I guess live streaming a snowball fight is pretty big stuff, or step by step building of a snow fort? Actually I'm liking these gloves more and more by the minute- but Winter is still many many steps away. (even though there is an entire Isle dedicated to Christmas stuff at Costco now… Really I think it's a bit too soon- And I love Christmas almost (if not more) than I love Halloween! But it's only September…Christmas stuff in November. Done. (I love Christmas and all the decorations and atmosphere, but I need fall and Halloween first))
Oh right.. Duh! DIAPERS!!! HUGE sale on for those puppies- so as I've said before stock up while you can, if you have the space to do so you can save a ton. I don't need Diapers for Dexter and Ewok so it doesn't do me any good, but I'm looking out for you folks. Saving $8 a box is huge (I was talking to a co-worker about it tonight and he was shocked at the price differential from where he gets his now… twice as much!) That's why I wanted to post something earlier for you, so you could get at 'em if need be. It seems theses sales only happen once or twice a year so take advantage if you can.
Going along with Diapers, Junior chew-able Advil are on sale coinciding with adult Aleve… Almost as though the two are somehow connected? I don't know how that all works folks, I'm just the messenger.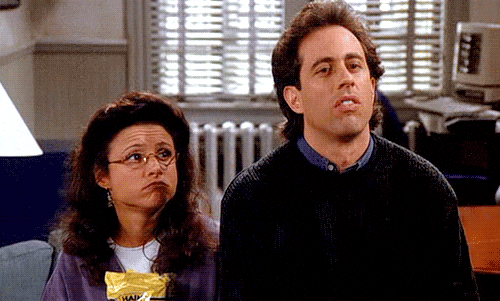 What else, what else… Those Madegood granola bites are on sale (I did a personal review of those a little while ago(click the link to check it out), not sponsored or paid just a personal take on the product) and I think they are a great snack, same as the Ocean's tuna snakit–  totally easy healthy snack to throw in to anyone's lunch kit. Also an easy grab for when you hit ground zero and don't have a meal at your fingertips OR when you know you aren't going to have a meal for a while you have something to fill the gap.
Sprague organic black beans are on sale…. 6.49 for 8 cans…That's .81 cents a can… I don't think Costco knew that I had JUST made a batch of bean salad on Sunday, I think they should check in with me more often… I talked months and months ago about how I wished the beans would go on sale so I could stock up for massive bean salad parties (only partly true, I don't want parties- just the bean salad. and you should know by now how I feel about bean salad) Aside from that little aside- I have been waiting for black beans and garbanzo beans to go on sale so I could stock up. We go through a lot of beans at home and this is a big sale for us, those cans last a long time so… It's gonna be a fiber filled winter around here! and ya know… beans beans the magical fruit…
Ahhhh yes… "Lay off the beans number 1!"
Wildbrine raw organic sauerkraut in on sale as well and I have bought this before and was really enjoying it- add this to a smoked meat sandwich or a corned beef sandwich and oh yeah baby, We have liftoff! Although I love salty, briny, sour things in general so I was just eating forkfuls of it out of the container (Judge not my friends) But it does, yes, go better on a sandwich.
Sealy Posturpedic mattresses are on sale for $70 off! (for a full) That's crazy my friends (so crazy I hit the "x" the "f" and the "c" before I finally hit the "z' in craZy on the keyboard.) And the Box springs are on sale for 63.99 as well, so if you have guests coming and think they deserve a new mattress- that is a silly deal (and these only seem to go on sale a few times a year) We may grab one of these for our spare room… We've tortured our guests long enough I suppose…
It drives me crazy that there is so much Lego stuff at Costco, I have a very large place in my heart for Lego (and a very large rubbermaid container FULL of it) and the kid in me always looks at it and says "yeah yeah, we need to add those pieces to the mix" but the adult part says "no we need a block of Parmesan cheese or coffee" The thing with Lego is the more different pieces you add the more crazy fun things you can build, so adding all those little city or friends sets to it really adds to the overall picture… I haven't got all my Lego stuff out in a long time so I don't really think I need to add to it, but it's fun to think about… One day I'll dump it all out on the living room floor and go nuts! And I'll be honest, anytime I walk by the Nerf guns anywhere I want to buy them- who doesn't love a Nerf war?!?!? I would love to bring some of those to work except everyone I work with is just about as immature as I am and the place would turn into a foam dart battleground… Not safe. But fun!!! So instead of Lego or Nerf these wine glasses made the cut…
Ten buck for 8 wine glasses… 3 months ago I bought a different kind of the same clearance price- a little rounder overall if you will (but this shape of glass apparently the preferred vessel for red wine in this abode so I was instructed to get them) So now I have way way way to many wine glasses at home.  (and not enough wine to fill them!) Though I could fill them with lego!
Apparently no one has filled a wine glass with Lego and taken a picture of it… I have a mission for the future…. Wine glass- filled with (you guessed it) LEGO!
OK enough with the Lego & toys- I know… I feel like Tom Hanks in Big sometimes…
Fantastic movie…(and ABBA, right?) It's been too long since I've seen that but I feel like fall is the perfect time to settle into some of those great wholesome classic movies, "Big" obviously… Maybe Kindergarten cop? The Goonies? Clue? That's a good one! And the you have to switch gears and start watching spooky creepy Halloween movies!!! Anyone have any favorites? "Halloween" obviously those are great ones, The Friday the 13th series is classic. Scream is fun, I know what you did last summer is a good slasher type that works for the season. Sorry, I guess I can't wait for all the fall fun!
On that note perhaps I'll leave you now so I can plan out the spooky Halloween layout for the front yard and our walkway… Yes… That is a thing for me.
Enjoy the sales everyone I shall be seeing you soon!
Cheers
Please note:
The price at your local Costco takes precedent over the prices listed on this blog.
Costco liquidation/Manager's Special items (ending in .97) vary from store to store.
An asterisk (*) on the price tag means the item is not being re-ordered.
If there is something you really want, ***double check the expiry date*** as some Costco sales items do end mid-week.
The food brands available can differ from region to region. Pictures are taken at a store in Ontario. Sale items should apply to Costco locations in Ontario, Quebec, New Brunswick, Newfoundland & Nova Scotia, if the item is in stock at your store. There will likely be a few deals not shown here in your store. If this blog has helped you save money, consider sharing www.cocoeast.ca with your friends and family! If you see deals at your store that aren't on this blog, post them in the comments and help spread the money saving love!