Hello Folks, I have another quick Product recall notice for you from the Costco.ca website.
These are being recalled due to being labelled with incorrect dosing instruction found on the French section.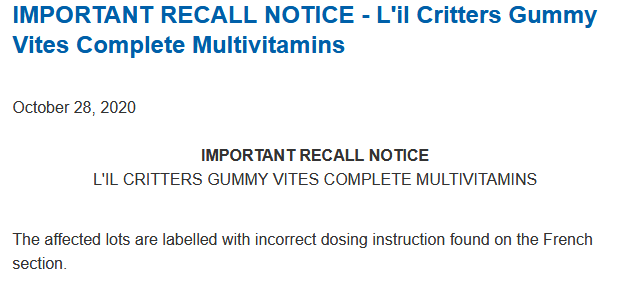 As per the Healthy Canadians website the affected lots are…
Bottles of 70 multivitamins:
WA01065257
WA01430486
WA01434668
WA01436125
Bottles of 190 multivitamins:
WA01063503
WA01431776
WA01433918
WA01434638
WA02141819
WA02147927
Bottles of 275 multivitamins:
WA01434623
WA01438689
WA02142804
WA02147247
WA02147958
I believe Costco only sells the 275 ct. bottles.
There wasn't a lot of other information is available on the website right now (it says they'll updating the page if any addition info becomes available, and I'll do the same here) so it looks like it's just mislabeled, however if you've purchased any of these products you should be able to return them to the retailer for a refund.
As always folks, stay safe and I'll be seeing you very soon!
***This is a fan run, independent page with no affiliation or endorsement by Costco Wholesale***
The food brands available can differ from region to region. Pictures are taken at a store in Ontario. Sale items should apply to Costco locations in Ontario, Quebec, New Brunswick, Newfoundland & Nova Scotia, if the item is in stock at your store. There will likely be a few deals not shown here in your store. If this blog has helped you save money, consider sharing www.cocoeast.ca with your friends and family! If you see deals at your store that aren't on this blog, post them in the comments and help spread the money saving love!