PREVIEW: Costco Canada Flyer November 9-22, 2020
Good morning and happy Friday everyone!
Before I head to Costco for my weekend update shop & search I wanted to share the upcoming sales with you for Nov. 9th – 22nd.  Costco included the flyer in their latest edition of the Costco Connection.
It's always nice to see what's going to be on sale before it is so you can plan accordingly, or maybe hold off a day or 2 on buying Bounty Plus paper towels since they'll be on sale for -$4.80 off ?
If you're Jan from Waterdown or I you'll be happy to see the Victoria white linen Marinara sauce for -$3.00 off, so you know full well that I'll looking to restock the cupboards with 3 or 4 of these!
(That should last until they go on sale next) And the same goes with my household favorite brand of coffee being on sale The Starbucks Caffe Verona Whole bean coffee for $6.00 off, perfect timing for me as we just cracked into our last bag a week ago, 3 bags should cover us until the next sale.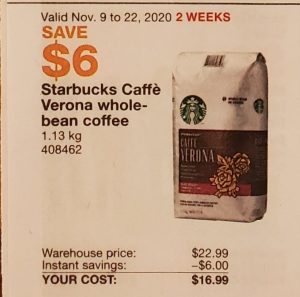 I also had a reader send me a message asking about the Big stand mixers, well here you go Hanna!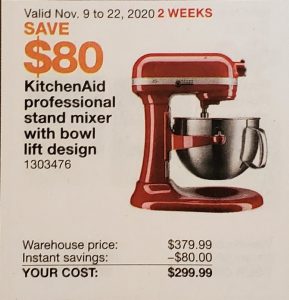 The KitchenAid professional stand mixer with bowl lift is going to be on sale for $299.99 ($80 off!)
If I got into doing a lot of home baking during the pandemic this would be on my list.
OK folks, I'll leave it to you! See you shortly with the weekend update!
***This is a fan run, independent page with no affiliation or endorsement by Costco Wholesale***
The food brands available can differ from region to region. Pictures are taken at a store in Ontario. Sale items should apply to Costco locations in Ontario, Quebec, New Brunswick, Newfoundland & Nova Scotia, if the item is in stock at your store. There will likely be a few deals not shown here in your store. If this blog has helped you save money, consider sharing www.cocoeast.ca with your friends and family! If you see deals at your store that aren't on this blog, post them in the comments and help spread the money saving love!