***VOLUNTARY RECALL NOTICE*** MISS VICKIE'S® ONTARIO, QUEBEC & ATLANTIC CANADA
Hello everybody!
Just a quick note here about a recall notice I saw today, and seeing as I love my Miss Vickie's spicy dill pickle potato chips it grabbed my attention.
The recall is focused around a limited run of bags of chips that potentially have small pieces of glass in them as per their website. (link to the recall page here folks!)
"MISSISSAUGA, Ontario –November 3, 2020–Miss Vickie's®Canada today issued a voluntary recall in Ontario,Quebec and Atlantic Canada for a limited number of Miss Vickie's® potato chip products due to isolated reports of the presence of a small piece of glass found at the bottom of the bag. A small number of consumer concerns related to this matter have been reported to date. One minor dental injury has been reported to date. The company is working closely with the Canadian Food Inspection Agency (CFIA) to coordinate the recall.These products were sold in Ontario,Quebec and Atlantic Canada only. A full list of recalled products and where they were sold can be found on www.missvickies.ca"
It is important to note that this is a limited recall and that "No Miss Vickie's® products sold outside Ontario, Quebec and Atlantic Canada are included in this recall"
You can identify if your bag is included by looking at the guaranteed fresh date on the bag (my bag was not included thank goodness as I perhaps overindulged in them last night!)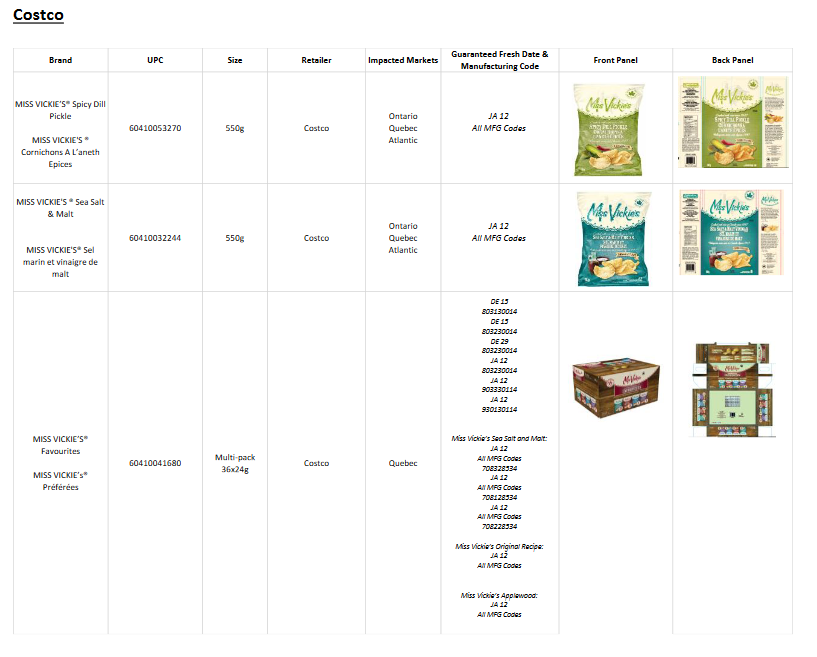 Here a few links to other news sources covering this recall.
Canadian Food Inspection Agency
As always with any recall make sure you check the product numbers carefully & if you have any of the affected products either return them to where you got 'em, or throw em' away.
Stay safe folks!
***This is a fan run, independent page with no affiliation or endorsement by Costco Wholesale***
The food brands available can differ from region to region. Pictures are taken at a store in Ontario. Sale items should apply to Costco locations in Ontario, Quebec, New Brunswick, Newfoundland & Nova Scotia, if the item is in stock at your store. There will likely be a few deals not shown here in your store. If this blog has helped you save money, consider sharing www.cocoeast.ca with your friends and family! If you see deals at your store that aren't on this blog, post them in the comments and help spread the money saving love!