Welcome to the Costco Weekend Update where I'll keep you all in the loop on the awesome sales Costco releases for the Weekend! I'll post them here and on our Facebook page for you to enjoy.
Want to see what might be on sale next week??? Click the picture below to see what was on sale last year at Costco!
NEVER MISS A POST! Join the Costco East Facebook group to get updated whenever I make a new post! https://www.facebook.com/costcoeast/.
ALSO you can come and see my Instagram feed with Pics of my weekly Costco shopping trips, Dexter and Ewok being lazy cats and pictures of things that I have cooked with anything I've purchased at Costco. You can find that here! https://www.instagram.com/costco_east_fan_blog/
Subscribe to website updates by signing up below
and you'll get a confirmation email from "FeedBurner Email Subscriptions". Click the link within it to activate your subscription and you'll be notified by email whenever I post (1 or 2 times weekly). Check your spam filter or contact me if you have questions or do not receive a confirmation email.
Hello and happy Friday evening everybody!
Hopefully this you all safe and healthy and ready for an awesome October weekend of sale hunting and socially distanced activities! (such as Netflix and chill w/ a big bowl of popcorn!)
That is actually on our agenda for tomorrow evening, we're kicking off October with take-out pizza and picking out the first scary movie of the season. So on that note, we need to find a scary movie to watch… Any suggestions?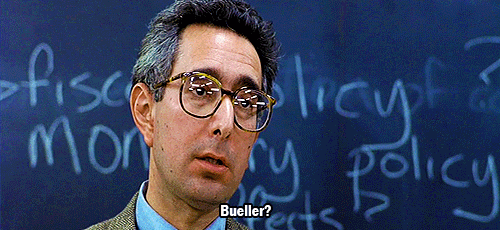 Costco was quite busy today, first time I actually had to wait in line for a month or so. But thankfully everyone was calm and no one was getting rambunctious with their bumper-carts, this made it a nice relaxing Costco visit.
A few things popped out at me today, this Bodum set looked really nice!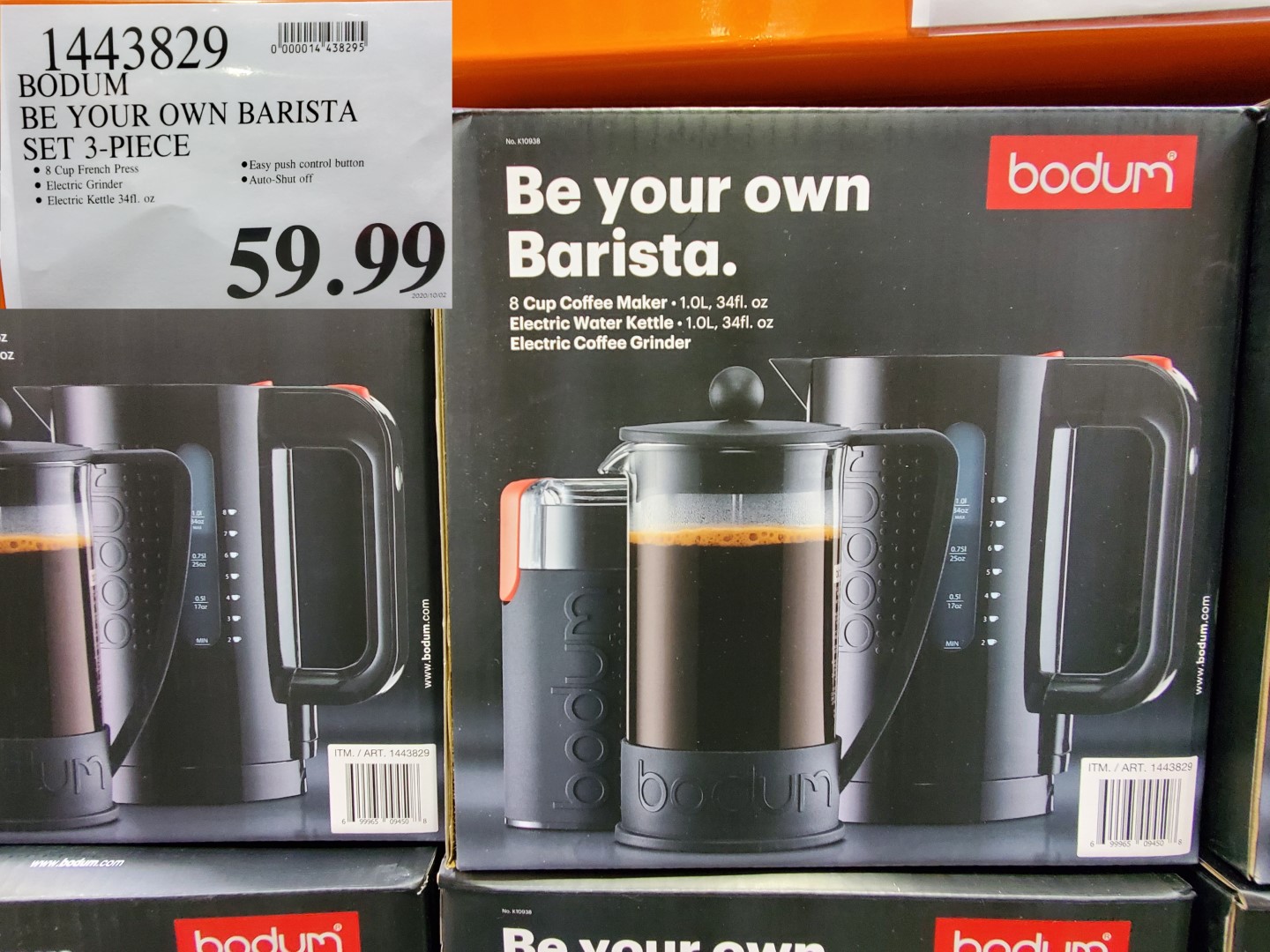 Usually the French presses themselves are $39.99 so adding a grinder and an electric kettle is a great deal! Though we have all 3 of these components at home (Sultan Salton the 2nd boiler of water anyone???) as we have 1 coffee grinder and 1 spice grinder, so it may be overkill.
I will say however that these Bodum products (Grinder, French press and Kettle) all felt really nice and durable. So it's tempting to have as a back up, or maybe a gift? (for myself perhaps???)
Costco has begun its shift to all the winter goods with the additions of the Alaskan premium Ice melter (22.5kg bag @ $18.99), windshield De-icer ( 3x445g @ $16.99) and Polar extreme Windshield cover with side panels for $14.99.
I had something similar last year and though I really only used it when there was an ice storm or freezing rain it saved me alot of time scraping ice off the windshield and that is a big win & time saver in the winter time.
Bugatti had a kiosk set up today with lots of really nice looking backpacks, purses and messenger bags.
They all felt really nice, and looked pretty sweet as well. These will be available in store until October 11th according to the Costco.ca special event page.
I've been keeping my eye on printers. We need one for office-y type stuff so I guess we don't need a super fancy one and this HP office Jet printer seems like it may fit that bill.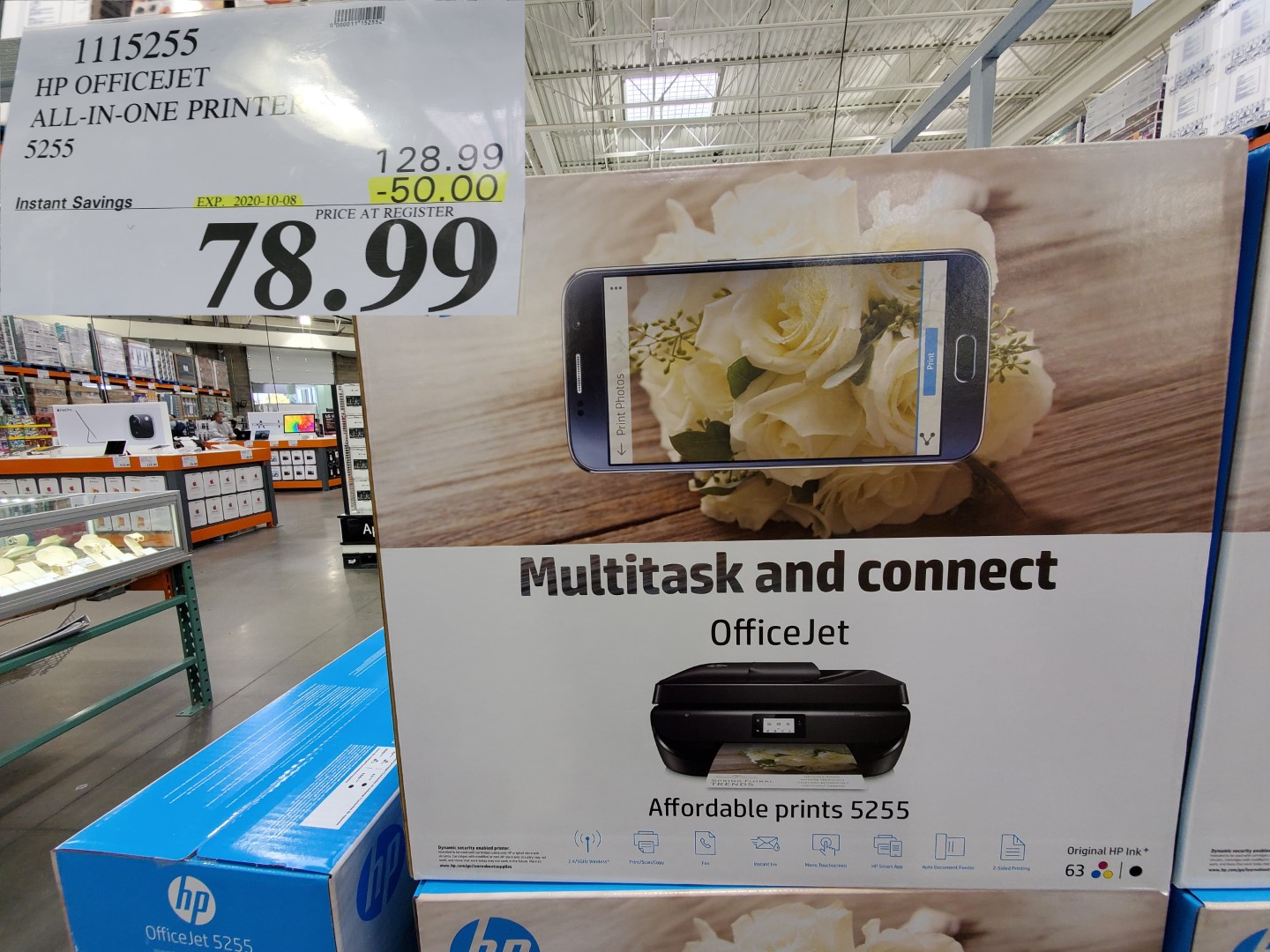 Coming in at $50 off isn't a bad deal either, but before I pull the trigger (just because it's on sale) I'd like to research it a bit, anyone used these printers before or have a better suggestion?
Nyquil has a few items on sale as well, and now might be a good time to have some cold medication available at home. Nyquil Day/Night Cold & Flu 48 + 24 is on sale for -$4.00 @ 13.99 until Oct.11th, Nyquil Complete Cold & Flu 40 + 20 is on sale for $-$4.00 @ 14.99 and Nyquil complete 2 x 354ml is on sale for -$4.00 @ 14.99 as well until Oct. 4th.
OK folks, I'm just about out of steam. Dexter is lying on the couch snoring away, Ewok is sitting on the bar stool staring at me wondering why I'm not coming to bed yet and work is rapidly approaching as it tends to do on Saturday mornings… So…
Ewok says good night folks.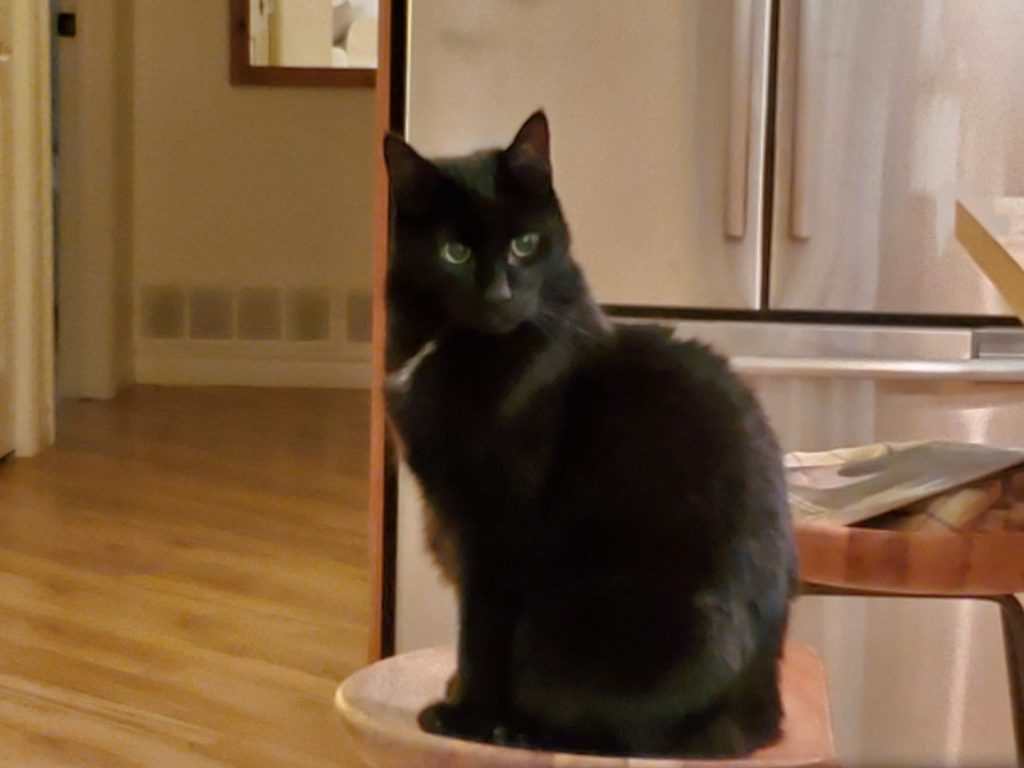 I'm saying good night as well, Have a safe and awesome weekend!
As we are headed in to the second wave of COVID-19 and kids are heading back to school I think it's important to remember that we're not out of the corona virus weeds yet, and each province has their own Health recommendations based on the provinces individual risk assessment and I would recommend that you follow the recommendations for your specific province. Information can be found at the following websites.
Newfoundland COVID-19 information
New Brunswick COVID-19 information
Nova Scotia COVID-19 information
So there you go, a little reading material for you.
Be kind, be safe and stay healthy!
Please note:
The price at your local Costco takes precedent (or precedence) over the prices listed on this blog.
Costco liquidation/Manager's Special items (ending in .97) vary from store to store.
An asterisk (*) on the price tag means the item is not being re-ordered.
If there is something you really want, ***double check the expiry date*** as some Costco sales items do end mid-week.
***This is a fan run, independent page with no affiliation or endorsement by Costco Wholesale***
The food brands available can differ from region to region. Pictures are taken at a store in Ontario. Sale items should apply to Costco locations in Ontario, Quebec, New Brunswick, Newfoundland & Nova Scotia, if the item is in stock at your store. There will likely be a few deals not shown here in your store. If this blog has helped you save money, consider sharing www.cocoeast.ca with your friends and family! If you see deals at your store that aren't on this blog, post them in the comments and help spread the money saving love!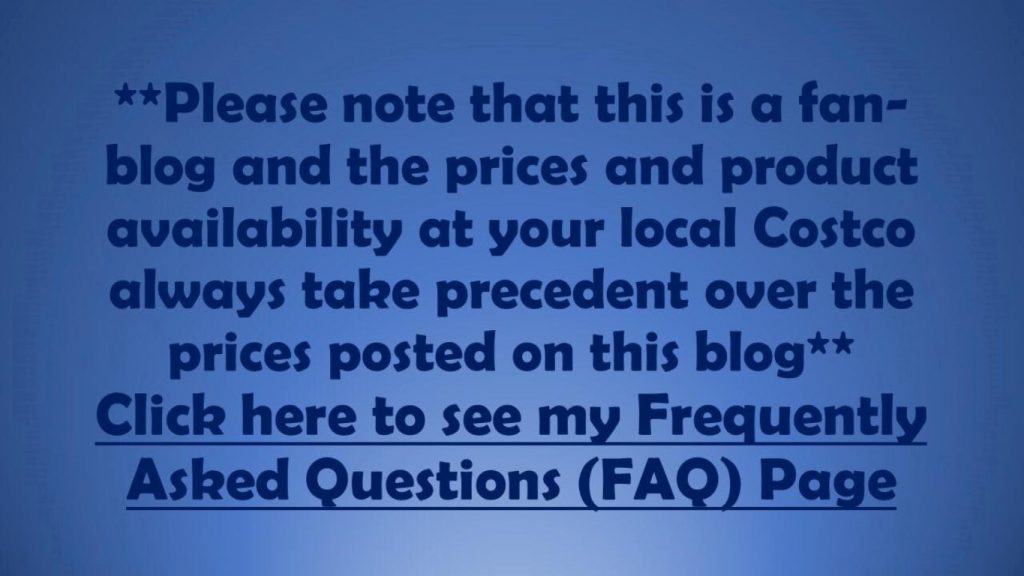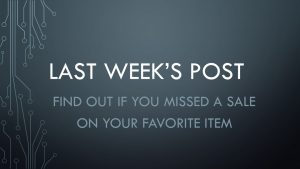 Costco Flyer Sales Sept 28th – Oct 11th 2020
Costco Kingston Meat Department sales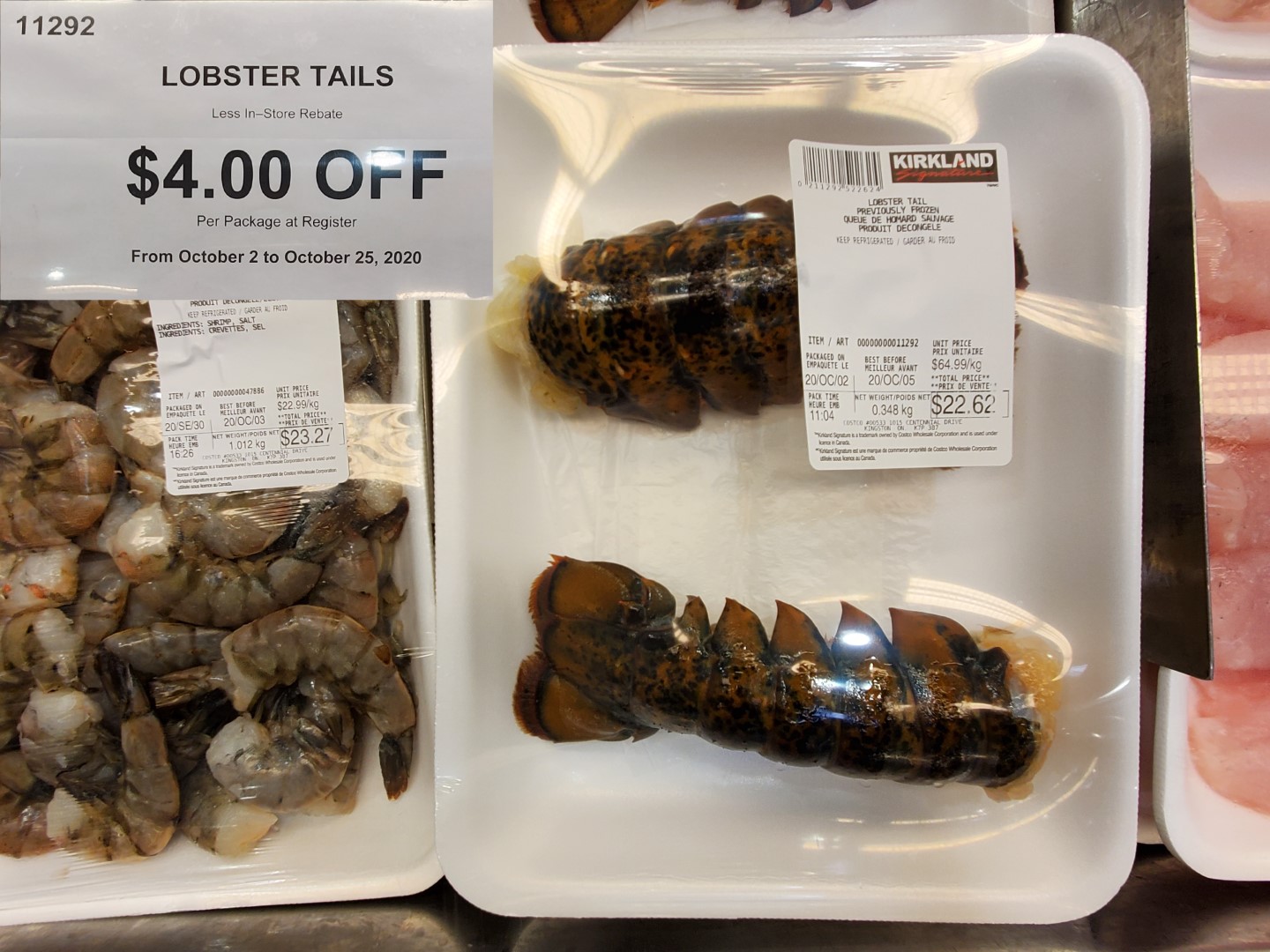 Costco Weekend Update sales