Welcome to the Costco Weekend Sales Update where I'll keep you all in the loop on the awesome sales Costco releases for the Weekend! I'll post them here and on our Facebook page for you to enjoy.
Want to see what might be on sale next week??? Click the picture below to see what was on sale last year at Costco!
NEVER MISS A COSTCO WEEKEND SALES POST! Join the Costco East Facebook group to get updated whenever I make a new post! https://www.facebook.com/costcoeast/.
ALSO you can come and see my Instagram feed with Pics of my weekly Costco shopping trips, Dexter and Ewok being lazy cats and pictures of things that I have cooked with anything I've purchased at Costco. You can find that here! https://www.instagram.com/costco_east_fan_blog/
Subscribe to website updates by signing up below
and you'll get a confirmation email from "FeedBurner Email Subscriptions". Click the link within it to activate your subscription and you'll be notified by email whenever I post (1 or 2 times weekly). Check your spam filter or contact me if you have questions or do not receive a confirmation email.
Welcome back to the Costco Weekend Update folks!
It's a beautiful sunny afternoon here and what better way to welcome that than to see some Bicycles & helmets in the aisles at Costco!
The NorthRock girls bike 24in. / 7 speed for $279.99 & the Carrera K200 20 in. / 7 speed for $219.99.
Bell Astro bike helmet child for $24.99 & Bell adult helmet with MIPS for $43.99
… I had no clue what MIPS stood for so I had to look it up. Multi-directional Impact Protection System (you can read more about that by following this link)
So there you go, I learned something today!
You likely won't need anything with MIPS protection if you pick up the Wilson Pickleball kit though.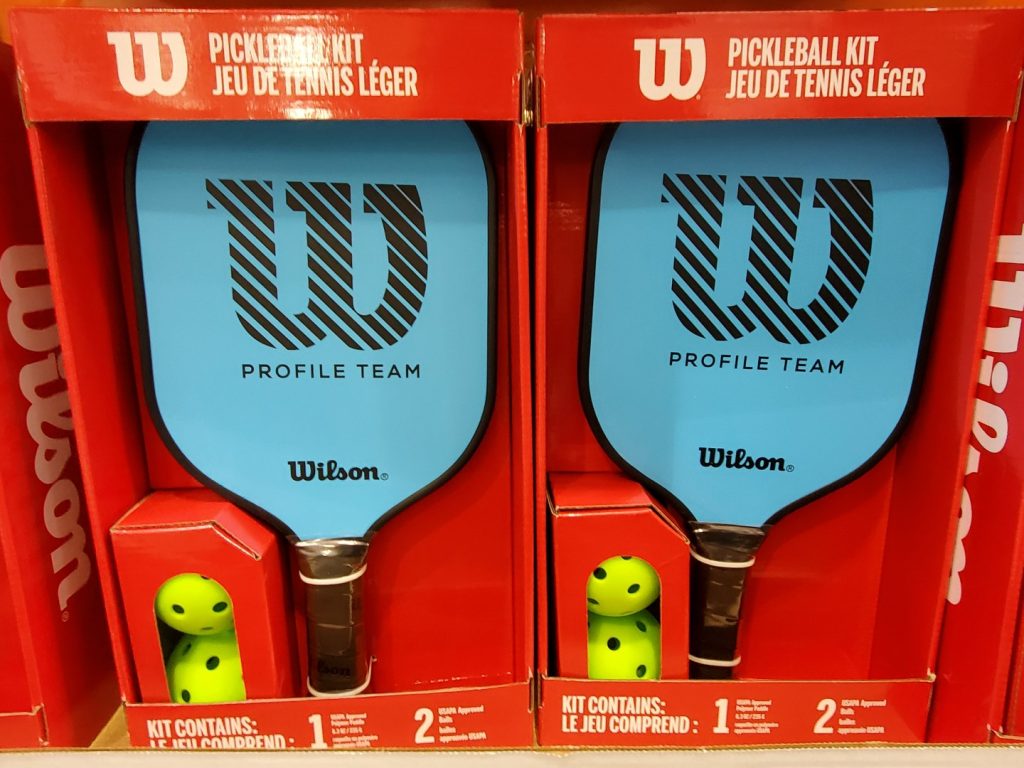 I mean I suppose it depends on how aggressively you play. (Any game could be a contact sport with the right people!)
In other outdoor activity news our little Red Squirrel has decided to plant himself on the feeder this afternoon!
Speaking of the little guy my partner has added a name for both the squirrel and the bird feeder.
Hans Gruber for the squirrel and The Nakatomi Plaza for the feeder. Gotta say I love 'em. And another late addition here is Lucy (As in Lucille Ball?) from Liz Walter.
Anyhow here's the final list of names here.
Dee Anna – Snappy
Eduard – Chip
Jennifer in Kingston – Bill
Layla Bay – Coco
holagranola – Otis

Susan, Ottawa – Rusty
Jan in Waterdown – Ginger
CEW – Creuset
Carol J – Peanut
Cheri – Hans Gruber
Liz Walter – Lucy
All of these are great names, so I guess I'll just need to find 10 more squirrels!
Or you could vote for his name in the Poll below! Come on, it'll be fun!!!
I'm excited to see what you all vote for here!
It's also the first time in a very very long time I've used a "poll or survey" here so I hope it works OK.
Now I know there is a marinara sauce battle waiting in the wings as well, and I will get around to getting that up here but I wanted to settle the Squirrel name debate before tackling the sauce battle. You'll just have to bear with me!
I think I'll leave you with a picture of Ewok sitting with some Tulips (from Costco obviously!) Because who doesn't like to start their day with a cute cat and some flowers???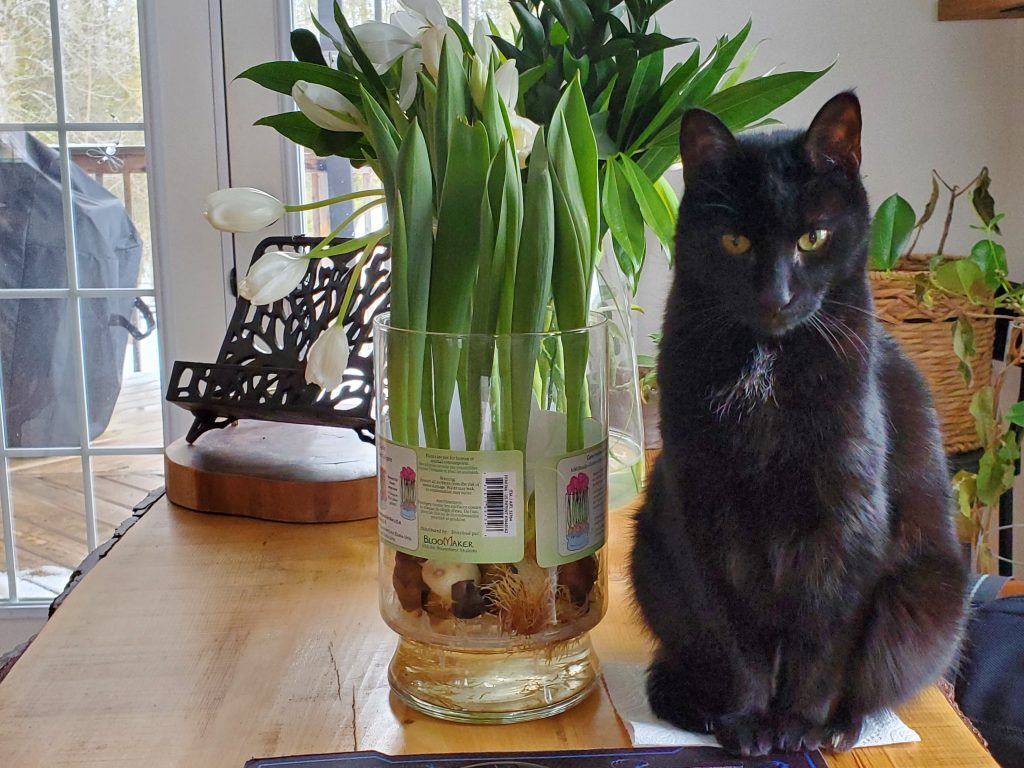 Cheers folks, have a great weekend and as always I'll see you on Monday!
Since we are in the second wave of COVID-19 I think it's important to remember that we're not out of the corona virus weeds yet, and each province has their own Health recommendations based on the provinces individual risk assessment and I would recommend that you follow the recommendations for your specific province. Information can be found at the following websites.
Newfoundland COVID-19 information
New Brunswick COVID-19 information
Nova Scotia COVID-19 information
So there you go, a little reading material for you.
Be kind, be safe and stay healthy!
Please note:
The price at your local Costco takes precedent (or precedence) over the prices listed on this blog.
Costco liquidation/Manager's Special items (ending in .97) vary from store to store.
An asterisk (*) on the price tag means the item is not being re-ordered.
If there is something you really want, ***double check the expiry date*** as some Costco sales items do end mid-week.
***This is a fan run, independent page with no affiliation or endorsement by Costco Wholesale***
The food brands available can differ from region to region. Pictures are taken at a store in Ontario. Sale items should apply to Costco locations in Ontario, Quebec, New Brunswick, Newfoundland & Nova Scotia, if the item is in stock at your store. There will likely be a few deals not shown here in your store. If this blog has helped you save money, consider sharing www.cocoeast.ca with your friends and family! If you see deals at your store that aren't on this blog, post them in the comments and help spread the money saving love!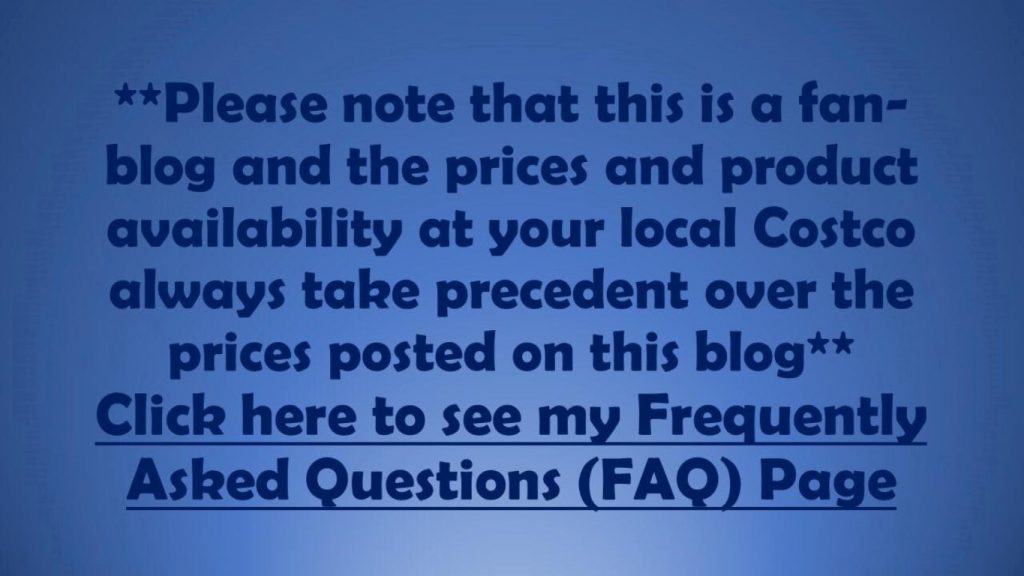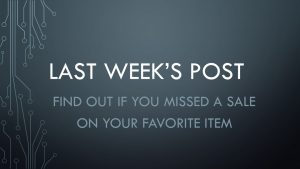 Costco Flyer Sales Feb 26th - 28th 2021
Costco Weekend Update sales Feb 26th - 28th 2021