I walk the whole store for you every Monday when Costco Sale items and Costco Flyer sales are released for the week, then post them here and on our Facebook page.
Want to see what might be on sale next week??? Click the picture below to see what was on sale last year at Costco!
NEVER MISS A POST! Join the Costco East Facebook group to get updated whenever I make a new post! https://www.facebook.com/costcoeast/.
ALSO you can come and see my Instagram feed with Pics of my weekly Costco shopping trips, Dexter and Ewok being lazy cats and pictures of things that I have cooked with anything I've purchased at Costco. You can find that here! https://www.instagram.com/costco_east_fan_blog/
Subscribe to website updates by signing up below
and you'll get a confirmation email from "FeedBurner Email Subscriptions". Click the link within it to activate your subscription and you'll be notified by email whenever I post (1 or 2 times weekly). Check your spam filter or contact me if you have questions or do not receive a confirmation email.
Hello and Happy Monday everybody!
I don't know if your Costco is doing this or not (I imagine they are) but in the last week or so they've got staff members at the entrance wiping down the cart handles with Lysol wipes and offering them up for your hands as well… I guess it's good to be cautious especially with a huge place like that, hundreds of hands touching the carts… Thank you Costco for taking a small step in the battle!
So as we just had Huggies on sale last week, we have the pull-ups on sale this week for $8.50 off! So, (as usual) this is a great time to stock up and save money!
I picked up some of those Olivia Yellowfin Tuna steaks today, they are delicious and $12.99 for 6 Tuna Steaks???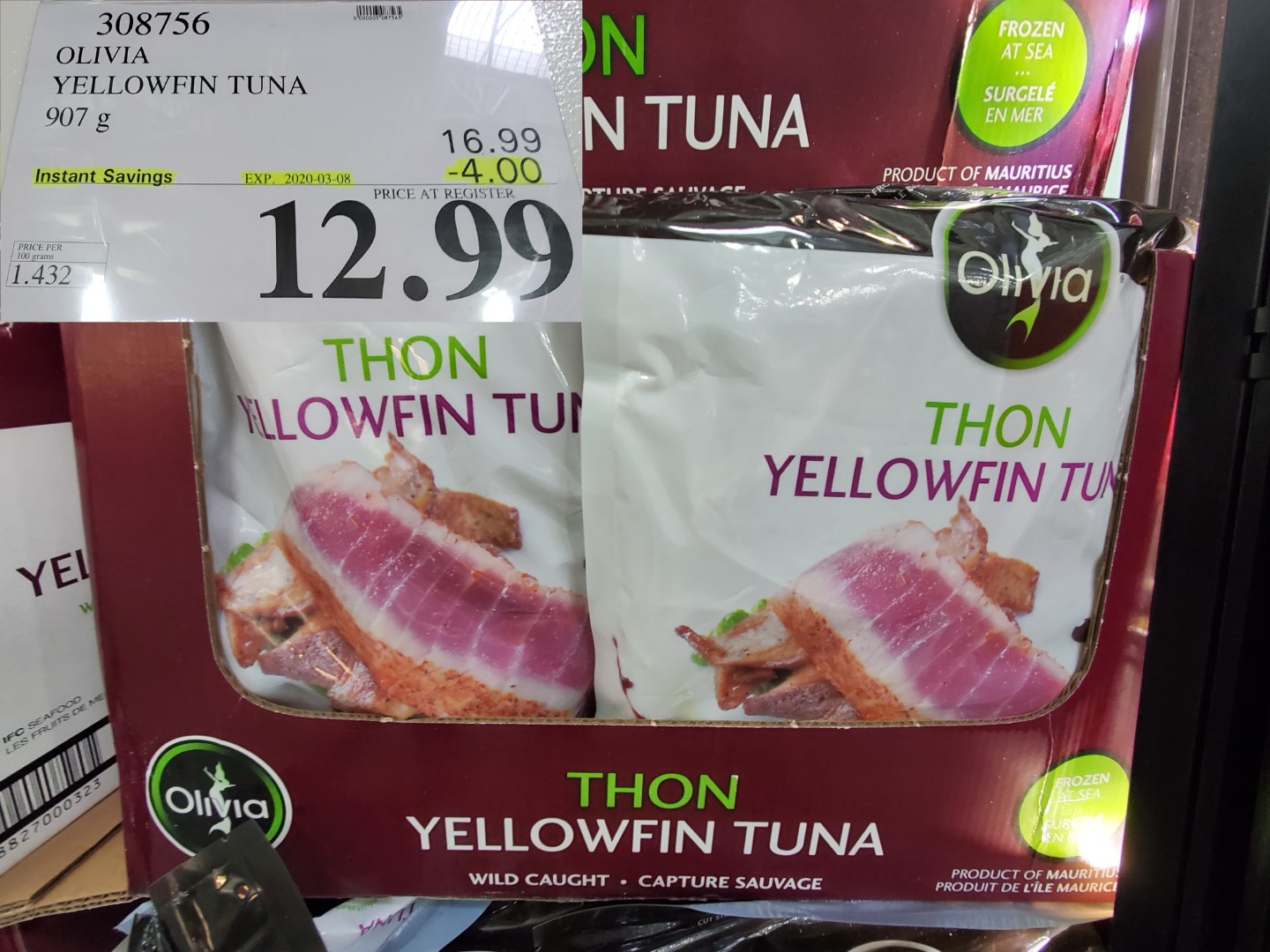 Come on, too good of a deal!
Also grabbed a 2 pack of these Dexas cutting boards, they felt pretty decent and I've been wanting to get some different boards for cutting meats on so… I did! I like that they have 4 rubber "feet" on them so they don't slip around when you're working… No one like a slippery cutting board and a sharp knife!
Otherwise it was a pretty regular shop for me, Water, toilet paper, Grapefruits & Stromboli triple meat pizza 3pk for $7.99, 3 pizzas for 8 bucks???… Exciting I know!
(and we ate pizza tonight, quick and easy!)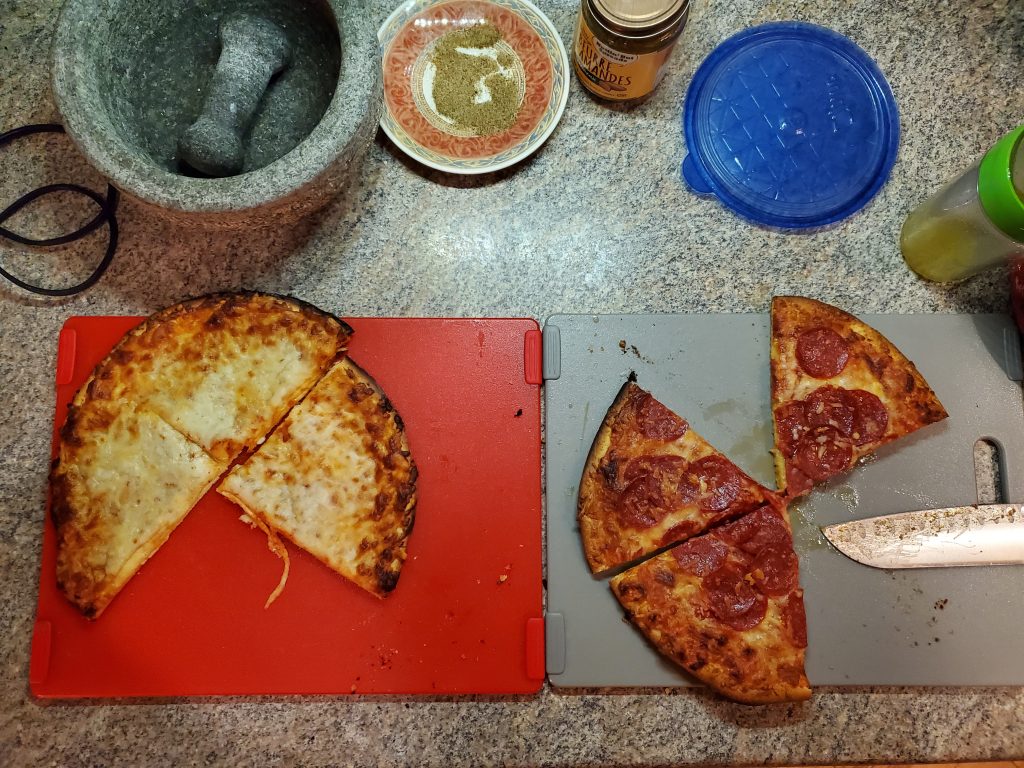 Sometimes you gotta do easy, I LOVE cooking (as you all know) but Monday nights usually call for quick, hands-off kinda meals. (and it was delicious! Also those are the cutting boards I bought today, and we love them!)
Let's take a look at what else was on sale shall we?
Huggies pull-ups plus Girls/Boys 2T-3T 128pk. -8.50 @ 33.49
Huggies pull-ups plus Girls/Boys 3T- 4T 116pk. -$8.50 @ 33.49
Huggies pull-ups plus Girls/Boys 4T – 5T 102pk. -$8.50 @ 33.49
Centrum mens/womens multivitmins -$6.00 @ 19.99
Kirkland signature baby wipes 900ct. -$4.50 @ 18.49
Natrel Butter was still $4.25/lb
These two, in a very candid moment, care not for butter prices.
They are rarely ever that close to each other, so I'm glad I caught it… Freshly folded laundry brings us all together I suppose right? (that's what they're sleeping on there, just to be clear)
So from us to you, good night & sleep tight!
Please note:
The price at your local Costco takes precedent (or precedence) over the prices listed on this blog.
Costco liquidation/Manager's Special items (ending in .97) vary from store to store.
An asterisk (*) on the price tag means the item is not being re-ordered.
If there is something you really want, ***double check the expiry date*** as some Costco sales items do end mid-week.
***This is a fan run, independent page with no affiliation or endorsement by Costco Wholesale***
The food brands available can differ from region to region. Pictures are taken at a store in Ontario. Sale items should apply to Costco locations in Ontario, Quebec, New Brunswick, Newfoundland & Nova Scotia, if the item is in stock at your store. There will likely be a few deals not shown here in your store. If this blog has helped you save money, consider sharing www.cocoeast.ca with your friends and family! If you see deals at your store that aren't on this blog, post them in the comments and help spread the money saving love!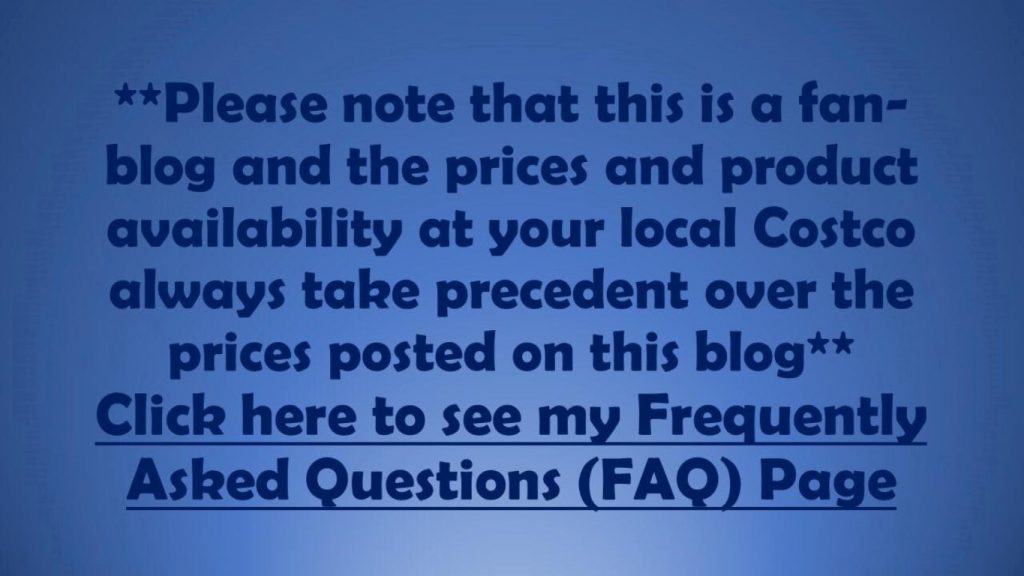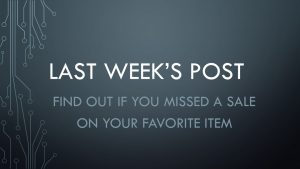 Costco Flyer Sales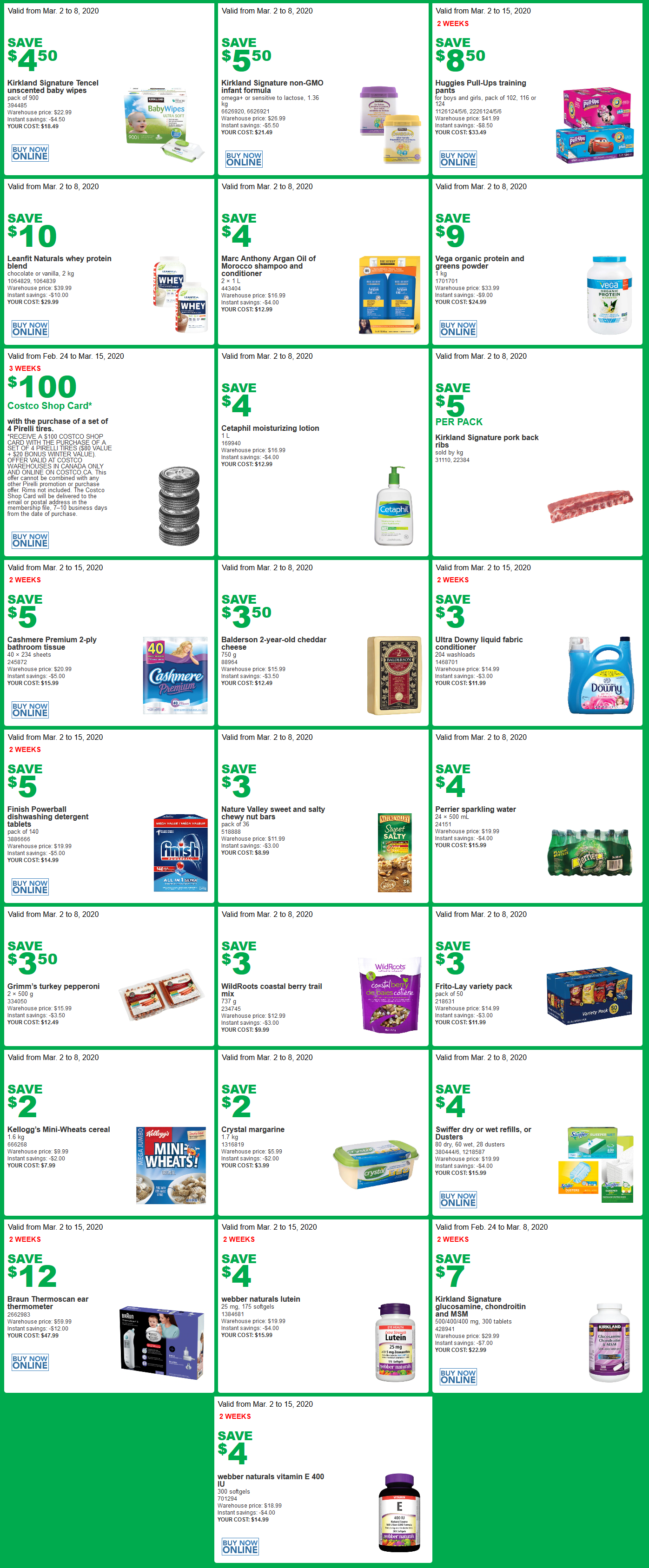 Costco Kingston Meat Department sales
Costco Treasure hunt sales