I walk the whole store for you every Monday when Costco Sale items and Costco Flyer sales are released for the week, then post them here and on our Facebook page.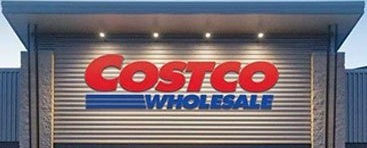 *
*
*
If you'd like to skip ahead to the comments section, click here!
Hello everybody and welcome to the Monday treasure hunt!
And surprise surprise Huggies are on sale!
The Huggies little snugglers sizes 1 & 2 and Little movers sizes 3-6 packs of 192 are on sale for $10.00 off @ $31.99.
Huggies Pull ups Boys & Girls 3T-4T pack of 116 and 4T-5T pack of 102 are on sale fr $9.50 off @ $36.49
Exciting stuff for sure, and a good time to stock up!
There's lots of other good stuff happening this week, check out a little preview below.
Restoralax laxative 2 x 36 doses -$8.00 @ $28.99
Fusion Proglide power cartridges pack of 16 -$14 @ $49.99
Starbucks coffee Verona K-Cups 54 CT. -$7.00 @ $29.49
Oxi Clean value pack wipes 2 packs of 30 -$3.00 @ $7.99
Slimfast meal replacement shake 15 x 325ml -$4.00 @ $14.99
Balderson sliced 1yr old cheddar 480g -$2.50 @ $8.49
Erie Meats chicken nuggets 2kg -$2.00 @ $7.99
Sunlight original fresh 225 wash loads -$4.00 @ $15.99
Also just a quick reminder that underneath each of the sales pictures is (in clear text) the sale information including the sale price, the savings, the item description and the sale expiration date. So if you're unable to read what is on the picture (which I know can be problematic) the text is directly below the picture. So if you're looking on your phone and can't zoom in, or the sales date isn't clear on the price tag, it's written in the text just below the picture.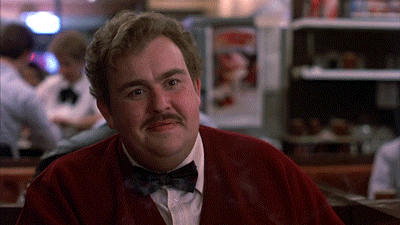 As always my Lego obsession continues, this time with the new editions of the Lego advent calendars.
These also hit on my hidden (?) nerd nerve as well, as I love Star Wars, the Marvel Universe and certainly have a soft spot of the Harry Potter movies I've seen. (I think I've only seen the first 4 or 5? I really enjoyed them though!) I of course love Lego as most of you know, so perhaps I'll make sure I have all 3 this year… I mean why not right?
So I picked up one of those Pizza Romano frozen pizzas last to test out, and tonight was the night.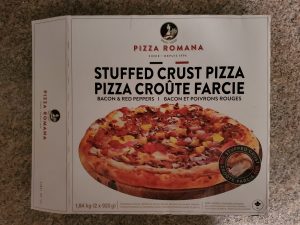 Mondays are usually a low impact cooking night as we're busy with work and I'm busy with the blog, and we had some "fun" plumbing issues to deal with today as well so… We went with easy, and I figured it'd be a great time to sample this pizza and let you know what I thought. The comments from everyone were pretty mixed, and after trying it I can see a little bit from both sides.
The box says to cook @ 425 for 18-23 mins on a pizza sheet on the second lowest rack. I think I had ours set on the 3rd?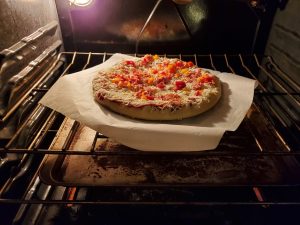 It seemed to cook up properly and after about 22 minutes I took it out of the oven and let it sit for a few minutes.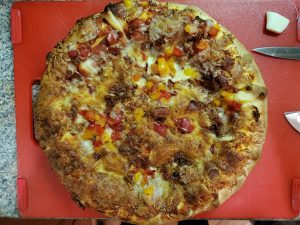 It cut easily and as much as I was expecting the stuffed crust to be a gooey, cheesy mess all over the cutting board, it was not.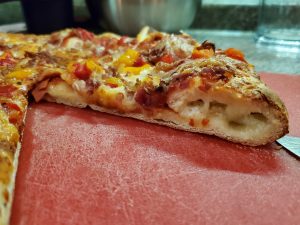 As far as I was concerned the pizza tasted fine, though I'll agree with Heather (who commented on this post) that it didn't really have a "wow" factor to it. The sauce was good, and there was enough of it to not make the pizza taste dry but overall it was kind of… Like frozen pizza. I wasn't disappointed by it, but wasn't blown away by it either.
I also agree that the crust was kind of doughy (as did Melissa P) and didn't cook as evenly as the toppings, while I certainly noticed it I wasn't turned off by it.
I would like to try what a reader Ruan recommended on this post, and try it on the grill with pizza stones, that sounds like a good idea. Anyone else tried this??
Anyhow, I liked it but I'll have to try it again to figure out if it's worthy of the freezer space. I mean, I certainly don't think I was loving it as much as Ewok was loving the Hydrangea cuttings.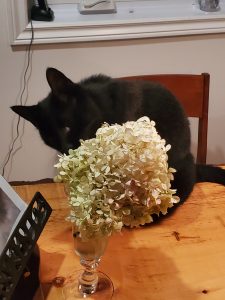 The way he nibbles at those clipping makes him look like he's eating a huge ice cream cone, and I find it hilarious. (He of course wouldn't pose properly once I pointed the camera at him…)
That seems like a good place to leave you folks. Enjoy the sales, and as always.
Stay Calm and Costco on!
*
As we're easing into Fall 2021 and the potential 4th wave of COVID-19 I think it's important to remember that we're not out of the corona virus weeds yet, and each province has their own Health recommendations based on the provinces individual risk assessment and I would recommend that you follow the recommendations for your specific province. Information can be found at the following websites.
Newfoundland COVID-19 information
New Brunswick COVID-19 information
Nova Scotia COVID-19 information
Go here for the latest Costco Coronavirus updates: https://www.costco.ca/coronavirus-response.html
So there you go, a little reading material for you.
Be kind, be safe and stay healthy!
Please note:
The price at your local Costco takes precedent (or precedence) over the prices listed on this blog.
Costco liquidation/Manager's Special items (ending in .97) vary from store to store.
An asterisk (*) on the price tag means the item is not being re-ordered.
If there is something you really want, ***double check the expiry date*** as some Costco sales items do end mid-week.
***This is a fan run, independent page with no affiliation or endorsement by Costco Wholesale***
Costco Flyer Sales Aug 30th – Sept 12th 2021
Costco Treasure hunt sales