I walk the whole store for you every Monday when Costco Sale items and Costco Flyer sales are released for the week, then post them here and on our Facebook page.
*
*
*
If you'd like to skip ahead to the comments section, click here!
*
Hello everybody and welcome to another addition of the Monday Costco treasure hunt!
Hard to believe we're basically in September now, but not hard to believe that there's 188 sales happening this week!
The Sabatassos Gluten free pizza is one we have our eyes on.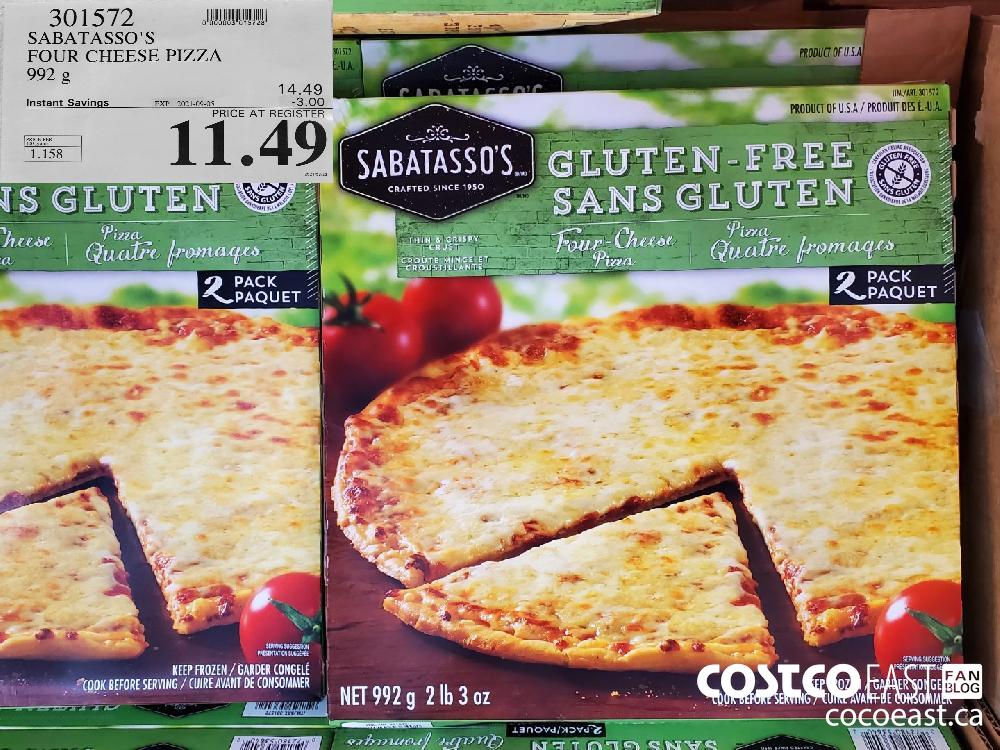 My partner is gluten free, and these pizzas have probably one of the best gluten free crusts we've had so I like to make sure we have 2 or 3 boxes in the freezer. I mean there's never a bad night to have pizza night, right?
Speaking of pizza night, the Pizza Romana stuffed crust pizza (2 x 920 g) is on sale for $11.99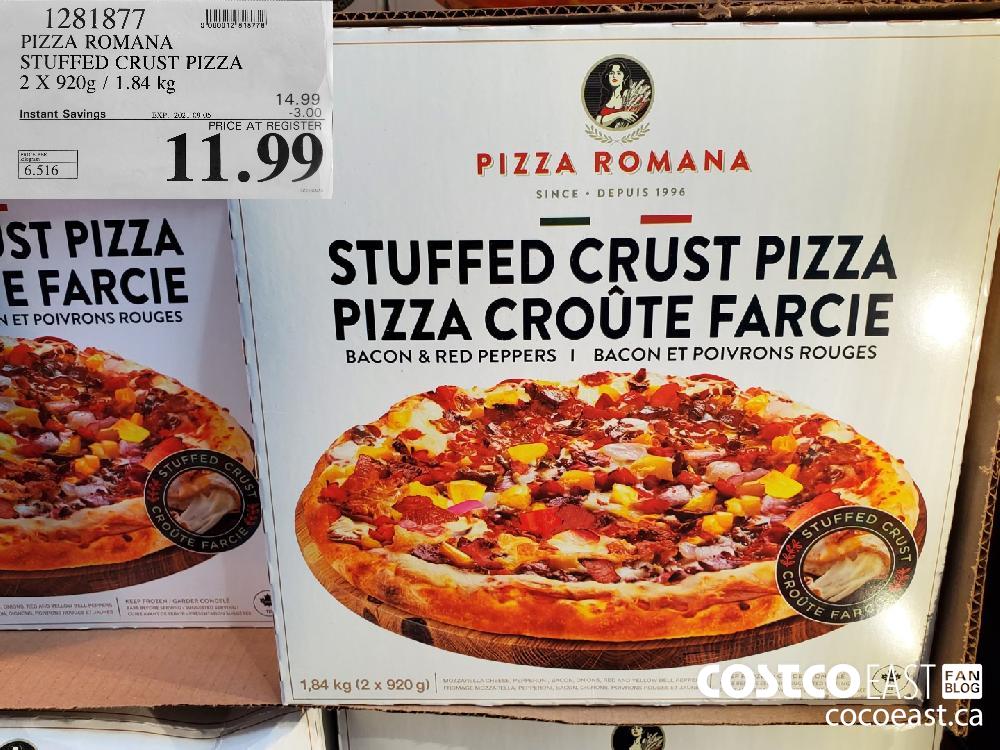 I'm curious if any of you have tried this one? I really enjoy the Kirkland Signature pepperoni pizza, but I'm always willing to branch out and try something new. However, the stuffed crust thing… I'm not sure how I feel about that. I like my crust to be the crust, I'm not sure if I want a bunch of melty cheese in there! I don't know what do you all think???
The Bag to Earth food waste bags (30 pk.) are on sale again (Finally!) for $3.00 off @ $9.99.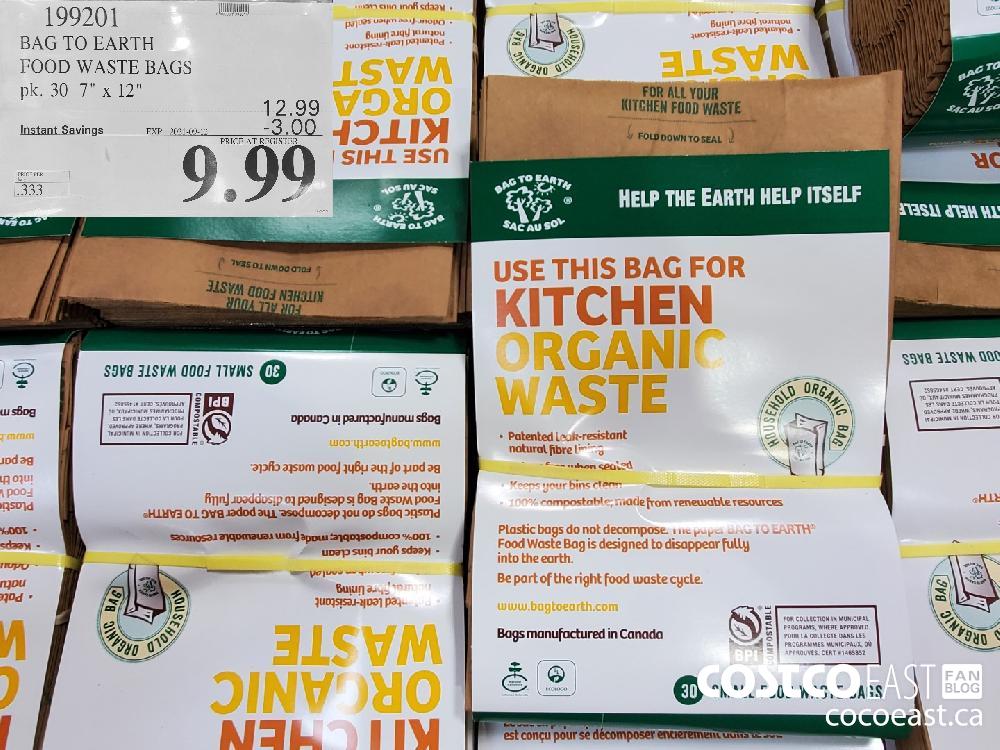 This is one of those products that doesn't go on sale that often so when it does I like to make sure I grab 3 or 4 of them to last until the next time they go on sale. And it's not like they are going to go bad or anything, so why not?
Here's a quick peek at some of the other sales.
Always Dri-liners long pantiliners 200 PK -$3.50 @ $10.99
Nicorette 2 & 4 mg extreme chill gum 315 PK. -$15.00 @ $59.99
Venus platinum razor + 11 cartridges -$10.00 @ $29.99
French's fried onions 680g -$2.00 @ $5.79
Pepsi/Diet Pepsi 32 x 355ml -$2.70 @ $9.99
Kirkland Signature basil pesto 630 ml -$2.50 @ $9.49
Sealy mattress pad queen -$8.00 @ $29.99
Tampax pearl super/regular pack of 96 -$4.00 @ $12.99
As always whenever Nicorette products on sale it's a good time to think about quitting smoking. Certainly one of the hardest thing I've ever done, and had to do several times before it stuck, but easily one of the best things I've done. So with Nicorette Gum and quick mist being on sale his is a good time to consider taking the leap.
On Friday I mentioned the Veggie pad Thai and how it looked delicious and I think someone asked if it was gluten free, and the answer is no, unfortunately.
I still am going to try these at some point soon, however for those who are gluten intolerant this is not the dish for you.
And now I shall depart, 188 sales await you folks… Scroll down and enjoy!
COVID-19 vaccinations are ramping up across Eastern Canada, follow the links below to find out if you're eligible and where they are available in your Province.
Since we are still in the third wave of COVID-19 I think it's important to remember that we're not out of the corona virus weeds yet, and each province has their own Health recommendations based on the provinces individual risk assessment and I would recommend that you follow the recommendations for your specific province. Information can be found at the following websites.
Newfoundland COVID-19 information
New Brunswick COVID-19 information
Nova Scotia COVID-19 information
Go here for the latest Costco Coronavirus updates: https://www.costco.ca/coronavirus-response.html
So there you go, a little reading material for you.
Be kind, be safe and stay healthy!
Please note:
The price at your local Costco takes precedent (or precedence) over the prices listed on this blog.
Costco liquidation/Manager's Special items (ending in .97) vary from store to store.
An asterisk (*) on the price tag means the item is not being re-ordered.
If there is something you really want, ***double check the expiry date*** as some Costco sales items do end mid-week.
***This is a fan run, independent page with no affiliation or endorsement by Costco Wholesale***
Costco Flyer Sales Aug 30th – Sept 13th 2021
Costco Weekend Update sales Aug 30th – Sept 5th 2021