CLOSED for Labour Day, Tire sale & CIBC to take over Costco Capitol One Mastercards in Canada
***
While most of you probably know by now, Costco is indeed closed today for Labour day. So that means my usual post will be delayed by a day.
There is other news though on the Costco front I thought I'd share though, and pertinent to those who have the Costco Capital One Mastercard.
Apparently CIBC has signed on to aquire the acquire the Canadian Costco credit card portfolio and become the exclusive issuer of Costco Mastercards in Canada.
While this won't affect any Capital One Mastercard holders right now, they will be issuing new CIBC cards early in 2022 and they hinted at potentially adding some "improvements" as well… Maybe some kind of points system??? I'd be excited about that! From what I read all the cashback percentages will remain the same, so no worries there either.
Here's a few links to read if you're interested.
*
Anyhow, interesting news for sure. Not Earth shattering, but if Costco decided to implement a "points" thing like "PC optimum points" I would be the happiest Camper since Jim Varney in Ernest Goes to Camp.
ONE MORE THING!!!
There is a one day sale happening where you can get 20% off any set of 4 tires at Costco or Costco.ca
A much as I hate to say it, winter is coming Canada… You know it is… And we all know that snow tires are amazing in their stated season. So this might be a great time to save a few bucks getting a new set, or maybe your current summer tires are a bit worn down and you're a "plan ahead" kind of person and are getting you new summer tires for next year. (I'm not that organized, but if you are please tell me how you got to be so.)
To check out the Costco.ca tire department follow this link.
Another great link to check out is this one about the Costco Tire warranty.
And if none of that interests you… I give you Dexter in all of his glory Mid bath, glaring at me for interrupting him…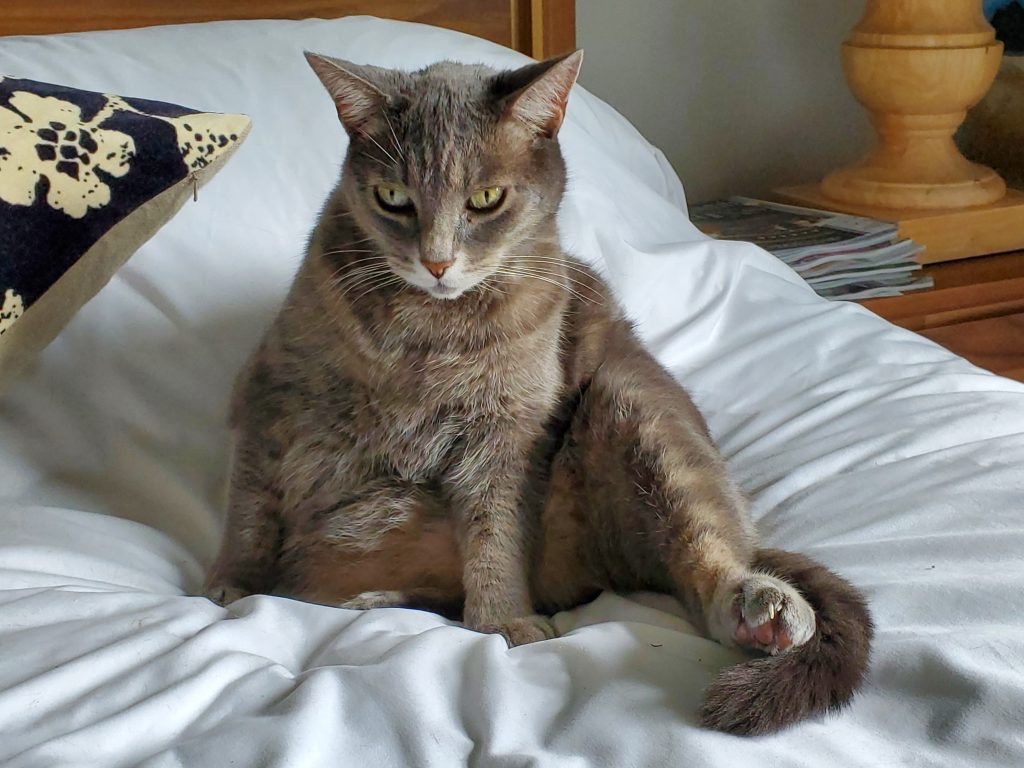 And with that, goodnight folks. See you soon.
As we're easing into Fall 2021 and the potential 4th wave of COVID-19 I think it's important to remember that we're not out of the corona virus weeds yet, and each province has their own Health recommendations based on the provinces individual risk assessment and I would recommend that you follow the recommendations for your specific province. Information can be found at the following websites.
Newfoundland COVID-19 information
New Brunswick COVID-19 information
Nova Scotia COVID-19 information
Go here for the latest Costco Coronavirus updates: https://www.costco.ca/coronavirus-response.html
So there you go, a little reading material for you.
Be kind, be safe and stay healthy!
Please note:
The price at your local Costco takes precedent (or precedence) over the prices listed on this blog.
Costco liquidation/Manager's Special items (ending in .97) vary from store to store.
An asterisk (*) on the price tag means the item is not being re-ordered.
If there is something you really want, ***double check the expiry date*** as some Costco sales items do end mid-week.
***This is a fan run, independent page with no affiliation or endorsement by Costco Wholesale***