Welcome to the Costco Weekend Sales Update where I'll keep you in the loop on all the awesome sales Costco releases for the Weekend! I'll post them here and on our Facebook page for you to enjoy.
*
*
*
If you'd like to skip ahead to the comments section, click here!
*
*
Welcome back to the the weekend update everybody!
On Monday I was talking about the Pizza Romana stuffed crust pizza.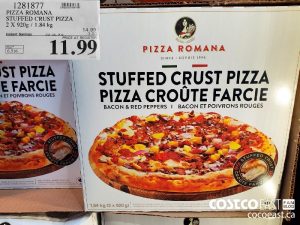 I asked for your insight. And so far it's been a pretty split poll. Some readers saying it tasted more like raw dough, it lacked flavor but the dough texture was good to it's the only frozen pizza that tastes like it's freshly made..
So with it being such an even split with the good, the bad and the ugly, I figured I should get one and try it cooked exactly as it's recommended on the box and post it here next week. Not that I'm some amazing culinary reviewer, but I've had/cooked a pizza or two in my life.and I'm happy to share my experiences with you.
Another fun culinary item I saw today was this The Rock multi pan for $17.99.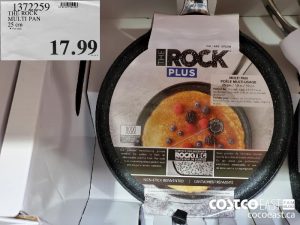 You all know I'm a sucker for kitchen equipment so seeing a new item always piques my interest. This one in particular as it's a super shallow and small-ish pan with a tall elongated handle, so it's looks caught my eye.
As you can see perfect for toasting tortillas, quesadillas, grilled cheese, eggs and a variety of other delicious foods. The low lip is somethings I really like cause you can get your spatula (or flipping tool of choice) pretty well right down to the bottom of the pan all around. It also feel pretty sturdy and solid, not flimsy at all which inspires confidence if you know what I mean?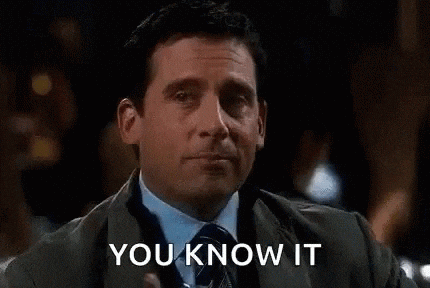 Thanks!
Here's a few of the weekend sales.
Parm Crisps everything 269g -$2.50 @ $8.49
Club House RSTD. garlic & peppers 660g -$2.80 @ $7.59
Kellogg's Vector 1.13kg -$2.00 @ $7.99
Suzie's Oaat Milk beverage 6 x 1L -$3.00 @ $8.99
Danby 3-in-1 portable AC 600 sq. ft. -$100.00 @ $399.99
HP 24F 23.8″ FHD monitor 2-pack -$20.00 $ $269.99
Blue disposable masks 100ct. -$2.00 @ $5.99
This is also another great weekend to get you Grill-on!
Webber Genesis II E-410 is again on sale for $200 off @ $899.99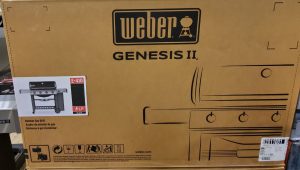 Blackstone propane griddle 60,000 BTU is onsale for $100.00 off at $389.99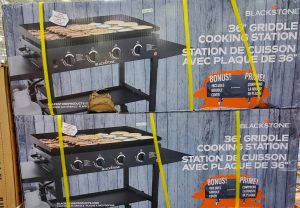 And the Louisiana Grills charcoal grill 24″ is firing on it's last embers at $499.97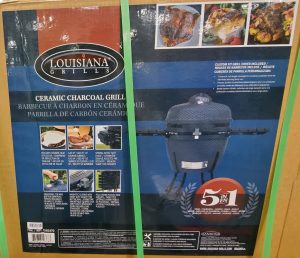 Delicious adventures await!
Speaking of delicious adventures, I know I always talk about candy and saying I "don't have a sweet tooth".. Fair enough… But what I do have is a taste for the salty and the spicy, and Sweet chili heat Doritos have always been a favorite of mine.Lays has been doing a run of chips that are "inspired by" Doritos flavors and the Sweet Chili heat ones are here.
I can guarantee you once I'm done with the bag of Miss Vickies Spicy Dill Pickle chips in our cupboard I will be bringing a bag of these home, and I'll give them a 3 day shelf life, and I feel no shame in stating that. I will take a picture of that bag in my cart to prove it!
Speaking of no shame…
Dexter's the best at not caring.
Good night everyone, stay safe and I'll see you soon!
*
As we're easing into Fall 2021 and the potential 4th wave of COVID-19 I think it's important to remember that we're not out of the corona virus weeds yet, and each province has their own Health recommendations based on the provinces individual risk assessment and I would recommend that you follow the recommendations for your specific province. Information can be found at the following websites.
Newfoundland COVID-19 information
New Brunswick COVID-19 information
Nova Scotia COVID-19 information
Go here for the latest Costco Coronavirus updates: https://www.costco.ca/coronavirus-response.html
So there you go, a little reading material for you.
Be kind, be safe and stay healthy!
Please note:
The price at your local Costco takes precedent (or precedence) over the prices listed on this blog.
Costco liquidation/Manager's Special items (ending in .97) vary from store to store.
An asterisk (*) on the price tag means the item is not being re-ordered.
If there is something you really want, ***double check the expiry date*** as some Costco sales items do end mid-week.
***This is a fan run, independent page with no affiliation or endorsement by Costco Wholesale***
Costco Flyer Sales Aug 30th – Sept 12th 2021
Costco Weekend Update sales Sept 3rd – 5th 2021 2021