Hello and happy Saturday evening everyone!
Just a quick COSTCO recall notice for you all to take a look at.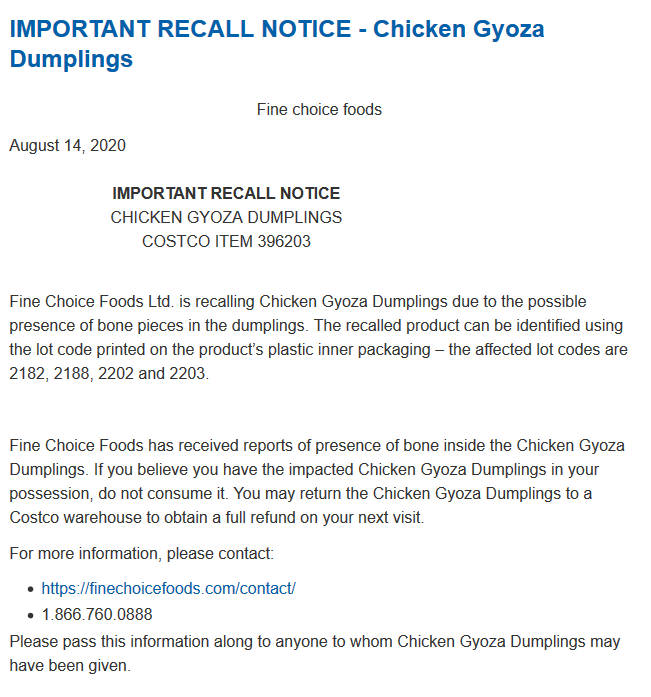 Costco has issued a recall of the Chicken Gyoza Dumplings Costco – Item #396203 due to the possible presence of bone pieces in the dumplings. If you have purchased these items please check the lot codes to see if your product was affected. If your lot code isn't indicated, your product should be fine; however, if you are still worried, you can always return the product (or whatever is left).
Here's an Email recieved by a member who purchased these.
"Dear Costco Member,
Costco Wholesale records indicate you may have purchased the Chicken Gyoza Dumplings, item 396203 at a Costco warehouse between July 7th and August 10th 2020.
Fine Choice Foods Ltd. is recalling Chicken Gyoza Dumplings due to the possible presence of bone pieces in the dumplings. The recalled product can be identified using the lot code printed on the product's plastic inner packaging – the affected lot codes are 2182, 2188, 2202 and 2203.
Fine Choice Foods has received reports of presence of bone inside the Chicken Gyoza Dumplings. If you believe you have Chicken Gyoza Dumplings in your possession, do not consume it. You may return the Chicken Gyoza Dumplings to a Costco warehouse to obtain a full refund on your next visit.
For more information, please contact:
We apologize for any inconvenience this may cause and ask you to please pass this letter along to anyone to whom Chicken Gyoza Dumplings may have been given.
Sincerely,
Fine Choice Foods Ltd."
I love that Costco does this for their members!
Anyhow, get back to your regularly scheduled Saturday evening shenanigans folks! (Or if they involve dumpling, get your reading glasses on and check your numbers!) And I'll see you on Monday as usual, take care be safe and healthy.
As we are all getting back to normal I think it's important to remember that we're not out of the weeds yet, and each province has their own Health recommendations based on the provinces individual risk assessment and I would recommend that you follow the recommendations for your specific province. Information can be found at the following websites.
Newfoundland COVID-19 information
New Brunswick COVID-19 information
Nova Scotia COVID-19 information
So there you go, a little reading material for you.
Please note:
The price at your local Costco takes precedent (or precedence) over the prices listed on this blog.
Costco liquidation/Manager's Special items (ending in .97) vary from store to store.
An asterisk (*) on the price tag means the item is not being re-ordered.
If there is something you really want, ***double check the expiry date*** as some Costco sales items do end mid-week.
***This is a fan run, independent page with no affiliation or endorsement by Costco Wholesale***
The food brands available can differ from region to region. Pictures are taken at a store in Ontario. Sale items should apply to Costco locations in Ontario, Quebec, New Brunswick, Newfoundland & Nova Scotia, if the item is in stock at your store. There will likely be a few deals not shown here in your store. If this blog has helped you save money, consider sharing www.cocoeast.ca with your friends and family! If you see deals at your store that aren't on this blog, post them in the comments and help spread the money saving love!