Costco Canada Flyer sales & Costco sale Items July 29th – Aug 4th 2019 – Ontario, Quebec & Atlantic Canada
I walk the whole store for you every Monday when Costco Sale items and Costco Flyer sales are released for the week, then post them here and on our Facebook page.
NEVER MISS A POST! Join the Costco East Facebook group to get updated whenever I make a new post! https://www.facebook.com/costcoeast/.
ALSO you can come and see my Instagram feed with Pics of my weekly Costco shopping trips, Dexter and Ewok being lazy cats and pictures of things that I have cooked with anything I've purchased at Costco. You can find that here! https://www.instagram.com/costco_east_fan_blog/
Subscribe to website updates via email and you'll get a confirmation email from "FeedBurner Email Subscriptions". Click the link within it to activate your subscription and you'll be notified by email whenever I post (1 or 2 times weekly). Check your spam filter or contact me if you have questions or do not receive a confirmation email.
Well here we are almost in August my Costco family. Hard to believe right?
I know I'm finding tough to grasp, the time has been flying by. The last few months seem to have vanished in a blur, the only way I've been able to gauge where I am in the week is if it's Monday and I go to Costco! Which happened to be today, so I know that it's Monday; and that's good to know cause I need to set my alarm for work tomorrow.
Let's take a quick look at some of the sales here this week shall we??? I think so.
Voltarin emulgel 2 x 150g + 30g $23.99 – 5.00 @ 18.99
Kirkland Signature adult multivitamins 250 gummies $13.99 – 3.00 @ 10.99
Kirkland Signature moist flushable wipes 632 pc. $18.99 – 4.00 @ 14.99
Lysol toilet bowl cleaner $11.49 – 3.00 @ 8.49
Hellmans real Mayonnaise 1.8L $7.49 – 2.00 @ 5.49
Cardinal angus beef burger 12 x 151g $15.99 – 4.00 @ 11.99
Kingston, Ontario meat department sales
So, as I had mentioned last week, I had some news to deliver this week… I suppose I'd better keep true to my word then.
We finally got the keys to our new house on Wednesday last week!!!
It has been a whirlwind of busy-ness (as I'm sure you can imagine) and stress, and emotion, and exhaustion; and all the other good stuff involved in buying a house and moving… But it's all good. We're dealing with it like… (see below)
I don't want that to sound bad though, it's very exciting for us! We are only about 10 minutes away from where we live now, but we have 2 acres (so alot more space, and I guess mowing the lawn…) so it feels like it's a country property that's close to the city; it's a perfect compromise for both of us! Plus, we have space (finally!) to put together a studio/jam space so we can play music together, it took over 13 years but hey; patients aren't just for doctors.
(hahaha, sorry… couldn't help it, I had a prescription for bad jokes that needed to be filled)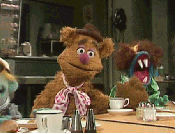 Ok, yes that one was too far. Thanks for the warning Fozzie.
GIFs and Muppets aside, it has been a very exciting and busy time for us. Painting, moving, installing new hardwood floors (to come in the next few weeks) so I apologize if I've missed comments, or anything like that… Just been wringing every minute dry of all of it's seconds lately.
We do seem to have lots of new friends already though, from lots of American Robins (2 of whom have nests with little babies in them!) to Chipmunks stopping in to say hello.
Cute! I can't wait to get to know him and his buddies. (though I could do without the mosquitos… As a city dweller, they can smell fresh meat)
I will keep you all updated on the renovations as they happen, and post some pics of our nature friends as we meet them (I plan on setting up a camera to try and catch some of the Robins nest activity soon) and once we get some more of the work done inside I'll share with you as well.
In the mean time we finally had a home cooked meal tonight (instead of vegi-burgers or frozen pizza) and it was delicious. Now, we are tired. I have to work tomorrow morning and then afterwards get out to the new place and keep painting. So… I shall be departing.
As always, thank you for your support and your comments! I'm sorry if I haven't been responding as often as usual, it's just been crazy. But don't worry, I'm still here!
On that note, have a fantastic week folks! I'll keep you updated and look will forward to sharing this chapter of our lives with you all! (plus so much more room to store and freeze things!!! Always about the food with me)
Good night, See you soon, and thank you!
Please note:
The price at your local Costco takes precedent (or precedence) over the prices listed on this blog.
Costco liquidation/Manager's Special items (ending in .97) vary from store to store.
An asterisk (*) on the price tag means the item is not being re-ordered.
If there is something you really want, ***double check the expiry date*** as some Costco sales items do end mid-week.
***This is a fan run, independent page with no affiliation or endorsement by Costco Wholesale***
The food brands available can differ from region to region. Pictures are taken at a store in Ontario. Sale items should apply to Costco locations in Ontario, Quebec, New Brunswick, Newfoundland & Nova Scotia, if the item is in stock at your store. There will likely be a few deals not shown here in your store. If this blog has helped you save money, consider sharing www.cocoeast.ca with your friends and family! If you see deals at your store that aren't on this blog, post them in the comments and help spread the money saving love!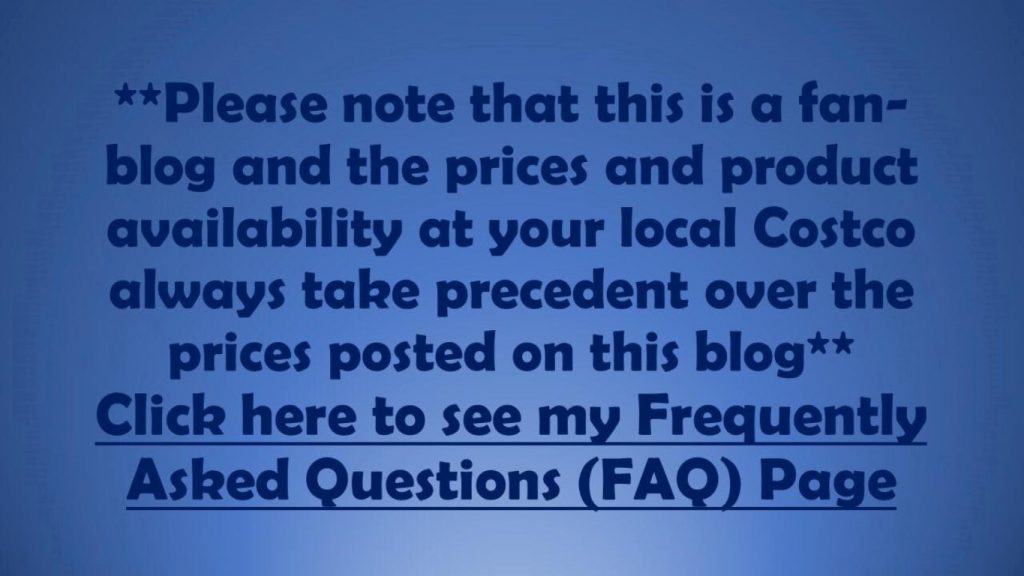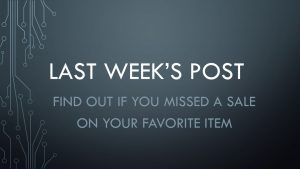 Costco Flyer sales July 29th – Aug 4th
Costco treasure hunt Sales July 29th – Aug 4th