Costco Canada East Secret Sale Items – Aug 6th – Aug 13th – Ontario, Quebec & Atlantic Canada
I walk the whole store for you every Monday when Costco's Secret Sale items are released for the week, then post them here and on our facebook page.
NEVER MISS A POST! Join the Costco East Facebook group to get updated whenever I make a new post! https://www.facebook.com/costcoeast/.
Subscribe to website updates via email and you'll get a confirmation email from "FeedBurner Email Subscriptions". Click the link within it to activate your subscription and you'll be notified by email whenever I post (1 or 2 times weekly). Check your spam filter or contact me if you have questions or do not receive a confirmation email.
**** TO SKIP AHEAD TO THE SALES CLICK THIS LINK ****
Ahhh the dog days of summer so they say…(read about the origin of that phrase by clicking the link) I agree, the heat and humidity here have been pretty oppressive (though not in the Costco air conditioning). The cats have been basically finding ways to get as close to a fan as possible and appear to be melting into the floor! Dexter tries to spend as much time outside as he possibly can, while Ewok has been camped out in the hallway upstairs sprawled out where the ceiling fan makes the most air movement- clever little fella.
I on the other hand am writing this from the dining room on my brand new laptop! I finally did it after weeks of looking around and doing research on what was good, what was bad, what was ugly. (Clint Eastwood fans anyone?)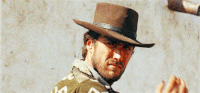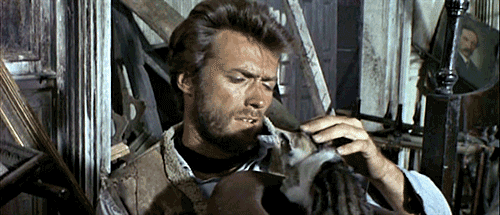 …I mean, he has a kitten in his cowboy hat… Whats not to like about that people!
I'm a PC person, I've been using them my whole life basically so the thought of switching to a Mac was not appealing. My partner uses Macs (although so far without great luck, another reason I'm not a fan) and they are nice and clean looking, the UI is pretty straightforward are pretty virus-proof. But I don't like that you can't really open them up and adjust things like you can with a PC… Video card crapped out? you can find hundreds of replacements with a wide variety of price tags and specs to suit basic users to video editors to hardcore gamers, and you can easily install it yourself (well…. I guess "easy" is in the eye of the beholder)  Same goes for sound cards, CPU's, memory cards, additional hard drives blah blah blah… Take the case off and give it a little dusting? yup! Everything works ok but you want to upgrade your entire motherboard to something new with more expansion slots? no problem! (Although I've not changed out a CPU chip before so I'd recommend getting a techy to help with that, CPU's are fragile and can be expensive) Need a new power supply to supplement all the crazy cards and adapters you've installed??? The choices are endless (and you can put crazy colored LED's in various fans to keep your overclocked CPU's from overheating)Aaaanyways … off topic a bit… I found a refurbished Acer at our local Canada Computers and checked it out with some of the employees discussing the pro's and con's of the particular model I liked the way it looked, the way it felt, the price… I was sold. Given that it's refurbished I felt a little iffy though because I'm not too familiar with how that process worked,so I did some research and talked to the guys at the store about it. Turns out (in my opinion) refurbished might actually be better than new… The unit is taken apart, parts are replaced and tested, it gets a pretty decent look over and reassembled to be brand new (basically) so it's tested and tested and tested again to make sure it's good. I feel good about that. (update- I've just moved out to the back deck to continue writing with Dexter, so nice) A big part of the reason I got this laptop was so that when I was doing this blog I could be downstairs with my partner and not cooped up in the office, but being outside with my cat is also a great reason, needless to say I'm pleased!…moving on from the computer nerd section and onto the Costco nerd section…
A few weeks ago a figured it wouldn't be too long before we'd start to see Halloween items on the floor and today I was proven correct. 
That butler guy is so cool! I really had to resist the urge to put that in my cart, as you are all mostly aware of I LOVE Halloween and fall, so as much as summer is great and I'm sad it's August I'm pumped for September and October and all the pretty colors and decorations that go along with them. Like I said previously you will get plenty of doses of my love for the season as it approaches and I will (like it or not) be posting pictures of Halloween decorations. This is merely the beginning. Mwa-haha-ha
Kirkland acetaminophen is on sale right now for 8.99 (for 400 tablets? holy moly!) We already have one of these at home so There isn't a need to stock up yet but it's a great deal! Advil is on sale as well for $4.00 off @15.99 (280 tablets) so if that's your brand then woo-hoo! you're in luck!
The Omega-3 easy to swallow soft gels are on sale and if you're like me you don't like swallowing big pills, so these are a great thing for us. I feel like most of us could use more Omegas in our diets (I'm not a doctor so don't take this as a prescription, just my opinion) if you don't eat enough fish, nuts, or meats then you could probably benefit from some of these… good for the heart, good for the brain, good to help reduce bad cholesterol (so they say) I didn't get any this week because I still have a container of Royal Red krill oil to get through so I won't overload my vitamin drawer, like most drawers or cupboards in my house (with the exception of my spice cupboard) I re-did that a while ago with labelled mason jars and so far (fingers crossed) it's been uncluttered… to a point that is, sometimes a new spice will make it's way into our lives and you gotta find a temporary home for it. Like Mexican oregano, or ground guajillo pepper powder (sounds like Gwa-Heeo)…. You gotta make room for those spices people. Also as mentioned a few weeks ago my pots and pans drawers are a disaster (which is embarrassing as a kitchen person, everything should be readily accessible quickly and with little fuss…not the case here at home) So needless to say I need to do some cleaning and organizing otherwise I'll never have room for those heritage rock pots and pans and I MUST have those at some point. Speaking of cupboard organizing I picked up one of these a week and a half ago(??? ish)
I'm pretty pleased with it, I mean it isn't a super fancy model from a Home Depot or Rona or Lowes that cost 80-100 dollars (or more) but it feels sturdy (plus I haven't screwed it in place yet) and it fits the location perfectly. Seemed like the other models from those stores were just and inch or so to tall or too wide, plus the shelf on top gives  a little more room to store things like the giant packs or sponges from Costco etc. So now the garbage can be relocated under the sink giving us a bit more space in the kitchen and the compost and garbage can live in a 2 bedroom apartment under the sink and be happy, we all win here people.
As I was saying about the Halloween things creeping onto the sales floor be aware that the summer goodies are starting to make their way out, there are TONS of summer items on clearance… Lawn games, kids bike helmets, life jackets (or PFD's as they like to call them now) lawn seed, outdoor lights and on and on and on. If you want any of those things better keep a close eye on stock levels as the prices drop because they likely won't be stocked back up again. I bought one of these today because you can barely buy a lunch pack for that price. And this one says it'll keep ice for 3 days?!?! Haven't tested that but I think I might.
Either way it's way more convenient than our big cooler, so making small road trips won't be as much of a hassle, plus this can now come with me when I shop and I can keep my meats and beers and wines and veggies chilled until I get home. Amazing! I'm really moving up in the world folks. For real though 19.97 for a rather large cooler bag? That is a pretty awesome deal.
In reference to things that can be put in coolers Budweiser prohibition brew (non alcoholic beer) is still on sale. Of the non-alcoholic beers I've tasted I think I like this one the best although there is a Coors brand I haven't tried yet (but have one at home to sample) I can't remember the last time I had a Budweiser so I don't remember the taste of it, maybe I should do a blind taste test at some point to see if I can detect the difference… The Pepsi challenge if you will, what do you think?
I think I'll wrap it up here, I'm sure you're all anxious for the sales (if you haven't skipped this already in which case you aren't reading this so… doesn't matter what I say) But I would like to say again that I really really appreciate the support you all give me here, I have a great time writing this blog and I have a great time shopping at Costco (Jodi if you're reading it's not weird to love Costco shopping trips) so thank you all again. And thank you for always leaving comments below, I may not respond right away (though I'm trying to get better at that) but I do read them and love that you are all interacting and responding to each other too!  I feel like we have a pretty cool little Costco fan community growing here and I love it!
Cheers everyone, looks like the heat is breaking and a thunderstorm is on it's way now. I'm looking forward to that!
Have a safe week and I'll be chatting with you all soon!
Please note:
The price at your local Costco takes precedent over the prices listed on this blog.
Costco liquidation/Manager's Special items (ending in .97) vary from store to store.
An asterisk (*) on the price tag means the item is not being re-ordered.
If there is something you really want, ***double check the expiry date*** as some Costco sales items do end mid-week.
The food brands available can differ from region to region. Pictures are taken at a store in Ontario. Sale items should apply to Costco locations in Ontario, Quebec, New Brunswick, Newfoundland & Nova Scotia, if the item is in stock at your store. There will likely be a few deals not shown here in your store. If this blog has helped you save money, consider sharing www.cocoeast.ca with your friends and family! If you see deals at your store that aren't on this blog, post them in the comments and help spread the money saving love!