Welcome to the Costco Weekend Update where I'll keep you all in the loop on the awesome sales Costco releases for the Weekend! I'll post them here and on our Facebook page for you to enjoy.
Want to see what might be on sale next week??? Click the picture below to see what was on sale last year at Costco!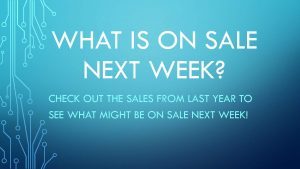 NEVER MISS A POST! Join the Costco East Facebook group to get updated whenever I make a new post! https://www.facebook.com/costcoeast/.
ALSO you can come and see my Instagram feed with Pics of my weekly Costco shopping trips, Dexter and Ewok being lazy cats and pictures of things that I have cooked with anything I've purchased at Costco. You can find that here! https://www.instagram.com/costco_east_fan_blog/
Subscribe to website updates by signing up below
and you'll get a confirmation email from "FeedBurner Email Subscriptions". Click the link within it to activate your subscription and you'll be notified by email whenever I post (1 or 2 times weekly). Check your spam filter or contact me if you have questions or do not receive a confirmation email.
Hello and happy weekend to you all!
Hopefully your weeks have all been good?
I had the delight of getting a COVID-19 test done on Thursday and well it's hard to describe the feeling of that invasive little swab… Things aren't supposed to go that far up your nose, but there I was on Thursday morning staring at the ceiling of the assessment center, eyes twitching and watering. The kind nurse said I did great for being the first time, I think she was just being nice.
Now before you all ask, I'm fine! No sickness or symptoms of COVID-19, however our health department recommended that all restaurant employees get tested (we've had I think close to 23 cases related to some fast food chain outbreaks) so I think about half of our staff went on Thursday. And guess what?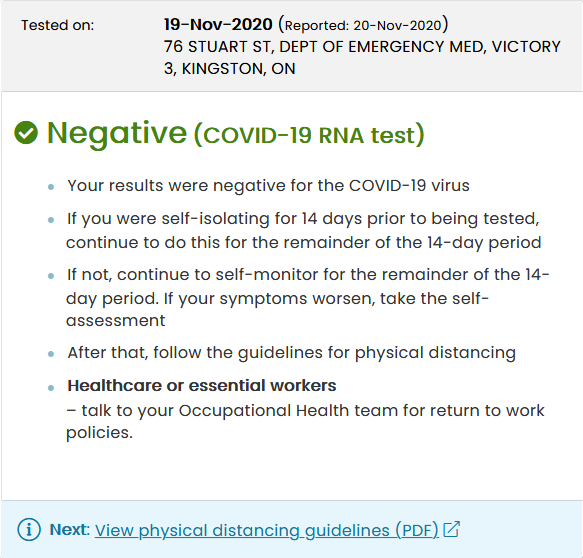 We're all in the clear!
It's a relief of course, but had a good feeling that I was fine.
Anyhow, let's dive into a sales preview shall we?
As you can see (and will see farther down) there were lots of sweet deals this weekend and lots of new items as well.
A sweet new 3 piece skillet set from Henckels international that felt really nice and sturdy, the non-stick coating felt pretty good as well.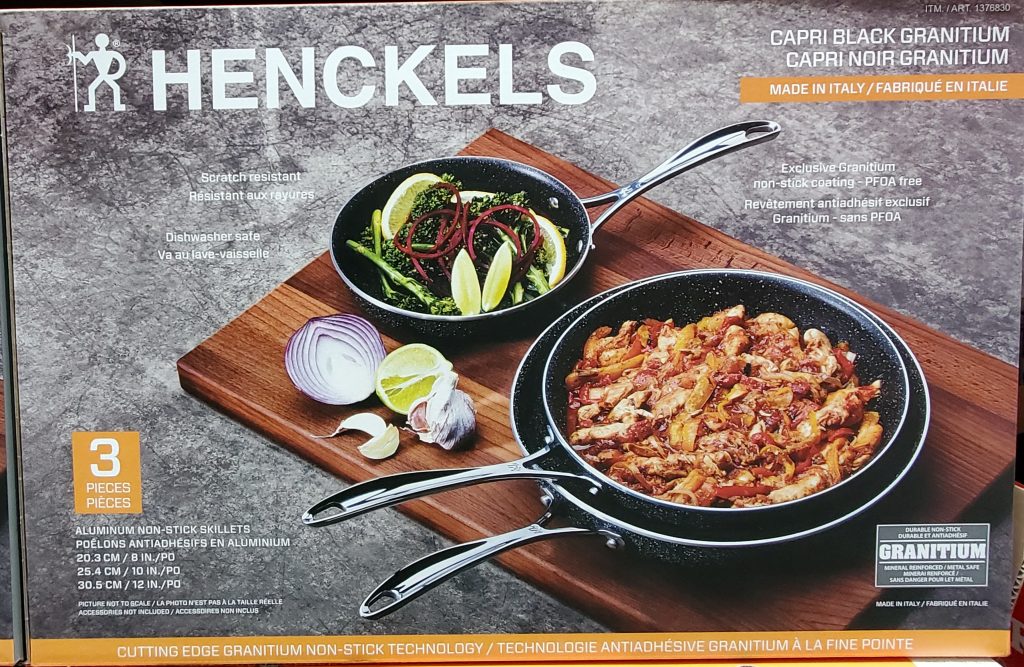 Henckels are always good quality from my experience.
The Luxe heated seat cover caught my eye too. After having a vehicle with heated seats for just 1 winter I gotta say it is pretty much essential now! I highly recommend heated seats if you haven't tried them before.
I also gave the DOM Steelhead Salmon Poke a try.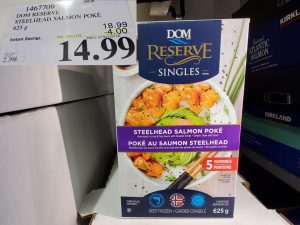 I love sushi (especially salmon) so this seemed like it would be a win for me. (It's meant to be eaten raw, but there's no reason you couldn't cook it up too!) I will say that it was good, the salmon was good quality and didn't taste "fishy" but tasted like good sushi grade Salmon. I just tried it on it's own, so no rice or any other sauces and I thought it was pretty good. The seasonings were pretty light, so personally I'd add some fresh jalapenos and maybe a little more soy to add a bit of salt & depth to it but again I though it was a good and the price is really reasonable. (sale lasts until Sunday the 22nd)
Who doesn't love Reece's peanut butter cups? I know I do! And I suppose I could fool myself into thinking that these Reece's "thins" are better for me because, well they're "thin"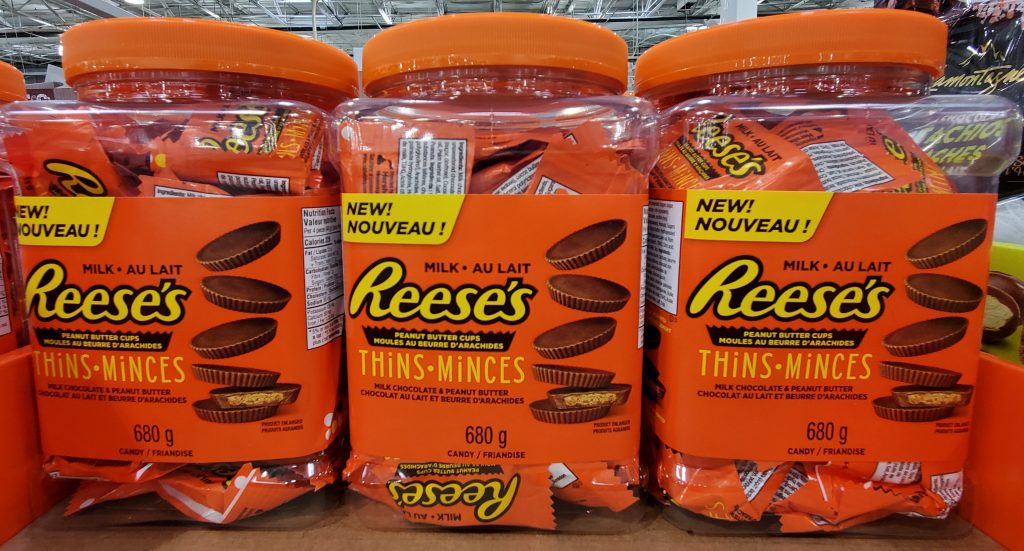 That logic works right?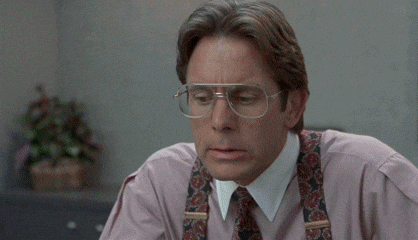 And who doesn't have a deep seeded love for the Swingline stapler, much better than the Boston staplers.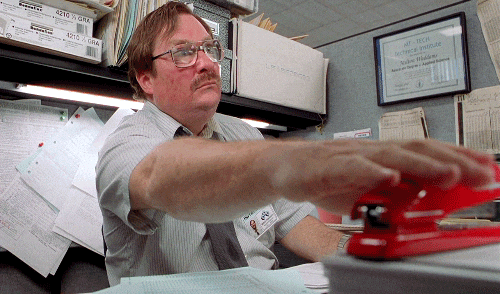 Oh don't worry Milton, I'm not going to take your stapler. This is the one I'm referring to.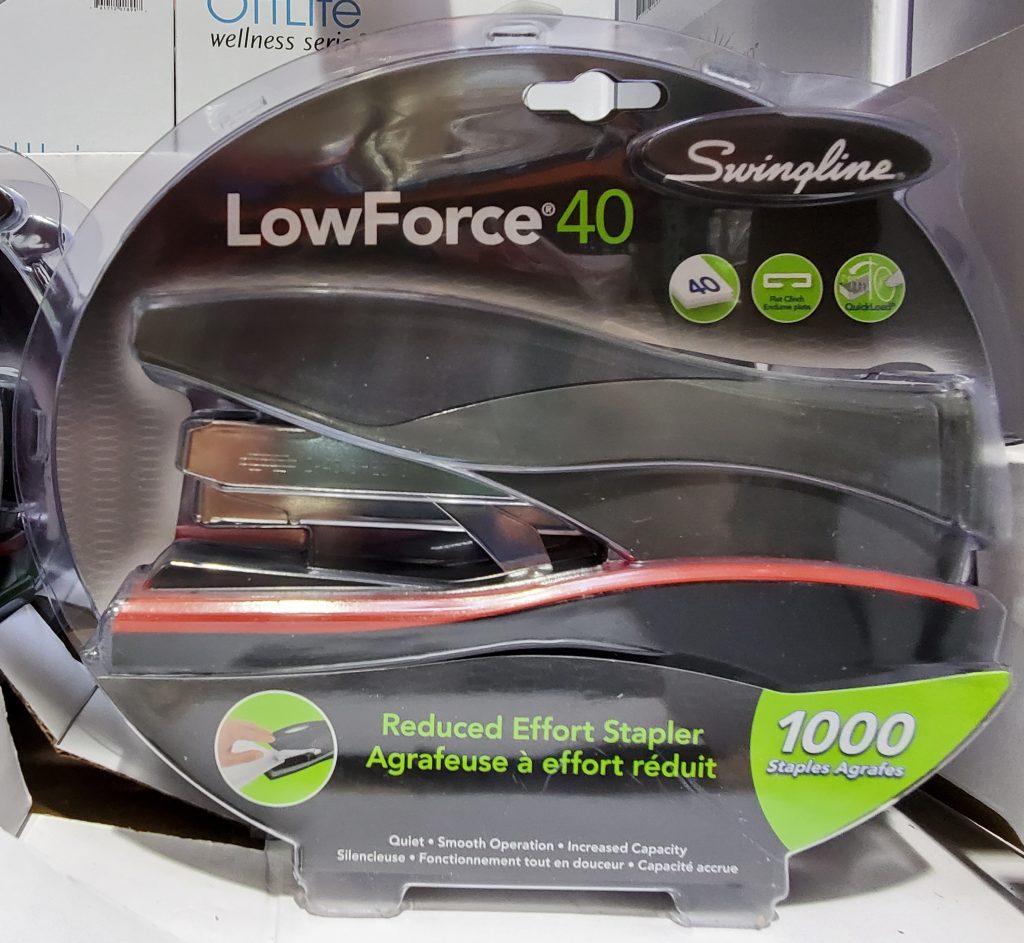 While not the classic "Swingline red" it does have that slick red pinstripe down the middle… Pretty snazzy stuff!
And Costco may be tugging at my heart-strings by adding the Jalapeno-Cheddar Cheetos to the "evil chip" section.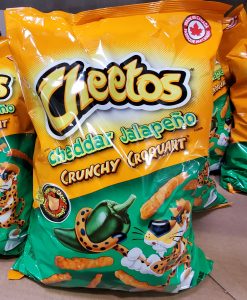 What they should adding is one of my favorite snacks, the "Flaming Hot" Cheetos.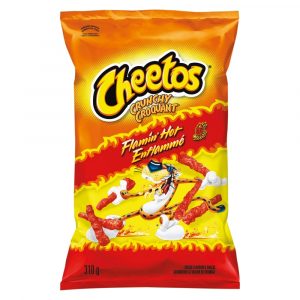 Those my friends have been a favorite of mine since I was 19 or so, a guilty pleasure if you will… I have been known to decimate most of a bag of these easily, and would highly approve of a Costco sized bag of those puppies… Cheddar Jalapeno's got nothing on 'em!
Enough about Cheetos, for now anyways.
I'm going to wrap this up folks and let you get on with the sales, but Dexter wanted to stop in and say "remember folks, wear your masks correctly!"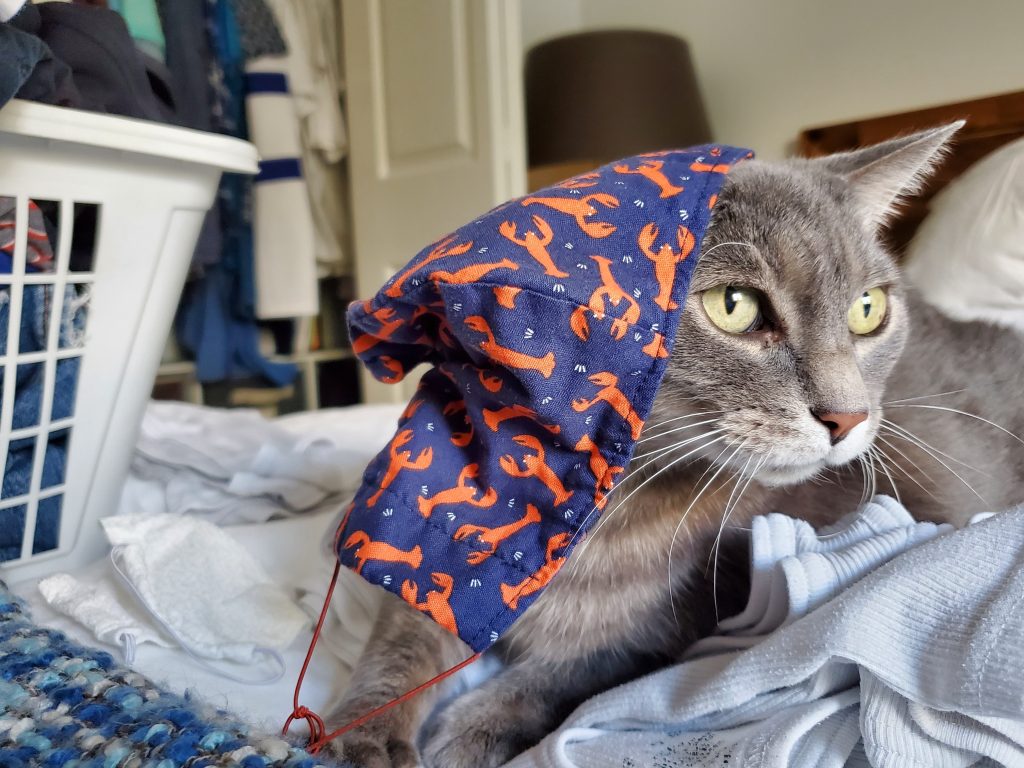 Yes, it's a Lobster mask, and no that's not how they're worn.
Good night folks, See you on Monday.
Costco Online bookings for the flu shot are now available!
It's true folks, you can make an appointment online to get a flu shot at your Costco warehouse during your normal shop, or plan your shopping trip around the flu shot… Either way it's a win!
You can find an available warehouse & book online at the Costco Pharmacy page.
As we are headed in to the second wave of COVID-19 and kids are heading back to school I think it's important to remember that we're not out of the corona virus weeds yet, and each province has their own Health recommendations based on the provinces individual risk assessment and I would recommend that you follow the recommendations for your specific province. Information can be found at the following websites.
Newfoundland COVID-19 information
New Brunswick COVID-19 information
Nova Scotia COVID-19 information
So there you go, a little reading material for you.
Be kind, be safe and stay healthy!
Please note:
The price at your local Costco takes precedent (or precedence) over the prices listed on this blog.
Costco liquidation/Manager's Special items (ending in .97) vary from store to store.
An asterisk (*) on the price tag means the item is not being re-ordered.
If there is something you really want, ***double check the expiry date*** as some Costco sales items do end mid-week.
***This is a fan run, independent page with no affiliation or endorsement by Costco Wholesale***
The food brands available can differ from region to region. Pictures are taken at a store in Ontario. Sale items should apply to Costco locations in Ontario, Quebec, New Brunswick, Newfoundland & Nova Scotia, if the item is in stock at your store. There will likely be a few deals not shown here in your store. If this blog has helped you save money, consider sharing www.cocoeast.ca with your friends and family! If you see deals at your store that aren't on this blog, post them in the comments and help spread the money saving love!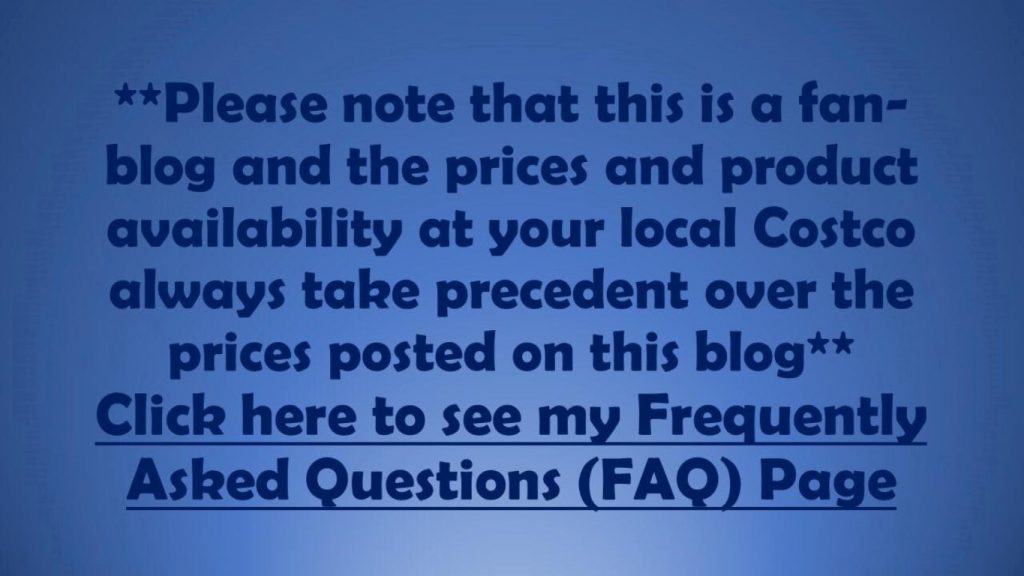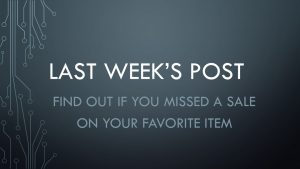 Costco Flyer Sales Nov 9th – 22nd 2020
Costco Kingston Meat Department & Bakery sales Nov 20th – 22nd 2020
Costco Weekend Update sales Nov 20th – 22nd 2020