The Costco East & West Fan Blogs have partnered with L'Oréal Paris to help them promote the Revitalift Triple Power LZR day moisturizer & 1.5% Pure Hyaluronic Acid serum which are available at Costco Warehouses Canada-wide & for sale until Dec. 6th for $10.00 off!

This is a paid promotion and all opinions are my own… And my partners opinion… And the opinions of Co-workers who happen to be excellent testers. So with that being said, I would never promote a product that I didn't sample and believe in. (We've been using it for a while now too!)
***Read to the end of this review to find out how you can win 1 of 3 $50 Costco Cash cards!***
So on that note a big thanks to everyone who takes the time to read this, and thank you to my reviewers!
L'Oréal Revitalift Triple Power LZR face cream & 1.5% Pure Hyaluronic Acid serum

Ah yes, winter has arrived.
Beautiful snowy landscapes, building snowmen, getting cozy & drinking hot chocolate by the Christmas tree and the driest, dullest skin I can have all year.
My skin gets very dry and dull in the winter, and as I'm no spring chicken the wrinkles around my eyes were making their presence known.
Enter the Revitalift 1.5% Pure Hyaluronic Acid serum.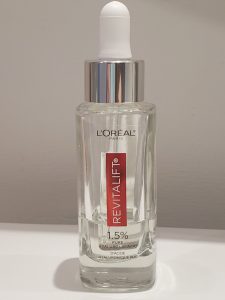 I've really loved using this even down to the packaging! It's a nice sturdy feeling bottle and the eye dropper applicator feels well made too which makes it easy to apply 2-3 drops to work into your skin, that's all it takes folks meaning this will last you a long time. It spreads easily and feels refreshing on my dry skin, and feels like it hydrates & plumps right away.
How does it work it's magic though and what is Hyaluronic acid? According to healthline.com "Hyaluronic acid, also known as hyaluronan, is a clear substance that is naturally produced by your body. The largest amounts of it are found in your skin, connective tissue and eyes. Its main function is to retain water to keep your tissues well lubricated and moist. However, the natural aging process and exposure to things like ultraviolet radiation from the sun, tobacco smoke and pollution can decrease its amounts in the skin"

The 1.5 percent mentioned in the name refers to a bend of 0.5 percent high-molecular-weight hyaluronic acid and 1 percent low-molecular-weight hyaluronic acid, which help this lightweight formula attract and retain moisture. As a result, "Smoother, more supple-feeling skin starts day one," according to L'Oréal, and I agree 100%
Thank goodness for science and skin care!
The Revitalift Triple Power LZR face cream has been a hit in this household for months. Neither me, or my partner like heavy creams and this was not that at all. It feels nice & light while applying , and more luxurious than what we have used in the past. And again, I gotta say I love the packaging!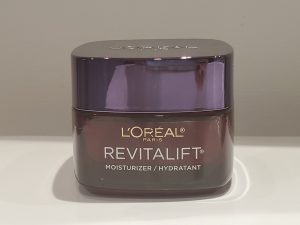 I decided I'd enlist the help of a co-worker for the L'Oréal Revitalift Triple Power LZR face cream as well, so I'll turn it over to her.
"I have combination skin, so I deal with both an oily t-zone and some dry areas as well, therefore I am very picky when it comes to moisturizer. I want something that is lightweight so my skin doesn't get oily but something that also hydrates my dry areas. The L'Oreal Revitalift Moisturizer has checked those two boxes. I was worried at first because of the thicker consistency but it absorbs very quickly and leaves a nice smooth finish, which is great as a base for makeup. It doesn't make my skin oily and has helped smooth some textured areas. After over 2 weeks of using it morning and night, I have noticed that my skin tone is overall smoother and more even. I am 25 and while wrinkles haven't set in yet, I can see how this moisturizer could help as my skin ages. Overall, the L'Oreal Revitalift Moisturizer is a great skincare product that I will definitely incorporate into my skincare routine."
By all counts I'd say L'Oreal has 2 great products that work great together and that's great news for my face!
Both of these products are available at Costco warehouses across Canada, both the L'Oréal Revitalift Triple Power LZR face cream 2 x 50ml & the Revitalift 1.5% Pure Hyaluronic Acid serum 2 x 30ml for $46.99, even better is that they're currently on sale for $10.00 off for a price of $36.99 until Dec. 6th! That's an awesome price for these!
You can find out more about the Revitalift Triple Power LZR moisturizer  and the Revitalift Triple Power LZR 1.5% Pure Hyaluronic Acid Serum on the L'Oréal Paris website here or by clicking the links, and to read our previous review of these and the L'Oreal Extraordinary Oils Shampoo & Conditioner follow this link.
COSTCO $50 CASH CARD CONTEST INFORMATION
L'Oréal has provided 3 $50 Costco cash cards for us to give away! We will be holding a contest on Facebook and all you have to do is to comment on that L'Oreal Paris Revitalift Triple Power LZR day moisturizer & 1.5% Pure Hyaluronic Acid serum review post and comment with your skin type. You can go directly to the post here: FACEBOOK POST!!!
No purchase necessary. Contest ends Nov 29th, 2020 at 11:59 pm (PT). Open to Residents of Canada, 18+.

Conditions apply. 1 entry/person. Correct answer to math skill-testing question required. Contest is not sponsored by Instagram® / Facebook®.  Winner will be announced via Facebook on Monday, Nov 30th, 2020 at 9:00 PM (PT). Winners will be contacted no later than Monday, Nov 30th, 2020 at 9:00 PM (PT) to claim prizes.
***This is a fan run, independent page with no affiliation or endorsement by Costco Wholesale***
Thank you for reading folks and thank you L'Oreal Paris for inviting us to test and review these products!
***