I walk the whole store for you every Monday when Costco Sales and Costco Flyer sales are released for the week, then post them here and on our Facebook page.
Want to see what might be on sale next week??? Click the picture below to see what was on sale last year at Costco!
NEVER MISS A POST! Join the Costco East Facebook group to get updated whenever I make a new post! https://www.facebook.com/costcoeast/.
ALSO you can come and see my Instagram feed with Pics of my weekly Costco shopping trips, Dexter and Ewok being lazy cats and pictures of things that I have cooked with anything I've purchased at Costco. You can find that here! https://www.instagram.com/costco_east_fan_blog/
Subscribe to website updates by signing up below
and you'll get a confirmation email from "FeedBurner Email Subscriptions". Click the link within it to activate your subscription and you'll be notified by email whenever I post (1 or 2 times weekly). Check your spam filter or contact me if you have questions or do not receive a confirmation email.
Holy Cow welcome to September everybody!
While I find it crazy that we burned through the summer as fast as we did, I'm also not too surprised it happened like that. At least for me anyhow…
With work in the service industry being fast paced to begin with, when you had regulations changing constantly and people having such a pent up desire to get out and have some fun I'm kinda surprised it didn't go by faster! (thank god it didn't!)
Dexter and Ewok were happy to slow things down last night and have a little evening relax outside with me.
Anyways now that we are into September we have a new batch sales which will be changing every 2 weeks as noted in my post last week. This should give us all ample time to plan our shopping trips saving time and money, never bad things to save!
Olay regenerist micro sculpting cream 2 x 50ml -$10.00 @ 38.99
Sony noise cancelling headphones -$50.00 @ 199.99
Duracell "AAA" batteries 28 pack -$6.00 @ 21.99
Flannel sheet set Queen set -$10.00 @ 34.99
Zavida organica whole bean coffee -$4.00 @ 10.99
Hellmann's Mayonaise 1.8L -2.00 @ 5.99
Bayer Aleve 220mg 250 caps -$5.00 @ 17.99
I usually have a pretty set list of things that I buy at Costco. The essentials ya know? Toilet paper, paper towels, dish soap, body soap, shampoo and conditioner, flowers, water, cat food etc. etc. But every so often I walk by something and think hmmmm…. "That looks good, I should try that." Usually I don't though, as I try to limit my spending otherwise it would get out of control really quick in that place! (and I think y'all know what i mean!)
But today as I walked through the freezer aisle I passed by something that caught my eye… As a quick note, I love a crispy fried chicken sandwich almost as much as I love a grilled hamburger…
So my eyes caught the Erie Meats Crispy Chicken Burger and my brain said "LUNCH LUNCH LUNCH!!!"  Normally I can resist that message, but I decided to heed it today.
The ingredients are pretty straightforward, which was a selling point. I don't like alot of wacky fillers that I can't pronounce, and this one fit that criteria.
The cooking instructions couldn't be simpler, bake in the oven @ 400 for 20-25 minutes (flipping once) and that's it.
Obviously using an Ace bakery burger bun helps any sandwich reach it's pinnacle, and a crispy chicken sandwich shouldn't need much really. Good bun, thick sliced red onion, tomato, pickled jalapenos, crunchy lettuce and a little bit of mayo & Dijon mustard.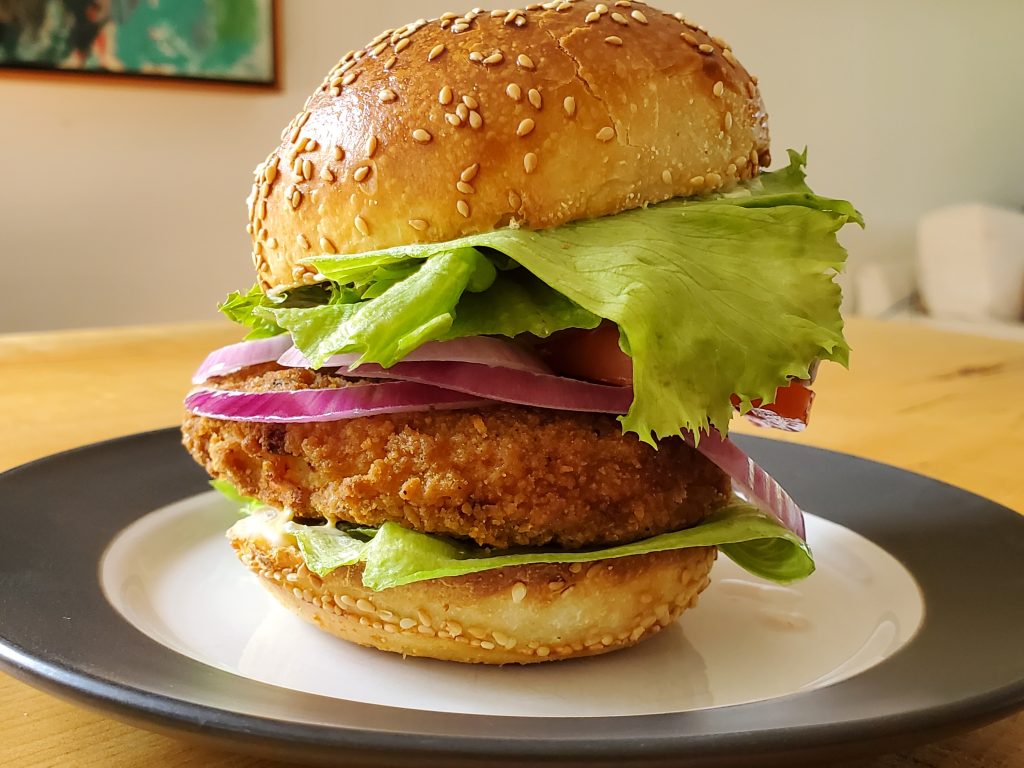 (My tomatoes slipped off center so they're dangling off the backside of the sammy here, they're always the first ingredient to try and jump off the sandwich.)
I gotta say I enjoyed every bite of it! It was crispy, the chicken itself tasted great, was nice and tender even though I think I left it in the oven a little bit over the cooking time.
I'm a big fan of breaded chicken sandwiches and I'm glad I took a chance on these ones!
It's fun to try out different things once and a while and I should do that more often. As I walk the aisles a few times a week I always pass by products and wonder what they're like and recently decided that I'd like to start going out of my comfort zone and trying new products out and sharing them with you.
I'd love to hear from you all about new Costco products you've been trying so please feel free to share your reviews in the comments section!
Goodnight August, Good Morning September. Here's to a good one!
As we are all getting back to normal and kids are heading back to school I think it's important to remember that we're not out of the COVID-19 weeds yet, and each province has their own Health recommendations based on the provinces individual risk assessment and I would recommend that you follow the recommendations for your specific province. Information can be found at the following websites.
Newfoundland COVID-19 information
New Brunswick COVID-19 information
Nova Scotia COVID-19 information
So there you go, a little reading material for you.
Please note:
The price at your local Costco takes precedent (or precedence) over the prices listed on this blog.
Costco liquidation/Manager's Special items (ending in .97) vary from store to store.
An asterisk (*) on the price tag means the item is not being re-ordered.
If there is something you really want, ***double check the expiry date*** as some Costco sales items do end mid-week.
***This is a fan run, independent page with no affiliation or endorsement by Costco Wholesale***
The food brands available can differ from region to region. Pictures are taken at a store in Ontario. Sale items should apply to Costco locations in Ontario, Quebec, New Brunswick, Newfoundland & Nova Scotia, if the item is in stock at your store. There will likely be a few deals not shown here in your store. If this blog has helped you save money, consider sharing www.cocoeast.ca with your friends and family! If you see deals at your store that aren't on this blog, post them in the comments and help spread the money saving love!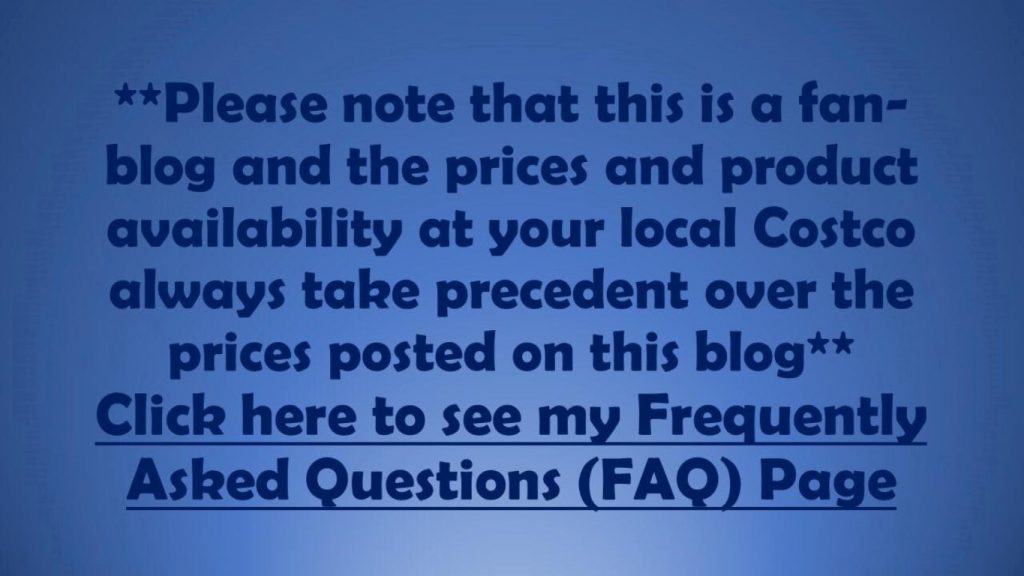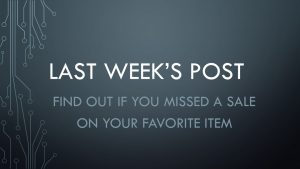 Costco Flyer Sales Aug. 31st – Sept. 6th 2020
Kingston ON. Meat Dept. Sales Aug. 31st – Sept. 6th 2020
Costco Treasure hunt sales Aug. 31st – Sept. 6th 2020