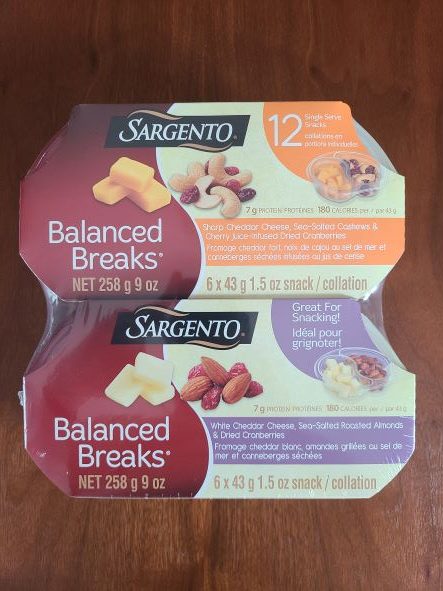 If you like my reviews for Costco food products the greatest thing you can do is follow me on Instagram or Facebook and also tell your friends about my blog Costcuisine where I review tons of Costco food products each week! You can also check out my Youtube Channel where I do video reviews!
I've been looking for quick and easy snacks lately because life with a new baby is busy! I decided to try these Sargento Balanced Breaks because I've seen them at Costco often but never tried them.
There are six small snack containers in each pack and two packs in the container (cheddar cashew and white cheddar almond) so 12 little snacks total and the cost is $14.99 Canadian. For what you get per container, this seems expensive, but you're paying for the convenience.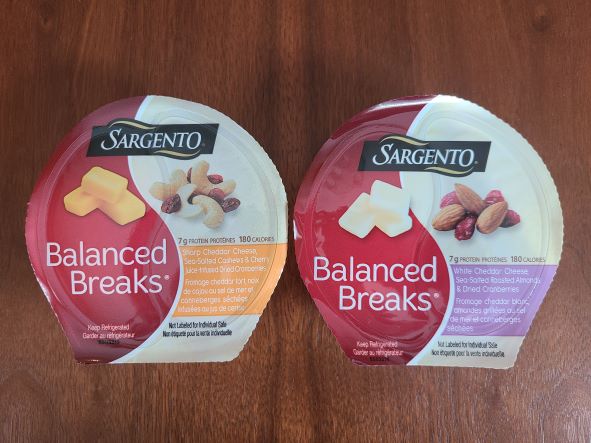 I love how convenient these are! I can bring them in my diaper bag or just quickly open one up at home and snack on it. The Balanced Breaks need to be kept refrigerated and the best before date is about three months from the date I purchased them.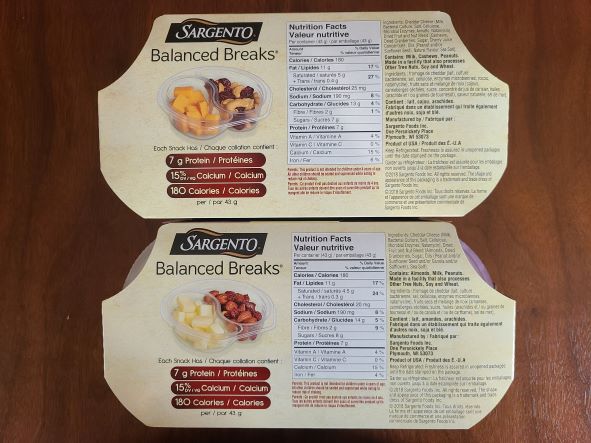 In one container there are 180 calories, 11 grams of fat, 190 milligrams of sodium, 13 or 14 grams of carbohydrates, two grams of fibre, seven or eight grams of sugar and seven grams of protein. For how much is in each container 180 calories and 11 grams of fat seems like quite a bit because I could easily eat like two or three of these. The ingredients list is pretty straightforward forward with cheese and nuts but I wish there were no added sugar in these.
The reason why they're called balanced breaks is that they have a combination of carbs, fat, and protein which means blood sugar doesn't spike as much and you feel satisfied and full for longer.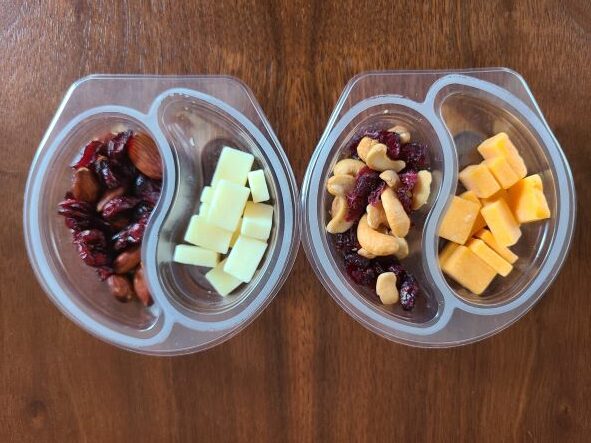 These are delicious snacks! The cheese, nuts and dried fruit pair so well together. I prefer the cashew and sharp cheddar pack over the white cheddar and almond pack because I like cashews better but both are really yummy. The combination of salty and sweet is addictive and really satisfying. Because they taste so good it's a good thing they're portioned out.
If you're like me and looking for a quick, convenient and tasty snack that's satisfying, I recommend these.
Cost: 6/10
Convenience: 10/10
Nutrition: 7/10
Taste: 9/10