Hello Costco friends and Family, I have some news for you!

The Costco East & West Fan Blogs have partnered with L'Oreal Paris to help them promote their Extraordinary Oil Shampoo and Conditioner which has recently launched at Costco Warehouses Canada-wide. This is a paid promotion and all opinions are my own… And my Mother-in-Laws opinion… And my partners opinion… That being said, I would never promote a product that I didn't sample and believe in. Since this is our first paid review in a long time (and a first time for myself), all the proceeds from this post are being donated to the Canadian Red Cross! So thanks to everyone who takes the time to read this!
*I will also be running two contests with (5) prizes each at the end of this review! You can enter both contests to double your chances of winning! You can find more contest details at the end of this review*
L'Oreal Paris Extraordinary Oil Shampoo and Conditioner Review
So this was a unique situation to say the least. I've never reviewed a shampoo before, but I am certainly always on the hunt for a good shampoo and conditioner.
I do get dandruff from time to time and have a slightly dry scalp so trying to find a shampoo/conditioner that makes my hair and scalp feel clean but not dry can be a little difficult, no one wants to have greasy or oily hair after all. ( I don't think?) I've certainly used shampoos that would seem to clean my hair but then feel dry immediately after (plus the hair fall is always alarming) At the other end of the spectrum I've also used conditioners that feel nourishing but make my hair feel heavy afterwards.
Enter L'Oreal Paris Extraordinary Oil shampoo & conditioner.
The first thing I noticed was the smell, kind of a rich hazelnut scent- and while kind of strong it doesn't seem too perfume-y or too fake, plus it sticks around for a while without being overpowering (again) just nice and subtle. I'm usually more of a citrus-y kind of person, but I kind of enjoyed the smell.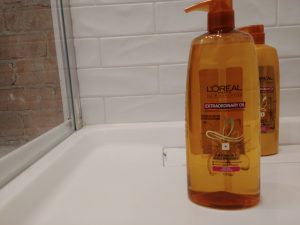 The shampoo itself doesn't feel super heavy or oily, it didn't goop up in my hand like a few others seem to- it seemed pretty fluid. It certainly didn't take much to work it up into a rich lather, and who doesn't love that? I know I do, it certainly makes me think the shampoo/soap is doing its job and not being lazy… And no one likes lazy cleaning products. (I'm' looking at you vacuum)
O.K. not you kitty Roomba, you are the exception… Ewok, Dexter, are you watching this???
I also thought that it rinsed away pretty easily without leaving my hair feeling greasy or like it left an oily residue behind- but also didn't leave it feeling dry or brittle (as mentioned before) which was a nice surprise.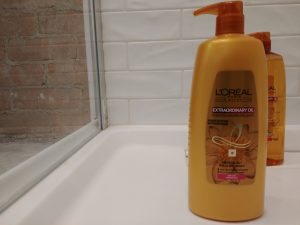 The conditioner was thick-ish and kinda creamy but not heavy feeling, and didn't feel too oily in my hands. L'Oreal recommends leaving the conditioner in for 1-3 minutes, I think I left it in for a minute and a half-ish (??) before rinsing it out. That step was again pretty easy and it didn't seem to take much to rinse the product out of my hair (to be fair, I don't have long thick hair; I'm also a poet and I didn't know it!)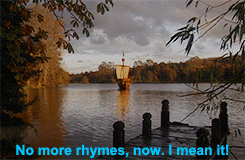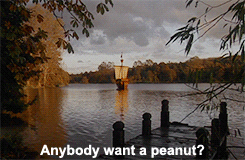 (Princess Bride anyone???)
Both my partner and I enjoyed using both of these products. It seemed to help a bit with split ends, and we both agreed that it made our hair feel "less poofy and/or floofy" which my hair seems to be… Floofy that is. I had the In-laws in town this weekend as well, so I had my Mother-in-law also try the shampoo to see what she thought…
"I feel like someone had put a creamy marshmallow on my head! After I rinsed and dried it was the first time in months I didn't lose any hair and my hair felt lighter"… I agree with that, for being an essential oil product my hair still feels pretty light.
I tried to get Ewok and Dexter on-board for some reviews as well, Ewok however did not want anything to do with it, as he was sleeping and not impressed I woke him up.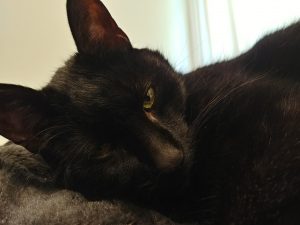 And Dexter… Well the last time he had his "hair washed" was when he got sprayed by a skunk at 11:30 at night 7 or 8 years ago and we washed him down with tomato juice in the kitchen sink. Needless to say he has not wanted to go near the sink or shower since, and I'm less inclined to want to carry him around those things due to the battle wounds I received during that process, and the threat of them is still very real.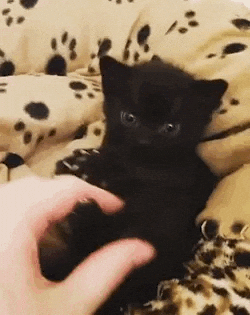 Daggers… Cute, but painful daggers…. Like Wolverine daggers, Yikes! Moving on.
Costco is selling the Extraordinary Oil Shampoo and Conditioner in a combo pack of (1) 1.18L of Shampoo and (1) 1.18L of Conditioner for $18.99, which is a great price for the volume of shampoo and conditioner you're getting. This is a seasonal product and will only be in stores for the next 12 weeks!

So to wrap this all up, I do enjoy both the shampoo and conditioner here, and would absolutely recommend them. They feel nice on my hair without feeling like I've overwhelmed my head with heavy, oily products. My scalp feels great as well, less dry and flaky (though not completely flake free, a decent reduction). Overall, a great product and worth a shot to see if it works for you too!
You can find more product information at the following links:
https://www.lorealparis.ca/en/products/hair-care/shampoo/extraordinary-oil-shampoo-385ml/
https://www.lorealparis.ca/en/products/hair-care/conditioner/extraordinary-oil-conditioner-385ml/
CONTEST INFORMATION!!!
The prizes are 5 sets of:
(1) Extraordinary Oil Nourishing Mask Balm
(1) Extraordinary Oil Nourishing Rapid Reviver
(1) Extraordinary Oil Penetrating Oil Serum
There are two ways to enter the contests.
Costco East Fan Blog Facebook Page (comment on my post with your current hair color).  Coco East facebook contest
Follow the link in the blog post to enter here – L'Oreal Paris Extraordinary oil shampoo & conditioner contest entry
The L'Oreal Paris Extraordinary Oil Shampoo and Conditioner is toddler approved, but is not Cat approved… Or animal approved as far as I know, so don't try it!
The L'oreal Paris Extraordinary Oil Shampoo and Conditioner can be found at the following warehouses.
WAREHOUSE 54 RICHMOND BC
WAREHOUSE 535 DOWNSVIEW
WAREHOUSE 252 BARRIE
WAREHOUSE 1105 ANCASTER
WAREHOUSE 524 ETOBICOKE
WAREHOUSE 531 S MISSISSAUGA
WAREHOUSE 552 VANCOUVER BC
WAREHOUSE 547 VAUGHAN
WAREHOUSE 543 NW CALGARY
WAREHOUSE 548 WILLINGDON
WAREHOUSE 1345 MONCTON
WAREHOUSE 508 WESTMINSTER ON
WAREHOUSE 253 BURLINGTON ON
WAREHOUSE 1296 REGINA
WAREHOUSE 1128 OSHAWA
WAREHOUSE 503 QUEBEC
WAREHOUSE 510 NEWMARKET
WAREHOUSE 537 SCARBOROUGH
WAREHOUSE 164 RED DEER
WAREHOUSE 257 SUDBURY
WAREHOUSE 505 LAVAL
WAREHOUSE 527 MARCHE CENTRAL
WAREHOUSE 556 CANDIAC
WAREHOUSE 1069 OKOTOKS
WAREHOUSE 533 KINGSTONWAREHOUSE 541 KANATA
WAREHOUSE 502 SAINT-HUBERT
WAREHOUSE 519 HALIFAX
WAREHOUSE 532 BOUCHERVILLE
WAREHOUSE 529 ST JEROME
WAREHOUSE 258 S EDMONTON
WAREHOUSE 1248 WATERLOO
WAREHOUSE 1316 THORNCLIFFE PARK
WAREHOUSE 521 BROSSARD
WAREHOUSE 528 POINTE CLAIRE
WAREHOUSE 534 WINDSOR
WAREHOUSE 251 S CALGARY
WAREHOUSE 1186 LEVIS
WAREHOUSE 159 AJAX
WAREHOUSE 162 BRAMPTON
WAREHOUSE 1169 C MISSISSAUGA
WAREHOUSE 1263 BARRHAVEN
WAREHOUSE 506 ANJOU
WAREHOUSE 514 SHERBROOKE
WAREHOUSE 530 N LONDON
WAREHOUSE 1234 S SASKATOON
WAREHOUSE 1270 NISKU
WAREHOUSE 161 KAMLOOPS
WAREHOUSE 1092 COURTENAY
WAREHOUSE 154 N EDMONTON
WAREHOUSE 544 SHERWOOD PARK
WAREHOUSE 57 W WINNIPEG
WAREHOUSE 1157 ST ALBERT
WAREHOUSE 156 E EDMONTON
WAREHOUSE 51 BURNABY
WAREHOUSE 56 N CALGARY
WAREHOUSE 545 E MARKHAM
WAREHOUSE 546 BOISBRIAND
WAREHOUSE 1213 VAUDREUIL
WAREHOUSE 1273 STONEY CREEK
WAREHOUSE 1076 ROCKY VIEW
WAREHOUSE 1112 W EDMONTON
WAREHOUSE 1217 E CALGARY
WAREHOUSE 163 ABBOTSFORD
WAREHOUSE 158 PRINCE GEORGE
WAREHOUSE 593 MEDICINE HAT
WAREHOUSE 1265 ORILLIA
WAREHOUSE 160 LETHBRIDGE
WAREHOUSE 254 GRANDE PRAIRIE