CONTEST #1: L'Oreal Paris Voluminous Lash Paradise Mascara review #ad
L'Oréal Voluminous Lash Paradise Mascara
The Costco East Fan Blog has partnered with L'Oréal Paris to help them promote the L'Oréal Voluminous Lash Paradise Mascara which has re-launched at Costco Warehouses Canada-wide.
(and it's $5.00 off from June 1-7, 2020!)
This is a paid promotion and all opinions are my own…  With that being said, I would never promote a product that I didn't sample and believe in. (I had my wife and my trusty reviewer give it a try)
Read the review to the bottom to find out how to win one of three great L'Oreal Prize packs!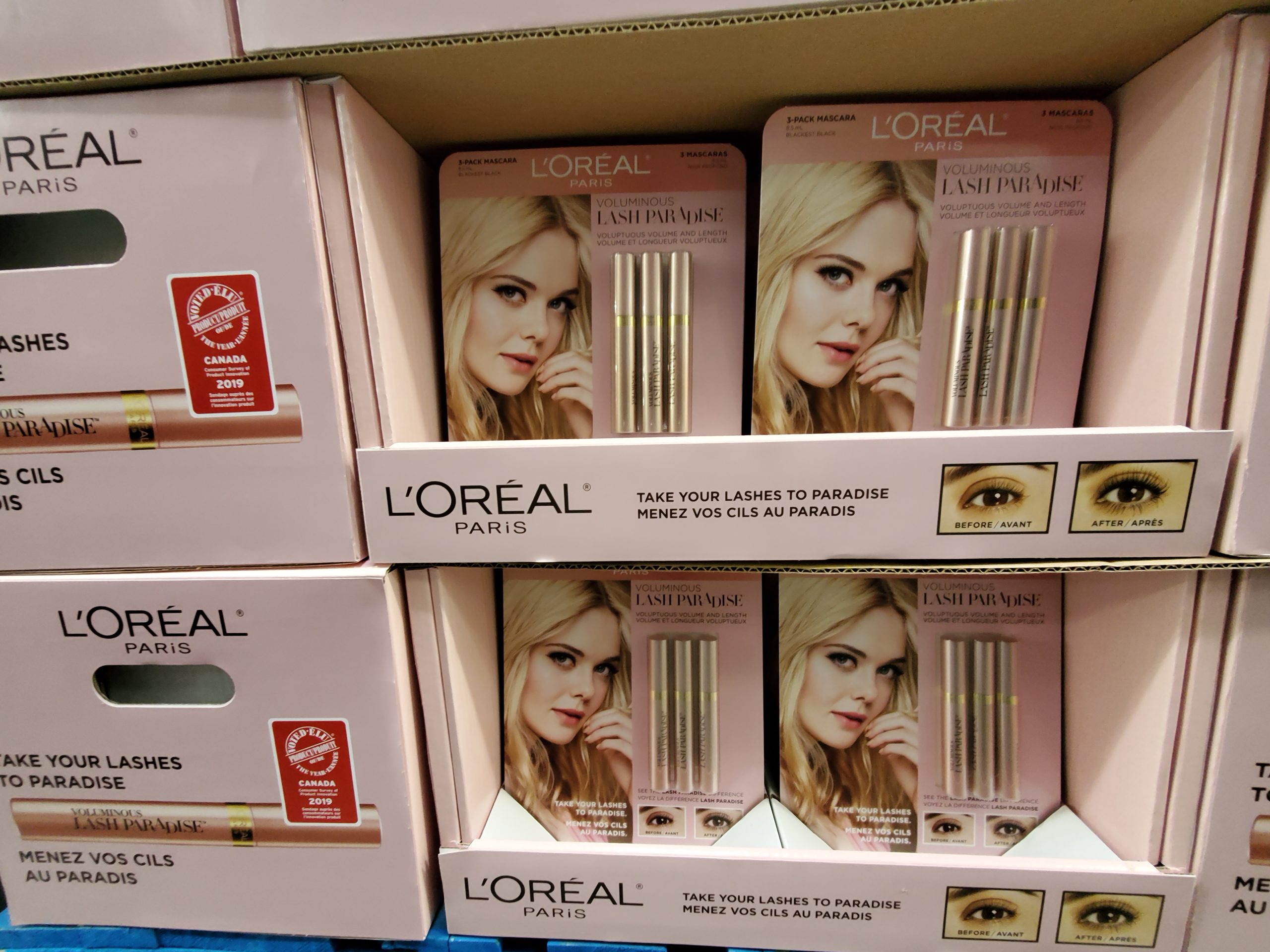 Hi everyone! It's Natalie from Costcuisine.com (Costco Food & Product Review Fan Blog). Today I get to review something that isn't food-related, which is pretty exciting!  Check out our previous review of the product here:  https://cocowest.ca/2019/08/double-contest-time-loreal-paris-voluminous-lash-paradise-mascara-review-ad/ and the previous Costco East review here.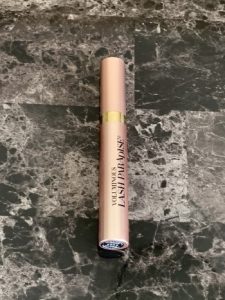 L'Oréal Paris Voluminous Lash Paradise in Blackest Black
I recently got to try the L'Oréal Paris Voluminous Lash Paradise in Blackest Black. I don't know about everyone else, but with everything going on recently, I probably hadn't worn mascara for about two months. Trying the L'Oréal Paris Voluminous Lash Paradise made me remember how much a good mascara can change your entire look! My lashes looked almost double the length and were much fuller after I applied the mascara. The Blackest Black colour is classic – it really defined my eyes and made them pop.
I'm really picky when it comes to makeup and general and certainly about the mascaras that I wear. I have extremely sensitive eyes, but the L'Oréal Paris Voluminous Lash Paradise didn't irritate them at all. I also appreciated the fact that it didn't flake off on my face at all. I'm a nurse, and my face can get a little hot and sweaty when I'm using masks. Most mascaras would smudge by the end of the day under those conditions, but not with this one! Other qualities about the L'Oréal Paris Voluminous Lash Paradise that I liked were that it didn't make my lashes feel hard and pointy and I didn't lose any lashes when I removed it. As an added bonus, the packaging looks and feels great – the rose gold tube is sleek and attractive and has a nice, soft medium-sized brush that ensures each lash gets evenly coated with mascara.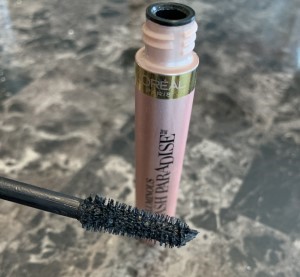 L'Oréal Paris Voluminous Lash Paradise in Blackest Black
Costco isn't somewhere I'd automatically think about when I want to buy beauty products, but as with pretty much everything else, the products they carry are good quality and well priced – a three-pack of the L'Oréal Paris Voluminous Lash Paradise costs $23.99 Canadian, which is a pretty great deal considering a single tube is about $16.00 Canadian at my local drugstore.
I'll definitely buy this mascara again (and hopefully at Costco, because the three-pack is an amazing deal!).  If you want an even better deal, Costco is having a sale this week only!  The L'Oréal Paris Voluminous Lash Paradise is $5.00 off this week from June 1-7, 2020! I'm excited to try other L'Oréal products from Costco in the future!
You can find more information on the L'Oréal Website here: https://www.lorealparis.ca/en/products/make-up/eyes/mascara/voluminous-lashparadise-blackest-black/
Like many things at Costco, L'Oréal Paris Voluminous Lash Paradise Mascara is only a seasonal item. So make sure to grab one when you see it. The great news is that the L'Oréal Paris Voluminous Lash Paradise will be stocked in every Costco Warehouse throughout Canada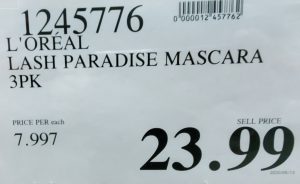 Lash Paradise is the holy grail of mascara providing both intense volume and intense length.  The soft wavy bristle brush holds maximum formula for a dramatic volumizing charge. The formula is infused with Jojoba oil for maximum softness and the 200+ bristles catch every lash for a full fringe effect.  The smooth glide formula provides silky volume in one coat and the lashes will be feathery soft to the touch.
CONTEST INFORMATION
L'Oréal has provided 3 great prize packs for us to give away.  We will be holding a contest on Facebook and all you have to do is to comment on this Lash Paradise Mascara post with your eye colour!  You can go directly to the post here!
*** Contest closed, congratulations to the winners!***
The prizes are:
(1) Lash Paradise mascara – $13.99
(1) SuperSlim eyeliner black – $11.99
(1) Brow Definer shade (the winner can choose the shade that works for them) – $12.99
(1) Infallible Pro-last eyeliner black – $12.99
Gook Luck Everyone!
Conditions apply. 1 entry/person. Correct answer to math skill-testing question required. Contest is not sponsored by Instagram® / Facebook®.  Winner will be announced via Facebook on Monday, June 8, 2020 at 9:00 AM (PT). Winners will be contacted no later than Monday, June 8, 2020 at 9:00 AM (PT) to claim prizes.
***This is a fan run, independent page with no affiliation or endorsement by Costco Wholesale***