Hello Costco friends and Family, I have another great product review/contest for you!

The Costco East & West Fan Blogs have partnered with L'Oreal Paris to help them promote the L'Oreal Voluminous Lash Paradise Mascara which has recently launched at Costco Warehouses Canada-wide.
This is a paid promotion and all opinions are my own… And my partners opinion… And the opinions of 4 Co-workers who happen to be fans of mascara. So with that being said, I would never promote a product that I didn't sample and believe in. (I had 5 trusted test subjects use it over the course of a week) Since this is a paid review, a portion of all the proceeds from this post are being donated to the Canadian Red Cross!
So on that note a big thanks to everyone who takes the time to read this!
Let's take a look at the 3 pk. of L'oreal Paris Blacker than Black Mascara.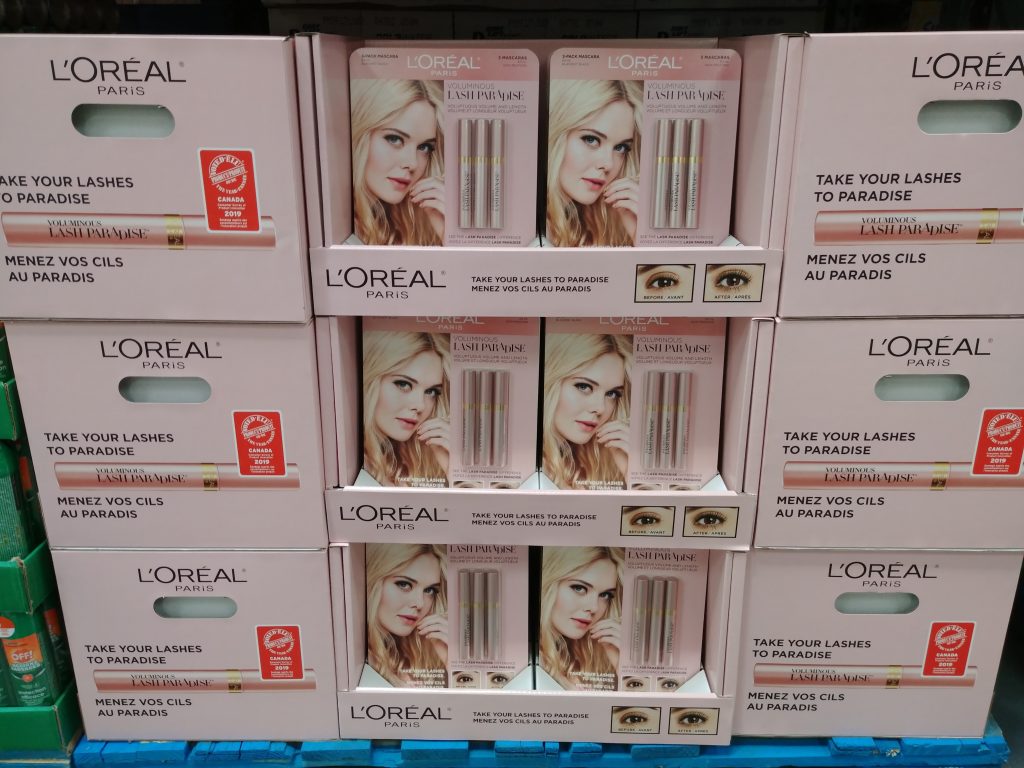 This was a bit of a tough one for me folks… You see I'm not really a make-up person, at all. The 3 times I have worn make-up would be #3 when I was 19 I bleached my hair blonde and wore blue contact lenses for Halloween (not make-up but a distant 3rd here) #2 I dressed up as Alice Cooper for Halloween, so black face make-up.
And #1 would be in a work program during my Film/Radio production days in high school I was acting as an anchorman covering a hot rod event of some kind and thus was given some kind of base layer to make my face not so shiny under the studio lights.
So Mascara… Not really my jam. However… I happen to have a large selection of test-subjects… Errrr….. I mean, volunteers who happen to love mascara and jumped at the opportunity to sample some of the L'Oreal Voluminous Lash Paradise Mascara for this review. I figured what better way to test the quality and lasting results of a make-up product than by asking 1 amazing super-busy real estate agent and 4 awesome servers at an insanely busy restaurant if they would see how it stands up to the rigors of the days. (hot summer days no-less)
Early results, L'Oreal has a winner with this product.
Everyone who used it first and foremost seemed to enjoy using it, and didn't have any issue applying it. They loved the shape of the wand and the bristles, as I'd imagine if you're putting a bunch of bristles really close to your eyes you'd want to be pretty darned comfortable with it.
With one of the Ladies saying it took less coats to get her desired result (than another product, and I won't name name's)  And saying it felt whispy and light on her lashes. And I imagine you wouldn't want to feel like you've got sandbags on top of your eyelids…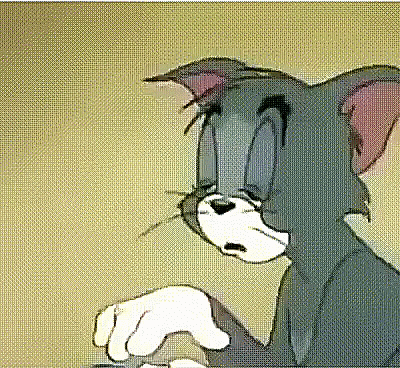 I'd say that's a great thing!
Among the pros about this was the curl it seemed to add for a few of the test subj…. volunteers lashes, and it seemed to add a bit of length as well
As the mascara color is called "blackest black" you would imagine it would be true to it's name and be pretty black. It is! Based on the comments from the Ladies, it is black and that helps to make your eyes pop! Even from those who only did a one time pass, it made a visible difference. Enough for some customers in the restaurant to take notice!
One of the other users said " it lasts all day, has a nice brush for applying so it doesn't get clumpy" She provided some before and after pictures as well!
Before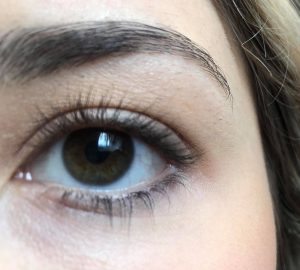 After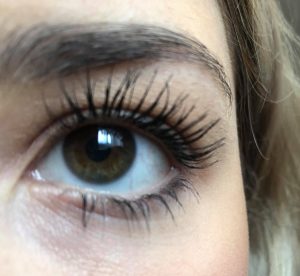 ummmm, pretty big difference huh? You can immediately see the length difference and how much the color stands out.
One point that was brought up by another user is that "it seems like a semi-wet formula and so it led to a bit of clumping initially, but once it dried out a bit it was great."
So that's one thing to bear in mind here. Also on that note, as far a drying out goes, I've read that while this mascara has a 3 year shelf life un-opened like most mascara once opened it has about a 3 month shelf life.
From what I hear however, most mascara users don't really have their products sitting that long and tend to use their opened ones within about a month or so. So this 3-pack deal for $23.99 seems like a pretty good snag for something that has been compared to a product that costs 32.00 for  1 stick… Id say that's nothing to blink your eyes at, but a great deal! (couldn't resist adding a pun or two in here folks… It was going to happen)
***UPDATE***
So, as I was grabbing this from our cabinet upstairs to look at the packaging I had an urge… I couldn't resist… I had to do it… I tried it. (right eye only)
And as this is the only mascara product I've ever tried I suppose I have no comparable, but I saw alot of the same things I heard from the test subjects… I mean the volunteers. Whoops!
First off, I have no idea how to apply it, so I think I did it right. I did notice as I was applying it that it did seem "semi-wet" as one of the ladies had said, but it seemed to coat pretty well (I guess as a painter I can relate to alot of these terms, right?) Though I thought I could see (at least for my untrained eyes) there was a little bit of clumping, though I think that's probably from user error.
As I only had put one application on I was curious if my partner would notice, (affirmative!) and it was said that it made my eyes (eye, only one ) pop. Just a little bit of extra definition. After a few hours I noticed that (as had also been mentioned by a volunteer) my Eyelashes still felt pretty soft and fluffy (though not whispy I don't think) and I'd say that is a big plus for me. Like adding product to any hair, you don't want to it get crispy and crunchy like a gel of some kind.
***ANOTHER UPDATE***
I was trying not to do any "copy and paste" type of thing I got from the reviews I got from the testers of this product, but I thought this review was pretty well a perfect way to sum it up (in my opinion.) especially for non-make-up people. This is from my partner so you know.
"I haven't worn mascara for a very long time.. But I used to wear tons of it. Then I moved to Los Angeles a long while back, and make up changed for me. It was so hot there, and I didn't worry about getting sun on my skin back then. I was super young too.. I baked in the sun, and I didn't seem to want to wear make up anymore. I had a year round glow.
And when I came back to Canada, I became quite pale again, of course. It is my natural complexion. And my eyelashes, though not the recipients of golden hues, all of a sudden felt bland and small. I remember meeting a colleague who would go for eye lash tinting. I wondered 'how can your eyelashes be so bold and blue?"
Mine are short and stand straight out. There is no beautiful magazine curl to them, they are plain and ordinary. And no eye lash curler is going to work for me either. I have tried it. First off its a frightening tool when your lashes are tiny. My eyes are small and slivered, that clamp is a frightening thing.
I used to try to cake on the black mascara when I was young, but it really never seemed to work for me. But I tried loreal lash paradise today. My partner gave me a sample he acquired. I thought hmm… should I put on and then take a shower? I need to go to work and I can't be walking around with mascara on. Maybe I just try it while I am gardening, and then I can go shower and leave in an hour.
But I was actually surprised.. I looked pretty good. I didn't really look like someone different, more just an enhanced version of myself for a moment. I applied only one coat, as I really am personally not a fan of being too made up. I like a natural look, and this kind of just made me look, well kinda good. It wasn't thick and clumpy or difficult to apply, it didn't feel heavy or odd, or impair my sight. It just added an extra layer, another dimension.
So I didn't take it off, I went to work and about my day, and looked every once in awhile at myself in the rear view mirror and thought, huh, you  look nice. I felt pretty, in a whole different way. It's almost like a celebration of yourself. It's like putting  on fancy shoes.
I am definitely going to go back to using mascara again I think. Maybe not every day, but this experience reminded me that I can, and it's fun, and I look good and not 'made up' just pretty awesome, and that made me feel good."
To me that really sums it all up. If a product of some kind can make you feel good and comfortable in your skin, then that's great and you should embrace it! We spend so many hours trying to look and feel like other people want us to, but that's not the point! The point is finding that product that makes you feel good, fun, or like you've slipped on your fancy shoes for the night, and can take them off when you're ready.
And if you like those shoes, and you like the way you look in those those shoes; then that is the most important part of the whole thing.
So by the sounds of it, this is a great product and at the price point ($23.99 for a 3 pack at Costco) pretty tough to beat.
CONTEST #1 INFORMATION!!!

The prizes are 2 sets of:

(1) L'Oréal Paris Voluminous Lash Paradise Mascara (3 Pack)
Visit the Costco East Fan Blog Page here and comment under the L'Oréal Paris Voluminous Lash Paradise Mascara post with how close you are to being done with your Christmas shopping! https://www.facebook.com/costcoeast/posts/2912062225479103
CONTEST #2 INFORMATION!!!

The prizes are five sets of:

(1) L'Oréal Paris Voluminous Lash Paradise Mascara (3 Pack)
Visit the Costco East Fan Blog Instagram Page here and comment under the L'Oréal Paris Voluminous Lash Paradise Mascara post with how close you are to being done with your Christmas shopping!
Like many things at Costco, L'Oréal Paris Voluminous Lash Paradise Mascara is only a seasonal item. So make sure to grab one when you have see it. This product will only be available for a limited time in the following Eastern Canada locations:
WAREHOUSE 521 BROSSARD
WAREHOUSE 541 KANATA
WAREHOUSE 529 ST JEROME
WAREHOUSE 514 SHERBROOKE
WAREHOUSE 531 S MISSISSAUGA
WAREHOUSE 532 BOUCHERVILLE
WAREHOUSE 151 MARKHAM
WAREHOUSE 257 SUDBURY
WAREHOUSE 542 GATINEAU
WAREHOUSE 1316 THORNCLIFFE PARK
WAREHOUSE 1345 MONCTON
WAREHOUSE 545 E MARKHAM
WAREHOUSE 506 ANJOU
WAREHOUSE 547 VAUGHAN
WAREHOUSE 591 PETERBOROUGH
WAREHOUSE 518 TROIS RIVIERES
WAREHOUSE 525 TERREBONNE
WAREHOUSE 536 CHICOUTIMI
WAREHOUSE 1261 NW VAUGHAN
WAREHOUSE 1090 FREDERICTON
WAREHOUSE 530 N LONDON
WAREHOUSE 533 KINGSTON
WAREHOUSE 592 RICHMOND HILL
WAREHOUSE 534 WINDSOR
WAREHOUSE 1055 SAINT JOHN
WAREHOUSE 252 BARRIE
WAREHOUSE 516 SAINTE-FOY
WAREHOUSE 1127 DRUMMONDVILLE
WAREHOUSE 1105 ANCASTER
WAREHOUSE 512 KITCHENER
WAREHOUSE 526 N MISSISSAUGA
WAREHOUSE 535 DOWNSVIEW
WAREHOUSE 524 ETOBICOKE
WAREHOUSE 537 SCARBOROUGH
WAREHOUSE 253 BURLINGTON ON
WAREHOUSE 1273 STONEY CREEK
WAREHOUSE 519 HALIFAX
Thank you so much for reading folks, I look forward to seeing you again soon with another cart full of Costco sales.
Cheers!