The Costco East & West Fan Blogs have partnered with L'Oréal Paris to help them promote Revitalift Triple Power LZR Day Moisturizer & Anti-Aging Night Mask which are available at Costco Warehouses Canada-wide.

This is a paid promotion and all opinions are my own… And my partners opinion… And the opinions of Co-workers who happen to be excellent testers. With that being said, I would never promote a product that I didn't sample and believe in.

***Read to the end of this review to find out how you can win 1 of 3 $50 Costco Cash cards!***
So on that note a big thanks to everyone who takes the time to read this, and thank you to my reviewers!
Without further delay lets have a look at the L'Oréal Revitalift Triple Power LZR Day Moisturizer & Night Mask
As I'm very aware (and you likely are too folks), I have pretty dry skin. Especially around my nose and forehead so having a moisturizer is pretty well a must for me. I am however not a fan of thick, heavy & oily face creams. I don't want to feel like a greasy mess after putting stuff on my face, (trust me I worked over fryers in a kitchen for years and years and I know what that feels like) So striking a good balance is pretty darned important and from what my reviewers are telling me, the L'Oréal Revitalift Triple Power LZR day moisturizer & Night mask capture that balance.
As per the L'oréal Paris website both the The Revitalift Triple Power LZR Day Moisturizer & Night Mask are Enriched with-
Pro-Retinol: A stabilized retinol derivative that works with other ingredients in this formula to visibly reduce the look of wrinkles and firm skin.
Vitamin C: An antioxidant known to boost skin's radiance.
Hyaluronic Acid: A potent hydration-attracting molecule naturally found in skin to enhance moisture levels.
Also I think it's worth noting that as you read the ingredients you may be looking for "Retinol" however you won't find that. What you will find is "retinyl palmate" which is the OTC version.
Always good to read and understand the labels right folks???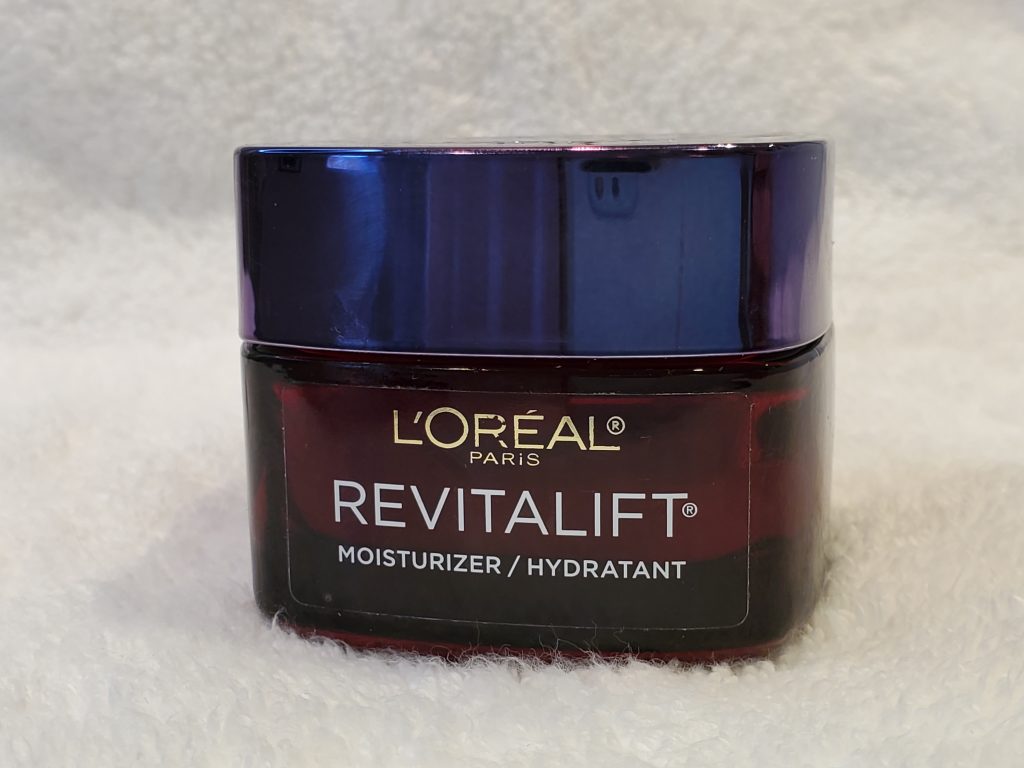 Said one trusted reviewer "I really liked the L'Oreal Revitalift day and night creams. The day cream is light enough for my oily skin while still giving my skin a deep dose of moisture. It is excellent under makeup. It leaves my skin looking dewy, not oily."
Another said "I Love the light, silky texture melted in with no residue." I fully agree with that, (and that seems to be the general consensus here folks) it feels smooth and luxurious when working into the skin and I found it absorbs really quickly and leaves my skin feeling soft and smooth. I've been using the day moisturizer for quite a while now so I'm seeing the long term effects, you know like being asked for my ID at the L.C.B.O. That sort of thing really makes your day!
Something else to note here is that all 4 of us really enjoyed the nice light scent of both The Revitalift Triple Power LZR Day Moisturizer & Night Mask. I thought it was pretty mild and almost tropical, one reviewer though they both had a "nice & light scent from natural oils, bonus!"
To be honest I've never put on face cream at night… Sorry folks I haven't, though after this review I don't have any reason not to! I wasn't really sure what to expect, it was a little bit thicker than the L'Oréal Revitalift Triple Power LZR day moisturizer and seemed to take a little bit longer to absorb, but felt smooth and not oily on my skin. The next morning I could see and feel a difference, my skin tone looked a little more even (and I'm not blessed with great skin tone) and felt more hydrated than it's usual dry self.
One reviewer felt slightly different about that, but still loved it and I agree with the "morning after" results. We all have different skin types, so we're bound to have slightly different reactions.
"Felt a little heavy going on, and took longer to absorb. Did light the light natural scent.Little oily on the skin after, not a fan of that, but the next morning skin was nice and silky."
My other reviewer said this of the L'Oréal Revitalift Triple Power LZR Night Mask.
"The night mask is great as well. It truly acts like a mask. While seemingly a heavy cream when first applied, it sinks into my skin overnight, and leaves my skin super soft and moisturized in the morning. I would highly recommend this pair of creams for anyone with combination skin. I would say these creams are rivals to high end creams."
It seems we all kind of agree that the night face mask is a little bit thicker, but the results speak for themselves. And that goes for both the L'Oréal Revitalift Triple Power LZR day moisturizer & Night mask capture that balance.
"I'm impressed! I have been using the day and night cream for almost a week now consistently and I can already see and feel a difference in my skin. It's a lot smoother, my skin tone looks more even and it really seems to keep my skin hydrated which is a huge plus for me. The day cream doesn't have much of a scent which I love, the night cream smells nice and fresh without being too overwhelming! Overall I recommend the combo."
I mean, what more can I tell you? The L'Oréal Revitalift Triple Power LZR Night mask hit the mark of making your skin feel smooth, firm, & reducing wrinkles all without feeling heavy or oily (for most of us) and while I've read that some people aren't fond of the scent no one I've asked to review including myself enjoyed it!
Both the L'Oréal Revitalift Triple Power LZR day moisturizer & Night mask 2 x 50 mL are available at Costco warehouses across Canada for $46.99, but to make things even better they are on sale for $10.00 off until May 30 2021
You can find out more about the L'Oréal Revitalift Triple Power LZR moisturizer  and the Revitalift Triple Power LZR Anti-Aging overnight mask on the L'Oréal Paris website here
A big thank you as always to LOréal Paris for asking us to review these products, and a big thank you as well to all the fine folks who helped test and review them!
Of course thank you all for reading, see you soon folks.
*
COSTCO $50 CASH CARD CONTEST INFORMATION
L'Oréal has provided 3 $50 Costco cash cards for us to give away! We will be holding a contest on Facebook for 2 & Instagram for 1 and all you have to do is to comment on the L'Oréal Paris Voluminous Lash Paradise Mascara & Infallible Never Fail Eyeliner review post and comment with your favorite eyeliner color. You can go directly to the posts by clicking either of these links: ***FACEBOOK POST*** ***INSTAGRAM POST***
No purchase necessary. Contest ends Saturday May 15th, 2021 at 11:59 pm (PT). Open to Residents of Canada, 18+.

Conditions apply. 1 entry/person. Correct answer to math skill-testing question required. Contest is not sponsored by Instagram® / Facebook®. Winner will be announced via Facebook on Sunday, May 16th, 2021 at 9:00 PM (PT). Winners will be contacted no later than Monday, May 17th, 2021 at 9:00 PM (PT) to claim prizes. CONTEST ENDED, WINNERS SELECTED.

Also don't forget to check out our review of the Voluminous Lash Paradise Mascara & Infallible Never Fail Eyeliner available at Costco for $4.00 off untill May 30th 2021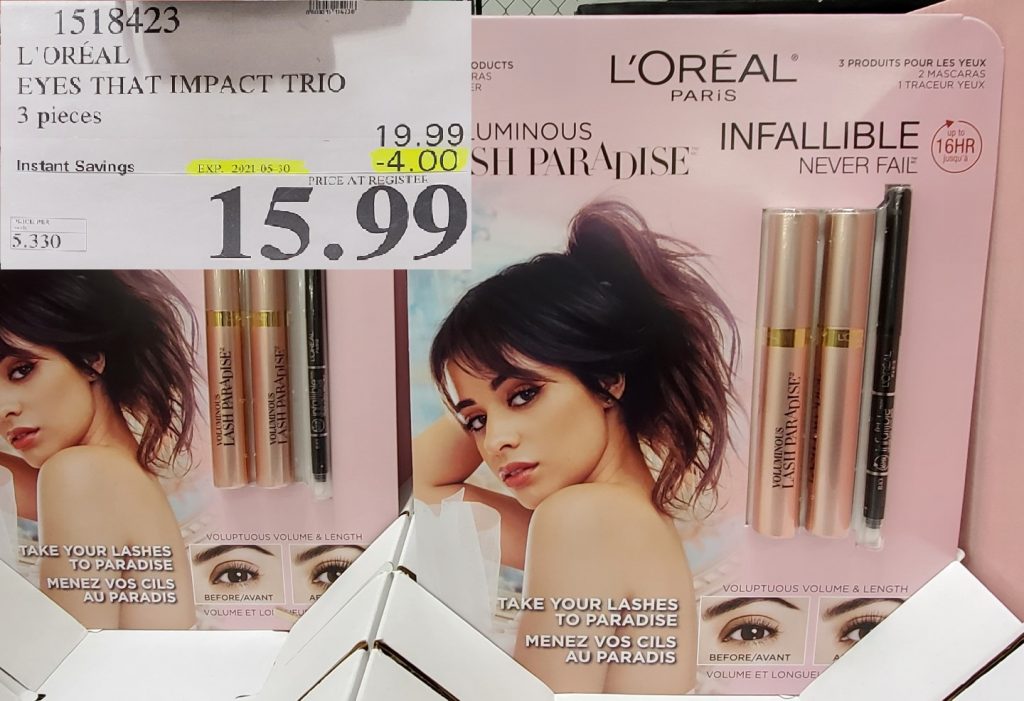 The L'Oréal's Lash Paradise Mascara provides volume and length while not making lashes super clumpy. It's very black and makes lashes look fluffy. The Infallible Never Fail Eyeliner eyeliner is lightweight and easy to handle, which is important when using pointy things around your eyes! Application was smooth and has an easy glide making it easy to get a subtle daytime look and the smudger worked beautifully for a smokey eye effect.
*Thank you so much for reading this review! Entries for the contest must be entered on Facebook or Instagram (links are provided in the post). Unfortunately, comments on this blog post will not be considered a valid entry! Good Luck Everyone!*
***This is a fan run, independent page with no affiliation or endorsement by Costco Wholesale***