The Costco East & West Fan Blogs have partnered with L'Oréal Paris to help them promote Color Radiance Shampoo & Conditioner, which has recently launched at Costco Warehouses Canada-wide.
This is a paid promotion and all opinions are my own… And my partners… And the opinion of a Co-worker who happens to be an excellent test subject. With that being said, I would never promote a product that I didn't sample and believe in.
So, on that note a big thanks to everyone who takes the time to read this and thank you to L'Oréal Paris & my reviewers!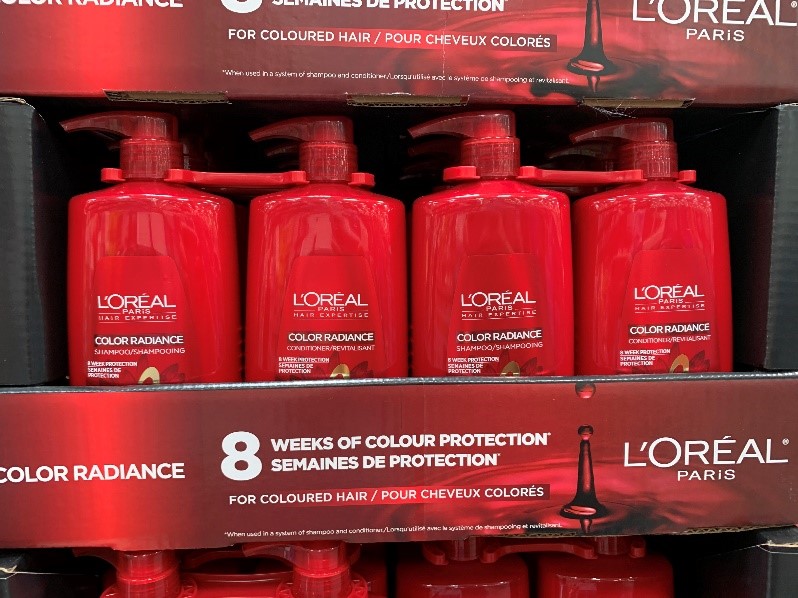 L'Oréal Paris has asked us to review their Color Radiance Shampoo & Conditioner, which helps to nourish and protect your colour-treated hair. Color Radiance Shampoo & Conditioner extends the vibrancy of colour for 8 weeks thanks to an innovative triple-action formula that visibly prolongs colour, protects the hair fibre for nourishment and softness, and boosts shine.
As a bartender/server my hair and skin are put through tons of environmental stressors, working outside in the blazing sun, heat and humidity can certainly do a number on "the 'do", so adding a shampoo/conditioner that has a built in UV filter is a big bonus. I feel like it certainly has made my hair feel softer and has added some much needed bounce and body to it, which after 10 hours of running around like a maniac serving tables, running food and mixing & shaking cocktails (some of which inevitably wind up in my hair) it's in desperate need of and I love the clean and fresh scent.
Another big benefit to this combo is that it helps to prolong your recent hair coloring, so less time spent dying your hair, less money spent on hair dye and hey, pair these up with L'Oréal Magic Root Cover Up and you've got a killer trio! (Read our review of that product here!)
Now I don't dye my hair (yet anyhow, but those grays are creeping in!) so I reached out to one of my Co-workers and asked her to sample the L'Oréal Color Radiance shampoo & conditioner combo write me a review as she just dyed her hair not too long ago.
"I was quite impressed with L'Oréal's Color Radiance shampoo and conditioner. I have colored hair and I find my color can go dull rather quickly, so it was nice that this shampoo and conditioner doesn't strip my color as much as my other shampoo and conditioner. I also have really fine hair (but a lot of it) so I need a thorough cleaning shampoo and a conditioner that doesn't weigh down my hair. The L'Oréal Color Radiance shampoo and conditioner checks both of those boxes, while also adding a nice shine. As I continue to color my hair regularly, this will definitely help make my color last longer. I would definitely recommend this shampoo and conditioner if you're looking for a good color protection system and don't want to break the bank."
In summary, it seems that if you have any form of colour-treated hair, this shampoo and conditioner set is just for you.  After all, L'Oréal Paris invented hair colour, so who better to take care of it!
Speaking of not breaking the bank (as my reviewer stated), the 2 X 828mL L'Oréal Color Radiance Shampoo & Conditioner is only $14.99 at Costco warehouses across Canada.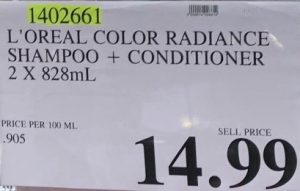 Thank you to my reviewer for reviewing, thank you for reading and thank you to L'Oreal for asking us to be a part of this!
L'Oreal Paris has also provided us with 3 awesome awesome prize packs to be won!
(Est. value of $35) These packs include
L'Oreal Paris Color Radiance Shampoo & Conditioner,
L'Oreal Paris Color Radiance Mask
And the L'Oreal Paris Hair Expertise 8-second Wonder Water.
Head over to the FACEBOOK POST to enter!
No purchase necessary. Contest ends Aug 30th, 2020 at 11:59 pm (PT). Open to Residents of Canada, 18+.
Contest ended and winners selected & notified August 30th 2020
Conditions apply. 1 entry/person. Correct answer to math skill-testing question required. Contest is not sponsored by Instagram® / Facebook®.  Winner will be announced via Facebook on Monday, Aug 31st, 2020 at 2:00 PM (ET). Winners will be contacted no later than Monday, Aug 31st, 2020 at 2:00 PM (ET) to claim prizes.
***This is a fan run, independent page with no affiliation or endorsement by Costco Wholesale***