The Costco East Fan Blog has partnered with L'Oréal Paris to help them promote The Magic Root Cover Up which has recently launched at Costco Warehouses Canada-wide.
 This is a paid promotion and all opinions are my own… And my partners… And the opinions of a Co-worker who happens to be an excellent test subject. So with that being said, I would never promote a product that I didn't sample and believe in.
So on that note a big thanks to everyone who takes the time to read this, and thank you to L'Oréal Paris & my reviewers!
Remember getting things done to your hair? Like getting a nice little trim, maybe even get some color or your Roots done???
It's probably been about 3 months since any of us have had the pleasure, thankfully L'Oréal Paris has provided us with a solution to the color & root aspect of this with the Magic Root Cover Up.
The Magic Root Cover Up is available at Costco in 2 shades to match most of the hair colour from Dark Blond to Dark Brown. It covers grey roots in 3 seconds on all hair types and textures and lasts until the next time you wash your hair, so great for a quick fix!
It's also made without ammonia, peroxide, or synthetic dyes, so it won't irritate sensitive scalps which is a huge bonus!
But you don't have to take my word for it! I've got 3 different test subjects to share their results.
My Co-worker & reviewer said "I used this product in a Dark Brown and loved it! I've tried "salon" root touch up products and so far this one is the best. It goes on easily & the spray nozzle is small and accurate. And I really appreciated the way the finger 'divet' on the top of the nozzle actually fit my finger deep enough that it didn't feel like it was going to slip, not something you want to happen!
It dries really fast, a little bit more than a minute like can said but that's still pretty quick! Visually, you can't tell that it's even there as it blends so well, and it washes out super easily w/shampoo"
My partner was also a fan; and has been a fan of L'Oreal Paris hair products for some time now and added her review to the mix.
"No one actually really loves gray hair when it first happens to them & it started when I was 17. The worst thing you can do is try to cover it up, but do a bad job.
I have used L'Oréal Paris hair dye for years and this one is a dream for a quick retouch, it goes on way easier and smoother than any of the smudgy, pastier products that I'd tried in the past.
There is a lot of maintenance involved once you get to a certain point in your "gray cover up needs" & when we're all incredibly busy it's nice to have something simple, quick and easy to use."
Then we've got Natalie from Costcuisine.com (Costco Food & Product Review Fan Blog).
"This product is great for extending the time between hair colorings – it does exactly what it says and magically covers up any roots/grey hair with just a simple spray. I loved that it didn't change the texture of my hair as I thought it might leave my hair feeling crusty.
I was happy to find that my hair still felt nice and soft after applying the root cover up! It didn't leave color on my hands, and when I got a little bit on my forehead it easily wiped away.
The root cover up lasts through only one shampoo, so you can reapply it as you need to. I thought I would definitely find color all over my pillow when I wore it to bed, but I was pleasantly surprised to see that there wasn't any residue left in the morning.
To use the root cover up, you just shake the can well, spray from about 10 centimeters away and then comb through your hair and let it dry. It's quick and easy! You don't need a lot of product to cover the roots. I found spraying the root cover up onto the hair in short bursts worked best.
I'll certainly keep the L'Oréal Paris Magic Root Cover Up in my beauty arsenal to lengthen the time between hair salon visits, which will save me money while keeping my hair healthier in the long run. Also, if there's another quarantine in the future, this is a great product to have on hand to keep your hair looking freshly done!"
The three-pack of L'Oréal Paris Magic Root Cover Up is available at Costco for $24.99 which is a great deal!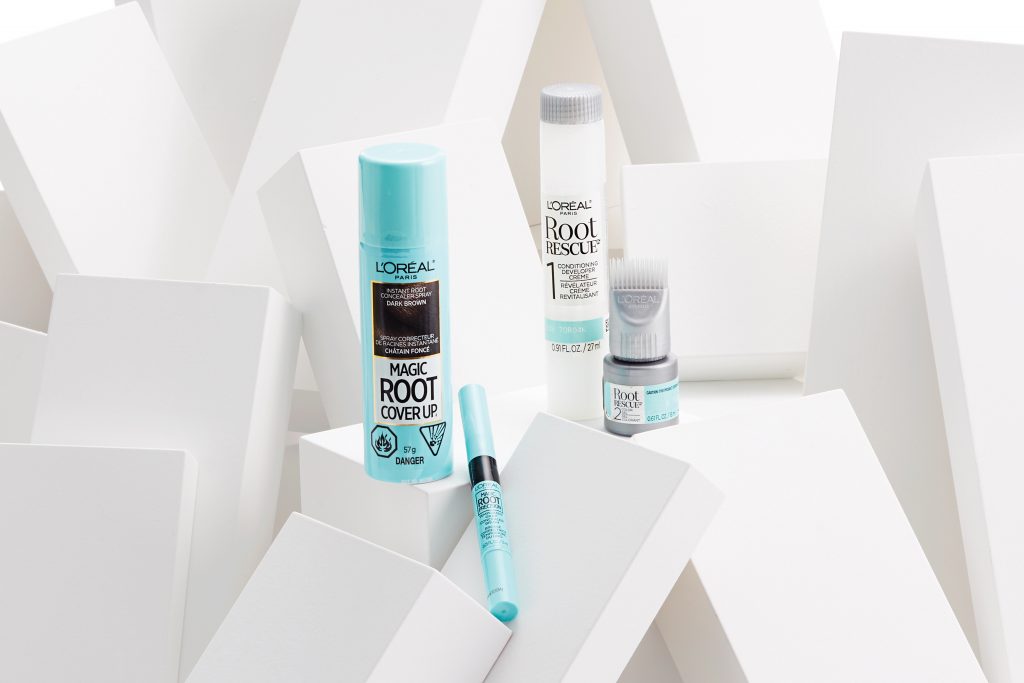 CONTEST #5 INFORMATION
L'Oréal has provided 3 great prize packs for us to give away. We will be holding a contest on
Facebook and all you have to do is to comment on this Root Magic post and tell me how long it
has been since you have visited the hair salon! You can go directly to the post here: ROOT TOUCH UP FACEBOOK CONTEST
Magic Root Prize Pack
2 x Magic Root Cover Up: MSRP $13.99
1 x Magic Root Precision: MSRP $13.99
1 x Magic Root Rescue: MSRP $10.99
No purchase necessary. Contest ends July 13, 2020 at 11:59 pm (PT). Open to Residents of Canada, 18+. The prizes are:
Conditions apply. 1 entry/person. Correct answer to math skill-testing question required. Contest is not sponsored by Instagram® / Facebook®.  Winner will be announced via Facebook on Monday, Jul 13, 2020 at 9:00 AM (PT). Winners will be contacted no later than Monday, July 14, 2020 at 9:00 AM (PT) to claim prizes.
***This is a fan run, independent page with no affiliation or endorsement by Costco Wholesale***