The Costco East & West Fan Blogs have partnered with Garnier to help them promote Garnier SkinActive Water Rose Micellar Cleansing Water, available at Costco Warehouses Canada-wide and Costco.ca.
This is a paid promotion, and all opinions are my own and the opinions of Co-workers who happen to be excellent testers. With that being said, I would never promote a product that I didn't sample and believe in.
***Read to the end of this review to find out how you can win 1 of 3 $50 Costco Cash cards!***
So, on that note a big thanks to everyone who takes the time to read this and thank you to my reviewers!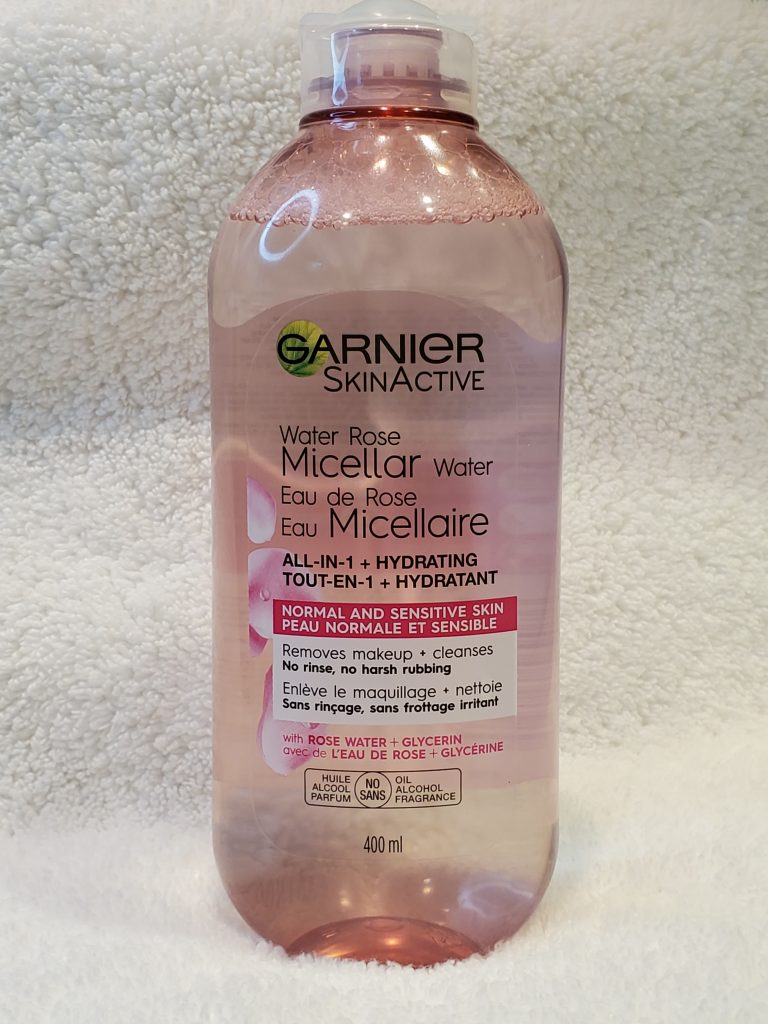 The folks at Garnier have asked us to take SkinActive Water Rose Micellar Water for a test drive, therefore I've recruited 3 of my faithful co-workers to run it through its paces.
So, what is Micellar water? The "micelles" act like little magnets capturing and lifting away dirt, oil, and makeup without harsh rubbing. Which is what all of my test subjects reported the Garnier SkinActive Micellar water did with flying colors.
I've been using it as a cleanser and found that after using it my face felt clean and soft, but not dry like it can with soap or some other cleansers. After running around like crazy working at the restaurant while wearing a mask for 8-10 hours, I've found that my nose gets really oily and dirty. But after a few quick passes with a cotton pad and a few drops of the SkinActive Water Rose Micellar Water, my face feels clean and refreshed. No need to scrub away here folks, quick and easy!
Now seeing as I don't wear makeup, I can't attest to its magnetic power there, but my reviewers certainly can!
"I used it after a long shift to just get the gunk off and I felt very clean afterwards. I also tried it out to remove my makeup after a night out and it took it all off very easily."
"It definitely removes makeup without drying or overuse. You only need a little and it almost has a soapy lather to it. Skin feels soft and not oily or dry after use. Fresh!"
Another great aspect of the Garnier SkinActive Water Rose Micellar Water is that it is oil, alcohol, and fragrance free, which is great for sensitive skin, and is also recognized by the Canadian Dermatology Association. This works perfectly for another one of my faithful reviewers! "I have sensitive skin that can get inflamed quite easily so when it comes to a makeup remover, I need something that isn't going to irritate and dry out my skin. I have used Micellar Water from Garnier for years and I really love this Rose Water formula. I like how soothing it feels on my skin. It's not heavy, but yet still removes all makeup and dirt with ease, leaving my skin clean and fresh. Micellar Water is an absolute staple in my bathroom cabinet, and I've been loving Garnier's Water Rose Micellar Water. Best makeup remover I've ever used."
I mean… It doesn't get any clearer than that last statement. The Garnier SkinActive Water Rose Micellar Water…
*Cleanses your skin of dirt and oils and doesn't leave a sticky residue.
*Removes make-up quick and easy without harsh scrubbing.
*Won't dry out your skin.
*Alcohol, fragrance, oil, paraben, and sulfate free (added bonus, it's Vegan)
*Recognized by the Canadian Dermatology Association.
*And is the best makeup remover my tester has ever used.
So basically everything that you could ask for and more in a facial cleanser & makeup remover! And With a price of $12.99 for the 400ml 2 pack at Costco (CURRENTLY ON SALE FOR $9.99 UNTIL SEPT. 26TH!!!) , Garnier has another amazing product on their hands with the SkinActive Water Rose Micellar Water.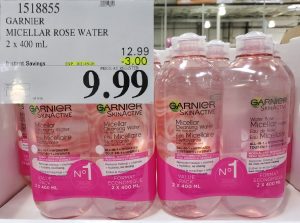 For more information about Garnier's SkinActive Water Rose Micellar Water head over to their website by following this link! Or to purchase directly from Costco.ca follow this link!
****COSTCO $50 CASH CARD CONTEST
INFORMATION****
Garnier has provided 3 x $50 Costco cash cards for us to give away! We will be holding a contest on Facebook and Instagram all you have to do is to comment on that SkinActive Water Rose Micellar Water review post and comment with your skin type. You can go directly to the posts here: FACEBOOK POST!!! & INSTAGRAM!!!
No purchase necessary. Contest ends Monday Sept 20th, 2021 at 11:59 pm (ET). Open to Residents of Canada, 18+.
Conditions apply. 1 entry/person. Correct answer to math skill-testing question required. Contest is not sponsored by Instagram® / Facebook®. Winner will be announced via Facebook on Tuesday Sept, 21st, 2021 at 9:00 PM (ET). Winners will be contacted no later than Monday Sept 27th, 2021 at 9:00 PM (ET) to claim prizes.
Thank you so much for reading this review and thank you to Garnier for asking us to be a part of this promotion!
***This is a fan run, independent page with no affiliation or endorsement by Costco Wholesale***