Welcome to the Costco Weekend Sales Update where I'll keep you in the loop on all the awesome sales Costco releases for the Weekend! I'll post them here and on our Facebook page for you to enjoy.
*
*
*
If you'd like to skip ahead to the comments section, click here!
*
*
Well folks the weekend updates never cease to keep me occupied, though I will let you know that these pictures were taken on Thursday this week so there may be 1 or 2 sales that popped up on Friday that slipped through my paws.
However there were a great many new items to adorn the shelves such as the Hush Puppies leather shoes Mens sizes 8-13 for $39.99.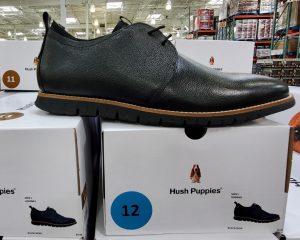 I've always heard that Hush Puppies are some of the most comfy shoes to wear (especial for service industry) so I may find myself grabbing a pair of these.
If you're looking to add a catch-all item to your emergency kits the Easy Care first aid kit for $29.99 would be a great staring point, or at least cover most of the basic needs.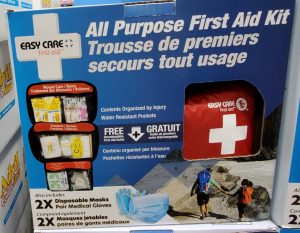 Another childhood classic that I'm not sure I've seen at Costco before (I could be wrong though) is the Nesquik chocolate powder 1.36kg for $9.99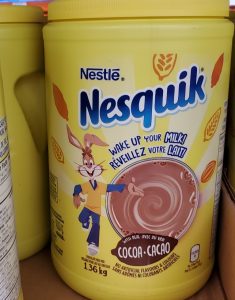 Now I do have memories of not mixing this stuff well enough and you'd always have floating chunks of powdery chocolate magma that would just ruin the whole experience. Now if I'd had a cocktail shaker as a kid… I mean who needs a lemonade stand, Freshly shaken Nesquik martini anyone?
Anyhow I'm sure as a kid having that much Nesquik at my disposal would've been a bad idea.
The 7.6L Ninja Foodi dual zone air fryer is also available for $139.99
I've heard people say that the regular air fryers are kind of a one trick pony as they have limited space, so could only do one thing. Obviously having 2 different cooking zones with separate heat controls that would change things a bit.
And if you were looking for the quintessential nod to the fact that fall is on the way, you're gonna be looking for Pumpkin Spice.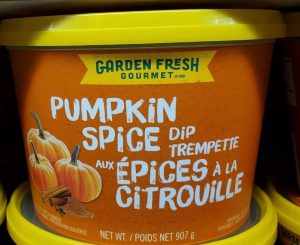 Ok well maybe a Pumpkin Spice latte, or candles is what you expecting, but Costco doesn't have that yet. They do have this Garden Fresh Pumpkin Spice Dip for $6.99 however, so you can get you Pumpkin Spice cravings in a wide variety of ways. Why limit yourself right?
Here's a few items to look for this weekend.
*
Dove moisturizing handwash 4 x 400ml -$3.00 @ $10.99
Quaker instant oatmeal 60 pouches -$3.00 @ $10.99
JIFF dark roast P/S 2 x 1.13kg -$2.00 @ $7.79
Dr.Praeger's California burger 12 x 99g -$3.00 @ $11.99
Scotties Premium Facial Tissues 2 ply 20 x 126 sheets -$5.00 @ $17.99
OVE Elijiah vanity 42in. -$200.00 @ $599.99
*
Sales aside I'd like to thank you all for the responses to the new blog search feature!
It would appear that you are all enjoying it so far and it will get even better as we still have a massive amount of data to be entered!
Please keep using it and let me know how it's working for you, (or not working for you) so we can keep working to improve the site.
I'd keep going but we're enjoying our last evening in Toronto, and then we're hitting the sack early tonight to squeeze the most out of tomorrow morning before heading home.
P.S. We took a "vacation" for 2 days and came to Toronto, and it's been a blast! Beautiful weather & great scenery.
What more could you ask for right? Great food, yes of course. I did of course manage to stop at the Carousel Bakery in the St.Lawrence market for my favorite Peameal bacon Sandwich, sit in the adjacent park, read about the Toronto Blue Jays winning streak, and devour my delicious treat.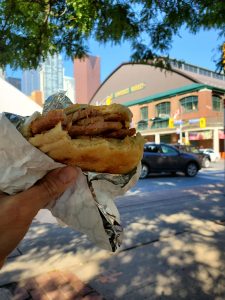 Dexter wanted to come but we told him he had to stay and keep his "Grandmother" company while we were gone.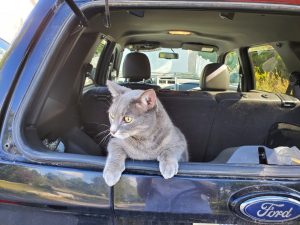 He unpacked his bags and decided to take a bath instead, promptly forgetting about the whole thing.
It's very likely he'll be either sleeping or having a bath when I get home as well. Eat, sleep, bathe… Ah the life of the Cats of Costco.
Enjoy folks, see you soon.
*
As we're easing into Fall 2021 and the potential 4th wave of COVID-19 I think it's important to remember that we're not out of the corona virus weeds yet, and each province has their own Health recommendations based on the provinces individual risk assessment and I would recommend that you follow the recommendations for your specific province. Information can be found at the following websites.
Newfoundland COVID-19 information
New Brunswick COVID-19 information
Nova Scotia COVID-19 information
Go here for the latest Costco Coronavirus updates: https://www.costco.ca/coronavirus-response.html
So there you go, a little reading material for you.
Be kind, be safe and stay healthy!
Please note:
The price at your local Costco takes precedent (or precedence) over the prices listed on this blog.
Costco liquidation/Manager's Special items (ending in .97) vary from store to store.
An asterisk (*) on the price tag means the item is not being re-ordered.
If there is something you really want, ***double check the expiry date*** as some Costco sales items do end mid-week.
***This is a fan run, independent page with no affiliation or endorsement by Costco Wholesale***
Costco Flyer Sales Aug 30th- Sept 12th 2021
Costco Weekend Update Sept 10th – 12th 2021