Hello there my Costco Family!
I just wanted to stop in here and say hi and see how you're all doing!
As promised, I did not go to Costco today. And it was an odd feeling… I actually miss going to Costco multiple times a week. Costcohaulic, I believe is what I am.
We've been keeping ourselves busy here though, and I revived a not-so-old hobby of mine.
I broke out my camera on (what I believe was) Wednesday so I could ambush… I mean photograph all the cute little birds in our backyard.
The best lens I have for those kind of shots is a 50mm, and I'm really tempted to get a telephoto, or zoom lens so I can be a fair ways off and catch the blue jays or the squirrels… But still the chickadees were decent models. Once I settled my tripod down and got my remote plugged in and stopped moving, they started rushing the feeders… Of course not being totally co-operative and usually heading the feeder I wasn't focused on. Still it was alot of fun to sit and watch them for a bit, they are very cute and funny little guys!
Our Robins from last year have also returned! They have built a nest in the same place they did last year (under our back deck) and have laid their eggs!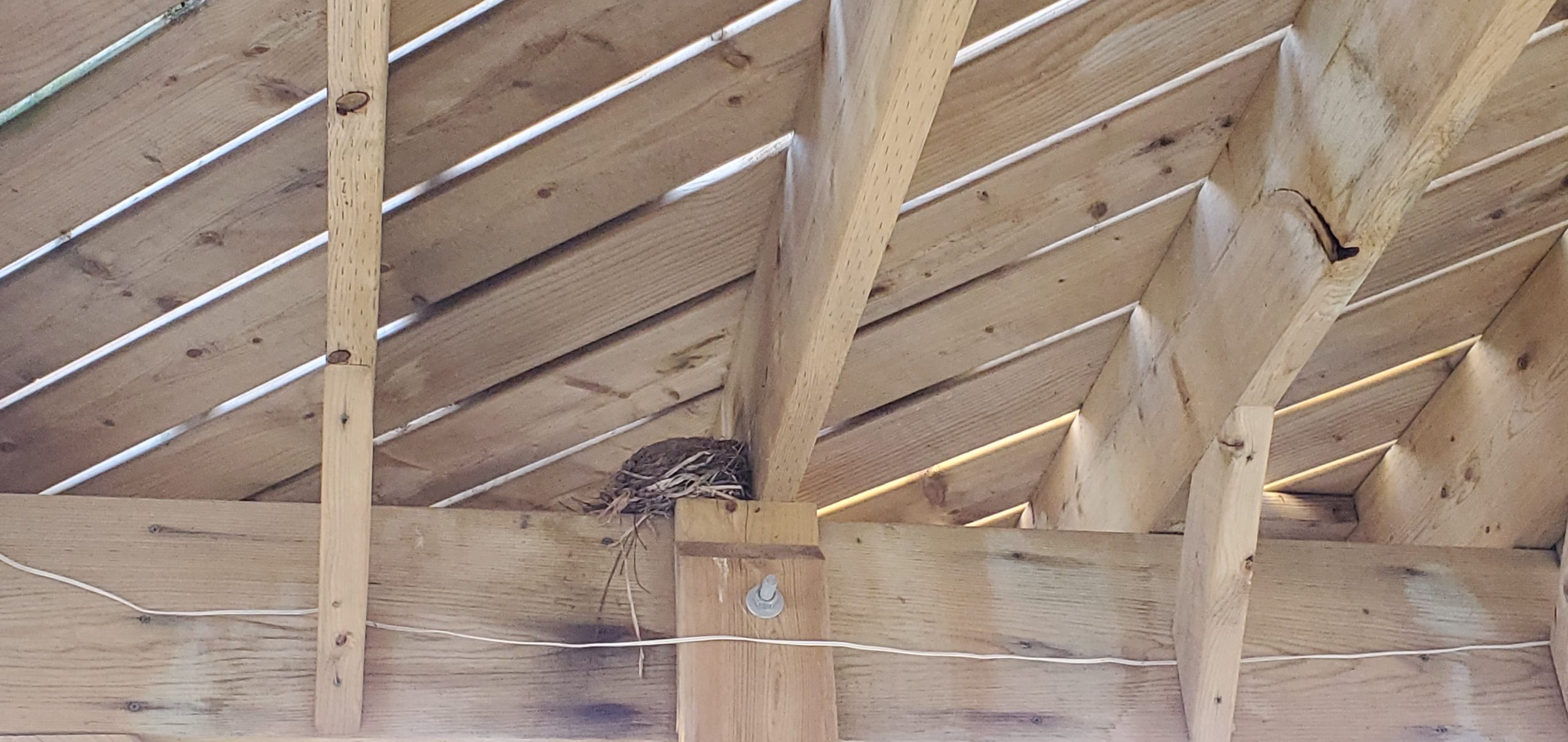 I think that's really cool, I don't know much about them or how territorial they are but still think it's kind of neat to think that maybe we have return customers, or renters… or squatters…
Either way we love them. And as for rent? Seeing them bounce around the yard picking at the ground will suffice.
So I've been asking you all to contribute some favorite recipes for us all to share, I can't just be the only one putting recipes up! Though I will admit Jan in Waterdown does a good job of sharing hers as well.
"Last night we had roasted pork loin & gravy with roasted root veggies (potatoes, carrots, rutabaga & a whole garlic head). I love it when the entire meal is done in the oven with not too much advance prep! I slathered the loin in Dijon mustard with minced garlic then rolled it in rosemary and thyme which forms a tasty crust and adds tons of flavour to the gravy."
Jan that indeed does sound delicious!
Susan C. posted this link to a delicious looking scallop recipe. Click this link to follow through to it!
I do love scallops, I don't eat them very often but they are delicious…
Thank you Susan for that link as well, I look forward to trying that out sometime in the near future when I can get my hands on some good scallops!
We opted for a rather simple meal tonight. I mean it's Friday, I'm not at work, the cats aren't at work, my partner's not at work… We almost forgot it was Friday for crying out loud! So, Nachos it was! We found a recipe online for homemade Queso dip, and it was delicious (though, hold back on the salt folks… Ours was a little bit ummm, Salty! Unsalted Nachos next time, or zero salt in the cheese dip… Probably that route I think)
It was quick, it was relatively easy, and the clean-up just as much so… And who needs plates?! Just leave them nachos on the pan and dive right in!
Food aside, how are you all doing? I feel like we're doing good, maybe a little stir crazy but otherwise, OK.
Playing & teaching lots of drums to my partner, reading alot more than usual… I (believe it or not) read and finished Anthony Bourdain's "A Cook's Tour" which somehow, had not read before… I'm astonished (likely as much as you are)
As I find most of his writing great, I was not disappointed. This book follows him (post Kitchen Confidential) through his first culinary world tour, adventures and mishaps. I loved every page, though I will point out that this (in some parts, as in most of his writing and shows) is not a book for the faint of heart, there are certainly some pages that are… well, graphic. I'll leave it at that, and for you to discover. (And highly advise that you do, his writing is a fantastic lens into the food world, restaurant industry and it's underappreciated & underpaid workers, and just the world in general from a very sarcastic and cynical standpoint… My favorite!)
My plan now is to finish the Jim Henson biography (half done, semi-forgotten about but also fantastic!), and then the Billy Joel autobiography (started, then put on the shelf for no valid reason… I love Billy Joel's music, so no good reason to not finish the book. Sorry folks, but I have no excuses for that one.)
So I've got my next 2 books planned, what about you? Anyone got any good reading on the go as we speak??
As I've said with the recipes, please share them in the comments section and share favorite books & movies or TV shows as well! I'm happy to share them with everyone here so we can all get through this strange time together! We have been watching "the mentalist" lately, and it's pretty good… It's no "Castle" but it's kinda quirky in a good way. "Castle" by the way, is fantastic… Might be time for use to start at the beginning and redo the whole thing! (we have time apparently)
So I think on that note folks, it's time to say good night.
It's been an interesting week, so many things are changing day to day and we're all doing our best to adapt with those changes. It can seem exhausting, or at least to me it has been & I'm know it must be to others as well.
When it all seems like too much, come back here and take a look at these two cute cats and know that Dexter and Ewok are always here for you!
Share your recipes, share your favorite books, movies, mini-series, past-times. Share it all folks! That's what the comments section is here for.
Ok, for real now I'm going to bed.
Be safe, healthy and kind. Good night Costco Family!
***This is a fan run, independent page with no affiliation or endorsement by Costco Wholesale***
The food brands available can differ from region to region. Pictures are taken at a store in Ontario. Sale items should apply to Costco locations in Ontario, Quebec, New Brunswick, Newfoundland & Nova Scotia, if the item is in stock at your store. There will likely be a few deals not shown here in your store. If this blog has helped you save money, consider sharing www.cocoeast.ca with your friends and family! If you see deals at your store that aren't on this blog, post them in the comments and help spread the money saving love!