I walk the whole store for you every Monday when Costco Sale items and Costco Flyer sales are released for the week, then post them here and on our Facebook page.
Want to see what might be on sale next week??? Click the picture below to see what was on sale last year at Costco!
NEVER MISS A POST! Join the Costco East Facebook group to get updated whenever I make a new post! https://www.facebook.com/costcoeast/.
ALSO you can come and see my Instagram feed with Pics of my weekly Costco shopping trips, Dexter and Ewok being lazy cats and pictures of things that I have cooked with anything I've purchased at Costco. You can find that here! https://www.instagram.com/costco_east_fan_blog/
Subscribe to website updates by signing up below
and you'll get a confirmation email from "FeedBurner Email Subscriptions". Click the link within it to activate your subscription and you'll be notified by email whenever I post (1 or 2 times weekly). Check your spam filter or contact me if you have questions or do not receive a confirmation email.
Welcome back Costco friends and family!
Well we made it through another weekend folks, hopefully everyone out there is doing OK?
The two of us are doing OK here, not going out anywhere except for going for walks, though my partner has been better about getting out there everyday than I've been… Need to up my walking game I guess.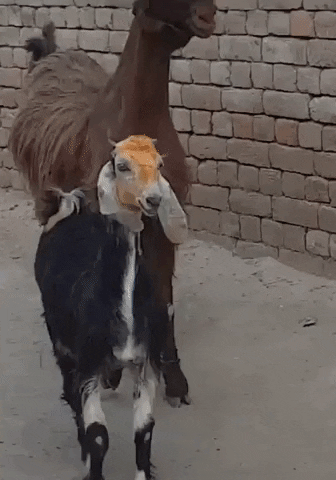 (Though we did just get back from one as I write.)
We've been very good about not going out, keeping our once a week Costco trip in tact for the essentials and groceries. Though we did go for a drive the other day just to get out into the world and see what was happening out there, and had a visit with my Mom (making sure to stay a good 3 metres apart) So we have had some human contact.
Sounds like some of you are making good use of your time at home! Jan in Waterdown is being good about using up the goods in her freezer, which is certainly a good thing! (We've being trying to make sure we use up all of our leftovers and not waste anything!)
Susan C has been watching "Virgin River" and "The Kominsky Method" on Netflix, and reading "Lion". I haven't seen either of those, but I'll add them to our rapidly growing list! We've been watching "The Mentalist" on Amazon Prime. It's pretty funny, kitchy, but funny (though some of the acting is bad!) It kind of reminded us of "Castle", but more like Castle Jr. ya know?
Layla Bay has apparently not lost her sense of humor, which in these wacky times, is very important.
It's also important to make sure you plan your shopping trips these days, so let's take a peek at what Costco has on sale.
Cold-FX extra strength 150 + 18 tablets -12.00 @ $45.99
Ultimate ears wonderboom bluetooth speaker -10.00 @ $69.99
Oral-B bacteria guard toothbrushes 8 pk. -4.30 @ $11.69
Venus platinum razor +11 cartridges -10.00 @ $29.99
Feit electric LED string lights -10.00 @39.99
Dyson V8 total clean cordless vacuum -100.00 $449.99
Haggar twill pant mens size 30-42 -6.00 @ $18.99
Nicole Miller leggings ladies sizes XS – XXL -4.00 @ $12.99
Coca-cola & Diet coke -2.50 @ $9.39
Argenta Ridge Wine kits -16.00 @ $63.99
I will say I'm pretty impressed by the staff at Costco during this COVID-19 pandemic. They're working their butts off keeping the place clean, keeping the social distancing of lines in order, cleaning the plexiglass shields, debit terminals and conveyor belts after EVERY customer, so hats off to you all! You're making this pleasant, safe, and easy for us all! Also everyone I saw in Costco today was respecting the physical distancing quite well, and being courteous when letting people pass so you didn't get too close. Thank you to everyone who's been doing that!
Dexter & Ewok are pretty happy that we're home so much now, though it certainly interrupts their extensive napping schedule since we're constantly finding them and waking them up because they're so cute and need to be squished!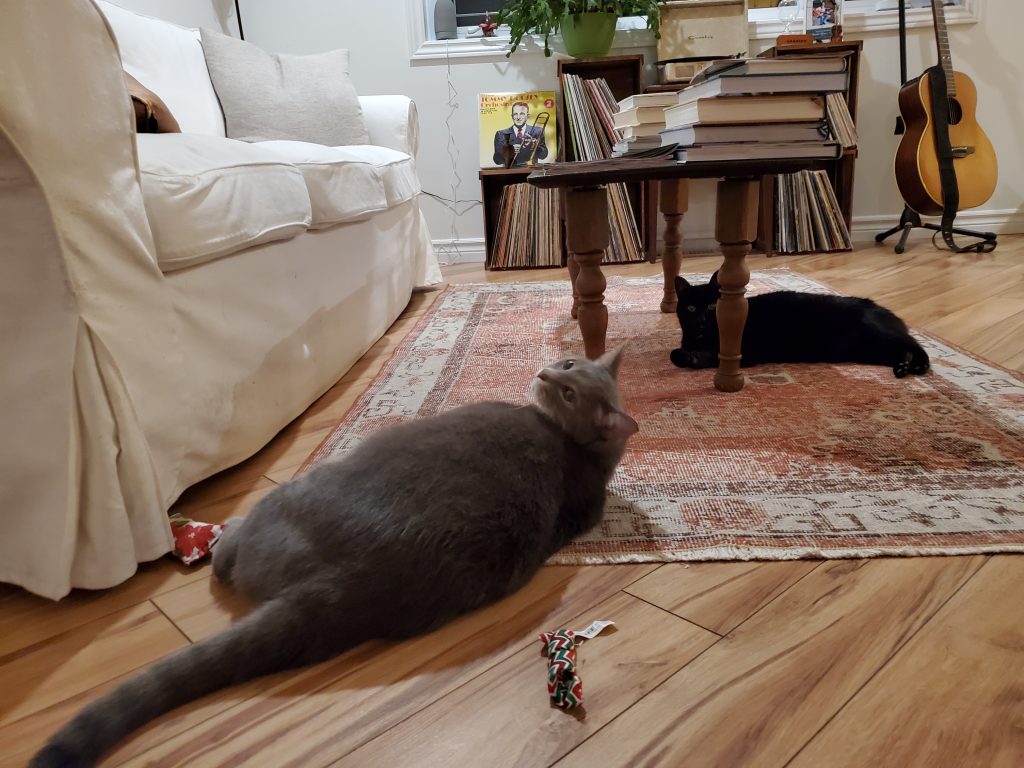 How are all of your little (or not so little) fur babies taking your constant presence?
Are they happy? Are your dogs tired of going for walks yet? Our old neighbor said their dog "Obi" has been on more walks than ever in his life!
Here's a link to some generally light hearted reading about how pets are dealing with their owners during the Coronavirus situation, it's actually pretty funny!
I mean… Walking a fake dog??? Come on now!
At least when this is all over with one silver lining might be that we will all know how to wash our hands properly…
It'll grow back probably, right???
Ok time to go. My "Boss" has decided I'm done working for the night.
Thanks Ewok…
Night night folks, stay safe and healthy & I'll see you soon!
Please note:
The price at your local Costco takes precedent (or precedence) over the prices listed on this blog.
Costco liquidation/Manager's Special items (ending in .97) vary from store to store.
An asterisk (*) on the price tag means the item is not being re-ordered.
If there is something you really want, ***double check the expiry date*** as some Costco sales items do end mid-week.
***This is a fan run, independent page with no affiliation or endorsement by Costco Wholesale***
The food brands available can differ from region to region. Pictures are taken at a store in Ontario. Sale items should apply to Costco locations in Ontario, Quebec, New Brunswick, Newfoundland & Nova Scotia, if the item is in stock at your store. There will likely be a few deals not shown here in your store. If this blog has helped you save money, consider sharing www.cocoeast.ca with your friends and family! If you see deals at your store that aren't on this blog, post them in the comments and help spread the money saving love!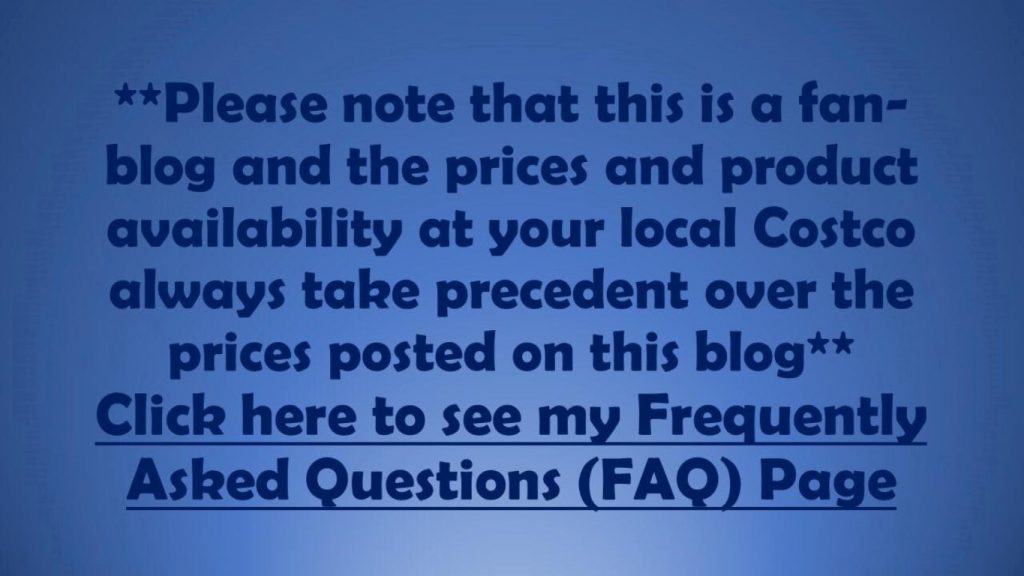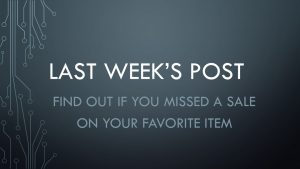 Costco Flyer Sales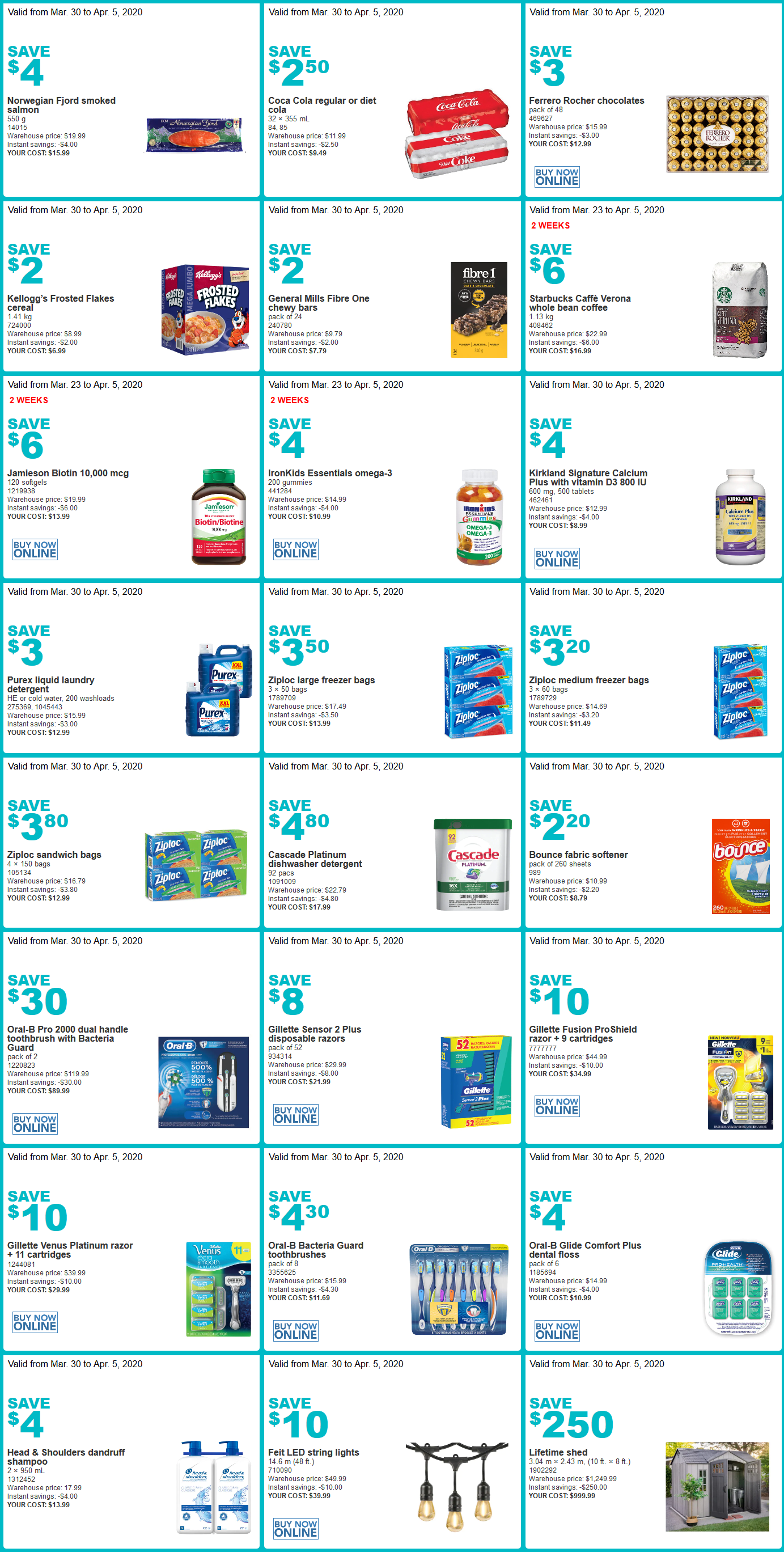 Costco Kingston Meat Department sales March 30th – April 5th 2o2o
Costco Treasure hunt sales March 30th – April 5th 2020