Costco Canada Weekend Update May 1st 2020 – Ontario, Quebec & Atlantic Canada
Well here we are again Costco family, Friday & The Weekend Update! (That could be a band name!)
Hopefully everyone has had a good week? Mildly productive perhaps??? Or not at all, and that's OK too folks, trust me. Showering and getting out of the comfy P.J.'s in the morning is now considered an accomplishment, and a necessity… (gotta be done before noon-ish though!)
I suppose we had a pretty productive week, made some decisions regarding bar stools and bookshelves (Friday & the Weekend's first album name: Regarding bar stools & bookshelves) and actually ordered them!
We went through 9 or 10 bins of books, pictures, and other random goodies in the garage that have moved around with us for years, wiping them all down and bringing them inside the house or deciding it was time to move on (A project we put off until the weather was a little bit better, so that felt really good to get done)
Got a bunch of lettuce and radishes planted in our one planter box, that felt really good as well. Another longstanding project completed! (Mother nature will have to complete the rest for us. But we've done our part so far.) I'll keep you posted on any growth that happens, or doesn't happen.
Made a huge batch of gluten free lasagna, which was delicious! Honestly I couldn't tell the difference, I was blown away!
It was very, very cheesy though… (Ricotta, Kirkland mozzarella and White Linen marinara sauce)  Garfield would've approved!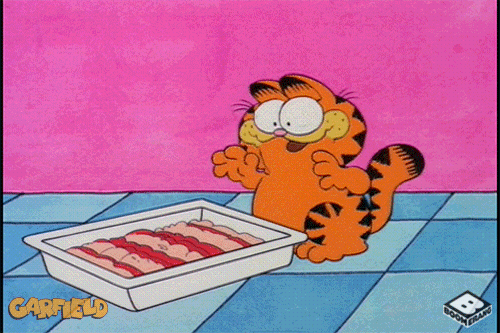 What else, what else… Oh I removed a tick from my leg at 6 in the morning today so that was exciting! Actually not so much… We went for a walk in the conservation area yesterday mid-afternoon, and I'm assuming that's where the little bugger decided to hitch a ride. It hadn't really burrowed in yet and was just kind of hangin' on, so getting rid of it with tweezers wasn't too much of an issue; but certainly not something I was looking forward to doing, or even thinking of at that point… Gross… I felt so violated. Certainly didn't get back to sleep after that folks.
On a brighter note today turned into a fantastic sunny & warm spring day, so the lawnmower was brought back into service (love that smell of fresh cut grass!) and even some little mini Iris' decided to pop up and say hello! (Didn't even know they were there to be honest)
Not wanting to be left out of the action, Ewok decided it was time for him to get some front porch action. (supervised, of course)
Adorable!
As I said on Monday I'm thinking that next week might be the week I get back to Costco on Fridays to give you the weekend sales. (You probably want more sales, and less of the "Cats of Costco"… But admit it though, they are pretty cute!)
Based on how our city is doing, and how well Costco here has dealt with the COVID-19 situation I think I feel comfortable enough to get back to doing my second weekly trip. I've certainly missed going, and have missed bringing you the new sales for the weekend.
I'll update you on Monday with that situation though.
I gotta go now though. Popcorn has been made and The Kominsky Method is set to watch! Stay safe and healthy folks, and enjoy your weekends!
G'night!
***This is a fan run, independent page with no affiliation or endorsement by Costco Wholesale***
The food brands available can differ from region to region. Pictures are taken at a store in Ontario. Sale items should apply to Costco locations in Ontario, Quebec, New Brunswick, Newfoundland & Nova Scotia, if the item is in stock at your store. There will likely be a few deals not shown here in your store. If this blog has helped you save money, consider sharing www.cocoeast.ca with your friends and family! If you see deals at your store that aren't on this blog, post them in the comments and help spread the money saving love!