Welcome to the Costco Weekend Sales Update where I'll keep you all in the loop on the awesome sales Costco releases for the Weekend! I'll post them here and on our Facebook page for you to enjoy.
So there were snowflakes in the air today… That was alarming!
Not that any stuck around, but still… It's almost June, time to go away Mr. Snow, my garden doesn't want you here! Or at least everything not lettuce in my garden, some little buggers decided to eat ALL of our lettuce plants two nights ago… Cute little bunnies huh? Sounds like a bunch of lettuce thieves to me!
Oh well, Lettuce look ahead at some of the Sales this weekend.
That's how a lot of my jokes are received…
OFF! family care insect repellent 2 x 170g + 175 ml -$4.00 @ $15.99
Pepperidge Farm goldfish crackers 1.64kg -$2.00 @ $8.79
Freybe assorted salami 1.13kg -$4.50 @ $17.49
Diamond Harvest 20/30 scallops 680g -$4.00 @ $9.99
Cello Parmesan cheese crisps 269g -$3.00 @ $9.69
Dyna Trap mosquito trap indoor/outdoor -$20.00 @ $69.99
Our Costco finally got the Fresh N Pure grape juice back.
I feel like we always had that up until about 3 years ago, then it was gone. The Costco in Barrie always has it though so I'd grab a bunch whenever we were there visiting family.
I've also seen these YVES veggie cuisine jumbo veggie dogs the last few months.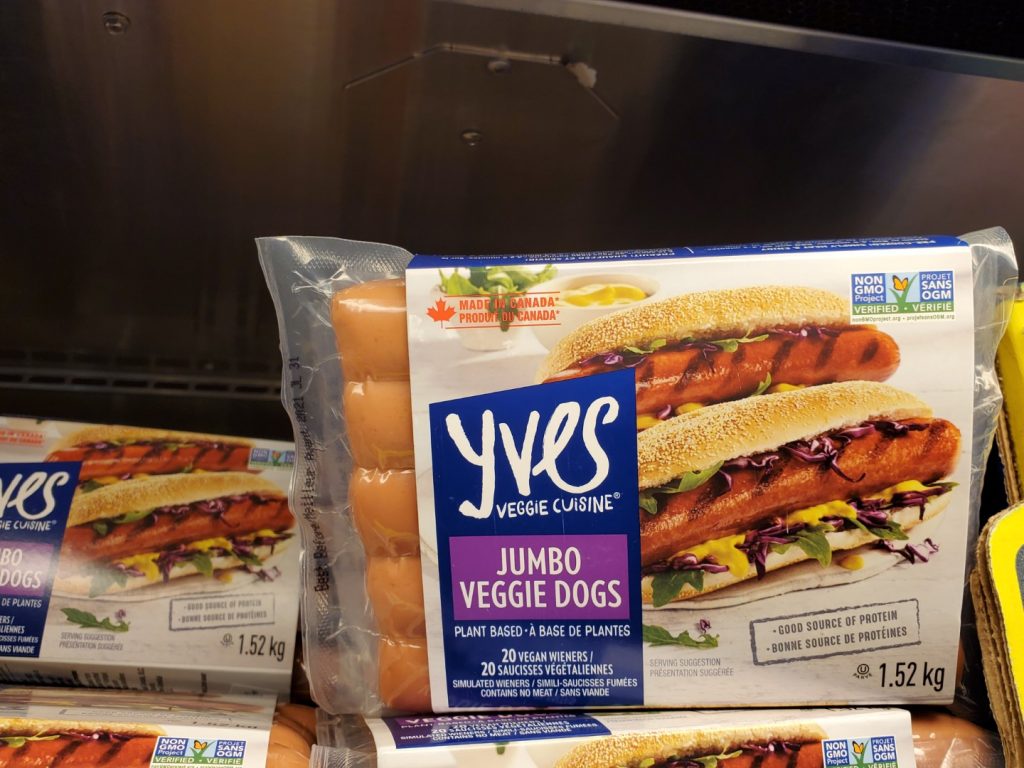 My partner can't eat these because they aren't gluten free, do you guys/gals have any suggestions for good vegetarian, gluten free hot dogs?
As for myself, I happen to not be either of those things so I'm not limited to my hot dog enjoyment. I was watching an episode of The Layover with Anthony Bourdain yesterday morning (the New York episode) and he was rather blissfully enjoying a couple of hot dogs covered in Sauerkraut and mustard and naturally my mouth started to water… The seed of craving was planted, I knew what I had to do.
I drove to Loblaws, picked up a package of Wagyu Beef Hot dogs, a pack of freshly baked buns and returned home. Dropped a few of those bad boys in water for a few minutes to get them warmed up, gave 'em a few quick slices on top and got them on a hot grill to crisp the skin a bit. Topped them with a generous helping of Wildbrine fermented Sauerkraut (courtesy of Costco) and good 'ol French's yellow mustard to finish them off. And then it was my turn to finish them off.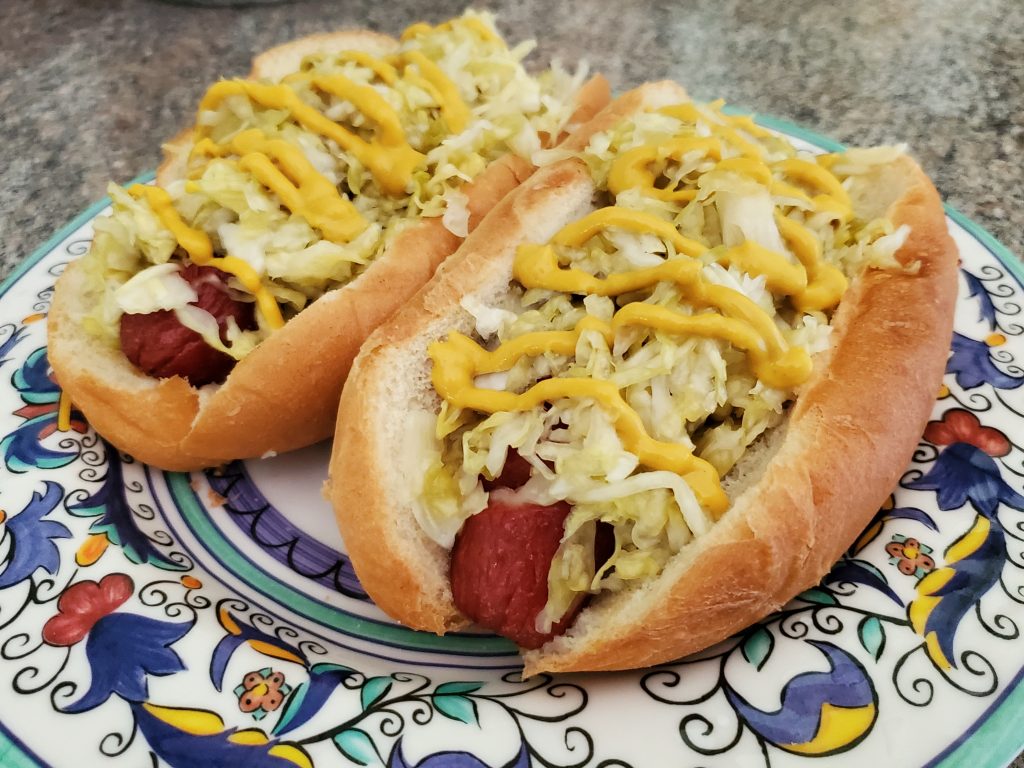 And boy were they ever satisfying. So much so, I may indulge again today (I did).
Life's short folks, let the hot doggery begin!
COVID-19 vaccinations are ramping up across Eastern Canada, follow the links below to find out if you're eligible and where they are available in your Province.
Since we are still in the third wave of COVID-19 I think it's important to remember that we're not out of the corona virus weeds yet, and each province has their own Health recommendations based on the provinces individual risk assessment and I would recommend that you follow the recommendations for your specific province. Information can be found at the following websites.
Newfoundland COVID-19 information
New Brunswick COVID-19 information
Nova Scotia COVID-19 information
Go here for the latest Costco Coronavirus updates: https://www.costco.ca/coronavirus-response.html
So there you go, a little reading material for you.
Be kind, be safe and stay healthy!
Please note:
The price at your local Costco takes precedent (or precedence) over the prices listed on this blog.
Costco liquidation/Manager's Special items (ending in .97) vary from store to store.
An asterisk (*) on the price tag means the item is not being re-ordered.
If there is something you really want, ***double check the expiry date*** as some Costco sales items do end mid-week.
***This is a fan run, independent page with no affiliation or endorsement by Costco Wholesale***
Costco Flyer Sales
Costco Weekend Update sales