I walk the whole store for you every Monday when Costco Sale items and Costco Flyer sales are released for the week, then post them here and on our Facebook page.
Hello and happy Victoria Day folks!
I was certain that I was headed into some chaos today at Costco. Holiday Monday, perfectly warm, people with the day off… I figured, madness!
How wrong I was. It felt absolutely deserted today, I breezed through the garden center gawking at all the new baskets and potted flowers.
Had a quick discussion with some other people about how much I love the Feit electric LED string lights.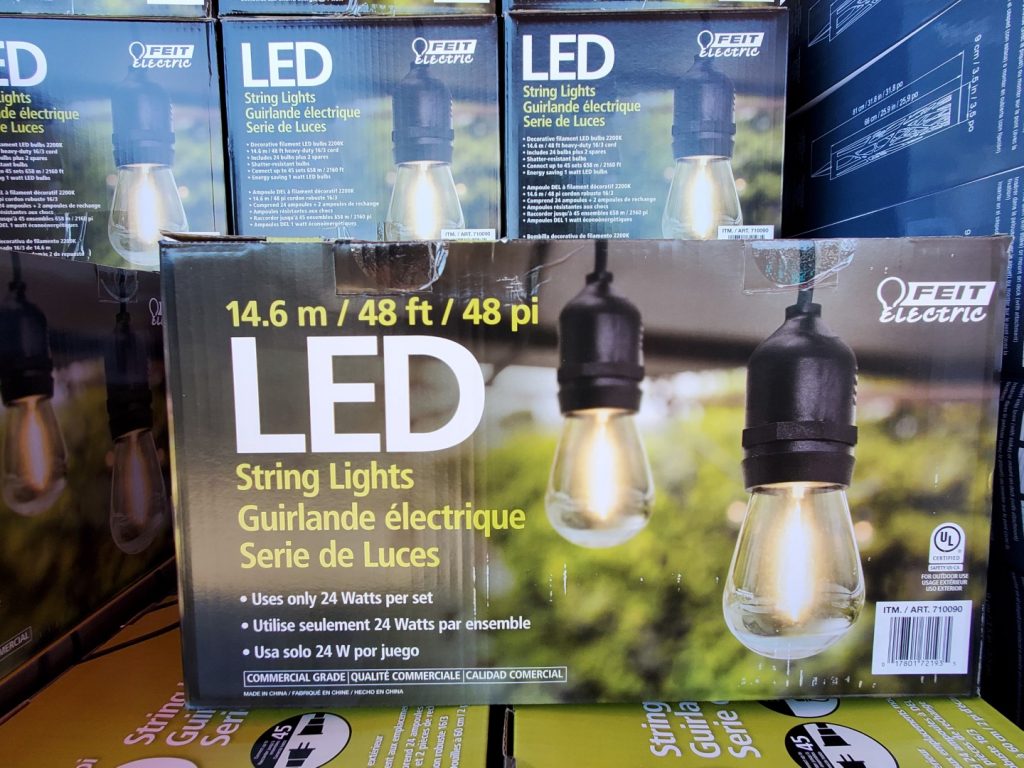 After which I headed into a mostly vacant warehouse. It reminded me of the days I've gone after new restrictions have been implemented, so much room to stroll around and no waiting to get to the sale items for pictures. Gotta love days like this, right folks?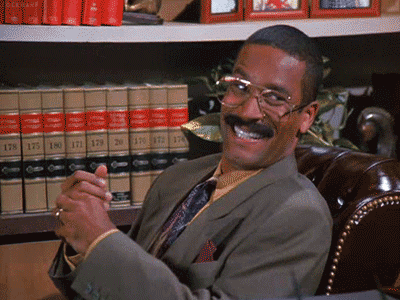 And as for sale items, here's a few of them for you.
Scotts EZ seed 11.3kg bag -$12.00 @ $47.99
Band-Aid variety pack 210pk -$4.00 @ $12.99
Pure Protein variety pack -$4.20 @ $16.79
Tre Stelle feta cheese 1kg -$3.00 @ $10.99
Naked Smoothies multipack 12 x 296ml -$4.00 @ $11.99
Starbucks French roast 1.13kg -$5.00 @ $16.49
Kellogg's cereal in a cup 638g -$2.00 @ $77.99
Tide liquid HE laundry detergent 131 washloads -$5.00 @ $18.99
Softsoap handsoap with aloe 2 x 2.36L -$3.00 @ $8.69
I was fooled into thinking that Starbucks Caffe Verona whole bean coffee was on sale, but it was the French roast instead. Has anyone tried that one?
The Band-Aid variety pack is a great deal @ $12.99, and will likely come in handy for those of you who either have kids (where scrapes and cuts are inevitable this time of year) or those of you looking to step up your emergency kit prep game. Never a bad time to that!
And to Elly who was messaging me about the Lysol toilet bowl cleaner, it is on sale for $8.49 for the 4 pack.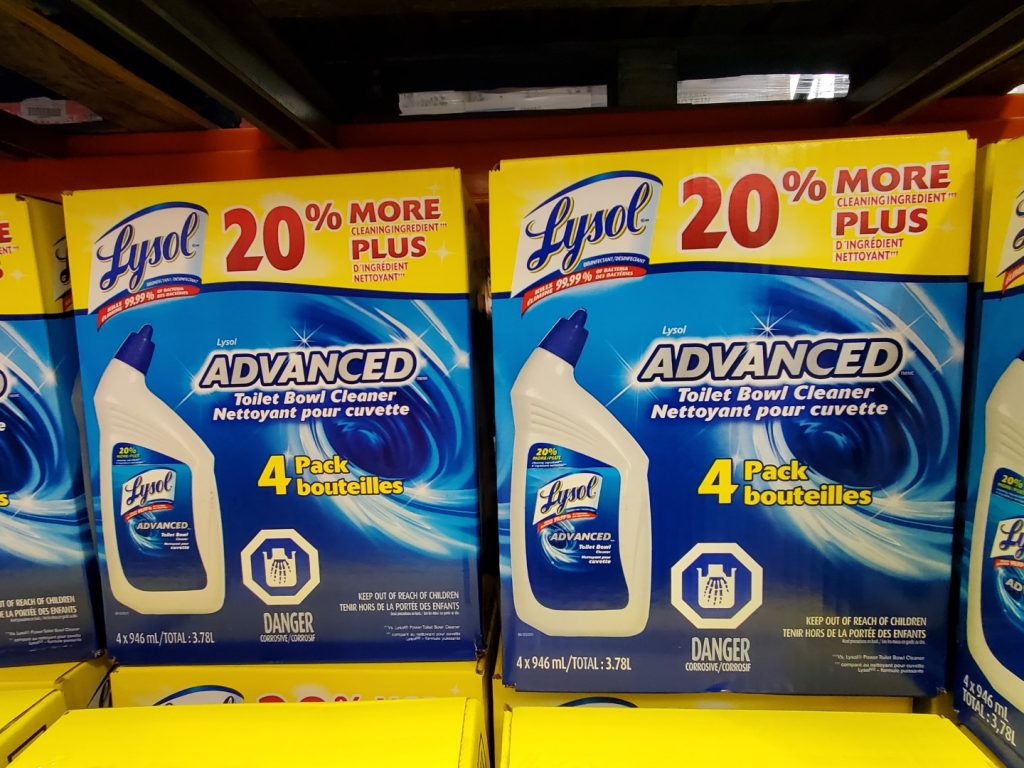 I bought some of those New Nordic Hair gro vitamins a few weeks ago because well… I wanted to see if they worked, obviously my hair doesn't grow as fast or thick as it used to so I thought maybe a little help was in order.
So far I must say that my hair is indeed growing, however I'm not sure if it's growing faster or thicker than it has been. It's certainly longer now than it has ever been however that's because I haven't been to a hairdresser for, ummm….

15 months??? Yikes!
I read that you're supposed to grow about a half inch of hair a month, so I should have grown about 7.5 inches of hair. I seem to be a little bit ahead of the curve there, so that's encouraging, I haven't really noticed any change in new growth or thickness yet but a few weeks might be a little premature to glean any results.
Has anyone else tried these before with any success, or is it snake oil?
Jennifer in Kingston, I'm sorry to hear your little furry guy wasn't doing well. He's on the mend now though I hope?
Also Jen & Jan those Feit electric LED's are awesome. I had worries about them being that really bright "exam room white" LED tone but they aren't at all. It's that warm white, so unless you have to string confined to a small area (in which case you can unscrew every other bulb to make it less bright) they're great!
And on that note folks, I've got a hockey game to watch so with a little help from Biff I'm gonna make like a tree and….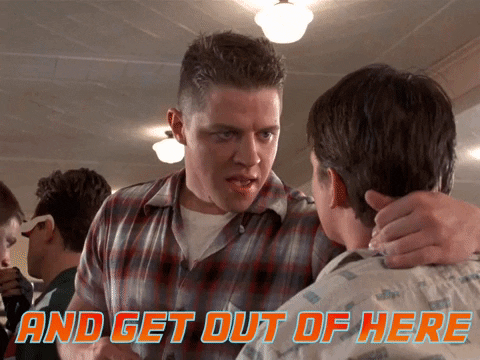 Exactly, cheers folks.
Stay calm and Costco on!
P.S. – As a side note if you haven't had a chance to read our review of the Garnier SkinActive 5-in-1 Miracle Skin Perfector BB Cream or enter the contest for 1 of 3 Costco $50.00 cash cards there's still time to get it done! Just follow this link to our review post and read to the bottom to find out how to enter!
Since we are in the third wave of COVID-19 I think it's important to remember that we're not out of the corona virus weeds yet, and each province has their own Health recommendations based on the provinces individual risk assessment and I would recommend that you follow the recommendations for your specific province. Information can be found at the following websites.
Newfoundland COVID-19 information
New Brunswick COVID-19 information
Nova Scotia COVID-19 information
Go here for the latest Costco Coronavirus updates: https://www.costco.ca/coronavirus-response.html
So there you go, a little reading material for you.
Be kind, be safe and stay healthy!
Please note:
The price at your local Costco takes precedent (or precedence) over the prices listed on this blog.
Costco liquidation/Manager's Special items (ending in .97) vary from store to store.
An asterisk (*) on the price tag means the item is not being re-ordered.
If there is something you really want, ***double check the expiry date*** as some Costco sales items do end mid-week.
***This is a fan run, independent page with no affiliation or endorsement by Costco Wholesale***
Costco Treasure hunt sales