I walk the whole store for you every Monday when Costco Sale items and Costco Flyer sales are released for the week, then post them here and on our Facebook page.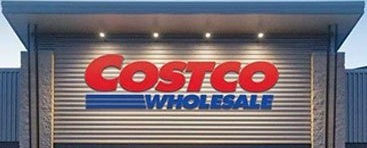 *
*
*
If you'd like to skip ahead to the comments section, click here!
*
Hello everybody and welcome back to the Costco Monday Treasure hunt!
It would seem the jury is out on the Cutco knives, huh?!
Some of you love them and have used them for 35+ years while others saying they wouldn't take them if they were free! So a little bit of a split. That's OK though, we're all allowed our own opinions.
We're also allowed sales. Lots and lots of sales, and Costco does not disappoint!
Kirkland Signature 16 x 25 furnace filters are on sale for $8.00 off @ $29.99 for a pack of 4.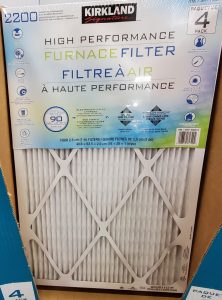 Perfect timing as we probably all need to change out our filters heading into the fall months.
Nestle Favorites (125 bars) are on sale for $4.00 off @ $15.99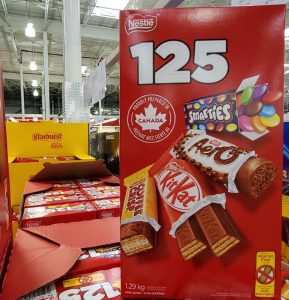 So you can do what I do. Buy 2 boxes, eat one before Halloween and pass the other box out to kids.
Oh, and FINALLY Natrel salted/unsalted Butter is on sale for $1.00 @ $3.49.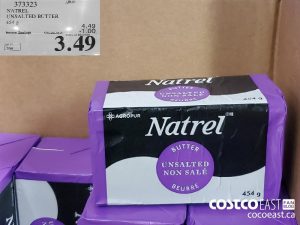 I feel like it's been over a year since it went on sale last…Maybe even longer? Oh wait a second… There's a way we can find out, isn't there?!
By typing Natrel into the "search" bar on the website we can see it was on sale in Dec. 2019 for $2.99.
Amazing… I love that feature!
Here's a few more beauties from the Aisles today.
L'Oreal revitalift retinol night serum 2 x 30ml -$10.00 @ $36.99
Sensible portion pita bites 567g -$2.00 @ $4.99
Zavida 100% Columbian coffee 907g -$3.00 @ $8.49
Olivia Basa loins 1.36kg -$4.00 @ $8.99
Tre Stelle grated parmesan 850g -$4.00 @ $15.99
Cole Haan no show lines sock 6pk. $3.00 @ $6.99
Body Glove performer 11 1SUP 11ft. -$100.00 @ $399.99
Bench Men's/Women's vest S-XXL -$10.00 @ $24.99
*
Speaking of a beauty, how about this little guy?
He was feeling a bit left out the last few weeks so I asked if he would pose for his fans… Obviously he obliged! New white tie and freshly pointed ears too, looking pretty sharp Ewok! (both of those statements are non-factual and for entertainment only… Ewok doesn't have a job and cannot afford to buy a new tie whenever he wants)
That being said if I see tie's arrive in the clothing department maybe I'll grab some for Ewok.
It's now time to wash up and get ready for bed folks, so please browse and search to your hearts content!
Stay safe, stay healthy and I'll be seeing you all very soon!
As we're easing into Fall 2021 and the potential 4th wave of COVID-19 I think it's important to remember that we're not out of the corona virus weeds yet, and each province has their own Health recommendations based on the provinces individual risk assessment and I would recommend that you follow the recommendations for your specific province. Information can be found at the following websites.
Newfoundland COVID-19 information
New Brunswick COVID-19 information
Nova Scotia COVID-19 information
Go here for the latest Costco Coronavirus updates: https://www.costco.ca/coronavirus-response.html
So there you go, a little reading material for you.
Be kind, be safe and stay healthy!
Please note:
The price at your local Costco takes precedent (or precedence) over the prices listed on this blog.
Costco liquidation/Manager's Special items (ending in .97) vary from store to store.
An asterisk (*) on the price tag means the item is not being re-ordered.
If there is something you really want, ***double check the expiry date*** as some Costco sales items do end mid-week.
***This is a fan run, independent page with no affiliation or endorsement by Costco Wholesale***
Costco Flyer Sales Sept 13 – 26th 2021
Costco Treasure hunt sales Sept 20th – 26th 2021