I walk the whole store for you every Monday when Costco Sale items and Costco Flyer sales are released for the week, then post them here and on our Facebook page.
Want to see what might be on sale next week??? Click the picture below to see what was on sale last year at Costco!
NEVER MISS A POST! Join the Costco East Facebook group to get updated whenever I make a new post! https://www.facebook.com/costcoeast/.
ALSO you can come and see my Instagram feed with Pics of my weekly Costco shopping trips, Dexter and Ewok being lazy cats and pictures of things that I have cooked with anything I've purchased at Costco. You can find that here! https://www.instagram.com/costco_east_fan_blog/
Subscribe to website updates by signing up below
and you'll get a confirmation email from "FeedBurner Email Subscriptions". Click the link within it to activate your subscription and you'll be notified by email whenever I post (1 or 2 times weekly). Check your spam filter or contact me if you have questions or do not receive a confirmation email.
Happy Monday Everybody!
Well we made it through another weekend intact folks and right back to my favorite day of the week!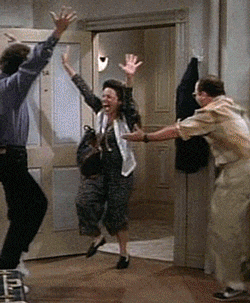 They aren't practicing the best social distancing, but it's close-ish… They want to hug, but they know they can't. And probably Elaine's mouth wide open isn't good either. Anyhow.
Just scanning through the Costco flyer sales this week and I noticed first off that Charmin Toilet paper is on sale for $5.00 off… I imagine that will be a hot seller right now! Also it seems all of these sales are valid for 4 weeks, so until May 3rd. I don't think I've seen that before, but I'm assuming it has a purpose.
Speaking of sales, let's take a little peek shall we??? (there were a lot of sales going on this week!)
Brita replacement filters 8pk -$8.00 @ 28.99
Oral-B crossaction 2 powerbrushes -$30.00 @ 89.99
LG gram 17″ laptop -$400.00 @ 1399.99
32 degrees T-shirt 3pk mens sizes S – XXL -$4.00 @ 13.99
Duracell "AA" batteries 48pk -$6.00 @ 21.99
Off! Powerpad mosquito lamp 2pk -$6.00 @ 15.99
Bounty plus paper towel 12 x 92 sheets -$4.00 @ 18.79
Tetley orange pekoe tea 300 ct. -$2.50 @ 8.49
Always Dri-liners long pantiliners 200 pk. -$3.50 @ 10.99
That's really just a bird's eye view of what is on sale at Costco this week. As there were probably 30 – 40 more sales happening this week than the last 2 weeks. With that in mind, use this page to help plan your trip!
My trip this evening was great. I'm still impressed with how our Costco has been dealing with COVID-19 and the way our community has been dealing with it as well.
The staff are friendly and explaining the rules clearly and patiently. The members seem to be respecting other peoples space and the 2 meter distancing. The guy who was guiding carts to the checkouts was pleasant and made sure to be clear about where to go and what markers to stand behind. The plexiglass shield, conveyor, and debit terminal are wiped down between each customer. I felt comfortable and at ease. (Otherwise I wouldn't be going folks, trust me) So Kudos to the Costco employees for doing a great job!
Seriously, next time you're there make sure to thank them (from a distance), be the kind, generous Canadians we're stereotyped to be. With so much uncertainty & bad/upsetting news everyday I think the one universal thing we can all do for each other is be kind and positive.
Speaking of positive, the Robins have been… Active.
Not the best pictures I know, sorry. (my camera seemed to think the nest was more important than the egg in the first one!)  But the color of the eggs is amazing!!!
This is over the course of Friday – Sunday. Busy little lady!  (I suspect we'll be using the back door quite frequently this summer because of this…)
As most of you know we've been taking walks every day to stay active and get outside and have made friends with some local cows… I suggested naming one Kirk (as in Kirkland) But Layla Bay suggested Scottie as another one feeding off the Pikard/Trekkie comments I made. Irony perhaps? Scottie and Kirk(land)
And what about these new friends who live across the street from Scottie and Kirk?
As soon as I got close to the fence the little calf noticed me and started walking over, this seemed to catch all of their attention and they decided to all come over and say hello!
These ones were very curious. And cute, of course.
So on that note, I'm sure you're ready to move on the the fun stuff, the sales!
So you probably should. Stay safe, healthy, friendly and do all the things we've been doing. It's making a difference!
Good night.
Please note:
The price at your local Costco takes precedent (or precedence) over the prices listed on this blog.
Costco liquidation/Manager's Special items (ending in .97) vary from store to store.
An asterisk (*) on the price tag means the item is not being re-ordered.
If there is something you really want, ***double check the expiry date*** as some Costco sales items do end mid-week.
***This is a fan run, independent page with no affiliation or endorsement by Costco Wholesale***
The food brands available can differ from region to region. Pictures are taken at a store in Ontario. Sale items should apply to Costco locations in Ontario, Quebec, New Brunswick, Newfoundland & Nova Scotia, if the item is in stock at your store. There will likely be a few deals not shown here in your store. If this blog has helped you save money, consider sharing www.cocoeast.ca with your friends and family! If you see deals at your store that aren't on this blog, post them in the comments and help spread the money saving love!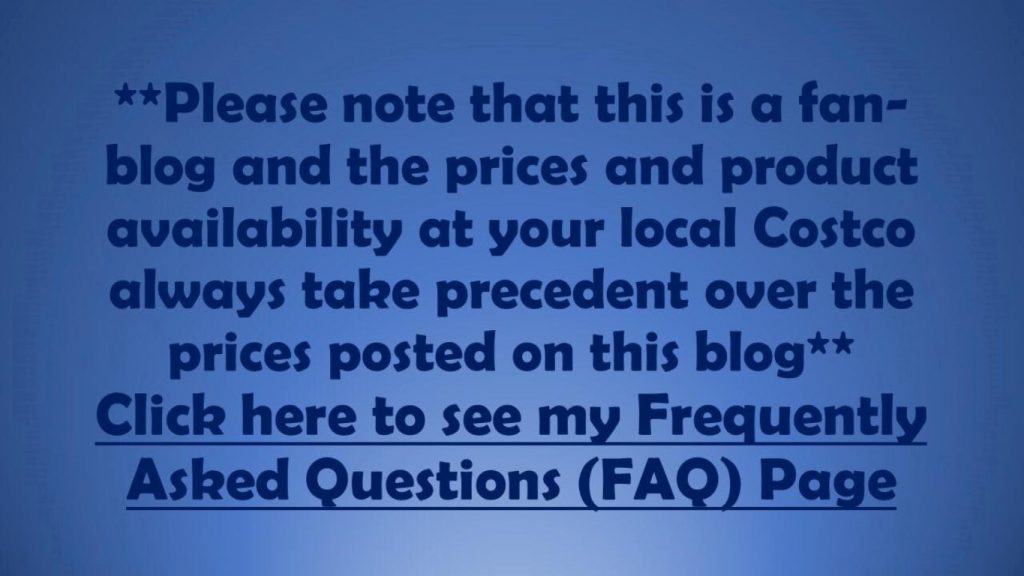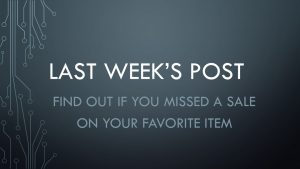 Costco Flyer Sales April 6th – May 3rd 2020

Costco Kingston Meat Department sales April 6th – 12th 2020
Costco Treasure hunt sales April 6th – 12th 2020