I walk the whole store for you every Monday when Costco Sale items and Costco Flyer sales are released for the week, then post them here and on our Facebook page.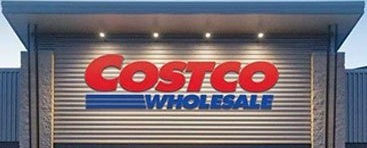 *
*
*
If you'd like to skip ahead to the comments section, click here!
Welcome to a mid week special post everyone!
I just couldn't stay away I guess? With work at the restaurant being shut down for non-Covid related reasons (Bathroom repairs!) I've found myself with a little extra time on my hands. So I went to Costco and took pictures of ALL of the books, activity books, video game things, and the comfy blankets that should be accompanying any & all of those activities right now.
I figure with this being a pretty slow time of year for some of us, it's the perfect time to sit down with a warm blanket and a good book! Or maybe you need a book to occupy your kids while you take part in that activity as well? Whatever your reason is, there's over 100 books, blankets, puzzles, video games, subscriptions etc. to browse through below.
Also included are the gift cards available at the Kingston, ON. location. Just in case you needed extra incentive to get down to your favorite restaurant for takeout, plan for a movie date at the Cineplex sometime in the near future, or jump start your Yoga resolutions for 2022 at the SoulSpeak studio, there are gift certificates waiting for you! (Each Costco will have different Gift certificates available, so make sure you check in with your local warehouse to find out which ones they have.)
Speaking of reading, Ewok (finally) read the post from new years eve, and this was his reaction!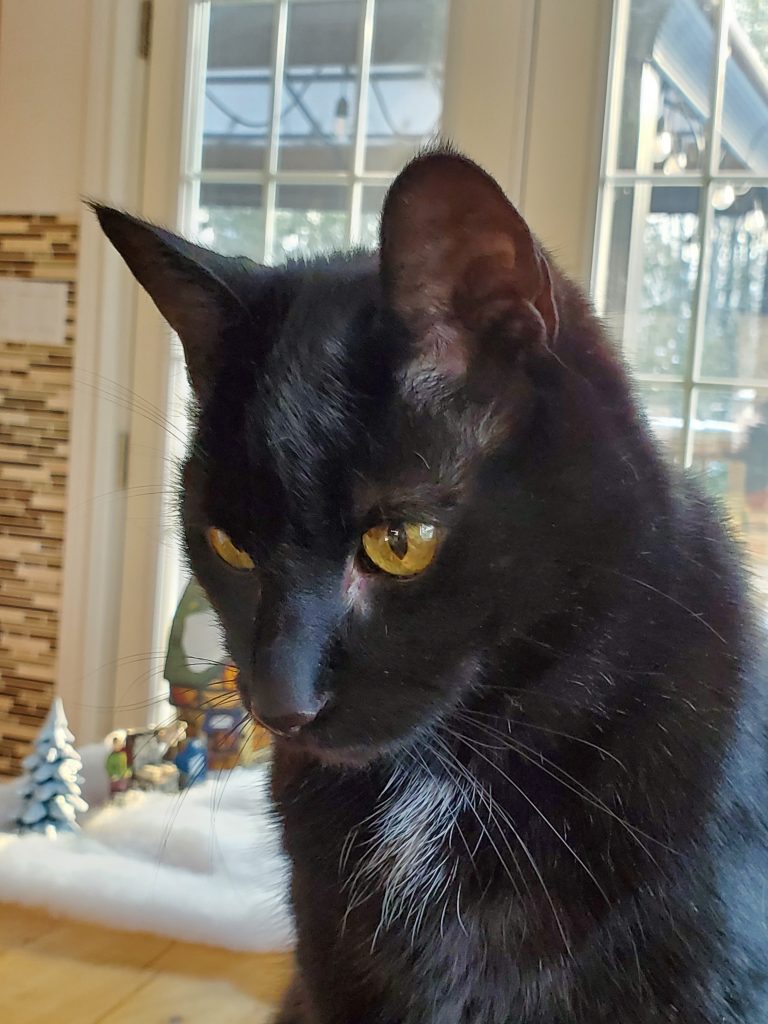 I think he was unhappy that Dexter got a full calendar spread and he didn't, so I promised him one in one of the upcoming posts .. He then decided to judge me from the corner of the Christmas village.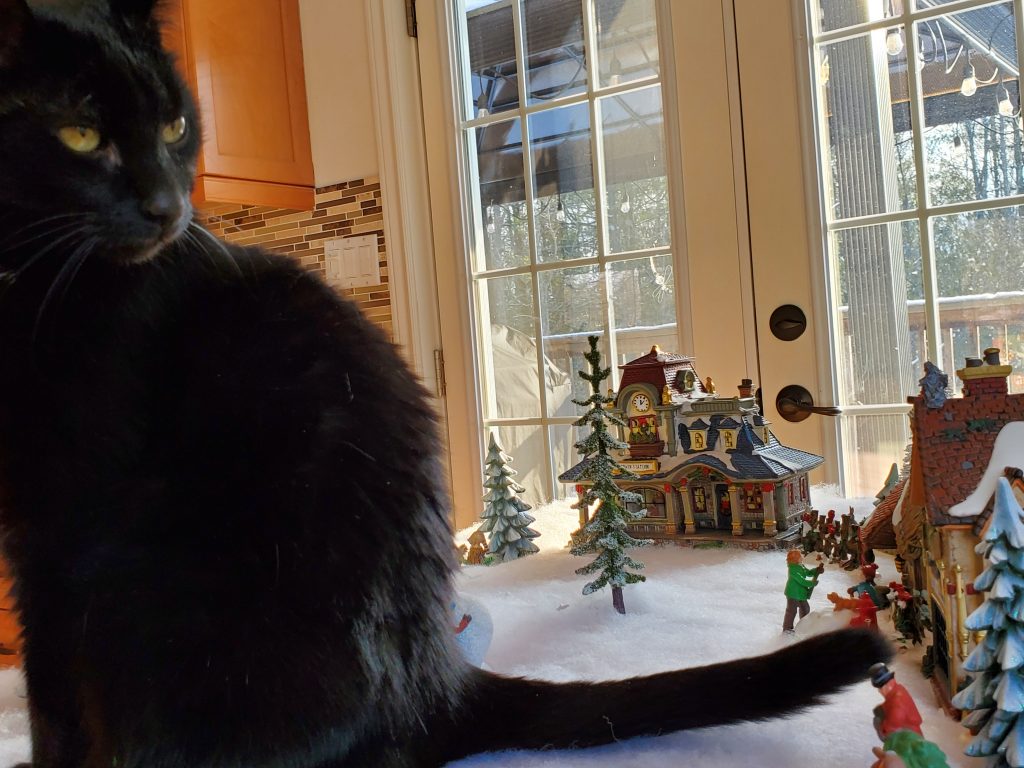 I can't blame him for sitting on the cushy village snow.. It is pretty fluffy & cushy…Maybe Ewok would read some Hardy Boys books while snuggling up next to the Train station? Snuggle, yes. Adventure? Questionable, at least with the cold weather. I'd rather be inside reading books with cats anyways.. Enjoy the book hunting folks.
As always.
Stay Calm and Costco on!
I think it's important to remember that we're not out of the corona virus weeds yet, and each province has their own Health recommendations based on the provinces individual risk assessment and I would recommend that you follow the recommendations for your specific province. Information can be found at the following websites.
Newfoundland COVID-19 information
New Brunswick COVID-19 information
Nova Scotia COVID-19 information
Go here for the latest Costco Coronavirus updates: https://www.costco.ca/coronavirus-response.html
So there you go, a little reading material for you.
Be kind, be safe and stay healthy!
Please note:
The price at your local Costco takes precedent (or precedence) over the prices listed on this blog.
Costco liquidation/Manager's Special items (ending in .97) vary from store to store.
An asterisk (*) on the price tag means the item is not being re-ordered.
If there is something you really want, ***double check the expiry date*** as some Costco sales items do end mid-week.
***This is a fan run, independent page with no affiliation or endorsement by Costco Wholesale***
Costco Flyer Sales Jan 3rd – 16th 2022
Costco Book, Activity & Comfort sales Jan 5th 2022