I walk the whole store for you every Monday when Costco Sale items and Costco Flyer sales are released for the week, then post them here and on our Facebook page.
*
*
*
If you'd like to skip ahead to the comments section, click here!
Welcome to 2022 Costco Shoppers!
And with a new year come new sales, and of course new restrictions…Sigh…
Oh well, more on that later.
January does bring with it a whole new batch of sales to check out, so I was a pretty busy shopper today. Though I will say it was nice to be approached by a young lady with some pretty cool looking glasses on asking if I was The Costco East Fan Blog. That was very sweet, and nice to meet you! (Though I feel bad I didn't get your names!)
Huggies Natural Care Plus Baby wipes are on sale for $7.00 off @ $21.99 until the 16th, so stock up if you need 'em!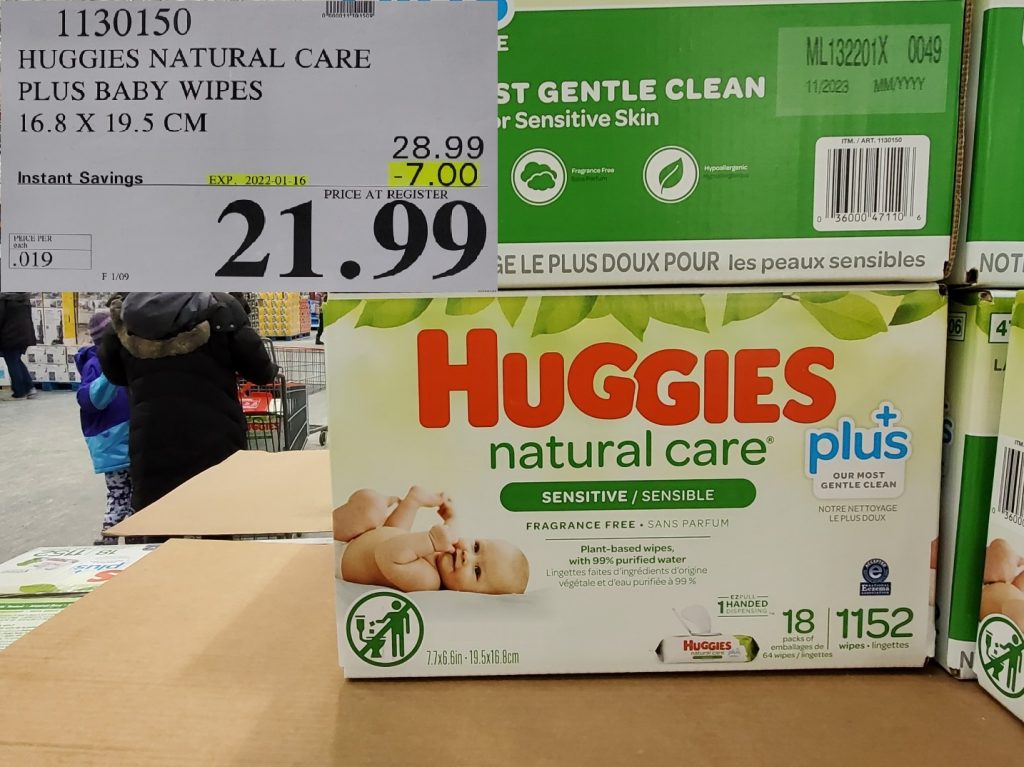 Cold FX daily defense 150 + 18 capsules is on for the usual $12.00 off for $45.99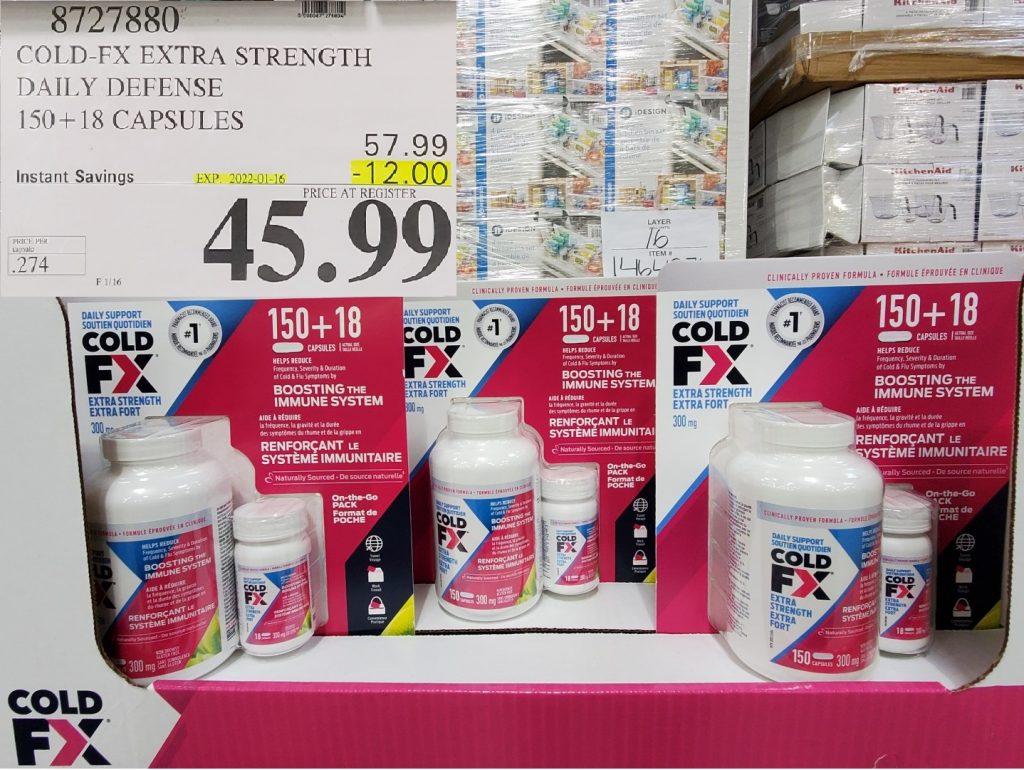 I'll probably grab some of those this week to keep the immune system in good shape, getting sick would be the last thing I'd want right now.
If you're looking to add a bit of luxury to your shower routine, the Zadro luxury towel warmer might be something to look into.
I was thinking a few weeks ago one of the wall mounted towel warmers would be nice, but maybe this one is worth a shot @ $99.99? Thoughts??
I picked up a package of the Suzie Good Fats chewy-nutty bars for something different (usually I get the CLIF builders bars, but I needed a change) while they're on sale for $13.89.
I tried one as soon as I got back in the car, and enjoyed it! Not too filling & not overly dense like some of the other bars, and the flavor was pretty good as well. (I had the salted caramel bar)
And while not a sale, I did notice a sizable gap in the toilet paper section.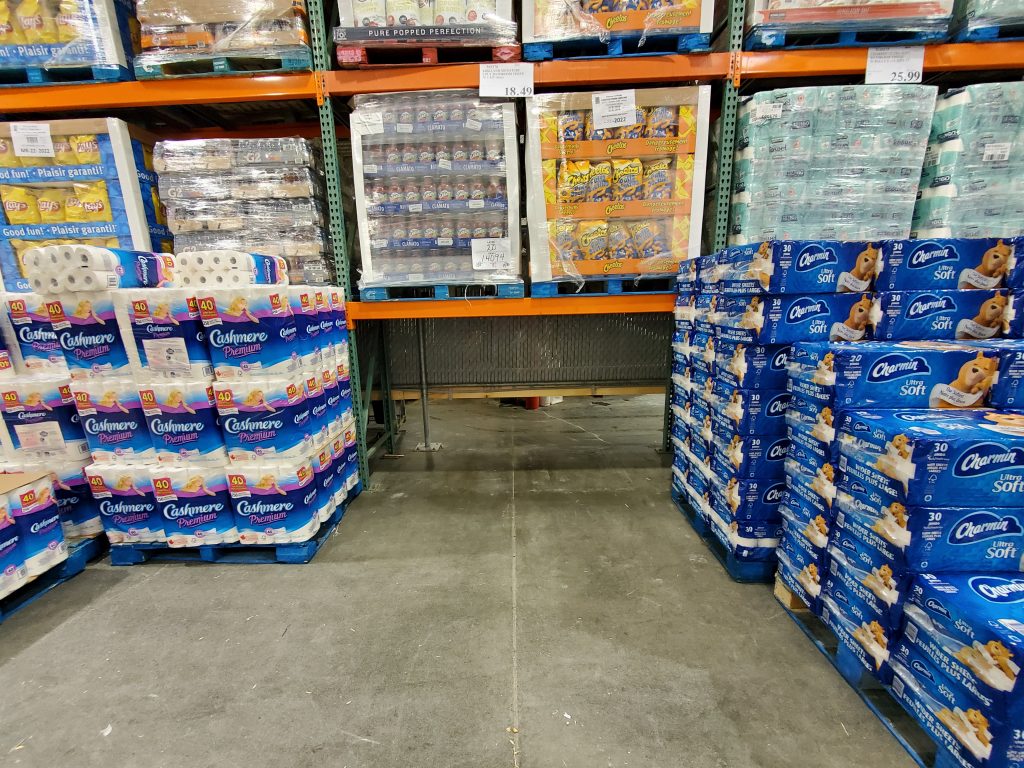 That's usually where the Kirkland Signature toilet paper hangs around so I wonder where it went? Still lots of Charmin ultra soft and Cashmere Premium, which is on sale for $17.99 ($5.00 off!)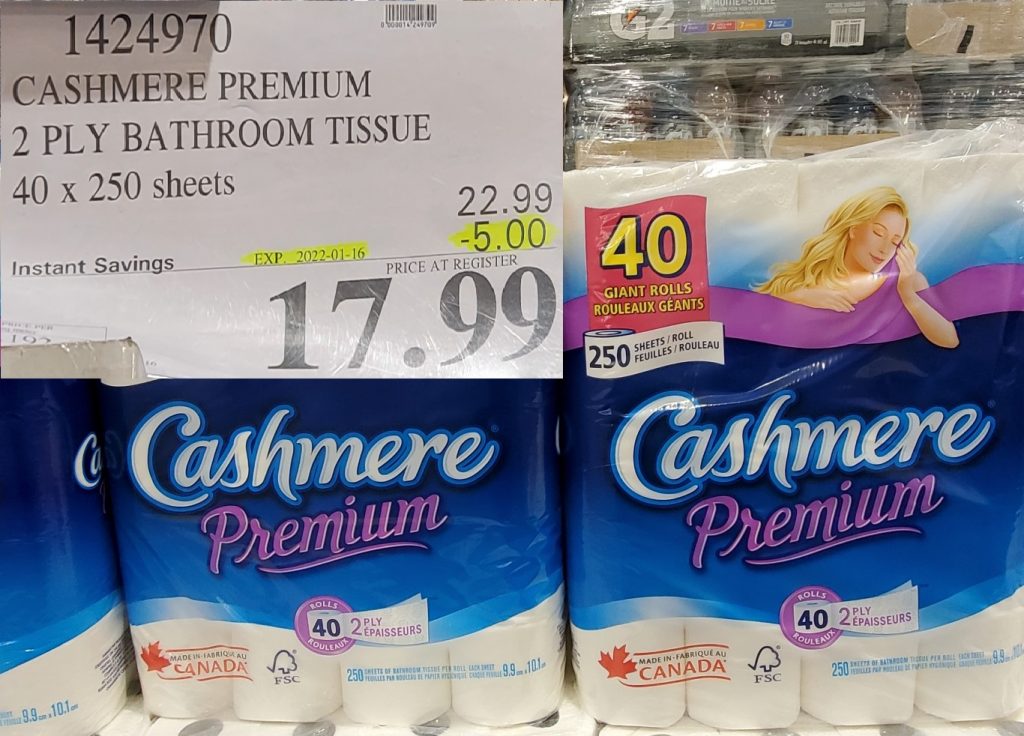 So maybe worth grabbing some just in case there's another Toilet Paper-pocalypse in 2022… Not that I see that happening.
Here's a few more sales to peek at.
Always ultra thin pads regular 96CT -$3.50 @ $11.99
Bayer Aleve 220MG 250 caplets -$5.00 @ $17.99
Gillette anti perspirant 5 x 108g -$3.50 @ $13.49
Nutiva organic MCT oil 1.18L -$5.00 @ $19.99
Dole fruit salad 20 x 107ml -$2.50 @ $7.99
Pogo 2.25kg -$2.90 @ $9.99
Fontaine Sante extra firm tofu 4 x 400g -$2.00 @ $5.49
RX bar protein bars 14 x 52g -$5.00 @ $18.99
Carter's 2pk sleeper infants sizes 3M – 5T -$4.00 @ $11.99
Cubii Jr. compact elliptical -$50.00 @ $199.99
Huggies Natural care plus baby wipes 16.8 x 19.5cm -$7.00 @ $21.99
Of course there's plenty more to see below, but you already know that folks! (Or you've already skipped ahead and are not reading this!)
I was waiting for Ewok to do something cute, but he's been laying low for most of the evening… Aside from helping (not) clean the table after dinner.
He decided that walking across the clean table with his dirty little feet was the right thing to do.
…And we let him…We're naughty parents I know.
Anyhow, dive into the sale folks, there's lots to check out!
Welcome to the new year, I look forward to whatever Shenanigans 2022 brings!
I think it's important to remember that we're not out of the corona virus weeds yet, and each province has their own Health recommendations based on the provinces individual risk assessment and I would recommend that you follow the recommendations for your specific province. Information can be found at the following websites.
Newfoundland COVID-19 information
New Brunswick COVID-19 information
Nova Scotia COVID-19 information
Go here for the latest Costco Coronavirus updates: https://www.costco.ca/coronavirus-response.html
So there you go, a little reading material for you.
Be kind, be safe and stay healthy!
Please note:
The price at your local Costco takes precedent (or precedence) over the prices listed on this blog.
Costco liquidation/Manager's Special items (ending in .97) vary from store to store.
An asterisk (*) on the price tag means the item is not being re-ordered.
If there is something you really want, ***double check the expiry date*** as some Costco sales items do end mid-week.
***This is a fan run, independent page with no affiliation or endorsement by Costco Wholesale***
Costco Flyer Sales Jan 3rd – 16th 2022
Costco Treasure hunt sales Jan 3rd – 9th 2022