Hello and good evening folks!
Just wanted to pass along along a quick heads up that I have 2 recall notices in effect!
Recall #1!
Contigo Kids Water Bottles
Contigo Kids Water Bottles have been recalled for a second time. This time the replacement lids for the Contigo Water Bottles have been recalled. The recall affects approximately 5.7 million water bottles in the U.S., 157,000 bottles sold in Canada and 28,000 sold in Mexico. If you have one of these bottles, please return it to Costco for a full refund. They will accept refunds without a receipt as they can find the purchase history from your membership card.
This recall involves Contigo Kids Cleanable water bottles and replacement lids that were given to consumers as part of the August 2019 recall of this product. The base and cover of the clear silicone spout will always be BLACK. Only black colored spout base and spout cover models are included in this recall. Contigo is printed on the rim and along the front near the bottom of the bottle. The water bottles come in three sizes (13 ounce, 14 ounce and 20 ounce) and four colors (solid color, graphics, stainless steel and stainless steel solid colors). The water bottles were sold individually as well as in two-packs and three-packs.
Incidents/Injuries:
Contigo has received a total of 427 reports of the spout detaching including 27 spouts  found in children's mouths.
These bottles were sold at Sold At Costco, Walmart, Target and other stores nationwide and online on various websites from April 2018 through February 7, 2020 for between $9 and $24.
Click the link below for more info
U.S. customer safety commision
Recall #2!
Pinty's Buffalo Chicken Flings
Unfortunately these are being recalled due to the possibility of a pieces of metal…
I enjoy metal, but not in my Chicken. Not a fling, finger, wing, breast, thigh… No metal please.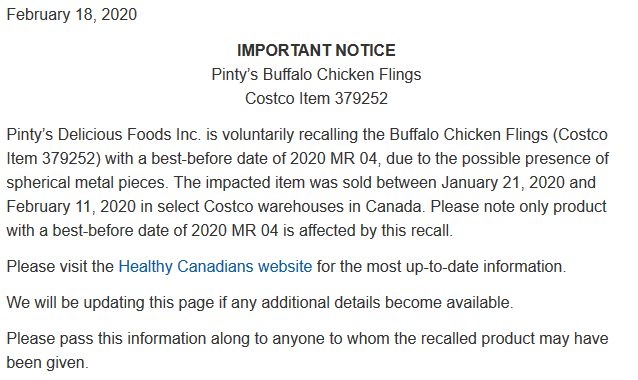 Follow the links below for more info
Canadian Food Inspection Agency
As with any recall make sure you check dates and product numbers and return them from where you got 'em!
And that's that… No water and no chicken for you folks!