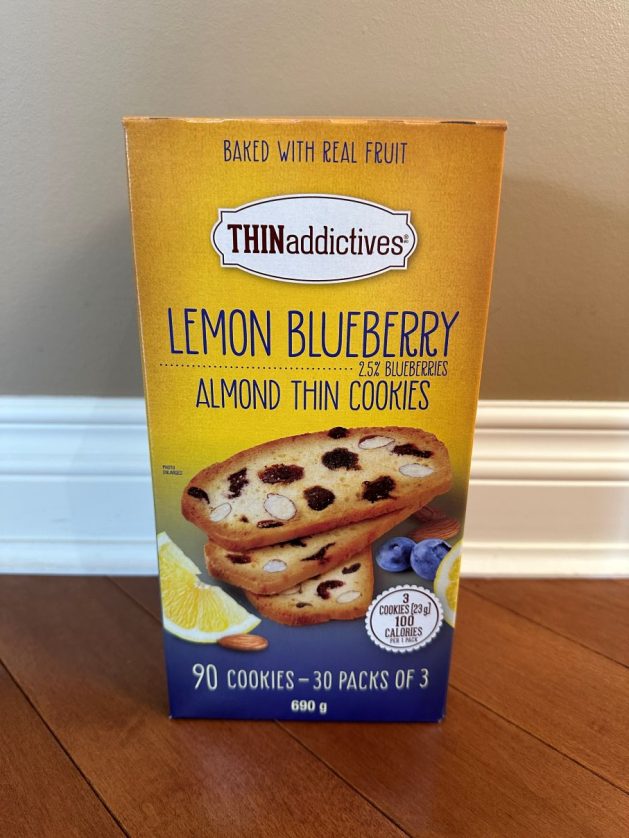 If you like my reviews for Costco food products, the best thing is that you can follow me on Instagram or Facebook and tell your friends about my blog Costcuisine, where I review new Costco food products each week! You can also check out my YouTube channel, where I do video reviews!
I've seen these THINaddictives for quite a while at Costco but I've never tried them before until now! We needed to restock our pantry with some snacks so I picked these up to review.
I paid $11.99 Canadian for the 690 gram box of 30 packs. Each pack has three crisps in it.
Each pack is individually wrapped so they're easy to bring to work, school, camping or keep in your dashboard. The best before date listed on the box is six months from when I purchased them. These make a very light snack in the morning or afternoon, they go well with tea! They're also a light dessert.
The THINaddictives are hard and crunchy. They're very thin and crisp, the blueberries in the thins add some chewiness.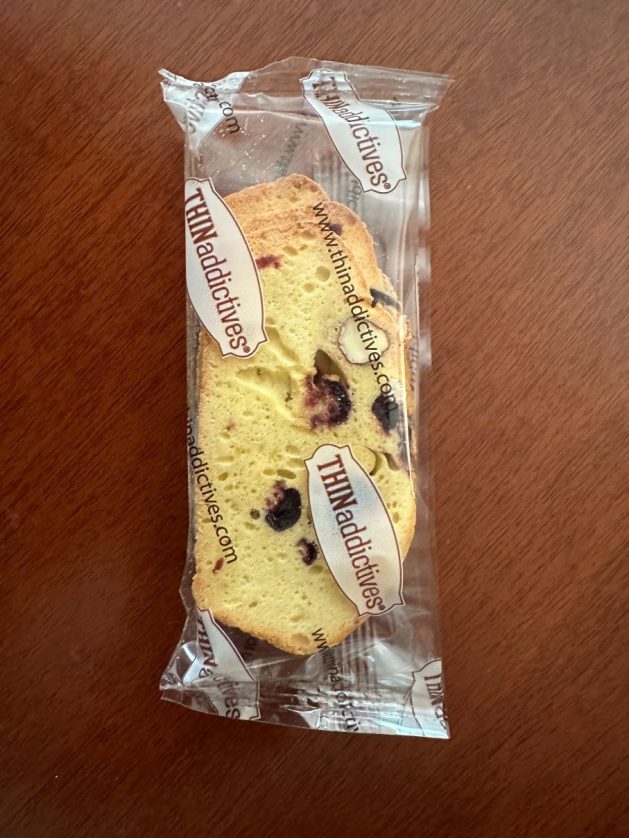 One pack has 100 calories, two grams of fat, 17 grams of carbohydrates, one gram of fibre, eight grams of sugar, three grams of protein and 65 milligrams of sodium. They're low in calories and fat and have a moderate amount of sugar in each pack. I'm not surprised that they're low in calories and fat because there's really not much to these! The ingredients list isn't exactly healthy but it's actually not full of a bunch of chemicals and preservatives which I like!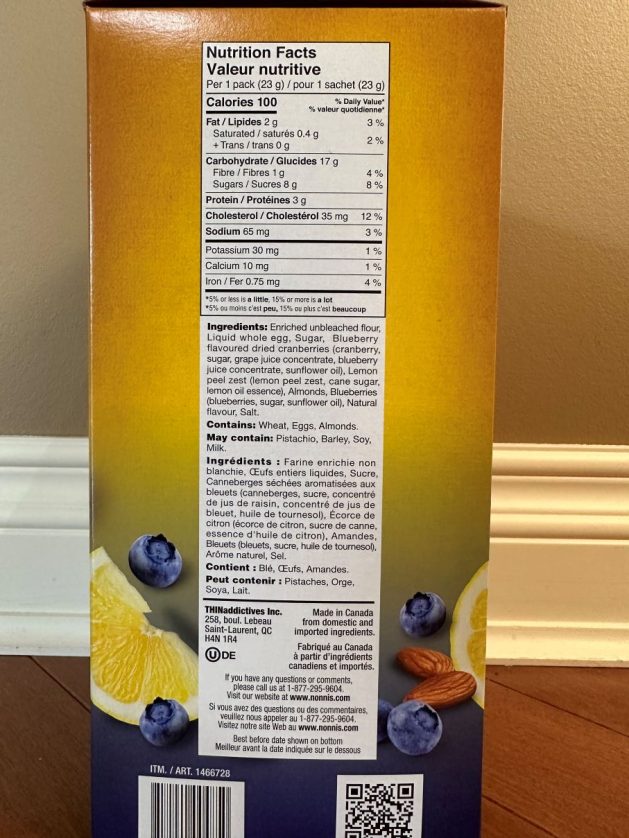 The cookies remind me a lot of biscotti, which isn't a big surprise because Nonni's, the company that makes them, makes biscotti too. Like biscotti, these cookies are very hard and crunchy. The fact that they're thin makes them easier to eat, but they can still be a bit hard on your teeth and mouth! The blueberries add some chewiness too. Overall I think the flavor is okay, the lemon is subtle and there's definitely a bit of sweetness but not a ton. I noticed a bit of an odd flavor when I was trying these but I'm not sure exactly what it's coming from. Honestly I don't love very hard, crunchy cookies but regardless I don't love these. I don't think I could eat a whole 30 packs without getting tired of them.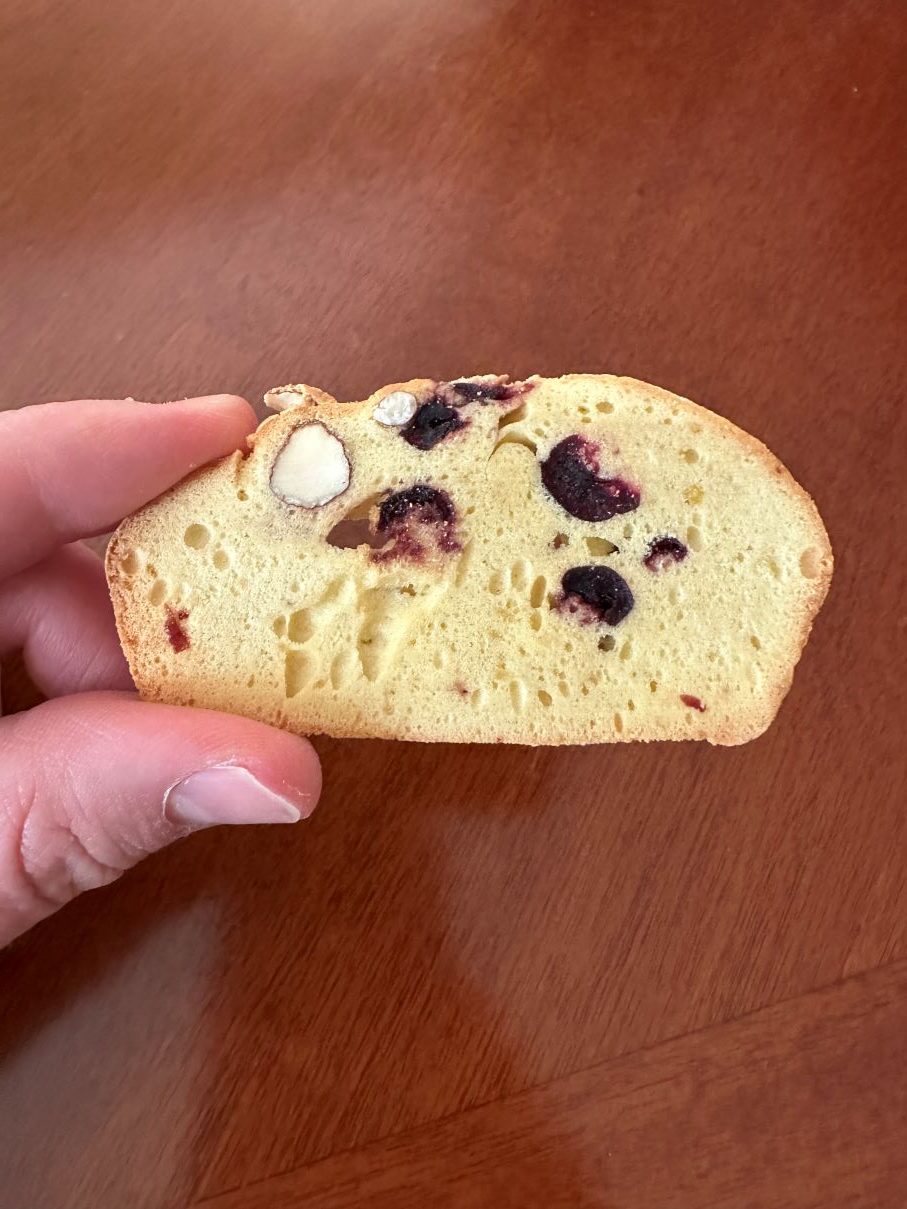 Cost: 8/10
Convenience: 10/10
Nutrition: 5.5/10
Taste: 6/10