The Costco East Fan Blog is excited to partner with Cove Kombucha to promote the Cove Kombucha 10-pack available on sale at Costco Warehouses for $15.99 from Jan 17th – 23rd 2022!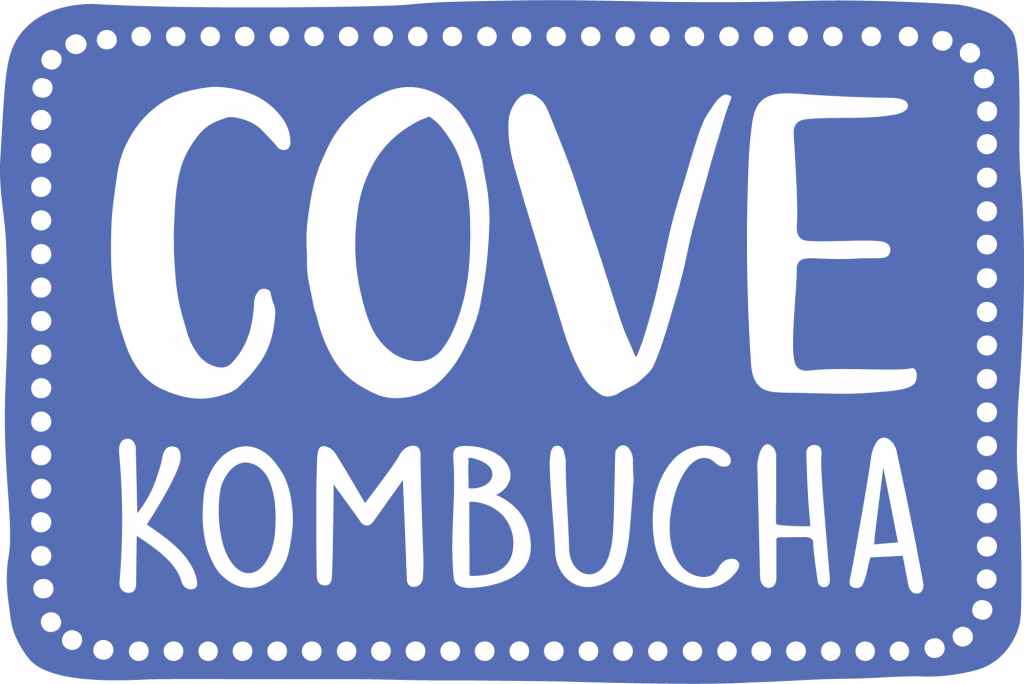 This is a paid promotion, and all opinions are my own, my partner's, and my Sister's (they happen to be excellent testers). With that being said, I would never promote a product that I didn't sample and believe in.
***Read to the end of this review to find out how you can win 1 of 2 x $100 Costco Cash cards and Swag packs (buttons, sweater, product, etc.)***
So, on that note a big thanks to everyone who takes the time to read this and thank you to my trusted reviewers!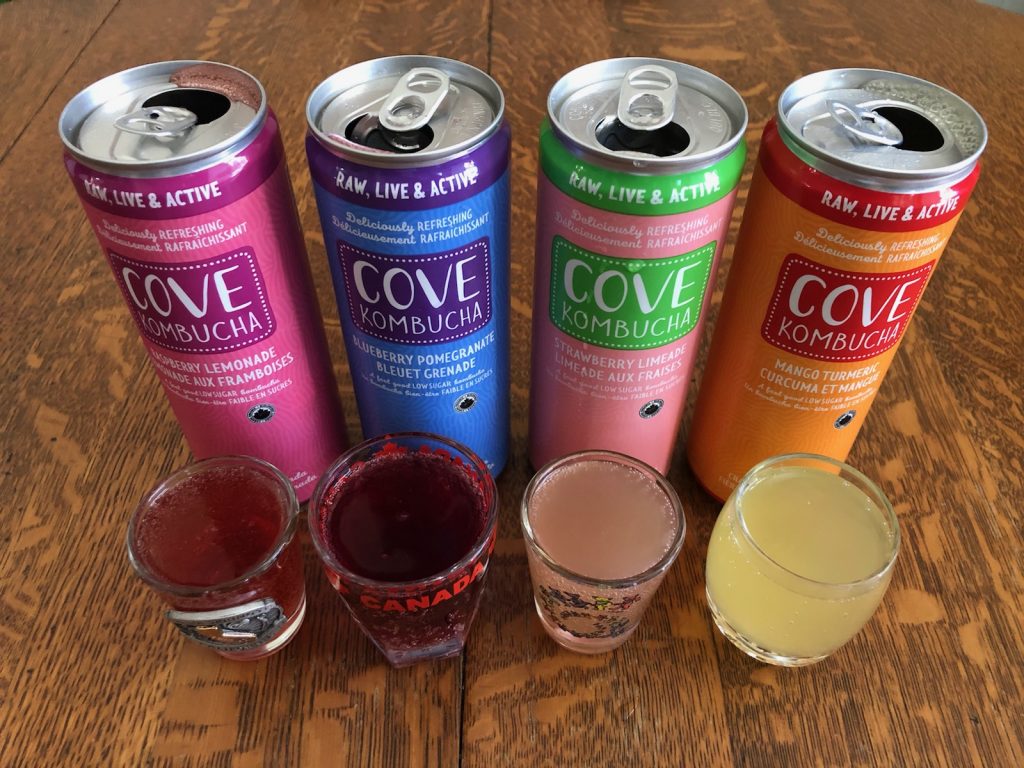 Kombucha, "Booch, "Boochy, Komboo… You mean it's possible to have a delicious, naturally carbonated beverage that also happens to be great for you?!?!
Why yes, yes it is!
Cove Kombucha has taken that idea and is running with it. Starting wholesomely in their Mother's kitchen in Malignant Cove, N.S. Founders Ryan & John quickly found a passion and gift for brewing Kombucha, becoming a hit in the maritime provinces and spreading across Canada faster than yeast feeds on sugar! Now they've got a killer lineup of delicious 'Booch available at Costco now with their 10-pack hitting the shelves on sale for $4.00 off $15.99.
Cove Kombucha steeps their fair trade green & black teas until just right, then ferments them for over a month with some sugar and SCOBY (symbiotic culture of bacteria and yeast) which gives the drink it's healthy probiotic, acetic acid punch! Then they add organic juices & herbs (I'm lookin' at you mango & turmeric!) into the mixing tank with the fermented Kombucha. The bottling/canning process is next and then, voila! In my hands it is!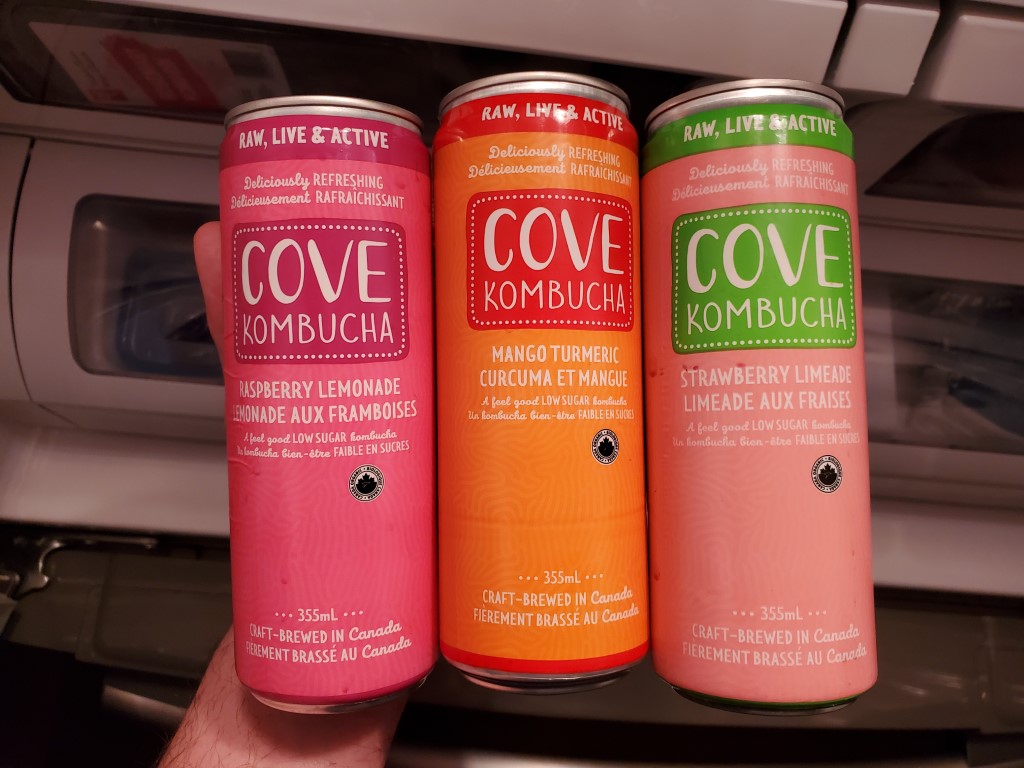 My Sister is a big Kombucha fiend and was more than happy to volunteer her services, and taste buds for this review. So I delivered a clutch of Cove Kombucha and left it in her capable Booch seasoned hands.
"Lightly effervescent and refreshing poured over ice, Cove Kombucha has me wishing it was a hot summer day (it's currently -12C) with it's fruit-forward selection. The Raspberry Lemonade and Strawberry Limeade have a perfect ratio of juice-to-'booch, not too sweet and not too sour. Blueberry Pomegranate has a deeper, earthier flavour, not to mention a gorgeous colour when in a glass. Mango Turmeric is my personal fave, and though I'm heavily biased in-favour of anything mango, I would have *loved* for a little more turmeric in the house," she said.
I'm thrilled that Cove is a Canadian company and one that clearly cares how they do what they do. Organic? Check. Certified by 1% For The Planet? Yup.
GMO's? Heck no. Single-use plastic? *gasp* No. Way. Cove offers their 'booch in brightly coloured aluminum cans, which are infinitely recyclable.
There isn't a reason to *not* drink Cove Kombucha!"
I couldn't have said it any better than that, and am struggling to do so… It's a homegrown Canadian Company, using all natural ingredients, giving back to the environment, and delivering healthy & delicious beverages to us. What more do you need?
I'll tell you what… You need to try this recipe for a Delicious Cove Kombucha Cocktail they have listed on their website!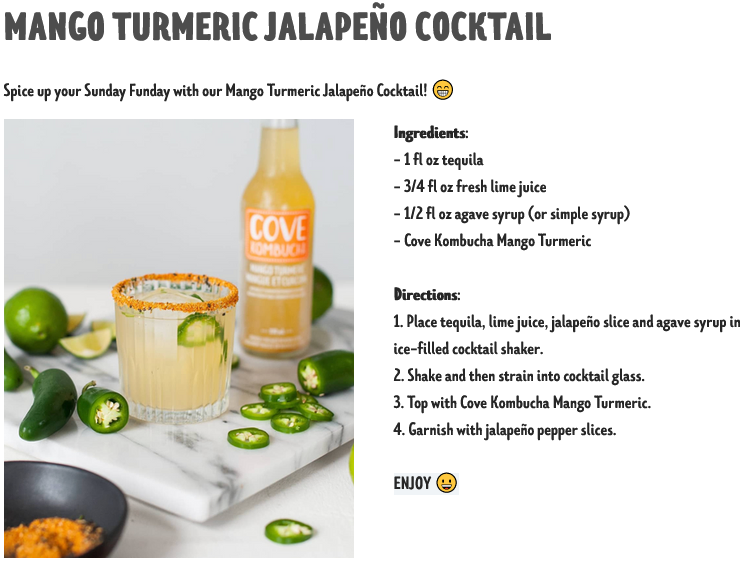 Tequila, Lime, jalapeno AND Cove Mango & Turmeric Kombucha???
I can't think of a better way to end a review than with that cocktail, so I think I shall…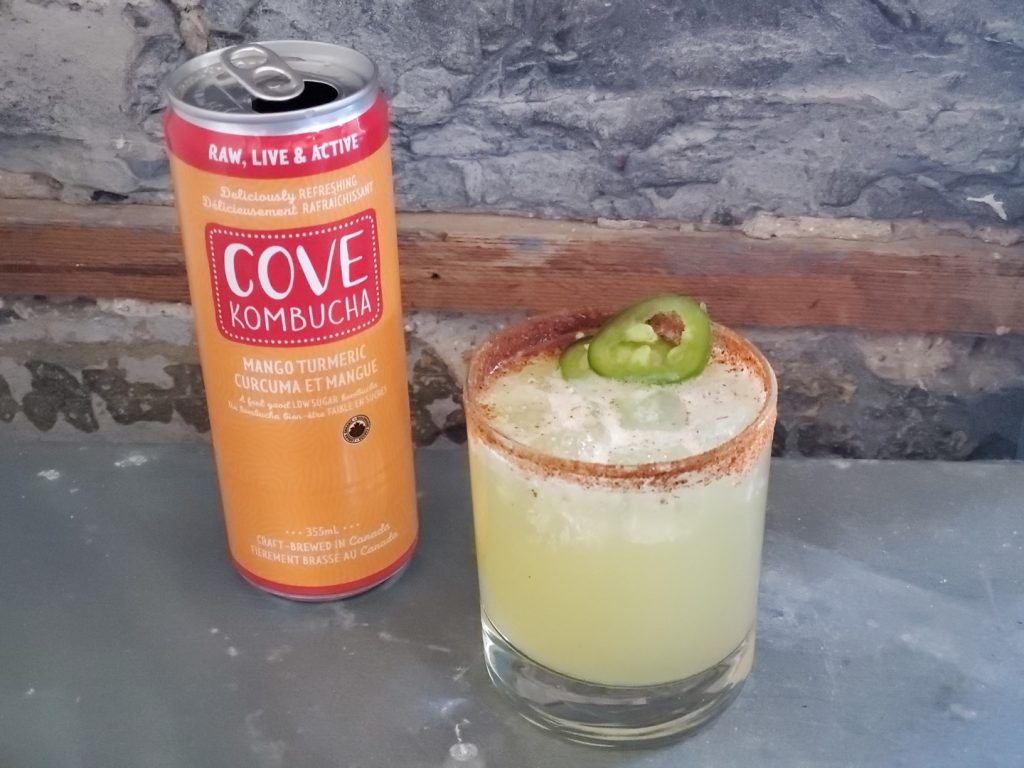 Oh yeah… Refreshing, fizzy, bright and kind of tart with just a hint of pungent turmeric and a touch of heat from the jalapeno. Delicious!
Thank you for reading folks, and thank you to the fine folks at Cove Kombucha for partnering up with us this week, and providing us with some delicious 'Booch!
Keep reading below to find out how you can enter the Facebook/Instagram contest!
COSTCO $100 CASH CARD & COVE KOMBUCHA SWAG PACK CONTEST INFORMATION
Cove Kombucha has provided 2 x $100 Costco cash cards and a sweet swag pack for us to give away! We will be holding a contest on Facebook and Instagram. All you have to do is to comment on that Cove Kombucha review post and tell us what your favorite Cove Kombucha flavour is (or might be).
You can go directly to the posts here: FACEBOOK POST & INSTAGRAM Post!!!
No purchase necessary. Contest ends Thursday Jan 20th, 2022 at 11:59 pm (ET). Open to Residents of Canada, 18+.
Conditions apply. 1 entry/person. Correct answer to math skill-testing question required. Contest is not sponsored by Instagram® / Facebook®. Winner will be announced via Facebook on Friday, Jan 21st, 2022 by 9:00 PM (ET). Winners will be contacted no later than Monday, Jan 24th, 2022 at 9:00 PM (ET) to claim prizes.
Entries for the contest must be entered on Facebook or Instagram (links are provided in the post). Comments on this blog post will not be considered a valid entry! Good Luck Everyone!
Thank you for reading folks and thank you Cove Kombucha for inviting us to test and review the delicious 'Booch!