Welcome to the Costco Weekend Sales Update where I'll keep you in the loop on all the awesome sales Costco releases for the Weekend! I'll post them here and on our Facebook page for you to enjoy.
*
*
*
If you'd like to skip ahead to the comments section, click here!
Welcome back to the weekend sales update folks!
It's been a crazy week for me coming off the holiday weekend, which is fine… I needed to work off the extra couple of pounds from Thanksgiving dinner so, mission accomplished!
I saw these Ergopixel floorstanding ring lights for $39.99 and grabbed one up!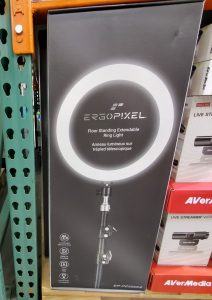 I can't wait to try it out on some of the products I get to review here! (or some extra well lit Dexter and Ewok!)
And I'm also excited to grab a box of these Trudeau cocktail glasses and try out some delicious cocktails in them!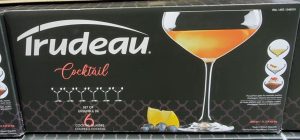 They're classic glasses that a Martini, a Paloma or an Old Fashioned could be enjoyed in. Oh and sparkling wine, don't want to forget that one!
These OVE waterfall lights are on managers clearance for $29.97 at my warehouse and I picked a few up for our family friend Nancy.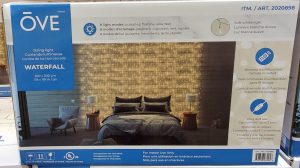 They are really nice looking (not the cold white LED look, but the nice warm white) so I may grab a few for myself before it's too late!
Here's a few other sales to check out this weekend.
Huggies Natural care baby wipes -$7.00 @ $21.99
Puma Challenger backpack -$6.00 @ $23.99
Artika Sunray -$20.00 @ $59.99
Type S Seat cover pack of 2 -$7.00 @ $27.99
Paradox Jacket Mens/Ladies S-XXL -$10.00 @ $39.99
KS Muscle & Back platinum 80 caplets -$3.00 @ $7.99
*
Oh and another biggie this weekend is (as you've seen above) the Huggies Natural Care Baby Wipes on sale for $7.00 off @ $21.99 until Sunday.
These were last on sale July 5th, but only for $5.00 off… Now might be a good time to stock up if you can!
I'm going to go and stock up on sleep. Evidently Dexter and Ewok were doing just that all day today and I didn't get the invitation.
I'm going to go and crash their sleep party, but before I do I'd like to thank my Mom for dropping off this cute little Dia de los Muertos succulent.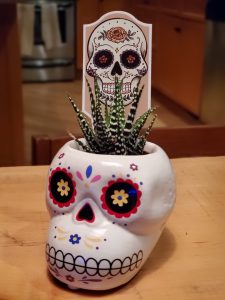 Adorably small, and seasonally appropriate.
Have a great weekend folks. And as we always do.
Stay Calm and Costco On!
*
As we're easing into Fall 2021 and the potential 4th wave of COVID-19 I think it's important to remember that we're not out of the corona virus weeds yet, and each province has their own Health recommendations based on the provinces individual risk assessment and I would recommend that you follow the recommendations for your specific province. Information can be found at the following websites.
Newfoundland COVID-19 information
New Brunswick COVID-19 information
Nova Scotia COVID-19 information
Go here for the latest Costco Coronavirus updates: https://www.costco.ca/coronavirus-response.html
So there you go, a little reading material for you.
Be kind, be safe and stay healthy!
Please note:
The price at your local Costco takes precedent (or precedence) over the prices listed on this blog.
Costco liquidation/Manager's Special items (ending in .97) vary from store to store.
An asterisk (*) on the price tag means the item is not being re-ordered.
If there is something you really want, ***double check the expiry date*** as some Costco sales items do end mid-week.
***This is a fan run, independent page with no affiliation or endorsement by Costco Wholesale***
Costco Weekend Update sales Oct 15th – 17th 2021