Welcome to the Costco Weekend Sales Update where I'll keep you all in the loop on the awesome sales Costco releases for the Weekend! I'll post them here and on our Facebook page for you to enjoy.
So it's 2 more weeks is it?
As any of you in Ontario know by now the Province has released it's guidelines for re-opening, and while it seems like things will get back to "normal" we won't be returning to a wide open free-for-all anytime soon. All the re-opening steps will be in place for 21 days to ensure case numbers stay down, and until we reach certain vaccine targets & case numbers we won't move to the next phase. Seems to make sense to me, let's do it properly this time right?
If you want to read more about the re-opening Ontario plan follow this link.
Oh well, we've made it this far folks so a few more weeks to get us in a better situation is OK with me. But maybe I can look at some bluetooth speakers, or some new sheets a little sooner? (Not gonna happen, but at least some of you can go out and hit the links!)
Maybe that's being a little greedy, I'll be patient. Plus Costco has been constantly adding new plants to the garden center and vegetables inside.
I was also treated to a full rack of delicious (and spicy!) looking peppers today.
So naturally I brought a bunch home with me. I mean I've never heard of a burrito pepper before. I do like burritos, this would lead me to believe that these peppers are delicious on their namesake right?
Apparently the peppers were popular and were sold out pretty quick, so I'm glad I grabbed 'em when I did.
As always I duck into the garden center for a nice stroll through all the flowers and plants, inevitably leading to a purchase. I added these 2 giant baskets to the crew today.
Do you think it's possible to have too many hanging baskets??? I'm starting to think I have a problem, we have 6 now… They're just so beautiful though, it's hard to resist!
While I go and explore "hanging flower basket rehab clinics near me" on Google, I'll let you look at a few of the sales.
Wildbrine Raw Organic sauerkraut 1.5L -$2.50 @ $7.99
Nescafe rich instant coffee 475g -$2.00 @ $8.49
Boomcare 3-in-1 infrared thermometer -$7.00 @ $27.99
Feit electric LED sting lights (48ft) -$10.00 @ $38.99
Scotts supreme grass seed 3.8kg bag -$5.00 @ $19.99
Flexon garden hose (100 ft) -$7.00 @ $25.99
Charmin ultra-soft bathroom tissue 30 rolls x 214 sheets -$5.00 @ $19.99
I will agree with Jan regarding the Wildbrine organic Sauerkraut, I think it's delicious!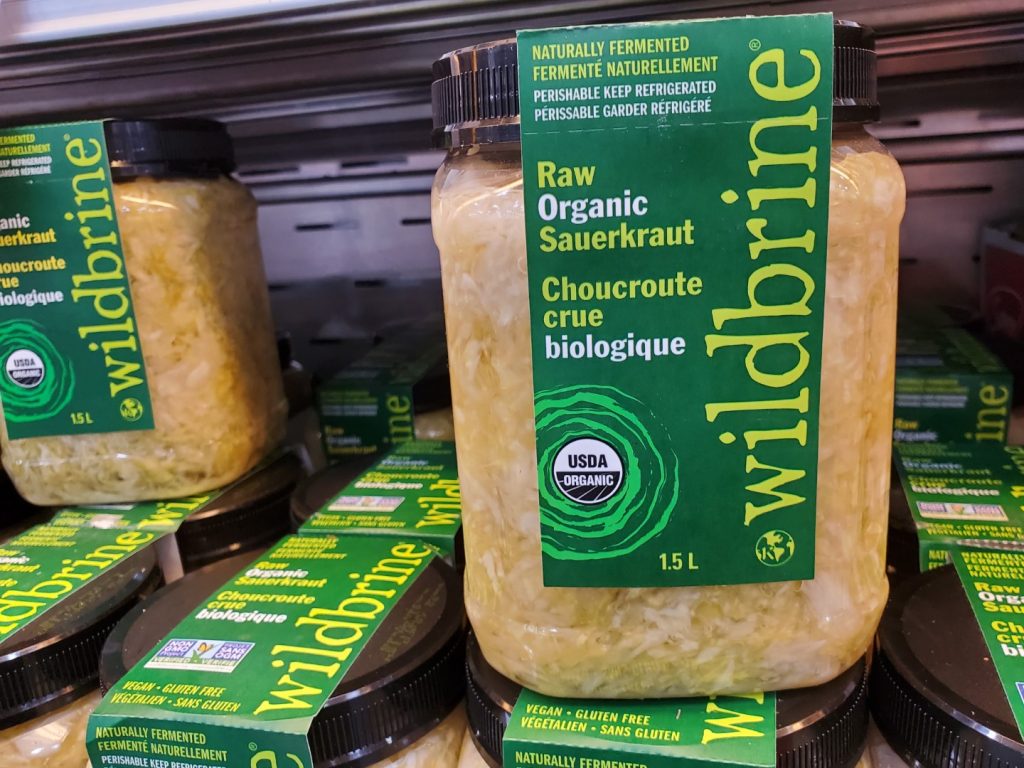 It's not as spritzy as some fermented foods go but it's bright and crisp, delightfully salty, vinegary and slightly garlicky. Just gonna say that as much as it goes well on a hot dog or cured meat sandwich, I'm happy to just dive in with a fork straight outta the container until I feel like someone is staring at me and judging me for double dipping with my utensil.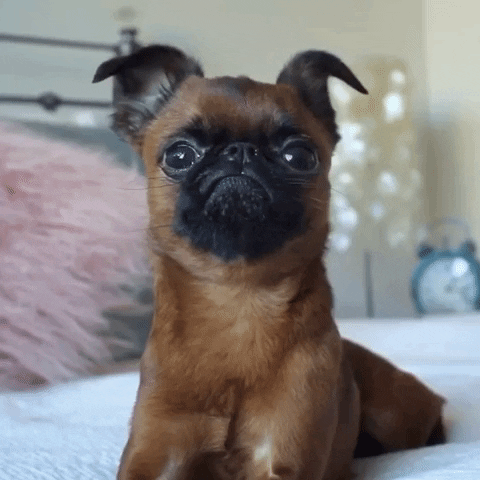 Don't worry, that container is just for me… Not like we're allowed to have people over to share it with right now anyways.
Another new item was the Beau Lavande scents of the word essential oils 3 x 10ml pack.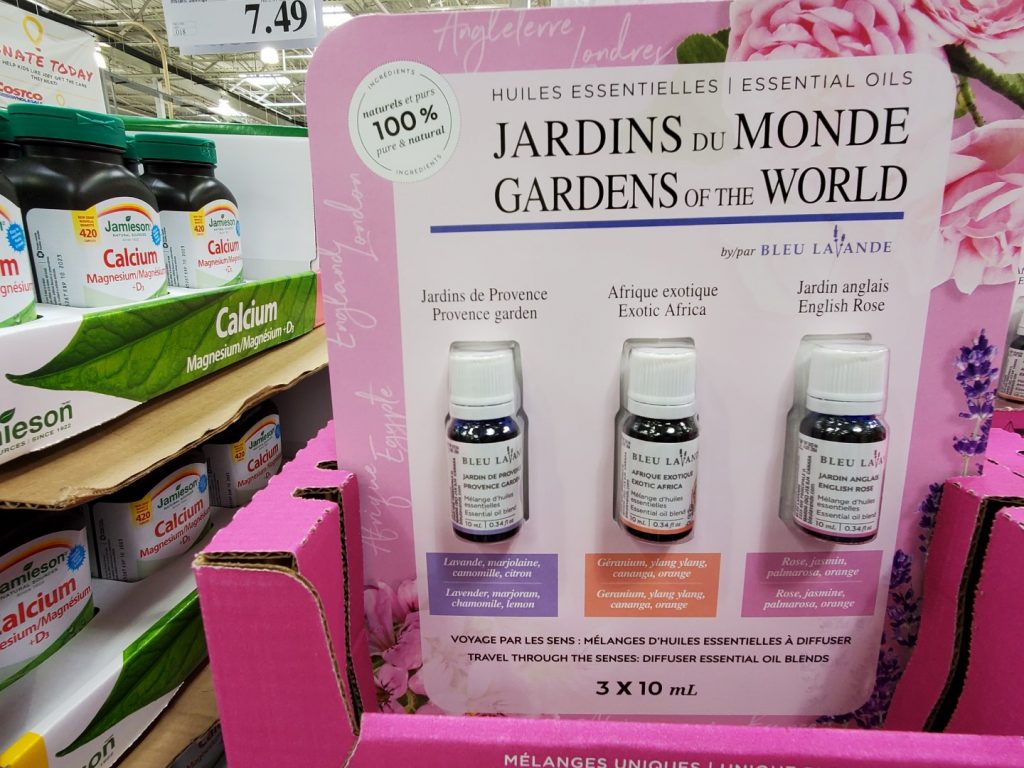 Good to note here the ingredients are (as the tag in the top right states) 100% natural, no fillers or fakes here. My partner loves geranium and lavender essential oils so guess what we'll be trying on Monday?
Remember when no one in "anywhere in the world" could find a thermometer?
Well just like Lysol wipes these 2 digital thermometers are not only in stock, but also on sale!
The Braun thermoscan ear thermometer w/back light & the Boomcare 3-in-1 infrared thermometer are on sale for $39.99 and $27.99 respectively. So maybe a good time to grab one and stash it away in an emergency kit perhaps?
You know what else is good for an emergency kit folks? Cute, sleepy kitties and I highly recommend them not only for emergencies but for every day life as well.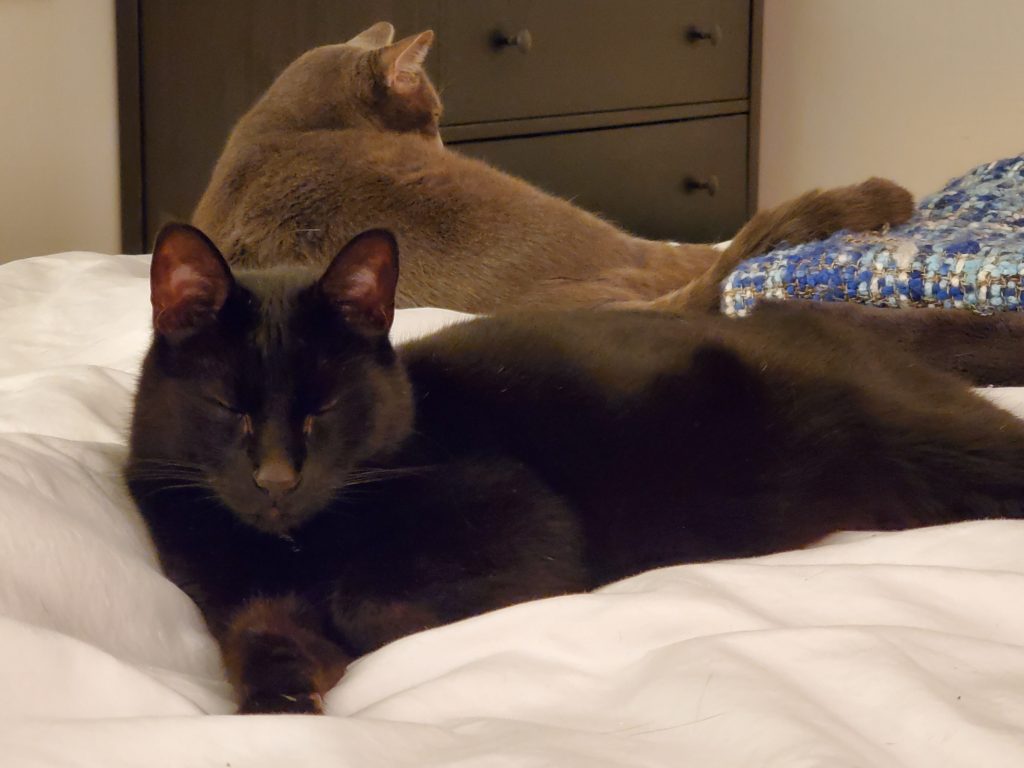 Big time stress reducers. (Unless they wake you up at 4 a.m. That is not a stress reduction technique in any practice I'm aware of)
Speaking of which due to some kitty waking us up at 4 in the morning I'm going to wrap this up so I can hopefully regain a few of those lost hours.
Night folks. Stay safe and healthy.
Since we are in the third wave of COVID-19 I think it's important to remember that we're not out of the corona virus weeds yet, and each province has their own Health recommendations based on the provinces individual risk assessment and I would recommend that you follow the recommendations for your specific province. Information can be found at the following websites.
Newfoundland COVID-19 information
New Brunswick COVID-19 information
Nova Scotia COVID-19 information
Go here for the latest Costco Coronavirus updates: https://www.costco.ca/coronavirus-response.html
So there you go, a little reading material for you.
Be kind, be safe and stay healthy!
Please note:
The price at your local Costco takes precedent (or precedence) over the prices listed on this blog.
Costco liquidation/Manager's Special items (ending in .97) vary from store to store.
An asterisk (*) on the price tag means the item is not being re-ordered.
If there is something you really want, ***double check the expiry date*** as some Costco sales items do end mid-week.
***This is a fan run, independent page with no affiliation or endorsement by Costco Wholesale***
Costco Weekend Update sales