Welcome to the Costco Weekend Sales Update where I'll keep you all in the loop on the awesome sales Costco releases for the Weekend! I'll post them here and on our Facebook page for you to enjoy.
Did you miss Monday's Treasure hunt post? Click here to see what you may have missed!
Want to see what might be on sale next week??? Click the picture below to see what was on sale last year at Costco!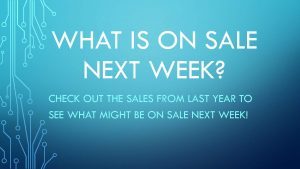 NEVER MISS A COSTCO WEEKEND SALES POST! Join the Costco East Facebook group to get updated whenever I make a new post! https://www.facebook.com/costcoeast/.
ALSO you can come and see my Instagram feed with Pics of my weekly Costco shopping trips, Dexter and Ewok being lazy cats and pictures of things that I have cooked with anything I've purchased at Costco. You can find that here! https://www.instagram.com/costco_east_fan_blog/
Subscribe to website updates by signing up below
and you'll get a confirmation email from "FeedBurner Email Subscriptions". Click the link within it to activate your subscription and you'll be notified by email whenever I post (1 or 2 times weekly). Check your spam filter or contact me if you have questions or do not receive a confirmation email.
Welcome to the Costco Weekend Sales update folks!
BBBBrrrrr…. And an actually cold winter day at that!
That of course led me to one of my purchases today.  The Type S portable jump kit.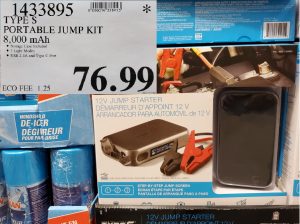 Now at first glance it doesn't really look like it could jump start much more than a laptop or a smartphone (since it's maybe the size of 3 large phones) But it claims to be able to boost your car or minivan so… I went for it. The fact that my car wouldn't start on Monday or Tuesday probably aided in that decision (you think???)
I probably need a new battery, so that was next on my list at Costco but I noticed that the cold cranking amps of the Kirkland Automotive batteries are a bit lower than others I've seen online… Anyone have any experience with those things?
Anyways I figured either way it wouldn't be a bad idea to have something portable like this in case I'm ever stuck or someone else needs some help. (of course I'll let you know if I actually ever use it and how it goes!)
Ok, time to take a quick peek at a few of the sales this weekend.
Durex sensi-thin condoms box of 58 -$4.00 @ $14.99
Simply Protein, protein bars 15 x 40g -$4.20 @ $14.99
Culinary Classics kitchen towel 17″ x 28″ pack of 8 -$3.00 @ $14.99
Terra Glove performance pack of 2, sizes M-XL -$6.00 @ $23.99
Google ChromeCast w/Google TV -$5.00 @ $62.99
HP 24F dual computer monitors 23.8″ FHD IPS LED -$20.00 @ $269.99
Greenway drying rack stainless steel -$8.00 @ $31.99
Ah Lego… Costco teases me with many things, and Lego is one of them. Even if just from a collectors standpoint I can't help but be tempted walking by all the sets they have…
I mean just those 4 sets alone would be hours and hours of fun, plus if you added those to your already giant bin of completely unorganized LEGO… (which I'm now going to have to organize because I never thought about it being a bin full of random pieces… Oh god, that's going to be one hell of an undertaking…)
My other weakness, Reece's pieces, has put it's evil cousin on sale Reece's pieces peanut…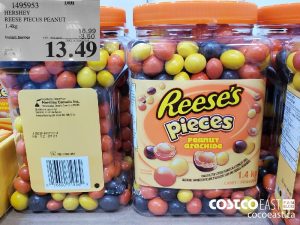 If you could make Reece's pieces any more addictive the only way to do it would be to make them like Peanut M & M's but Reece's Pieces Peanut M & M's… That's what this is folks, it's the Devil incarnate. Thus to avoid a new addiction to candy I shall not be purchasing these, because I know what the inevitable outcome will be and it ain't good! (Delicious as it may taste)
I slept in today (surprise, surprise!) but due to my tardiness I awoke to find my workstation had been taken over yet again.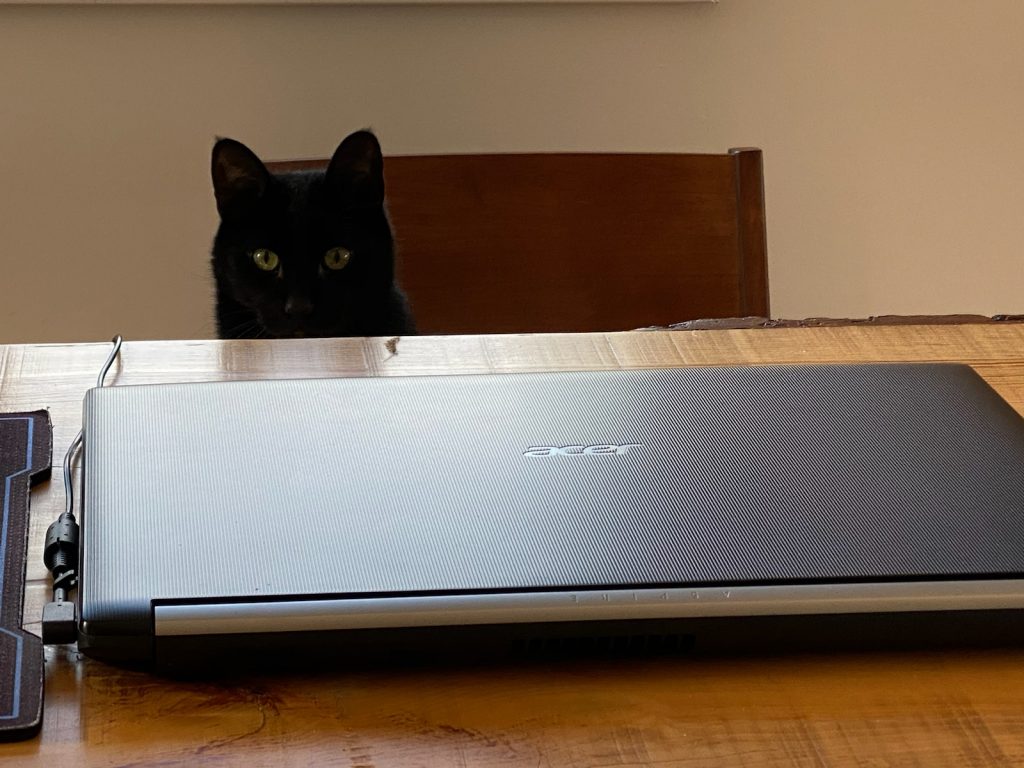 Didn't even have a coffee in my hand yet and he's waiting for his next assignment…
So, in order to avoid such a situation tomorrow morning I shall bid you adieu and get to bed.
Good night folks, stay safe and I'll see you on Monday!
Since we are in the second wave of COVID-19 I think it's important to remember that we're not out of the corona virus weeds yet, and each province has their own Health recommendations based on the provinces individual risk assessment and I would recommend that you follow the recommendations for your specific province. Information can be found at the following websites.
Newfoundland COVID-19 information
New Brunswick COVID-19 information
Nova Scotia COVID-19 information
So there you go, a little reading material for you.
Be kind, be safe and stay healthy!
Please note:
The price at your local Costco takes precedent (or precedence) over the prices listed on this blog.
Costco liquidation/Manager's Special items (ending in .97) vary from store to store.
An asterisk (*) on the price tag means the item is not being re-ordered.
If there is something you really want, ***double check the expiry date*** as some Costco sales items do end mid-week.
***This is a fan run, independent page with no affiliation or endorsement by Costco Wholesale***
The food brands available can differ from region to region. Pictures are taken at a store in Ontario. Sale items should apply to Costco locations in Ontario, Quebec, New Brunswick, Newfoundland & Nova Scotia, if the item is in stock at your store. There will likely be a few deals not shown here in your store. If this blog has helped you save money, consider sharing www.cocoeast.ca with your friends and family! If you see deals at your store that aren't on this blog, post them in the comments and help spread the money saving love!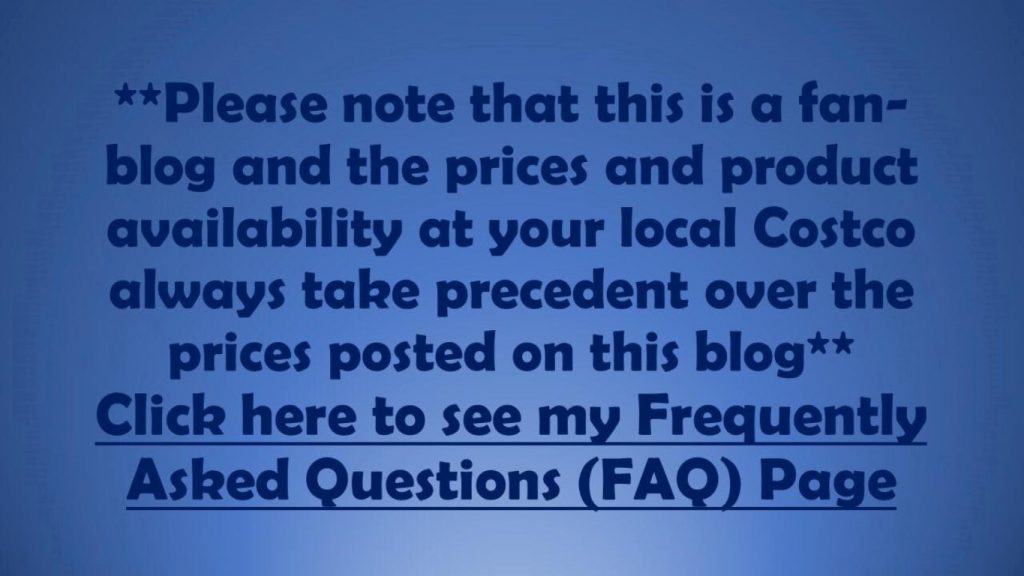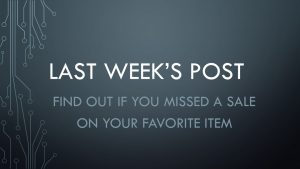 Costco Flyer Sales Jan 29th – 31st 2021
Costco Weekend Update sales Jan 29th – 31st 2021