I walk the whole store for you every Monday when Costco's Secret Sale items are released for the week, then post them here and on our facebook page.
NEVER MISS A POST! Join the Costco East Facebook group to get updated whenever I make a new post! https://www.facebook.com/costcoeast/.
ALSO you can come and see my Instagram feed with Pics of my weekly Costco shopping trips, Dexter and Ewok being lazy cats and pictures of things that I have cooked with anything I've purchased at Costco. You can find that here! https://www.instagram.com/costco_east_fan_blog/
Subscribe to website updates via email and you'll get a confirmation email from "FeedBurner Email Subscriptions". Click the link within it to activate your subscription and you'll be notified by email whenever I post (1 or 2 times weekly). Check your spam filter or contact me if you have questions or do not receive a confirmation email.
Hello and happy Post-Easter weekend Costco Shoppers!
Yes, that weekend always feels kind of like the final hurdle heading into May, and trust me this week will fly by and then BOOM… MAY!!! (and may the 4th star wars jokes will be not too far behind that I promise!) While we did have a couple of sunny days last week, I feel like we had some typical springtime wet weather as well and I'm OK with that for now but am really looking forward to some more sunny days like today!
Anyhow I hope you all had a great weekend with families and friends (or if not, a nice quiet relaxing weekend perhaps with some kitties!)
(I love disturbing Dexter while he's trying to clean himself… he looks so bothered by it!)
I hope you all got the message about the product recall regarding the Kirkland Veggie burgers potentially containing metal… Yikes, that wouldn't be fun at all! But that's why I try and stay on the food recall ball, hopefully it helps you folks out.
So last week I made Kim-chi and I anticipated it would be gone by now. Well, I was only half right. We've only got through half of it so far (not like it goes bad or anything) and while this is my own recipe, I have been looking through and drooling over a few other recipes in a new cookbook of mine. The aptly titled "The KimChi Cookbook"
The book is full of history, and of course fantastic & different ways to make and incorporate kimchi into other dishes that I otherwise wouldn't have thought of… Like Kimchi hollandaise sauce, why not? Kimchi marinade for a skirt steak?? Sure, that salty pungent flavor matching with tender juicy steak… absolutely! Kimchi pancakes??? Yes, that is a thing and my god are they ever delicious… Just add sour cream….mmmmm….
I was also thinking about this odd combo, what about diced up Kim-chi with good 'ol fashioned Kraft Dinner? I know, I know, I know… sounds crazy and weird, but so are my taste buds. Think about it though, rich and creamy mac 'n cheese with salty, spicy, pungent kimchi (has all the balances you should look for in a meal, sour, spicy, salty, fatty, umami… Read the flavor bible for more on those things though)
Also just a solid book to have around when looking for flavor pairings, very much like a textbook though so it's not full of recipes… But if you're cooking Monkfish it'll list off all the complimentary flavors that match that kind of fish. I highly advise having a copy of this around, it can help break up any culinary stagnation lingering in your cooking routines by encouraging you to try different ingredients.
OK OK OK I know I'm blathering on about cooking & kimchi AGAIN, so lets take a look at A few Meat sales on at the Kingston, ON. Costco Warehouse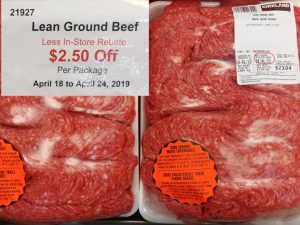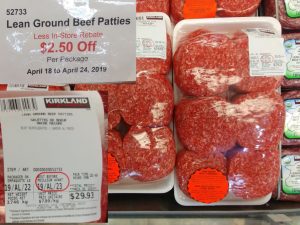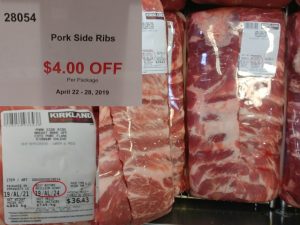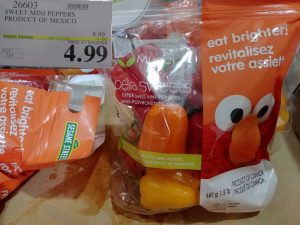 Also Natrel Butter is back to $3.99/lb

Oh, I was wondering if anyone has used one of those Google Chromecast things… I don't know much about them but if I means I could get rid of the Cable bill, I'd be OK with that! Anyone???

They're on sale for $74.99 ($12.00 off)

All that being said, I'm going to get a move on here, lot's to do still today and still a little bit of sunshine left to soak up!

Have a good evening folks, see you next week.
Please note:
The price at your local Costco takes precedent (or precedence) over the prices listed on this blog.
Costco liquidation/Manager's Special items (ending in .97) vary from store to store.
An asterisk (*) on the price tag means the item is not being re-ordered.
If there is something you really want, ***double check the expiry date*** as some Costco sales items do end mid-week.
***This is a fan run, independent page with no affiliation or endorsement by Costco Wholesale***
The food brands available can differ from region to region. Pictures are taken at a store in Ontario. Sale items should apply to Costco locations in Ontario, Quebec, New Brunswick, Newfoundland & Nova Scotia, if the item is in stock at your store. There will likely be a few deals not shown here in your store. If this blog has helped you save money, consider sharing www.cocoeast.ca with your friends and family! If you see deals at your store that aren't on this blog, post them in the comments and help spread the money saving love!