I walk the entire Costco warehouse for you every Monday when Costco Sale items and Costco Flyer sales are released for the week, then post them here and on our Facebook page.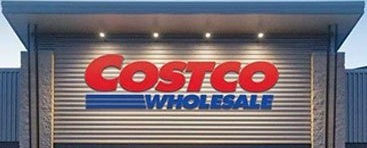 *
*
*
If you'd like to skip ahead to the comments section, click here!
Happy Monday everybody!
Well, it is the season of great sales and a few small ones appeared today at Costco, actually the one I was kinda hoping for… (Santa must've been listening!)
The Aerogarden Harvest Elite Slim Countertop Garden is on sale for $30.00 off at $109.99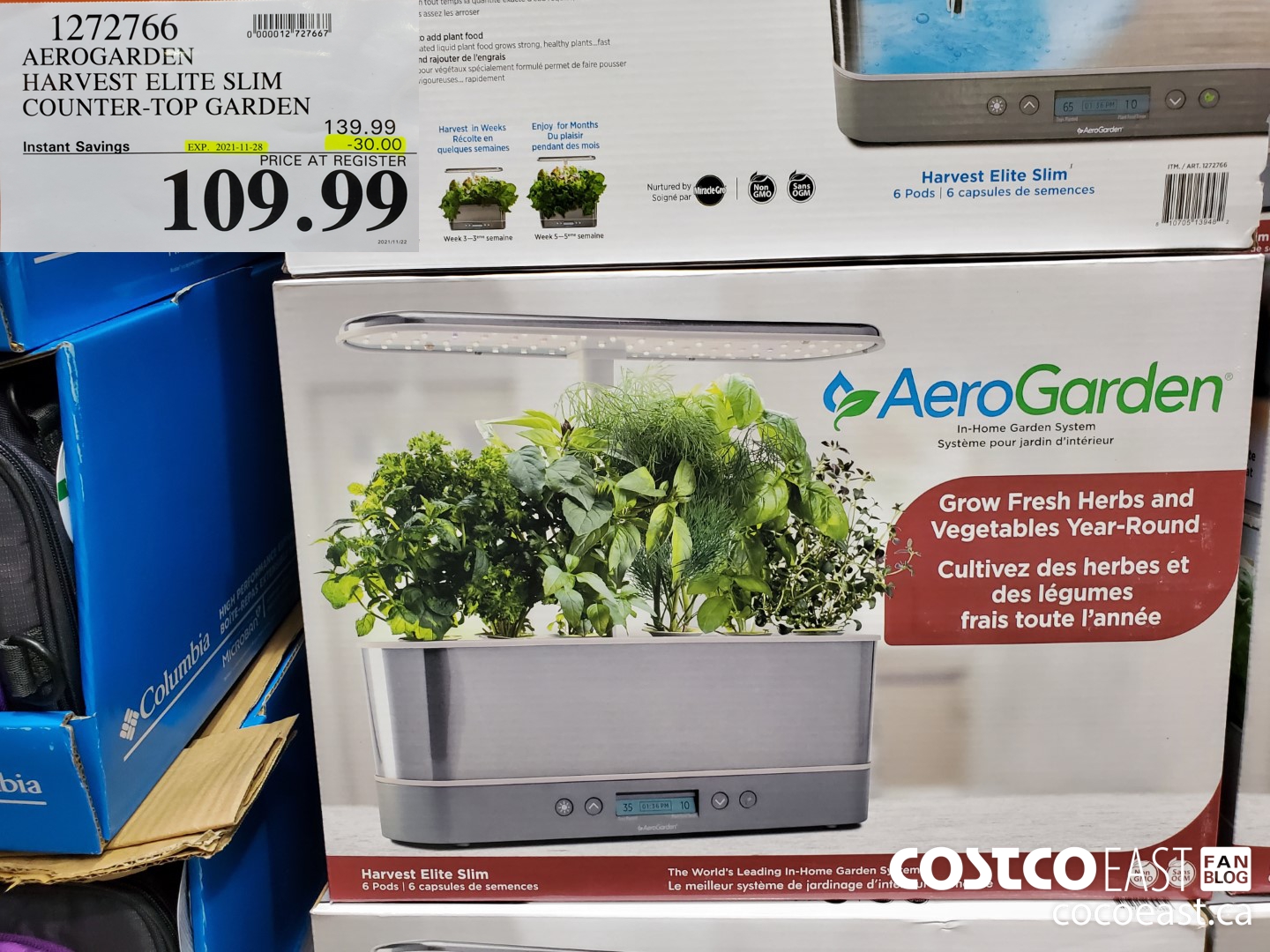 I may not be able to resist this one folks… I mean Santa knows I've gotta treat myself sometimes right???
While you can get pre-made seed pod kits such as Italian herb, Salsa garden, gourmet herb and heirloom tomato, you can also get blank pods and grow your own seeds as well which is pretty sweet! Although a reader did comment a while ago saying that while the herbs were great, the tomatoes tasted pretty bland and watery, any one else have that issue? Actually, any success and failure stories would be a great help in tilting my purchase-o-meter!
The other item I saw was the Shark IQ robot vacuum with self cleaning base for $100.00 off @ $399.99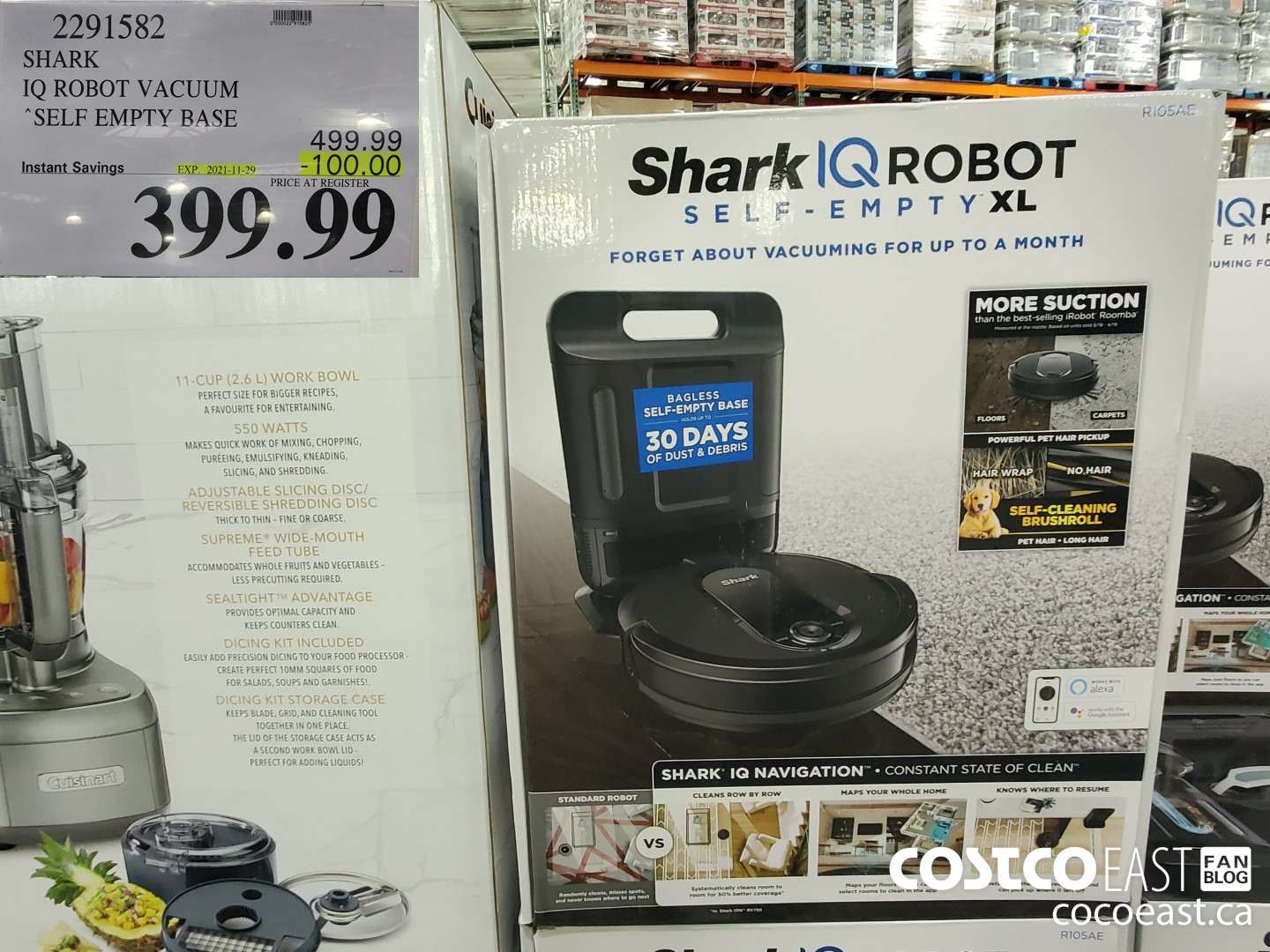 Now I did just get a new vacuum a few months ago so I likely don't need another one, but $100.00 off is pretty tempting…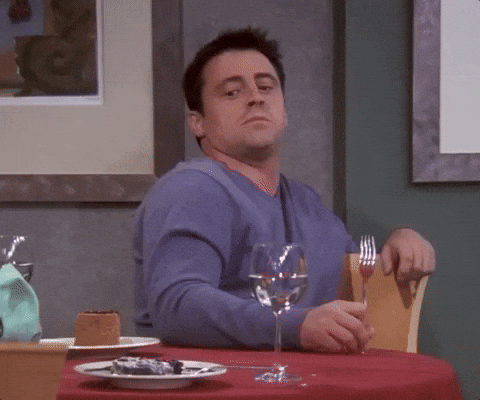 I'll likely pass though… I mean, I could almost get 4 Aerogardens for that price!
The Western Digital My passport 4TB, and my book 8TB portable hard drives are both on sale for $10.00 off @ $107.99 and $169.99.
These are a great idea for anyone running low on disk space, or looking to keep all of your pictures, videos, songs, movies etc. safe, but also not cluttering up your computers hard drive. I know I've had to purge my computer a few times as it can fill up pretty quickly and that tends to slow it down.
And holy-moly if you're in the market for batteries ALL of the Duracell batteries are on sale right now.
This should keep all of your battery operated lights, remote controls and gadgets operation until next Christmas!
As a former painter I feel the need to point out that the Tremor painter drop cloth 2 packs are on sale for $4.00 off @ $14.99. (***This sale has expired***)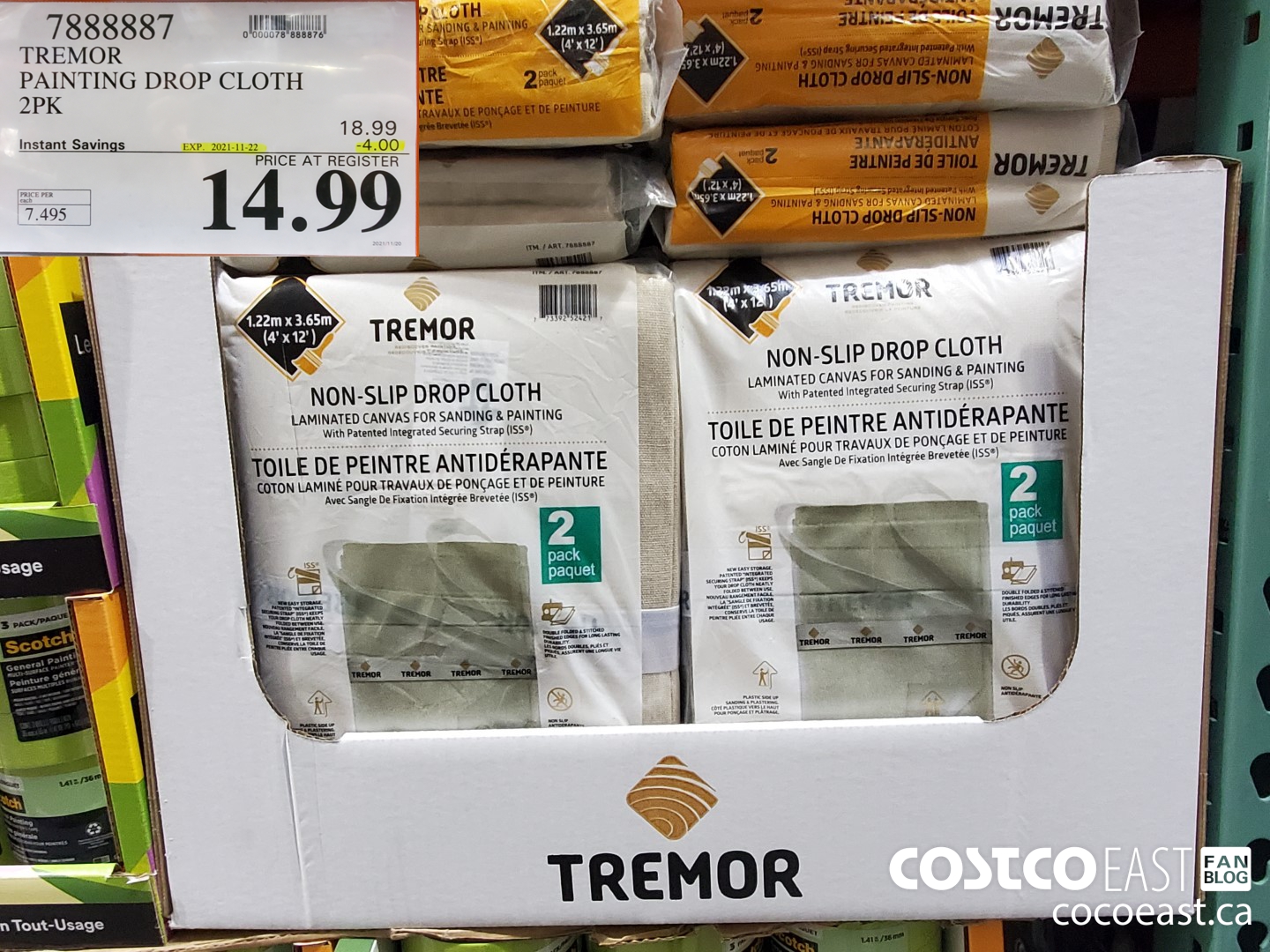 They don't normally come that cheap, and it's never a bad idea to have a few drop sheets around that can get all messy without worry.
Here's a few more sales to peek at folks.
Webber lactase enzyme ES 140 caps -$4.00 @ $15.99
Attitude handsoap 4L refill -$6.00 @ $23.99
Ziploc variety pack 194 large bags -$3.00 @ $10.79
INNO foods grain free granola 600g -$3.00 @ $11.99
Hush Puppies leather shoes mens sizes 8-13 -$10.00 @ $29.99
Carters 2pk sleeper infant sizes 3M – 5T -$4.00 @ $11.99
Conair The Knot Dr. hot air brush -$10.00 @ $39.99
Bench slipper socks 4pk. Ladies sizes 4-10 -$5.00 @ $14.99
*
We all know that December is the time for Advent Calendars right?
But did you know December was also the time for Cheese Advent calendars??? Well evidently Costco did, and you guessed it, I brought one home with me!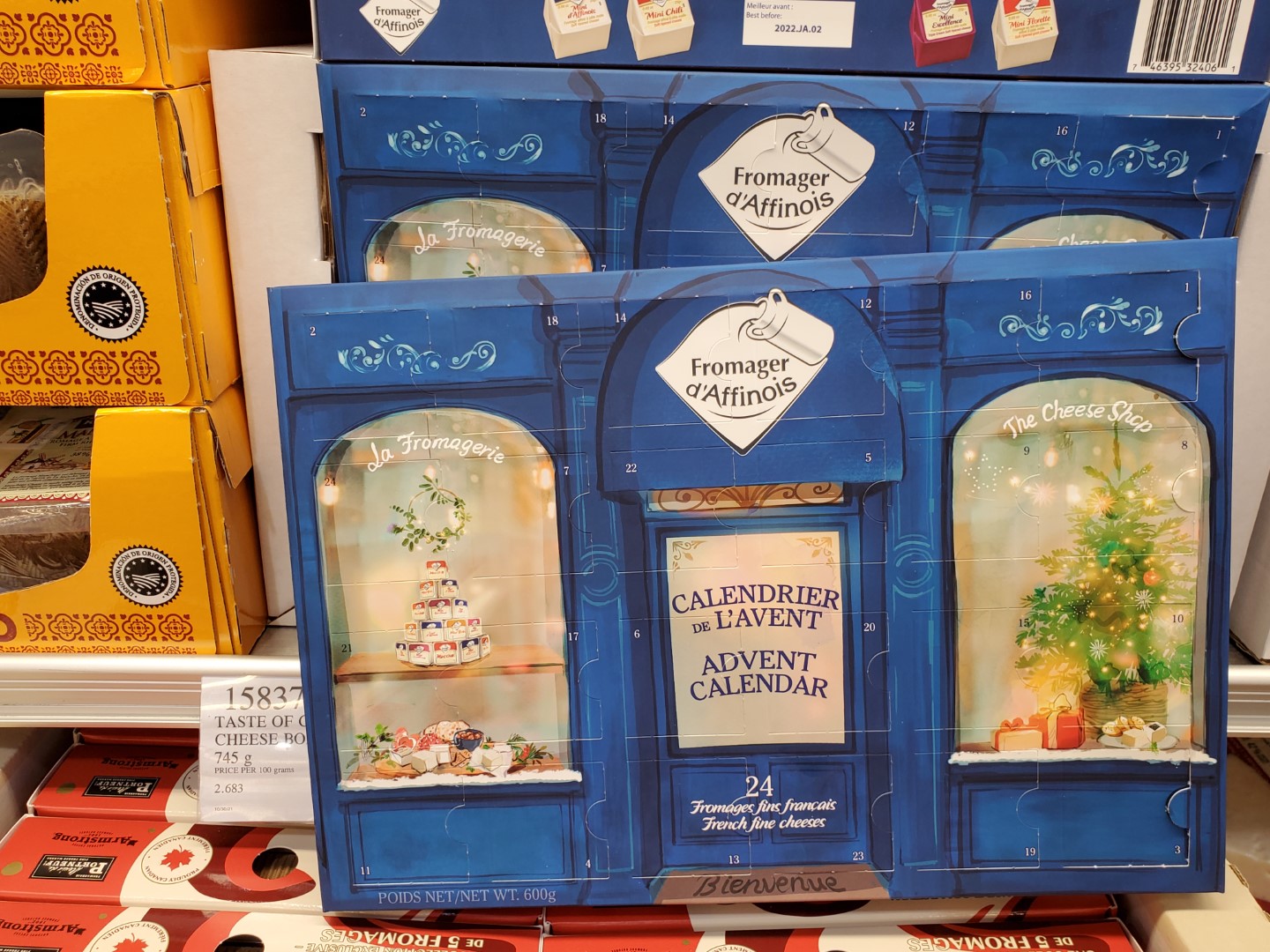 We'll be excited to share the delicious daily cheeses with you as the weeks go on, and hopefully someone will share a little bite with me?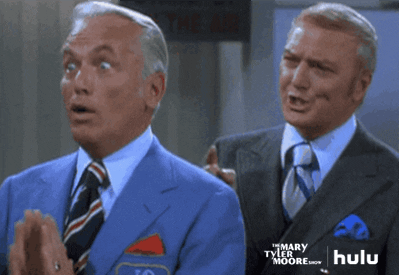 At least maybe share a bite with Dexter, who has been good at proving you really on need the small things in life to be happy. A pair of jeans in the sunshine, a cardboard "fish" barrel full of toys, a leg to sleep on, or just a small piece of cheese.
The little things, right?
Ok, all this looking at Dexter being cute makes me need to go and squish him.
Have a great week folks, and I'll be seeing you soon!
*
I think it's important to remember that we're not out of the corona virus weeds yet, and each province has their own Health recommendations based on the provinces individual risk assessment and I would recommend that you follow the recommendations for your specific province. Information can be found at the following websites.
Newfoundland COVID-19 information
New Brunswick COVID-19 information
Nova Scotia COVID-19 information
Go here for the latest Costco Coronavirus updates: https://www.costco.ca/coronavirus-response.html
So there you go, a little reading material for you.
Be kind, be safe and stay healthy!
Please note:
The price at your local Costco takes precedent (or precedence) over the prices listed on this blog.
Costco liquidation/Manager's Special items (ending in .97) vary from store to store.
An asterisk (*) on the price tag means the item is not being re-ordered.
If there is something you really want, ***double check the expiry date*** as some Costco sales items do end mid-week.
***This is a fan run, independent page with no affiliation or endorsement by Costco Wholesale***
Costco Flyer Sales Nov 22nd – 28th 2021
Costco Treasure hunt sales Nov 22nd – 28th 2021