This week's Costco East Treasure hunt is brought to you by @Gillette who are introducing the NEW GilletteLabs with Exfoliating Bar razor at Costco. This sharp-looking razor offers a shave that's as quick and easy as washing your face, talk about a clean shave!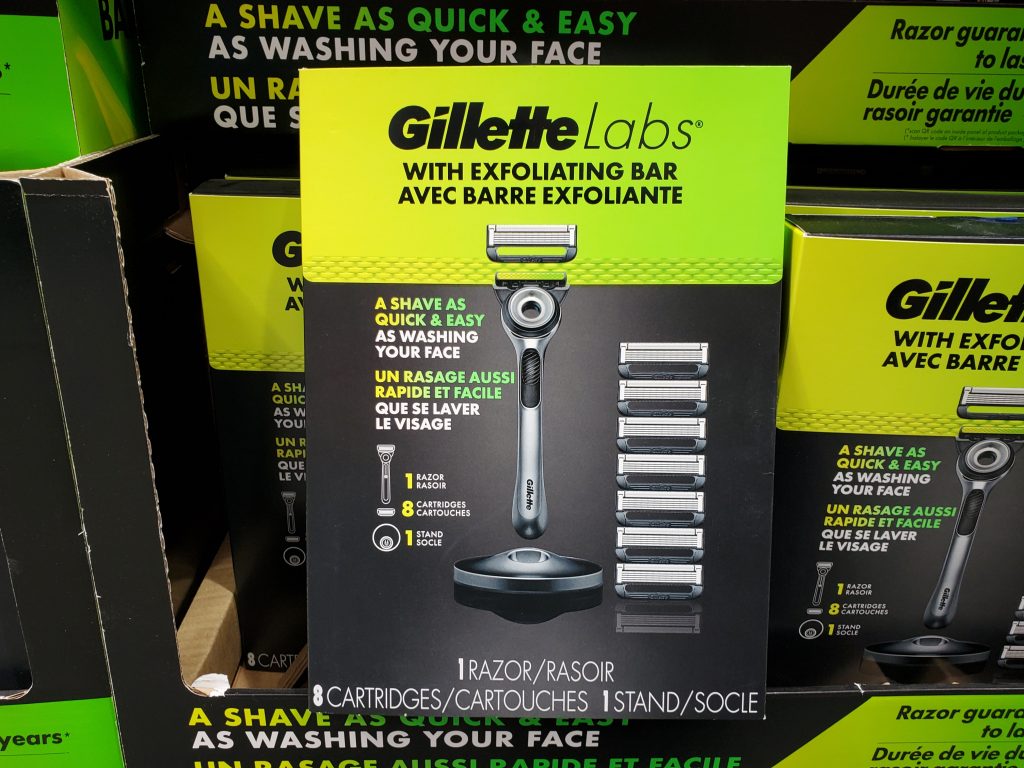 With one stroke, you can remove dead skin cells and oil from the skin before the blades pass, helping you get a smooth and efficient shave. You can find the NEW GilletteLabs with Exfoliating Bar razor, magnetic stand and 8 razor cartridges at your local Costco warehouse for $63.99.
***CONTEST ALERT***
GilletteLabs has provided us with 5 prize packages (MSRP $63.99) to give away! All you need to do to enter is comment on this post, letting us know where you keep your razor? In the shower, on the countertop, or somewhere else? (Winners to be announced Friday, March 11th 2022, details at the bottom of this post) Good luck folks!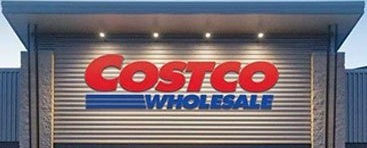 If you'd like to skip ahead to the comments section, click here!
Hello and welcome back to your Costco Treasure Hunt ladies and gentlemen!
Well, it was a strange Monday folks… Out of an abundance of caution I've been isolating and so this is the first Monday Treasure Hunt in maybe 3 1/2 or 4 years that I haven't been to Costco.
It's a very strange thing. You get so used to a routine, used to seeing your friends in the flower & clothing department, used to the editing process going certain way that when it doesn't happen it kind of throws you off.
Thankfully my CocoEast buddy was able to head down to the warehouse for me today and fill in, though I will say I was slightly jealous.
He was pretty excited about these Muskoka chairs and decided to grab a few of them.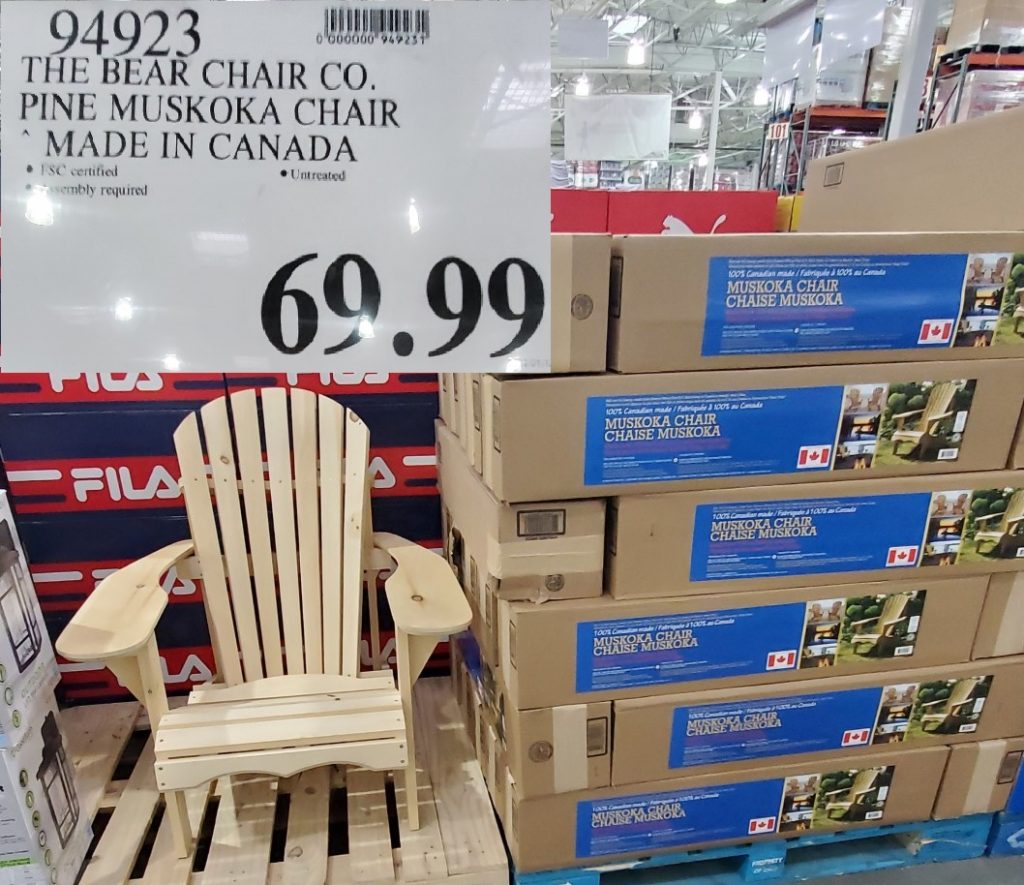 Once you sit yourself down in these chairs usually relaxing is the only thing you can do, so I don't blame him for wanting a pair!
Cat 16 foot ratchet straps being on sale for $6.00 off is a pretty good catch, I think as soon as I can get back out into the world I'll be grabbing some of those.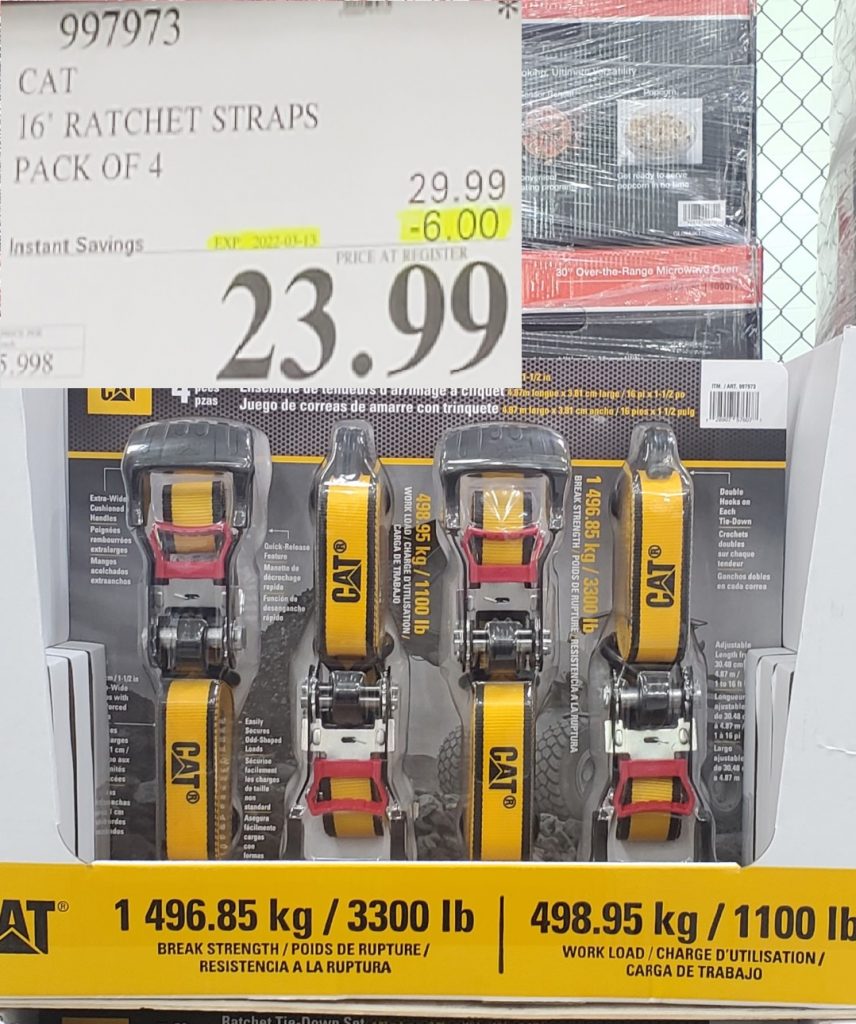 Ratchet straps and bungee cords… Gotta have both those tools in the shed, cause when you need 'em and don't have em, it's just no good! Too bad Costco doesn't have bungee cords.
It's true Wayne. For now…
Here's a few of the other sales happening this week folks.
DOM Norwegian Fjord cod bites 1kg -$3.00 @ $11.99
Gatorade zero sports drink 28 x 591ml -$3.00 @ $14.99
Campbells simply chicken broth 6 x 946ml -$2.50 @ $7.99
Christina B blouse ladies sizes S – XXL -$5.00 @ $13.99
Gaiam zen short +mens sizes S – XXL -$3.00 @ $9.99
Organic ginger product of Peru -$1.00 @ $5.99
Crash foam pillow lounger -$60.00 @ $99.99
Bose quiet comfort earbuds -$70.00 @ $279.99
Cat 16′ ratchet straps pack of 4 -$6.00 @ $23.99
Speaking of Cat straps… Ewok had his little mittens wielded today as I was sneaking pictures of him sleeping on one of his favorite spots. (The heat register)
I'm not sure if it was a threat or not, but I moved away quickly.
The next series of pictures couldn't have been timed better, (or maybe I had too much time on my hands waiting for it to happen?) Either way, I believe I captured gold here!
OK, maybe not gold, but I thought it was funny.
Anyhow, I will say thank you to my friend for heading into the warehouse for me and grabbing the pictures, and thank you all for your continued support. Ewok and Dexter appreciate the extra attention as well!
Enjoy the rest of your week folks, and I'll be seeing you on Friday with the weekend update!
Cheers!
I think it's important to remember that we're not out of the corona virus weeds yet, and each province has their own Health recommendations based on the provinces individual risk assessment and I would recommend that you follow the recommendations for your specific province. Information can be found at the following websites.
Newfoundland COVID-19 information
New Brunswick COVID-19 information
Nova Scotia COVID-19 information
Go here for the latest Costco Coronavirus updates: https://www.costco.ca/coronavirus-response.html
So there you go, a little reading material for you.
Be kind, be safe and stay healthy!
GILLETTE 5 x PRIZE PACK CONTEST INFORMATION
GilletteLabs has provided us with 5 x prize packages (MSRP $63.99) to give away! To enter the contest, just comment on either the Facebook or Instagram posts with what type of shaver you are: Are you with the grain or against the grain?
Follow these links to the Facebook & Instagram pages.
No purchase necessary. Contest ends on Thursday March 10th at 11:59pm (ET) Open to residents of Canada 18+, excluding Quebec.
Conditions apply. 1 entry/person. Correct answer to a math testing question required. Contest is not sponsored by Instagram® / Facebook®. Winner will be announced via Facebook & Instagram on Friday March 11th 2022 by 11:59pm (ET) Winners will be contacted no later than Monday March 14th 2022 at 9:00pm (ET) to claim prizes
Please note:
The price at your local Costco takes precedent (or precedence) over the prices listed on this blog.
Costco liquidation/Manager's Special items (ending in .97) vary from store to store.
An asterisk (*) on the price tag means the item is not being re-ordered.
If there is something you really want, ***double check the expiry date*** as some Costco sales items do end mid-week.
***This is a fan run, independent page with no affiliation or endorsement by Costco Wholesale***
Costco Flyer Sales Feb 28th – March 13 2022 2022
Costco Treasure hunt sales March 7th – 13th 2022