I walk the whole store for you every Monday when Costco Sale items and Costco Flyer sales are released for the week, then post them here and on our Facebook page.
The Costco East Fan Blog would like to give a big shout out to Ziploc Recyclable Bags for sponsoring this week's post.
With this Company's support we can continue to offer great content and help to grow and improve the blogs. Please help support Ziploc by picking up some environmentally friendly snack/sandwich bags on your next shopping trip. The Ziploc Recyclable Bags are $3.00 off at your local Costco Warehouse up until August 1, 2021.
Who knew that you pack up lunch for yourself, your kids and help the environment at the same time? These paper bags are recyclable, and easy on the wallet. They also come with fun, resealable stickers so you can send the kids off to school with their lunches and a fun message! The non-wax formula of these paper bags makes them resealable and recyclable so we can reduce the amount of plastic we're using on a daily basis.
ENTER THE CONTEST!
CONTEST – Ziploc Recyclable Bags have provided (2) $50 Costco Cash Cards to give away
with this week's post! We will be holding the contest on Facebook and Instagram. To enter,
simply comment on the Facebook or Instagram post with your favorite sandwich! Click on the links below to enter the contest.
(FACEBOOK LINK)
(INSTAGRAM LINK)
No purchase necessary. Contest ends Saturday August 1, 2021 at 11:59 pm (PT). Open to Residents of Canada, 18+.
Conditions apply. 1 entry/person. Correct answer to math skill-testing question required. Contest is not sponsored by Instagram® / Facebook®.
Winner will be announced via Facebook on Monday, August 2, 2021 at 9:00 PM (PT). Winners will be contacted no later than Monday, August 2, 2021 at 9:00 PM (PT) to claim prizes.
Gook Luck Everyone!
If you'd like to skip ahead to the comments section, click here!
Well it has certainly been a fun weekend folks, and I've found myself in Barrie, ON. which means I got to visit a different Costco today! Woo-Hoo!
I know it seems silly, but it is always kind of exciting when you get to visit a different store and see all the different items they have!
I mean I probably spent as much time looking at the items I hadn't seen before as I did looking for the sales items, so Barrie Costco shoppers… I think you've got a pretty good spot! I mean, plus you have the gas bar…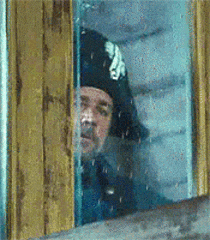 That's how I feel about it folks.
Anyhow, take a peek at the sales this week first folks.
Sandisk 256 GB ultra micro SDXC w/adapter -$7.00 @ $38.99
Step 2 archway falls water table -$10.00 @ $39.99
BC clothing convertible pant +mens sizes S/XL/XXL -$5.00 @ $18.99
OVE medicine cabinet Mina -$40.00 @ $99.99
Pillar's European wiener 1kg -$2.90 @ $9.99
Danactive probiotic drink 24 x 93ml -$2.40 @ $9.99
Kinsets sunscreen spray SPF 30 3  120ml -$8.00 @ $29.99
Robax platinum 102 caplets -$6.00 @ $23.99
*
Now… Onto the things that I saw in the Barrie, ON. warehouse. Where to start…
Well I mean if I had these Double Bubble gumballs 200CT ($9.99) available at my fingertips I would be in trouble… Double Trouble.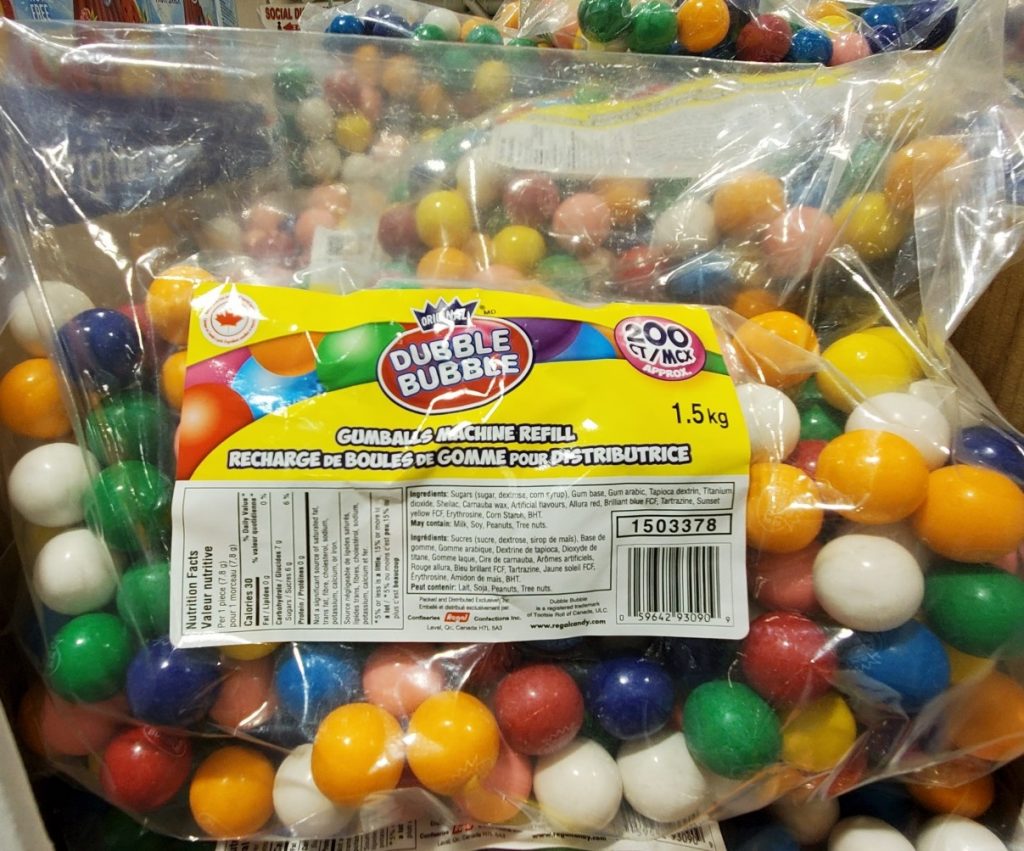 Who could possibly have a bag of these hanging around without eating them all, right?
Another I'm very jealous of is this one.
Kim Chi?! You have a 2L jar of delicious looking Kim Chi available??? How dare you taunt me like this… Do you even know how much I love this stuff? The worst part is that I couldn't even realistically take it home with me, so it really was just a tease. 2L of Kim Chi for $11.99… If you live in the Barrie area, or have tried this brand let me know how it is please! And then send me all of it.
And Le Creuset?! You're gonna throw that at me too???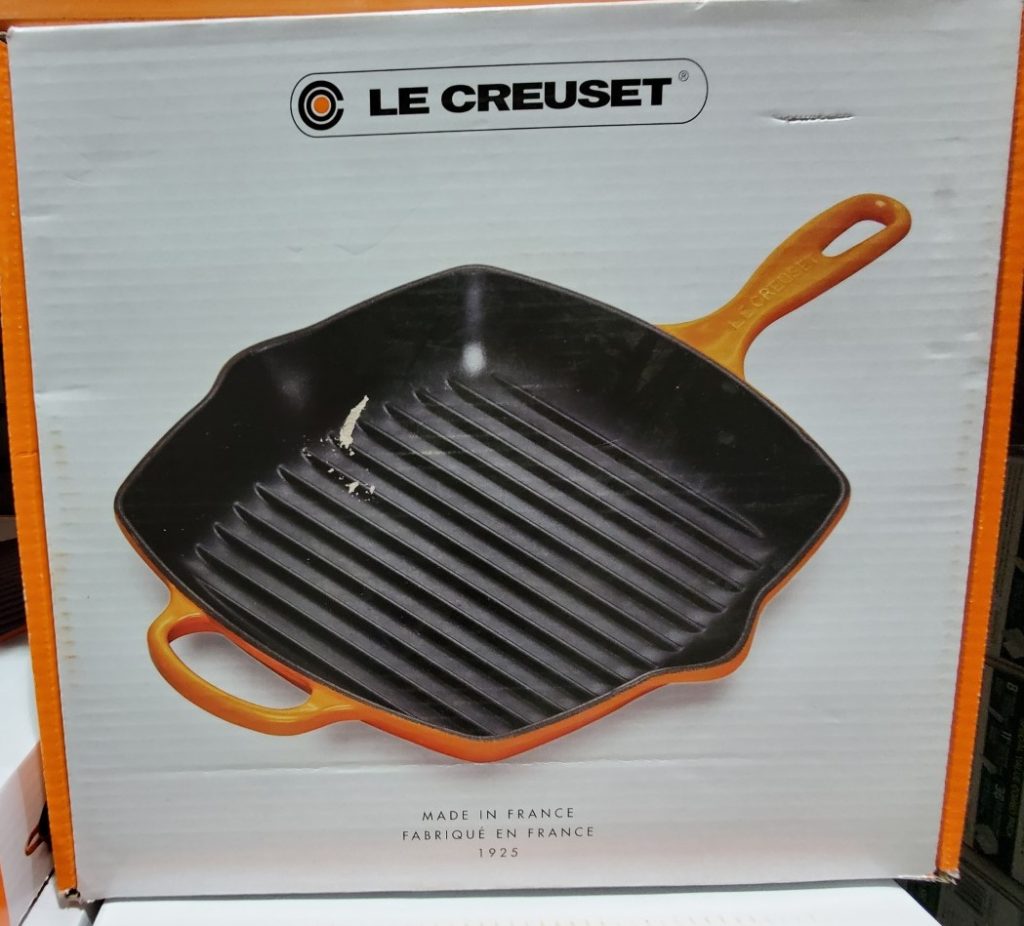 Le Creuset cast iron grill pans for $149.99 in 2 colors… Jealous again…
And as much as I'm a fan of the Kirkland Signature pepperoni pizza, these Pizza Romana Stuffed crust pizza's (2 x 920g) looked pretty mouth watering.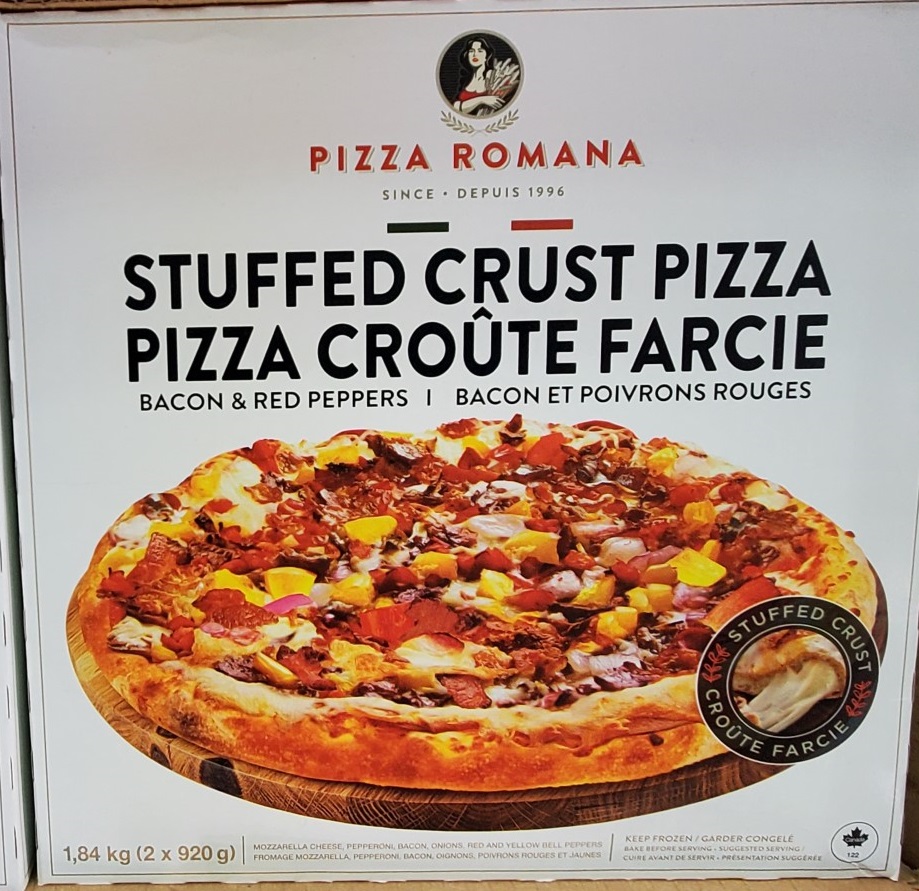 Again, how do I go about getting this stuff at my warehouse… Why can't I have these delicious goodies!!!
I actually (as dramatic as I may seem) think it's really fun to walk into a different warehouse and see all the different items they have and see how they're all layed out differently. (I think that means I spend too much time at Costco!)
Seriously though as someone who is at Costco (95% of the time at the same warehouse) at least twice a week, every week, all year long, seeing that little bit of variety is kind of exciting. Plus now I can ask my In-Laws to bring up some Kim Chi next time they come to visit!
I'll leave them with that little *wink, wink* and I'll leave you with the sales folks.
*
COVID-19 vaccinations are ramping up across Eastern Canada, follow the links below to find out if you're eligible and where they are available in your Province.
Since we are still in the third wave of COVID-19 I think it's important to remember that we're not out of the corona virus weeds yet, and each province has their own Health recommendations based on the provinces individual risk assessment and I would recommend that you follow the recommendations for your specific province. Information can be found at the following websites.
Newfoundland COVID-19 information
New Brunswick COVID-19 information
Nova Scotia COVID-19 information
Go here for the latest Costco Coronavirus updates: https://www.costco.ca/coronavirus-response.html
So there you go, a little reading material for you.
Be kind, be safe and stay healthy!
Please note:
The price at your local Costco takes precedent (or precedence) over the prices listed on this blog.
Costco liquidation/Manager's Special items (ending in .97) vary from store to store.
An asterisk (*) on the price tag means the item is not being re-ordered.
If there is something you really want, ***double check the expiry date*** as some Costco sales items do end mid-week.
***This is a fan run, independent page with no affiliation or endorsement by Costco Wholesale***
Costco Flyer Sales June 28th – Aug 1st 2021
Costco Treasure hunt sales