I walk the whole store for you every Monday when Costco Sale items and Costco Flyer sales are released for the week, then post them here and on our Facebook page.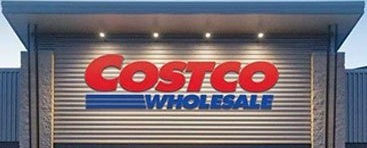 *
*
*
If you'd like to skip ahead to the comments section, click here!
Hello everybody, and welcome to a brand new batch of sales!
It's always an exciting day when a new flyer starts, I mean you know what some of the sales are going to be, but then there's always new ones that pop up on the Treasure hunt.
And just as quickly as Huggies Pull-ups were on sale, Huggies Diapers are now on sale for $10.00 off!
The pack sizes and prices vary slightly as you can most likely know.
To keep that theme rolling the Kirkland Signature 18 x 20cm 900 ct. tencel baby wipes are also on sale for $4.50 off @ $18.49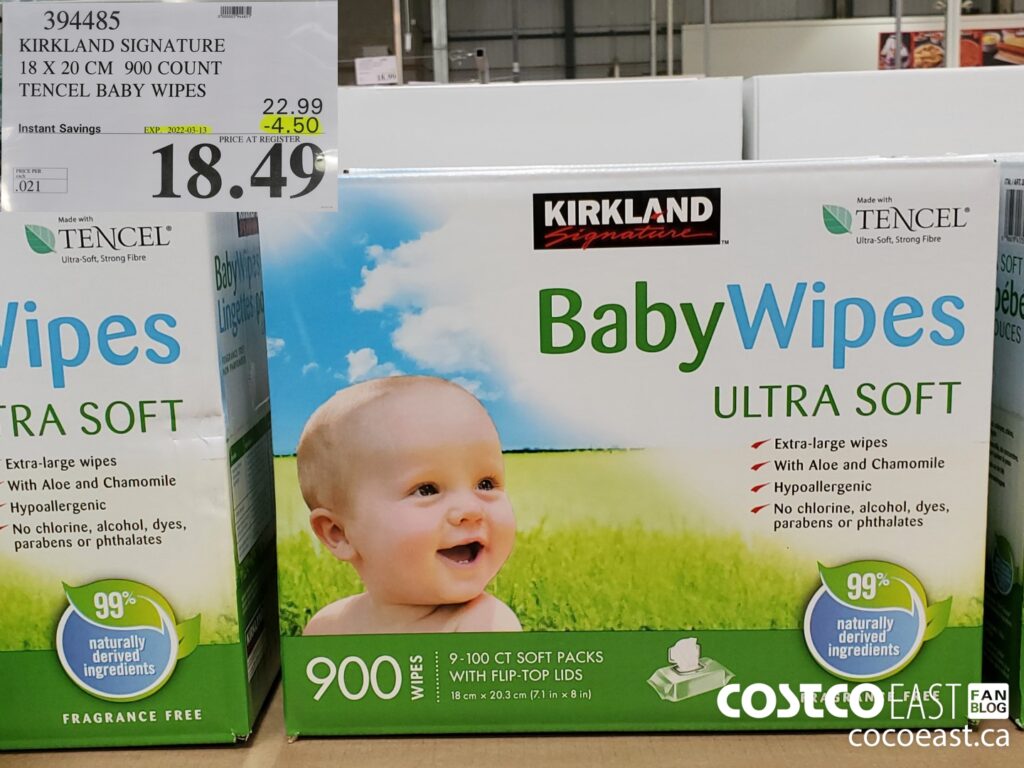 It's a great time to wipe those products off your list, right?!
Springtime complete laundry detergent is on sale for $3.00 off @ $9.49. This is what we have been using at home for a while now so I usually grab a few of these when they hit the sale rack.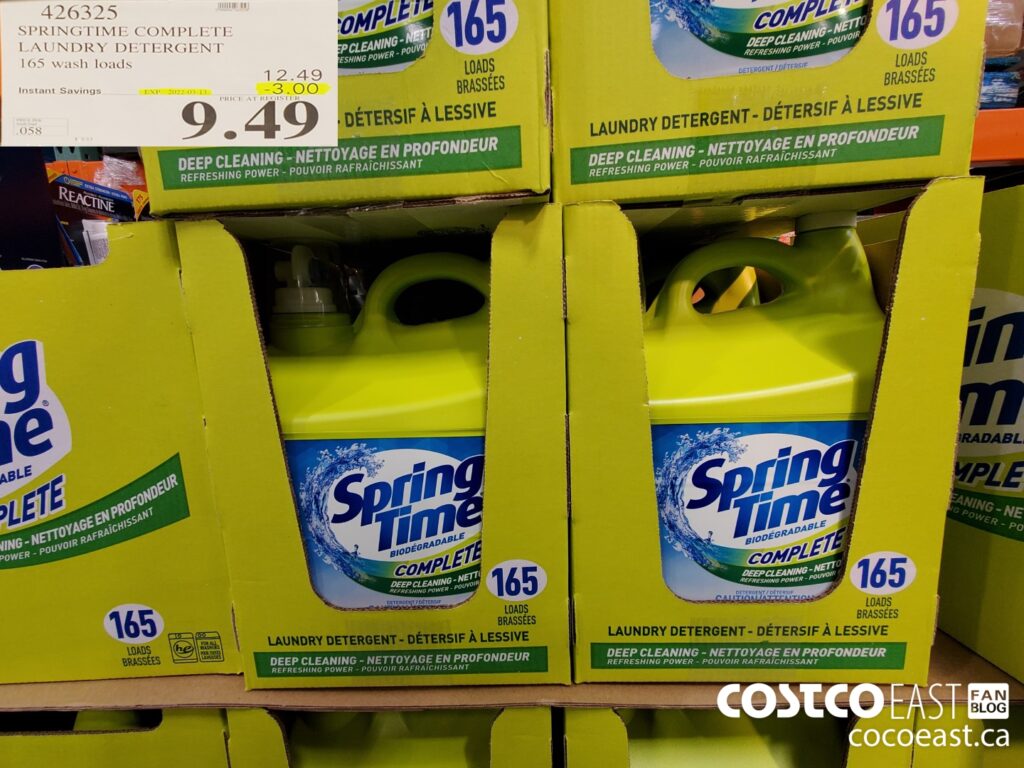 Speaking of springtime, it is right around the corner and I always love seeing the shelves with the Bulbs are easy flowering bulb assortments.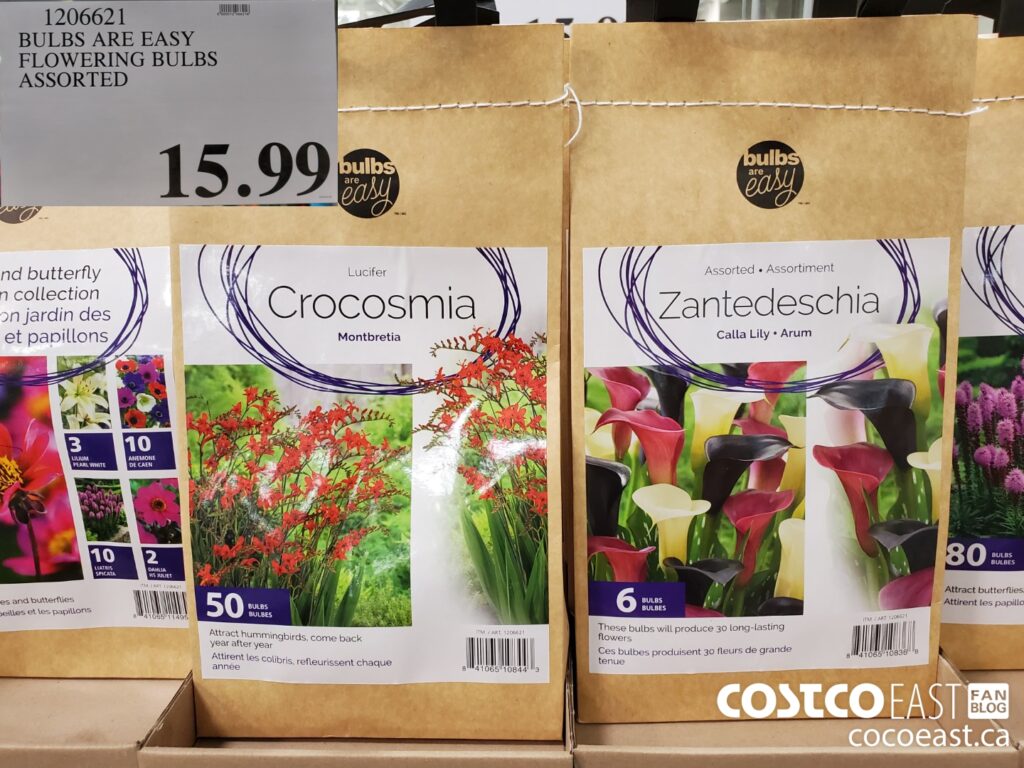 It's a good sign that we're inching closer!
And once we get there undoubtedly there will be allergies to be had! So you may as well get your hands on the Reactine allergy extra strength 175 tablets early and while on sale for $11.00 off!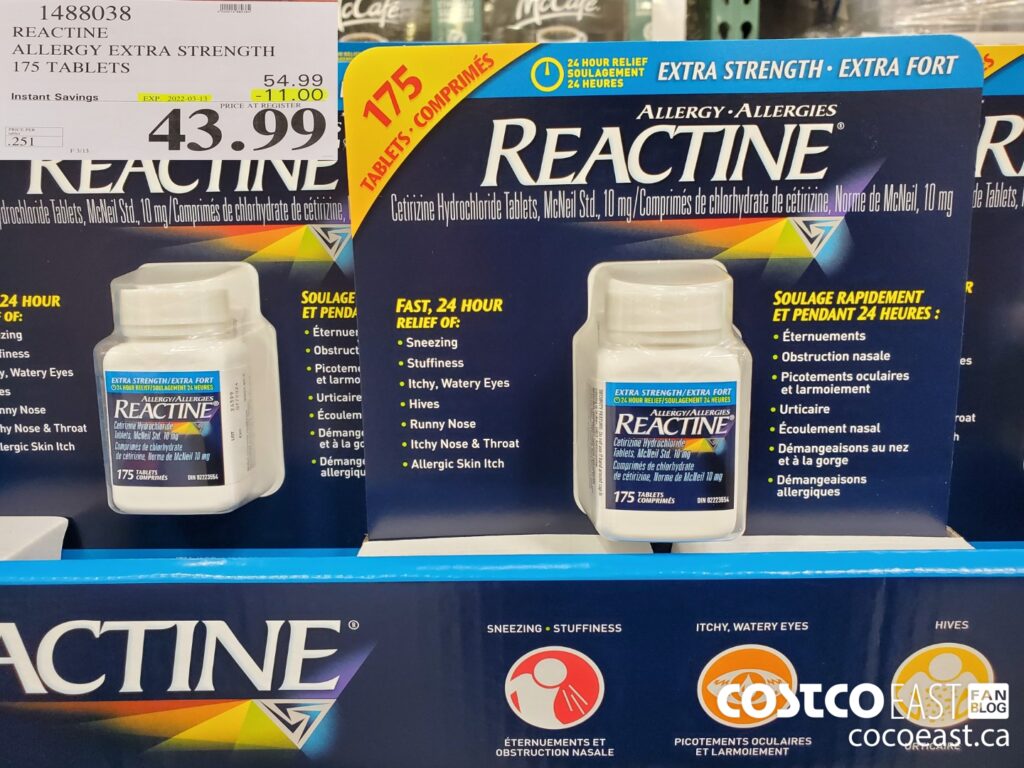 That sale price is nothing to sneeze at folks!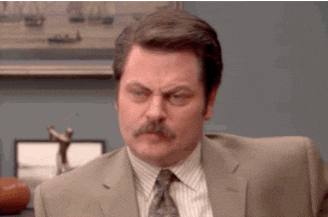 I know, I know… But I really had to go there, some of you probably even saw it coming!
Another item worth getting your hands on are the Royal Harbour Haddock fillets 1.2kg for $5.00 off.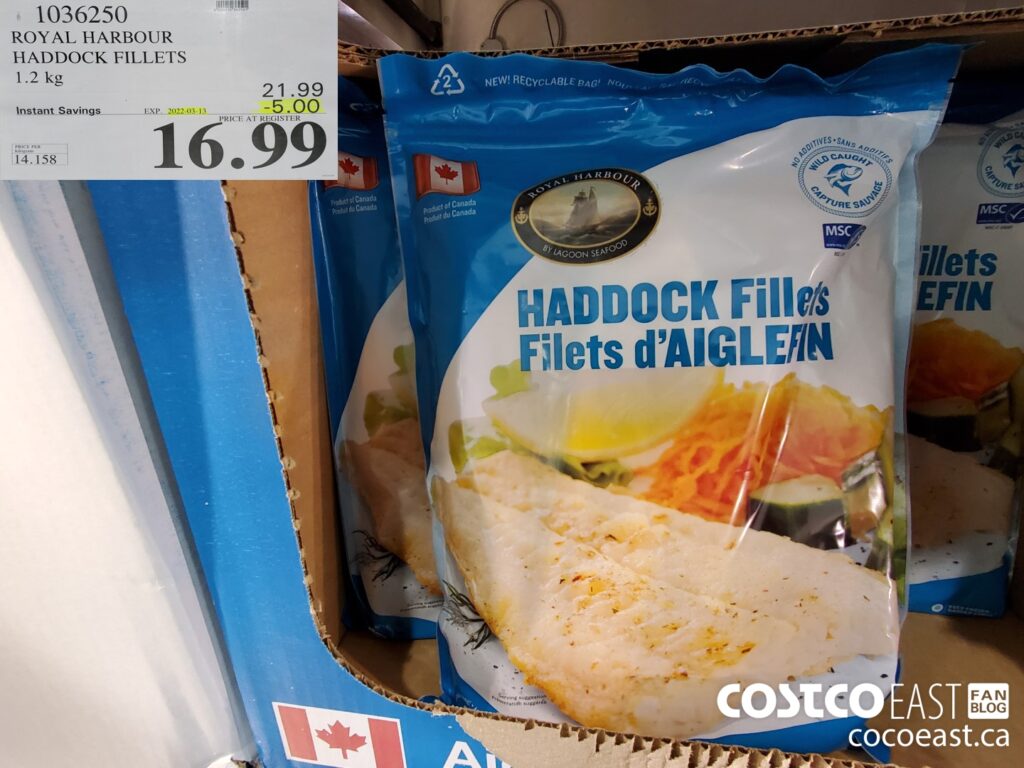 We get these frequently and are always pleased with them. Though the sizes of the fillets might vary a little bit they generally thaw reasonably quickly. (Though make sure to remove them from the bag before thawing, otherwise there's a chance of bacteria growing… And not the kind of healthy bacteria that you want!)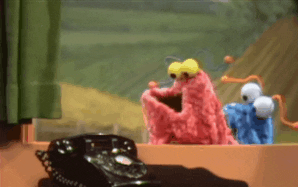 Anyhoo, here's a few of the 186 sales for you to take a peek at.
Drylock food storage et 8 pieces -$13.00 @ $44.99
Feit LED work lights pack of 2 -$10.00 @ $39.99
Robert Graham polo mens sizes S-XXL -$5.00 @ $19.99
Buffalo ankle pant ladies sizes 4-16 -$5.00 @ $14.99
Trident variety pack 16ct. -$3.00 @ $11.79
Rougemont apple juice 6 x 2L -$3.00 @ $10.99
Royal Harbour haddock fillets 1.2kg -$5.00 @ $16.99
Stromboli triple meat pizza 3 x 390g -$3.00 @ $7.99
Lot's of goodies to check out this week folks! Weather you're looking to get a jump on allergy season, or maybe bulk up your immune system and keep it humming along nicely during the seasonal change with Emergen-C Packets and Echinacea softgels, Costco has you covered for that.
If you've ever had the pleasure of visiting Montreal I hope that perhaps you've stopped by Schwartz's Deli and had the smoked meat Brisket sandwich. If for some reason you haven't, and you want a classic, delicious, melt in your mouth sandwich (that could potentially be life changing) I highly recommend you do so.
If you can't make it to Schwartz's deli in Montreal, then perhaps you can recreate your own at home. Today was the first day I saw the fresh Smoked beef brisket available at Costco.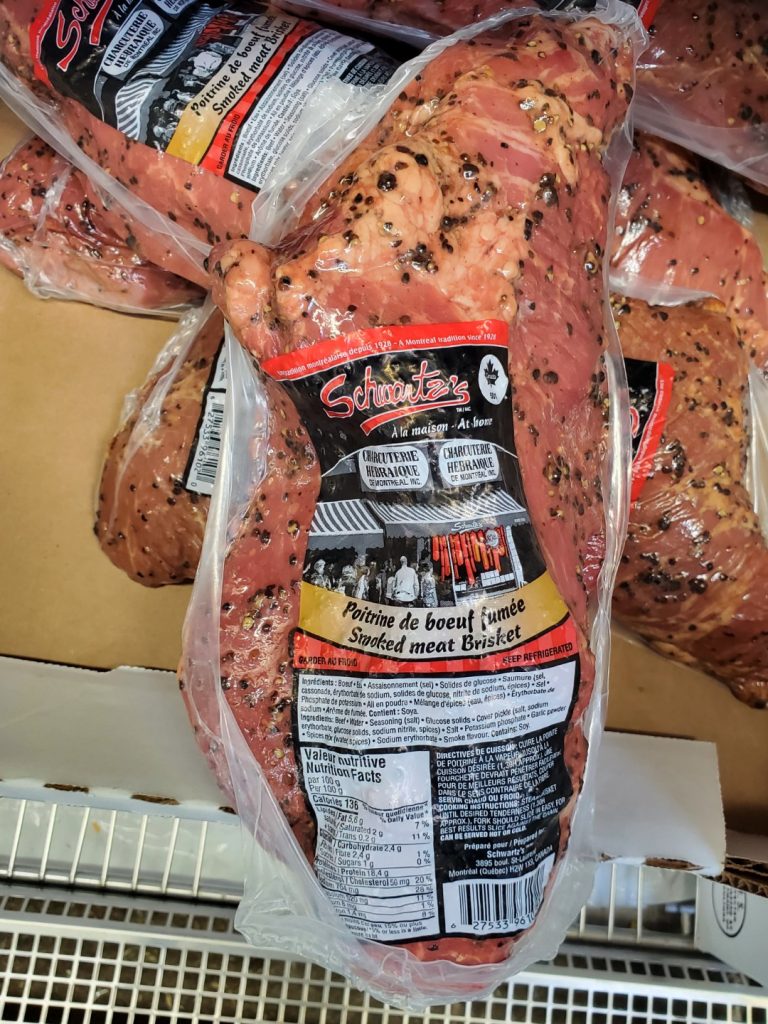 In order to recreate the sandwich you'll need either white, rye or sourdough bread… Personally I think for this sandwich plain white, squishy, void of nutrient bread is good. Oh and the more juice absorbent the better, so the thicker the cut the better. Anyhow, plain white bread, plain yellow mustard, and a heaping stack of the warmed up, melt in your mouth, potentially fall apart if you look at it too hard beef brisket. As I stated pile it high, (so you can justify calling it a "heaping" stack) cut it half and serve it with a delicious Moishes dill pickle. This is potentially all you need for a trip to bliss-ville, or Flavortown if you're Guy Fieri.
Even thinking of those sandwiches has put Dexter and Ewok in a partial food daze!
I couldn't let them be that cute though and not wake them up for a picture.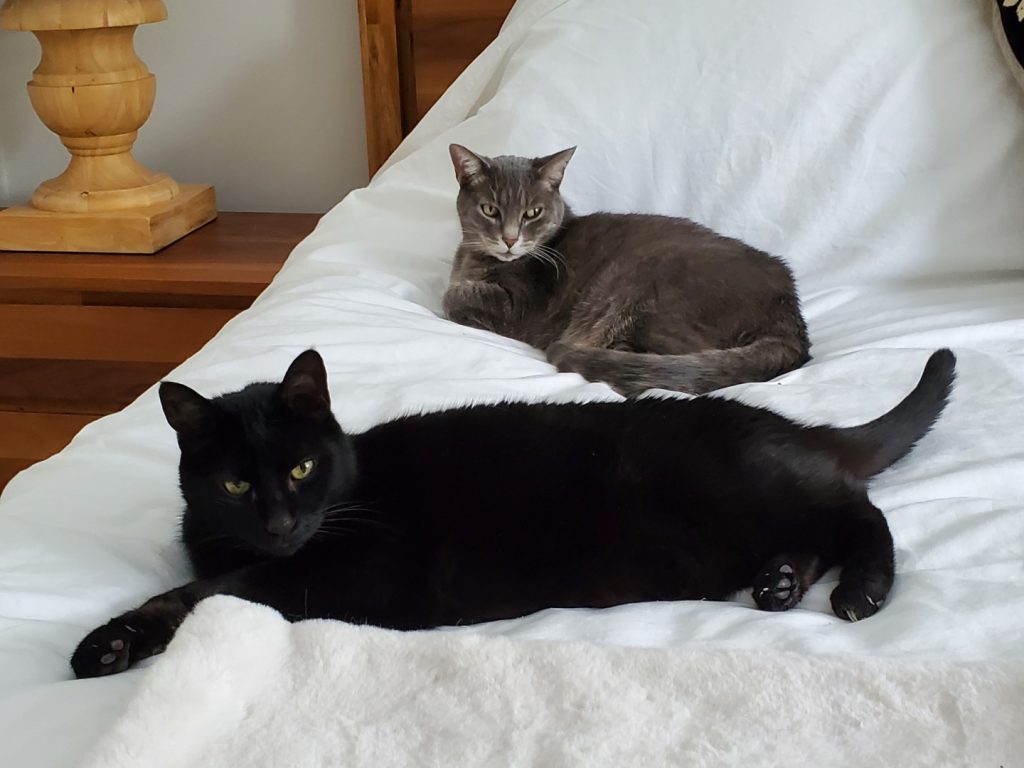 After last night waking us up I don't know how many times, Dexter owed me. We're even now.
And with that in mind, I'm going to head off to dreamland. And we're closing the door tonight… Dexter I'm talkin' to you!
OK folks, have a great week and as always.
Stay Calm and Costco On!
I think it's important to remember that we're not out of the corona virus weeds yet, and each province has their own Health recommendations based on the provinces individual risk assessment and I would recommend that you follow the recommendations for your specific province. Information can be found at the following websites.
Newfoundland COVID-19 information
New Brunswick COVID-19 information
Nova Scotia COVID-19 information
Go here for the latest Costco Coronavirus updates: https://www.costco.ca/coronavirus-response.html
So there you go, a little reading material for you.
Be kind, be safe and stay healthy!
Please note:
The price at your local Costco takes precedent (or precedence) over the prices listed on this blog.
Costco liquidation/Manager's Special items (ending in .97) vary from store to store.
An asterisk (*) on the price tag means the item is not being re-ordered.
If there is something you really want, ***double check the expiry date*** as some Costco sales items do end mid-week.
***This is a fan run, independent page with no affiliation or endorsement by Costco Wholesale***
Costco Flyer Sales Feb 28th – March 13 2022 2022
Costco Treasure hunt sales Feb 28th – March 6th 2022