I walk the whole store for you every Monday when Costco Sale items and Costco Flyer sales are released for the week, then post them here and on our Facebook page.
*
*
*
If you'd like to skip ahead to the comments section, click here!
Hello everybody and welcome to another good 'ol Costco Treasure hunt!
It was the start of a brand new month long sales flyer so needless to say I was at Costco for quite some time today, as were what seemed like everyone else on the boat, I mean in the city…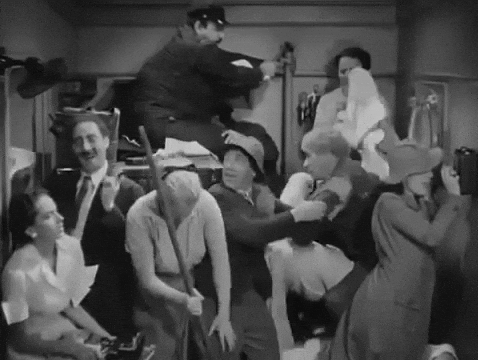 (Bonus points to anyone who can name that movie, and any of the fantastic quotes from that specific scene)
Anyhow, lots and lots of new sales to look at! On the cookware front, the Staub cast iron braise and grill 2 piece set is on sale for $50.00 off @ $189.99 which is pretty good for a couple of heavy duty cast iron workhorses.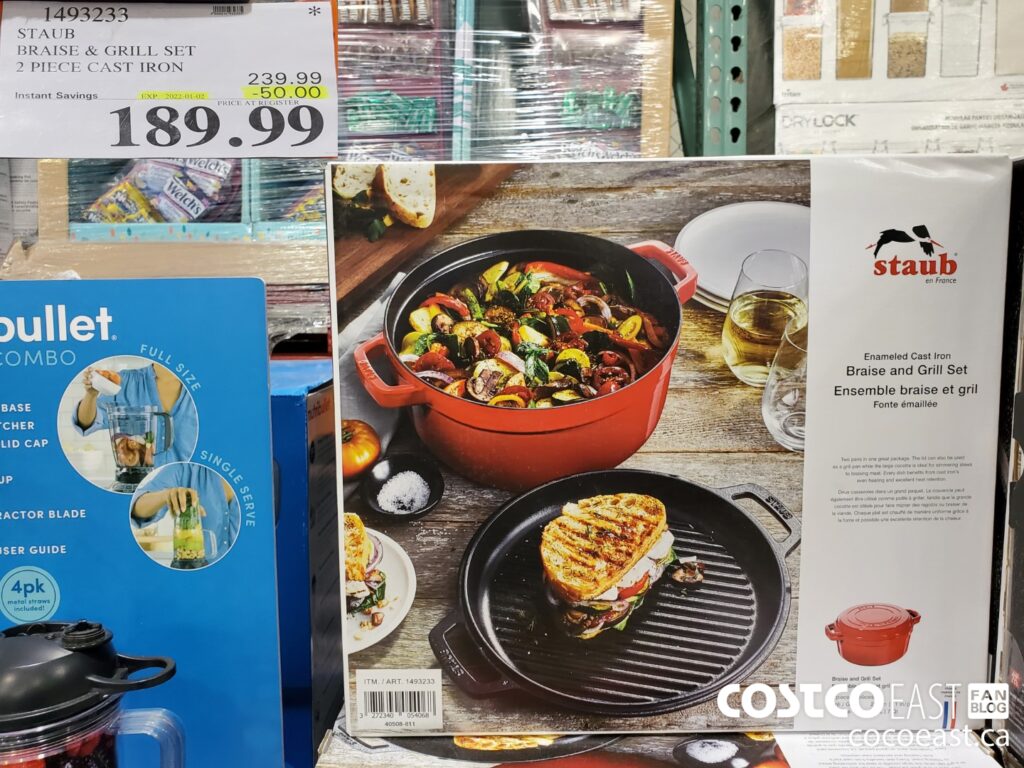 But if cast iron isn't your thing, or it's too heavy for you, the Circulon Hard-anodized 12 piece cookware is on sale for $60.00 off @ $229.99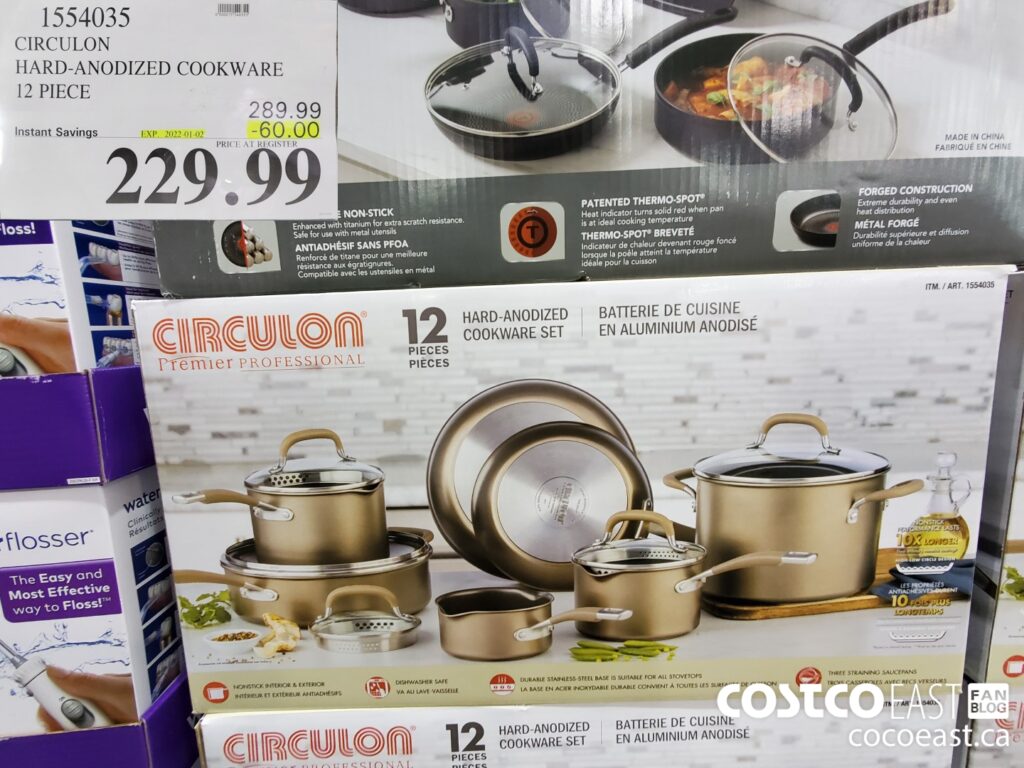 These do feel like they're pretty solid, but not overbearingly heavy. This set seems to cover all your boiling, braising and frying needs. Anyone use these pots & pans at home and care to toss your review into the ring?
The Nutribullet blender combo is on sale for $40.00 off @ $89.99. I have an older one (maybe 5 or 6 years???) that was not purchased at Costco but has always served me well.
Now I just need to remember to use it these days… I'll go through phases of eating the same thing for weeks at a time (as I'm sure I've mentioned before) and I'll get on smoothie/protein shake kicks, but then I'll go the opposite direction and totally forget about it… Don't judge…
If you're in the market for an iPad for yourself or a gift now is as good a time as any as the 64GB apple iPad air 10.6″ is on sale for $100.00 off @ $669.99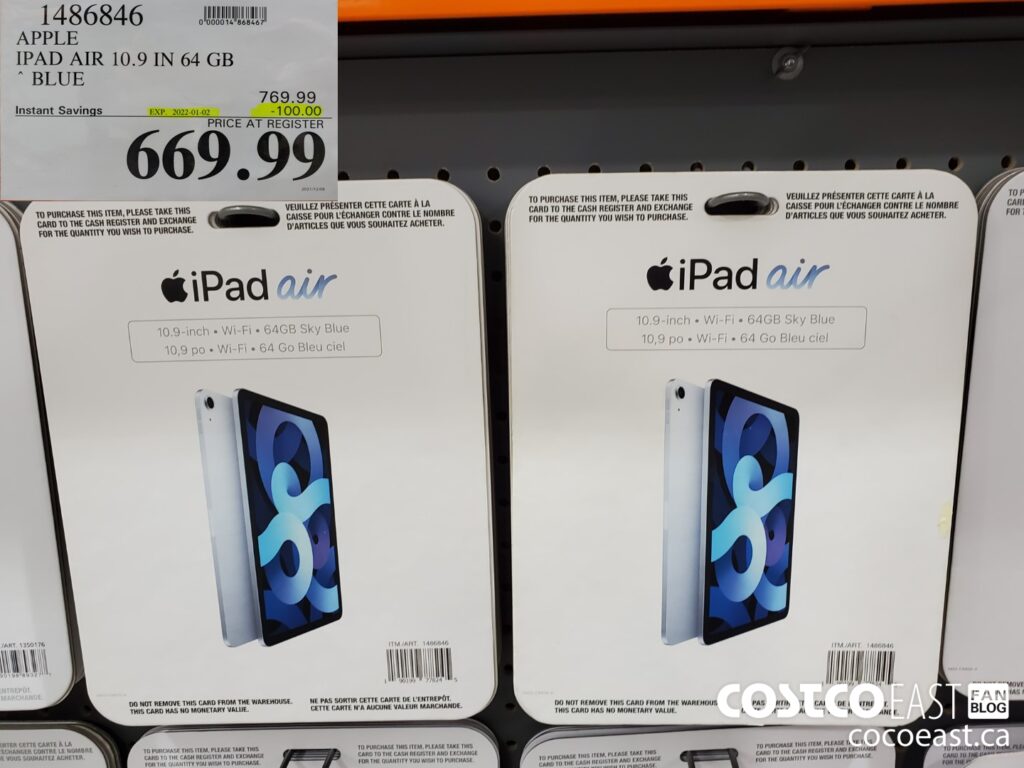 I had one of the 1st generation iPads and absolutely loved it, I still have it however it doesn't charge up anymore. I should probably take it in and see if they can fix it, but sometimes getting those things fixed is almost as expensive as getting a new one!
If you're looking for the gift that keeps on giving try the Trumedic Magichands neck & back massager while it's on sale for $50.00 off @ $94.99.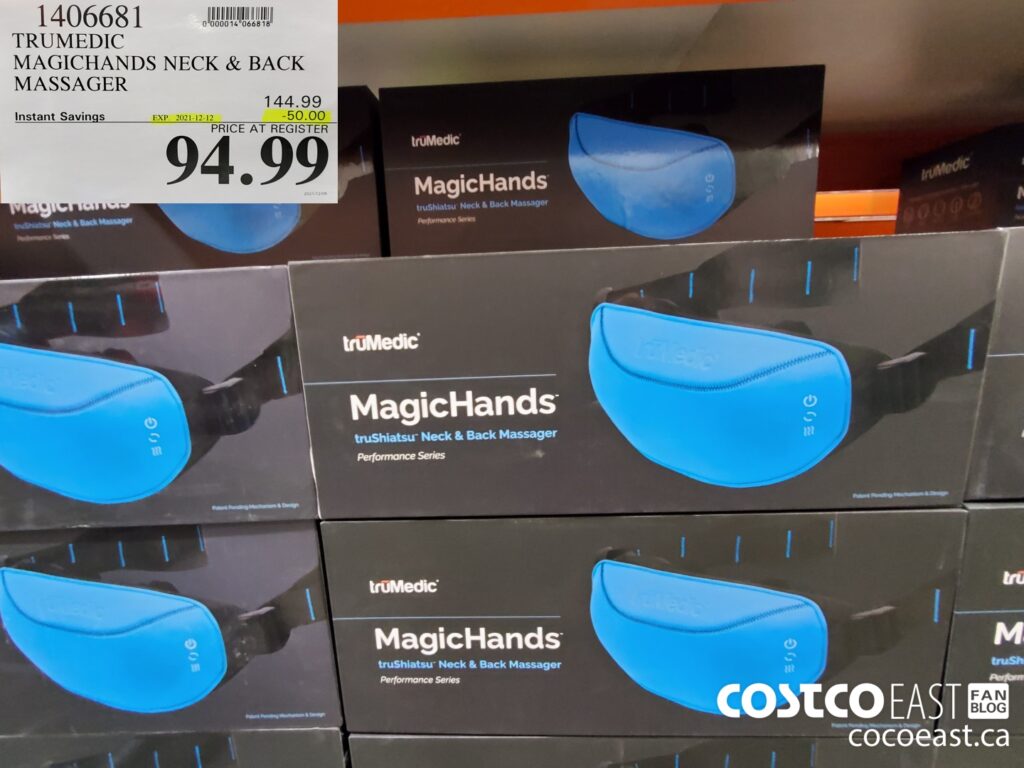 We bought one of these years ago, and it has certainly not been forgotten about (unlike the Nutribullet)!!! Anyone with chronic/constant neck or back pain will come to love this little puppy! After a good 15 minutes with this on we wind up looking similar to Dexter does below.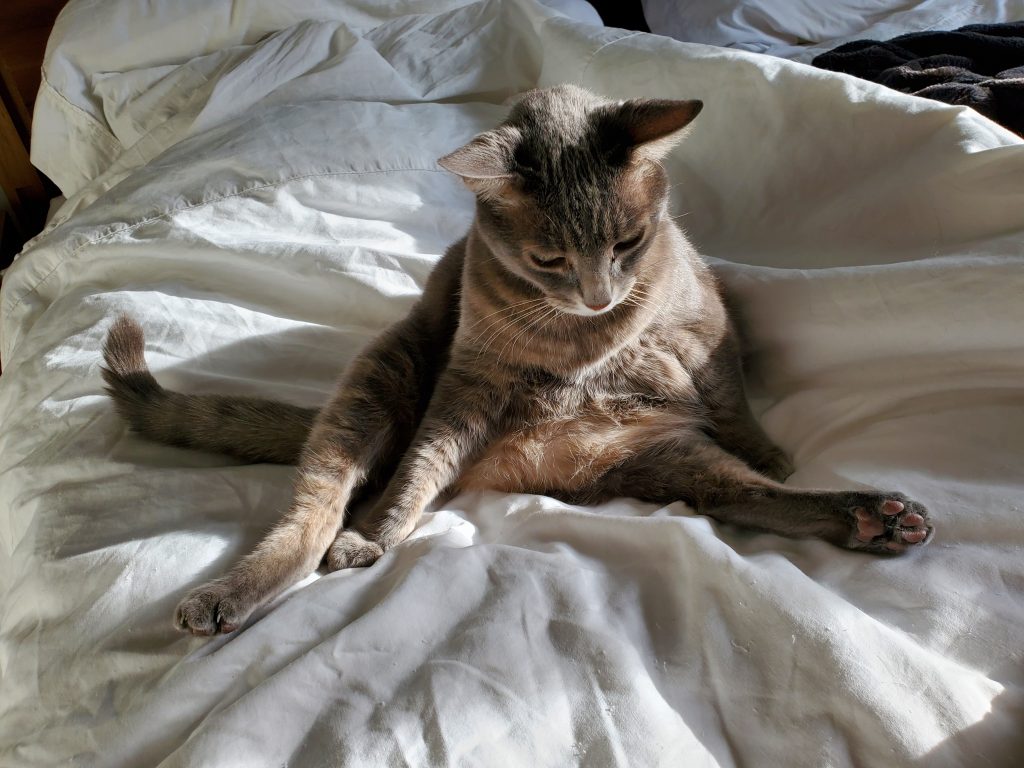 You know that feeling folks… You know you do….
Here's a few more of the 209 (!!!) sales to check out folks.
Tums extra strength 4 x 100 tablets -$2.50 @ $10.49
Lubriderm fragrence free lotion 2 x 710ml -$3.00 @ $9.99
Lysol toilet bowl cleaner 4 x 946 ml -$3.00 @ $8.49
Kellogg's Mini-Wheats 1.6kg -$2.00 @ $6.99
Philadelphia cream cheese 2 x 500g -$2.50 @ $8.49
Wholistic cotton sheets Queen 6pc. -$15.00 @ $63.99
FILA running shoes mens/womens -$8.00 @ $29.99
Feit LED work lights pack of 2 -$10.00 @ $39.99
Staub braise and grill set 2 piece cast iron -$50.00 @ $189.99
Circulon hard-anodized cookware 12 piece -$60.00 @ $229.99
As you can see, that's at least 1 basket full of sales. And I've got 1 basket "full" of Ewok here to deal with.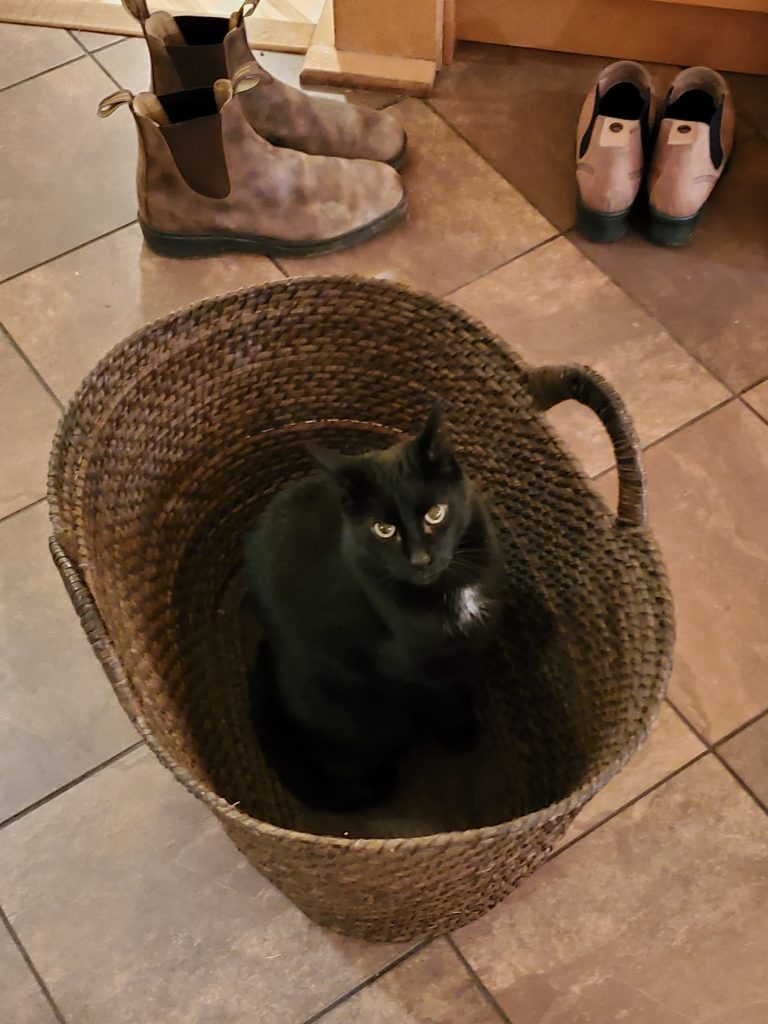 Certainly not a sale item, but I would pay top dollar for that "squishy muffin" as my partner calls him.
Thank you to Susan, Ottawa for sharing her Mother's recipe for her shortbread cookies! I'm very excited to give them a shot, and when I do I'll add some pictures of my success, or my failures. (feel free to share yours as well!) Baking is an exact art, where cooking is a bit more free flowing. Both Susan and I are apparently more on the "cook" side of things as opposed to the "bake" side of things. Though I do enjoy baking, and I will say my cookies always turn out pretty good (thank you freshly grated nutmeg!) It is certainly more of an exact science that some folks can grasp and other don't have the precision for, or patience for… I can't read a recipe and not add extra this, or extra that, omit X for Y without caring about the portion size. I like garlic, I'll add 5 extra cloves, I mean, why not?!?! Who adds a half inch knob of ginger? You gotta at least double that, right? And while I'm pretty good at eyeballing spices I always add more than any recipe calls for because… Well, just because… That teaspoon of chili powder isn't doing anything to your soup, but a tablespoon and a bit, that might move the Richter scale! But you can't do that with baking… Too much or too little baking powder, or baking soda, or yeast, or kneeing…. This is why I enjoy baking cookies, and leave the rest to the professionals. (plus I love the cookie dough!)
Now that we've moved through that topic, I believe it's time for me to got to bed.
There's at least 4 or 5 basket-fulls of new sales to check out this week, so grab a beverage, lean back and enjoy the tour of sales folks. As always, I'll see you soon.
Stay safe everyone!
I think it's important to remember that we're not out of the corona virus weeds yet, and each province has their own Health recommendations based on the provinces individual risk assessment and I would recommend that you follow the recommendations for your specific province. Information can be found at the following websites.
Newfoundland COVID-19 information
New Brunswick COVID-19 information
Nova Scotia COVID-19 information
Go here for the latest Costco Coronavirus updates: https://www.costco.ca/coronavirus-response.html
So there you go, a little reading material for you.
Be kind, be safe and stay healthy!
Please note:
The price at your local Costco takes precedent (or precedence) over the prices listed on this blog.
Costco liquidation/Manager's Special items (ending in .97) vary from store to store.
An asterisk (*) on the price tag means the item is not being re-ordered.
If there is something you really want, ***double check the expiry date*** as some Costco sales items do end mid-week.
***This is a fan run, independent page with no affiliation or endorsement by Costco Wholesale***
Costco Flyer Sales Dec 6th 2021- Jan 2nd 2022
Costco Treasure hunt sales Dec 6th – 12th 2021