I walk the whole store for you every Monday when Costco Sale items and Costco Flyer sales are released for the week, then post them here and on our Facebook page.
Hello and happy Monday everybody!
As last Friday there weren't very many new sales I was happy to see that there were indeed new sales today, including a few favorites and guilty pleasures… Though these days I feel like guilty pleasures are just  pleasures, screw the "guilty" part let's just love what we love right?!?!
Like the Pillsbury pizza pops (30 units $4.00 off) these were always a favorite snack of mine as a kid and are still one of those "guilty" pleasures of mine today.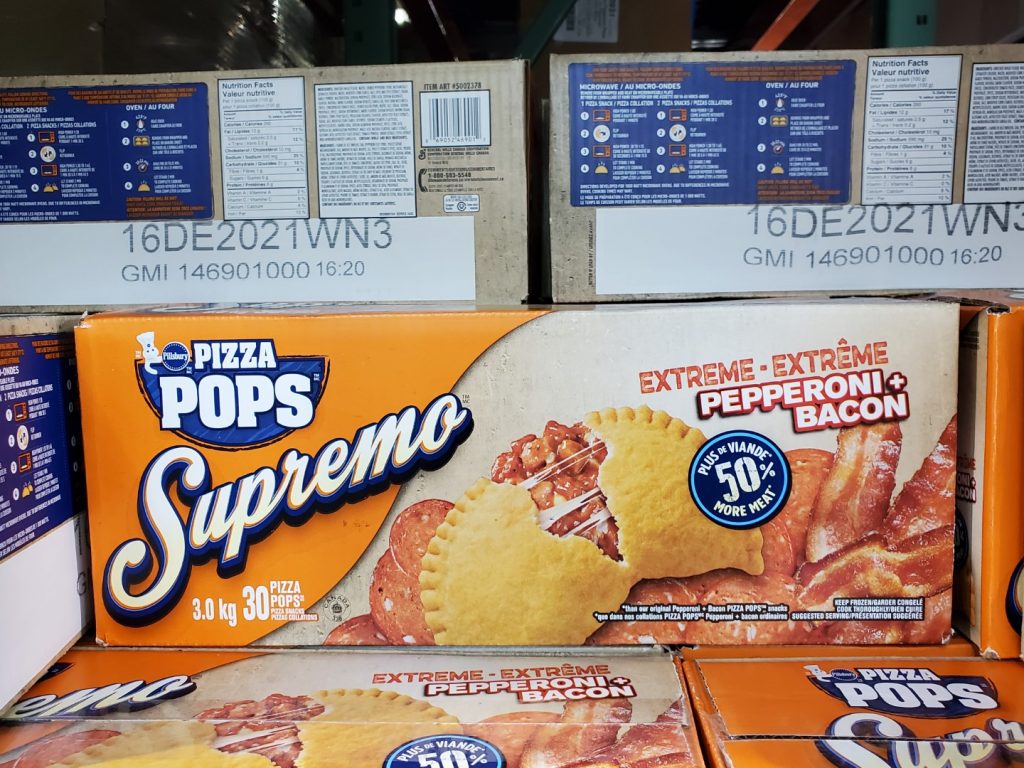 I mean 4 minutes to mini-calzone mini-heaven?
It's like those Jamaican pattys folks. Just a little baked pillow of comfort and happiness so for that I shall feel no shame!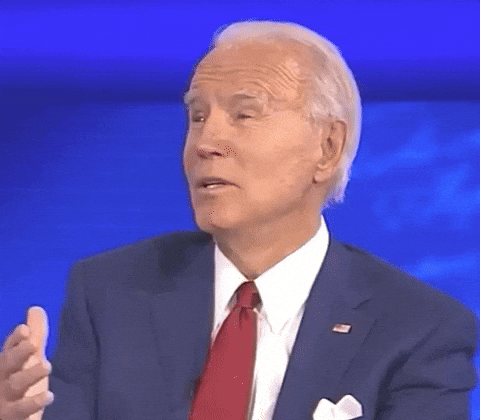 Another (albeit healthier) snack favorite of mine is canned fish. So walking by the Gold Seal mackerel in olive oil ($3.90 off) I obviously needed to sneak one into my cart.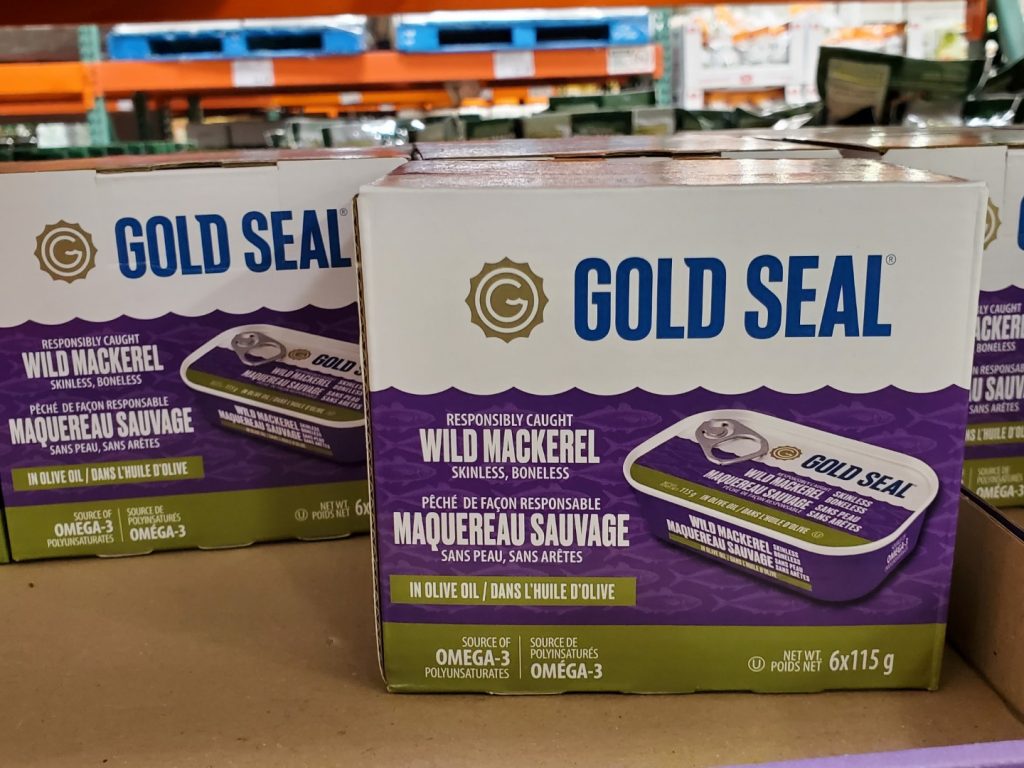 For me, a great snack to take to work and the have a pretty impressive shelf life. I'm pretty sure the ones I bought today don't "expire" until 2025… So I've got some time.
Continuing on the fishy side of things two other sweet deals emerged today.
The Olivia Yellowfin tuna steaks and the Norwegian Fjord smoked salmon both popped up.
The Olivia Tuna steaks are something I usually like keep on hand because they are delicious and when they're on sale for $12.99 it's way too good to pass up.
The smoked Salmon is a little trickier though. I love smoked salmon of any kind, I mean toss it on some bread with cream cheese, capers and red onion? Yes please! Same situation except on a bagel, sure! Eggs Benedict with smoked salmon, that my friends is a brunch staple and one I've made hundreds of I'm sure. Or just fold it and place on a board with crackers, cheeses, dips, and other delicious meats and viola… An culinary (and Instagram) sensation.
This all being said not everyone enjoys that kind of smoked salmon, and I can see why. It's a bit oily, and can be a bit too smokey so I understand that. But I still like it.
What I also like are sales previews, shall we?
*
French's fried onions 680g -$2.00 @ $5.79
Dore-Mi haloumi 2 x 235 g -$3.00 @ $7.99
Azuma gourmet seaweed salad 794g -$3.00 @ $8.99
Nestea lemon iced tea -$2.00 @ $6.99
Alasko sliced strawberries 2kg -$3.00 @ $9.99
Gelda gold basmati rice 4.54 kg -$2.00 @ $7.99
Webber naturals organic ground flaxseed 900g -$2.80 @ $5.99
Clif Bar energy bars 22 x 68g -$4.00 @ $14.99
*
The garden centre is open and what's not to love about it? It is as ever evolving as he season is, (rules and regulations included) so it's pretty neat to see it change everytime I go through.
New flowers, new hanging baskets (one of which came home with me) and the staff have kept it very well organized. Again, big kudos to Costco and their staff for making this work and feel safe.
Oh and that hanging basket… It came home with me today.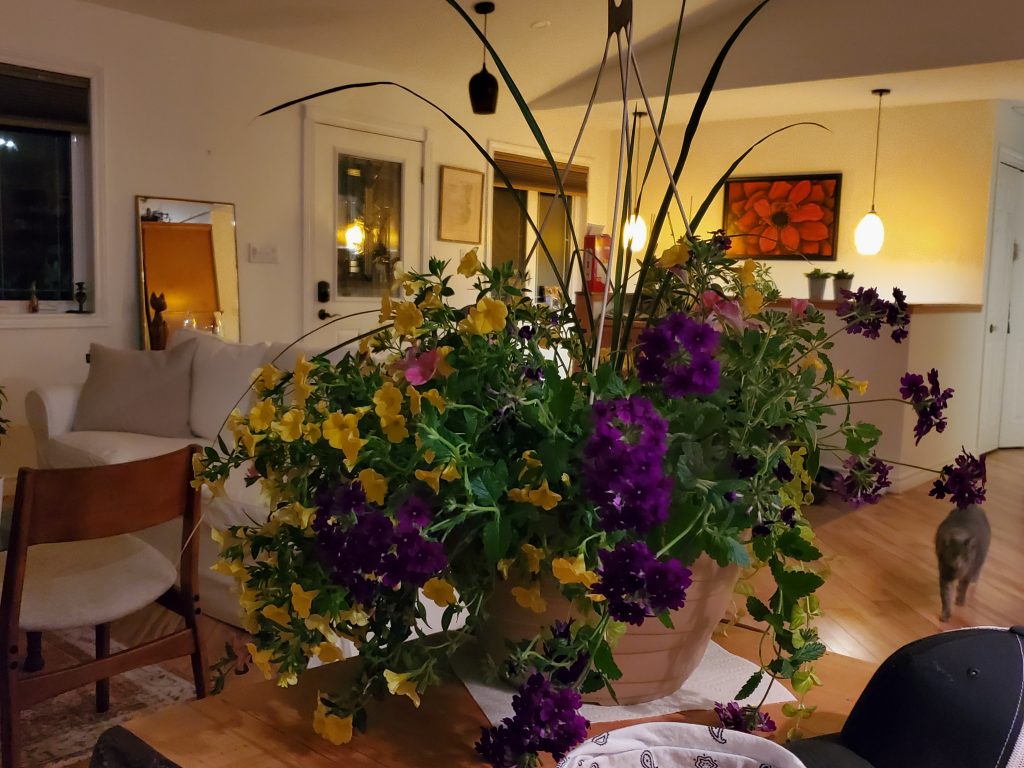 It was too cold leave out tonight though, and you can see Dexter sneaking in to get some screen time this week.
Of course not to be out done by his older brother, Ewok decided to make his presence very apparent.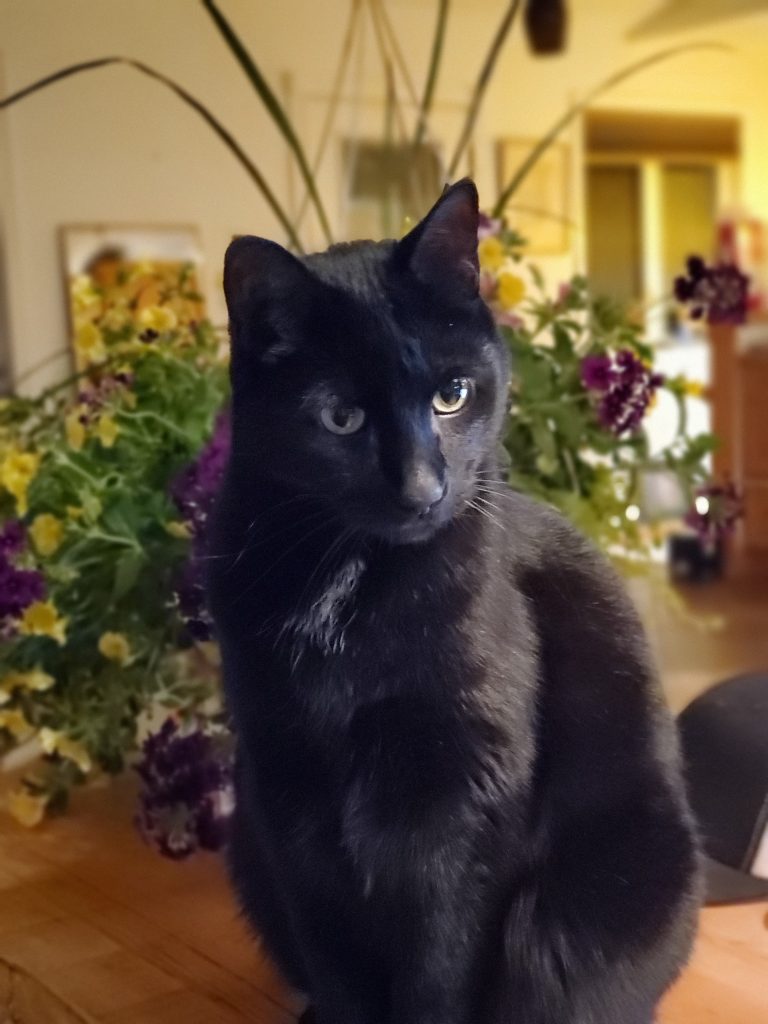 Always willing to sit in front of anything we're doing and be the center of attention.
He's obviously interested in why I'm not paying attention to him 100% based on his inclination to interfere with or more appropriately get involved with what I'm doing… At least tonight he sat in front of the flowers and not my keyboard, so I'll call that a win for me.
And with that folks I'm going to say good night. Enjoy the sales, stay safe and…
"Stay Calm and Costco on!"
*
Here's some great news for those of you who are 60 & above and looking to get your first dose of a COVID-19 vaccine! You're able to book an appointment now to get it at select Costco pharmacies! (Click this link to go to the booking page)
Since we are in the third wave of COVID-19 I think it's important to remember that we're not out of the corona virus weeds yet, and each province has their own Health recommendations based on the provinces individual risk assessment and I would recommend that you follow the recommendations for your specific province. Information can be found at the following websites.
Newfoundland COVID-19 information
New Brunswick COVID-19 information
Nova Scotia COVID-19 information
Go here for the latest Costco Coronavirus updates: https://www.costco.ca/coronavirus-response.html
So there you go, a little reading material for you.
Be kind, be safe and stay healthy!
Please note:
The price at your local Costco takes precedent (or precedence) over the prices listed on this blog.
Costco liquidation/Manager's Special items (ending in .97) vary from store to store.
An asterisk (*) on the price tag means the item is not being re-ordered.
If there is something you really want, ***double check the expiry date*** as some Costco sales items do end mid-week.
***This is a fan run, independent page with no affiliation or endorsement by Costco Wholesale***
Costco Flyer Sales
Costco Treasure hunt sales