Welcome to the Costco Flyer sales preview for October 24th – Nov 7th 2021 Folks!
*
*
*
If you'd like to skip ahead to the comments section, click here!
Hard to believe we're looking into November, but… Time moves quickly I suppose.
There's plenty to look at, including the approaching P&G spend and Get situation, so a good time to stock up on the goods they offer.
Jan in Waterdown, a call out to us!!!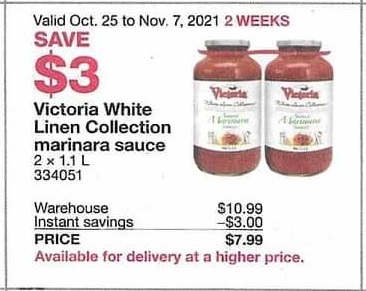 Victoria White Linen Marinara sauce is on sale for $3.00 off @ $7.99 , thus we must stock up! I have run out a few times lately, so I've gotta make sure I buy 3-4 of these at a time so I stay stocked between sales.
Kirkland Signature Non GMO Infant formula is on sale for $6.00 off @ $20.99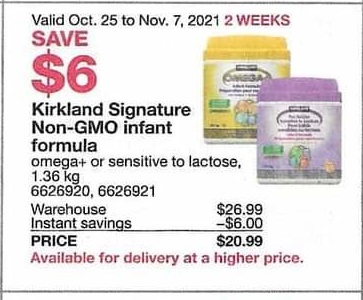 Again, stock up if you need 'em!
And having a heated blanket is never a bad idea moving into this season, so the Brookstone heated throw on sale for $34.99 might be a good snag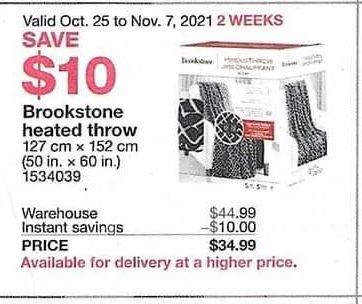 Toss that under, or over that massive Brookstone10 ft. blanket the have available an that's a whole lot of cozy gone bananas!
I'll let you browse the rest of 'em on your own, and I'll see you on Monday as always!
Cheers folks!
As we're easing into Fall 2021 and the potential 4th wave of COVID-19 I think it's important to remember that we're not out of the corona virus weeds yet, and each province has their own Health recommendations based on the provinces individual risk assessment and I would recommend that you follow the recommendations for your specific province. Information can be found at the following websites.
Newfoundland COVID-19 information
New Brunswick COVID-19 information
Nova Scotia COVID-19 information
Go here for the latest Costco Coronavirus updates: https://www.costco.ca/coronavirus-response.html
So there you go, a little reading material for you.
Be kind, be safe and stay healthy!
Please note:
The price at your local Costco takes precedent (or precedence) over the prices listed on this blog.
Costco liquidation/Manager's Special items (ending in .97) vary from store to store.
An asterisk (*) on the price tag means the item is not being re-ordered.
If there is something you really want, ***double check the expiry date*** as some Costco sales items do end mid-week.
***This is a fan run, independent page with no affiliation or endorsement by Costco Wholesale***
Costco Flyer Sales preview for Oct 24th – Nov 7th 2021